Analysis
MLB Best Bets, Predictions, Odds for Pirates vs. Marlins, Red Sox vs. Rays for July 13, 2022.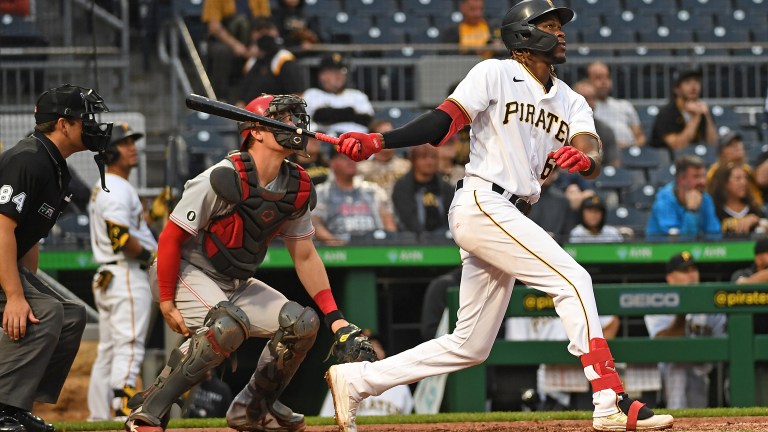 Alright, I've had enough. Being mid is making me go insane so I'm making it impossible to do that today.
In this article you'll find my two main picks, but I did drop an early underdog in our Chalkboard groupchat. It's free to join, and I love that pick.
I also love these two MLB Best Bets, even though they look disgusting on the surface. Let's have a day.
2022 MLB Regular Season Record: 131-106 (55%) +18.24 units
Subscribe to my Gambling/Fantasy Baseball Podcast: Not Gambling Advice
Pittsburgh Pirates vs. Miami Marlins: 6:40 PM EST
JT Brubaker (RHP, Pirates) [2-8, 4.34 ERA, 1.47 WHIP, 87 IP, 88 K, 38 BB]
Pablo Lopez (RHP, Marlins) [6-4, 2.91 ERA, 1.07 WHIP, 99 IP, 98 K, 28 BB]
We head to Pittsburgh for the third game of a four game set in Miami. The Pirates have taken the first two games, winning easily in game one before a close 3-2 win last night. Today, I feel that the Marlins are extremely overvalued considering how putrid their offense has been lately.
Let's start with the line movement. The Marlins opened as -200 favorites and the line has since moved down to -180. That would make sense if the public piled on the Pirates, but the opposite happened. At the time of writing, we've seen north of 85% of the public come in on the Marlins money line and spread. It's a very strange movement, but I think I know why.
The Marlins simply can't hit. Jazz Chisholm and Jorge Soler are two drivers of this offense, and both remain out with injury. Garrett Cooper, who was just named an All-Star, fouled a ball off his knee yesterday which forced him to exit the game. He's day-to-day, and even if he does play, he won't be 100%.
While this Miami team started off hot against right-handed pitching, they've been the second worst team in baseball against them in the past couple of weeks. Since June 29th, the Marlins rank 29th in wRC+ at 73 with a .209/.264/.341 slashline against right-handers. When we look at the last month, since June 12th, they have an 80 wRC+ as a team which ranks 26th in that span.
I'm not here to tell you how amazing the Pirates' offense is, but they've been much better than the Marlins. During the past month, the Pirates have a 98 wRC+, ranking 16th in baseball. If we look at the past two weeks, it gets even better, sporting a 110 wRC+ with a .227/.300/.446 slash line that places them 12th in baseball.
The starting pitching matchup leans towards the Marlins as Pablo Lopez will take the mound. While Pablo has had excellent results and should pitch relatively well today, he is due for regression based on the numbers. His 3.79 xERA ranks in the 54th percentile. While he's certainly better than JT Brubaker, the numbers would say it's closer than some may think. Brubaker's 3.95 xERA ranks in the 47th percentile in baseball.
The bullpen advantage is relatively even in my eyes. Whiule the Pirates bullpen has performed worse as a squad, they should have their best ready to follow Brubaker. Considering how low the total is, I expect Brubaker to throw 6-7 innings before David Bednar, Will Crowe and Duane Underwood come in. All three arms have an ERA under four, and Underwood hasn't thrown in a couple of days. Crowe and Bednar did pitch yesterday, but either three more than 17 pitches and didn't pitch the day before.
The Marlins bullpen is fine, ranking below average in bullpen ERA. They should have their best ready to go, but I just don't think the Marlins will hit enough to come out with a win.
With all of these factors at play, I'm willing to ride with the Pirates as a big underdog today. The Pirates are 38-36 as underdogs this year while the Marlins are 12-23 as favorites. Don't be fooled by the big-name starter on the bump, the Pirates are winning this game.
The Pick: Pittsburgh Pirates ML (+160) Play to +145
1 Unit to win 1.60 Units
______________
Boston Red Sox vs. Tampa Bay Rays: 7:20 PM EST
Josh Winckowski (RHP, Red Sox) [3-3, 4.35 ERA, 1.52 WHIP, 31 IP, 21 K, 12 BB]
Shane McClanahan (LHP, Rays) [9-3, 1.73 ERA, 0.81 WHIP, 104.1 IP, 141 K, 19 BB]
We head to Tampa for the third game of a four-game set. The Rays have won both games, the first by a score of 10-5 and the second game 3-2. Both bullpens have been used extensively in this series, as the Rays had a bullpen game in game one and the Red Sox only got four innings from Bryan Bello. In game two, both pitchers went at least five innings, but the Red Sox bullpen blew it for Sale while the Rays used up Jalen Beeks and Brooks Raley.
This line opened at 6.5 and has since jumped to 7 with the public coming in strong on the under. Makes sense right, we have one of if not the best pitcher in baseball against Josh Winckowski who's shown flashes of excellence on the road. While I do expect McClanahan to pitch well, I don't expect the same from Winckowski, and the bullpens could be forced to throw more innings than they'd like.
Shane McClanahan has that dawg in him. He's the front runner for the AL CY Young award and he's coming off back-to-back starts of one run ball over 6+ innings. When I dove deeper into the matchup, it appears the Red Sox have had some success against him. He threw against the Red Sox earlier in the year, allowing six hits and two runs over seven innings. That's a very solid outing, but over his career, five Red Sox hitters are hitting over .300 against him.
Through 73 AB against the Red Sox current roster, Shane boasts a .304 opponent batting average, a .358 xBA, a .425 xwOBA, and a .612 xSLG. Those numbers are surprisingly terrible, but at the end of the day it's Shane McClanahan and some of those are from last year where he wasn't the same as this year. Don't take those numbers lightly however, as they do put up loud contact against him.
On the other side we have Josh Winckowski, who is a nice young pitcher, but he doesn't match up well against the Rays. He's a pitch-to-contact guy, and if you want to dominate the Rays, you have to strike them out and keep them off the basepaths. While he does have a 2.38 ERA on the road, it's in 11 innings against the Cubs and Guardians who are struggling on offense.
He'll have a much tougher test against this Rays team that ranks fourth in wRC+ in the last two weeks against right handed pitching at 129. The Red Sox are also no sloutches against lefties in that same span, ranking 5th in wRC+ against southpaws at 131.
With all these factors at play, I'll be on the over in this game. While over's haven't been kind to me in recent years, I'm loving this one so much that I have to play it. This line is simply two low for how familiar these two teams are, and I know the Red Sox will come out hungry after two straight losses.
The Pick: Red Sox vs. Rays Over 7 (-105)
1.05 Units to Win 1 Unit.
____________
I've written up a quick guide with critical terms and helpful tips.