Analysis
MLB Best Bets: Predictions, Odds for Orioles vs. Royals, Reds vs. Cardinals for June 12, 2022.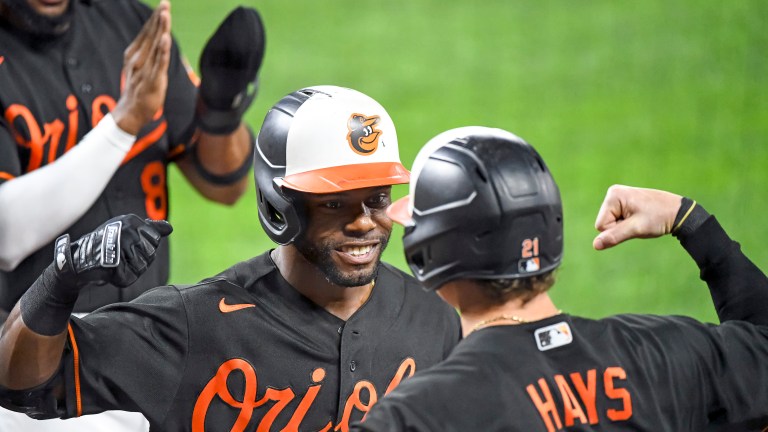 We had a decent day yesterday. We took the Nationals through the first five innings as an underdog, and Patrick Corbin took us home. The Nationals put up eight runs against Eric Lauer to give us the easy win.
We took the White Sox money line yesterday, a rollercoaster. They put up 12 hits and six earned runs against Martin Perez but couldn't close it out in the end. The White Sox lost 11-9 in extra innings.
We did win a second consecutive PrizePicks entry, technically the third in a row if you count a flex win.
Let's end the week strong with two more MLB Best Bets.
2022 MLB Regular Season Record: 94-76 (55%) +12.10 units
Subscribe to my New Gambling/Fantasy Baseball Podcast: Not Gambling Advice
Baltimore Orioles @ Kansas City Royals: 2:10 PM EST
Dean Kremer (RHP, Orioles) [0-1, 6.23 ERA, 1.38 WHIP, 4.1 IP, 3 K, 1 BB]
Brad Keller (RHP, Royals) [1-7, 4.19 ERA, 1.26 WHIP, 66.2 IP, 37 K, 20 BB]
We head to Kansas City for the final game of a four-game set. The Royals won the first two games before the Orioles won yesterday's game 6-4. I think the wrong team is favored in this one, and I see a lot of value in the underdog.
These are two of the worst teams in baseball at the moment. Both sit in last place in their respective divisions and have negative run differentials on the season. The Royals might be the worst team in baseball, as they have the second-worst run differential combined with the second-worst record.
Brad Keller toes the rubber for the Royals today, and he's generally on the losing side. Evaluating a win-loss record to tell you whether a pitcher is good or not is silly. What isn't silly is the Royals don't give him run support. In his last two starts, the Royals scored zero runs for him. They've scored just 34 runs over his eleven starts this season.
Keller hasn't faced the Orioles recently, but he has faced them before. In a small sample of 21 PA, Keller holds a .300 opponent batting average, a .336 xwOBA, and a .436 xSLG. Cedric Mullins and Rougned Odor have done most of the damage, going 5-11 with two doubles and a home run against Keller.
In the last two weeks, the Orioles have a 93 wRC+ against right-handers versus an 86 wRC+ for the Royals. The Orioles have been the better offense all year, ranking higher in OPS and wRC+ for the season.
Dean Kremer will get the ball for the Orioles, and he hasn't been good in his career. The one thing that does bode well for him is the Royals have never seen him before. The Royals are one of the worst teams against the fastball this year by run value, and Kremer throws a 93-94 MPH fastball that ranks in the 76th percentile in spin rate. He won't shut them out, but I bet he gives this lineup more problems than people think.
Behind these relievers will be two completely different bullpens. The Orioles' strong suit is their bullpen, ranking sixth in bullpen ERA at 3.07. On the other hand, the Royals have the third-worst bullpen ERA at 4.80.
At the time of writing, we've seen a lot of money come in on the Royals, and their line move from -115 to -140. Now that the Orioles are +120, that's plenty enough value for me to take them. I'd rather not mess
The Pick: Baltimore Orioles ML (+120)
___________
Cincinnati Reds @ St. Louis Cardinals: 2:15 PM EST
Graham Ashcraft (RHP, Reds) [3-0, 1.14 ERA, 0.85 WHIP, 23.2 IP, 13 K, 5 BB]
Dakota Hudson (RHP, Cardinals) [4-2, 2.76 ERA, 1.21 WHIP, 58.2 IP, 34 K, 25 BB]
This should be a fun one. By fun, I mean low scoring through the first five innings.
We head to St. Louis for the final game of a three-game set. The Cardinals won the first two games, but they haven't exactly dominated the series. They won 2-0 in game one and won on a walk-off home run from Tommy Edman yesterday. Both offenses have been cold lately, and they'll face pitchers who have appealing matchups.
In the last three weeks, the Cardinals rank 19th in wRC+ at home against right-handed pitching. In that same span, the Reds have been dreadful against right-handed pitching on the road, sitting in 28th place in wRC+.
First, let's start with Dakota Hudson for the Cardinals. Hudson seems to be a major candidate for regression based on his high xERA, FIP, and xFIP, but he continues to defy these numbers. He keeps the ball off the bat's sweet spot, ranking in the 67th percentile in barrel rate. His sinker slider combo keeps the ball on the ground at an awe-inspiring 57.3% rate.
He threw once against the Reds already, shutting them out through six innings. Hudson is at his best at home, rocking a 1.35 ERA in 26.2 innings. The Reds lineup is one of the worst against the sinker, so I expect another excellent start out of Hudson.
Opposing Hudson will be Graham Ashcraft, who's lighting the league on fire now. The Cardinals like to put the ball in play and don't tend to strike out. That falls right into Ashcraft's plans, as he's not much of a strikeout pitcher. He relies on soft contact and keeping the ball on the ground. He has a three-pitch mix of a cutter and sinker from 97-98 MPH and a disgusting slider that opponents are hitting .120 against.
Ashcraft's favorite pitch is his cutter which he throws about 44% of the time. When we look at how each hitter on the Cardinals does against the cutter, we see only Nolan Arenado with a plus run value on the pitch, and it's only at 1.
I think both pitchers keep the ball on the ground and turn in excellent starts. Busch Stadium ranks as the fourth-best ballpark for pitchers. We could see some fireworks late in the game, similar to last night. I'll play the first five innings to isolate this starting pitching matchup.
The Pick: Reds vs. Cardinals First 5 Innings Under 4.5 (-120)
______________
I've written up a quick guide with critical terms and helpful tips.