Analysis
MLB Best Bets, Predictions, Odds, for Mets vs. Reds, Nationals vs. Phillies for July 6th, 2022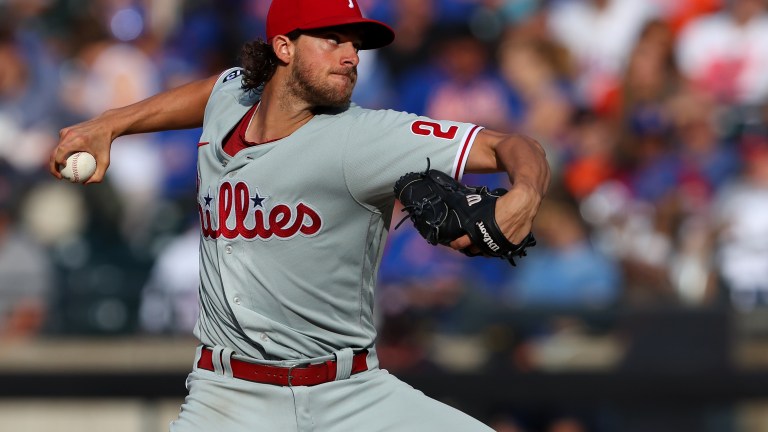 It all came crashing down yesterday. I could not complete the write-ups as I was traveling back from San Diego, and it bit me in the butt.
We won seven straight before going 0-4 yesterday, which was the worst day for me the entire season. I overextended myself and learned very quickly why I should never do that.
Overall, we are still very much in the positive for July, and I have two MLB Best Bets to point us in the right direction.
2022 MLB Regular Season Record: 125-100 (56%) +18.04 units
Subscribe to my Gambling/Fantasy Baseball Podcast: Not Gambling Advice
New York Mets vs. Cincinnati Reds: 6:40 PM EST
David Peterson (LHP, Mets) [5-1, 3.24 ERA, 1.20 WHIP, 58.1 IP, 60 K, 22 BB]
Graham Ashcraft (RHP, Reds) [4-2, 4.53 ERA, 1.24 WHIP, 43.2 IP, 28 K, 9 BB]
The Mets and Reds are two vastly different teams headed in different directions. The Mets are 50-31 and hold a 2.5-game lead in their division with the second-best record in the National League. The Reds sit in last place, 17.5 games out of the division, and seemingly don't have much to play for. Sometimes this can favor the losing team, as the Reds can play with nothing to lose, while the Mets seem to tighten up at the worst time. The Mets are 5-5 in their last ten games against the Marlins, Astros, Rangers, and Reds.
This series is split after the Reds won 1-0 yesterday behind a great effort from rookie Nick Lodolo and the Reds bullpen. The Mets couldn't capitalize on Max Scherzer's return to the mound, but they did win the first game 7-4. When I look at the whole game, I believe both teams have a great chance of winning, but I see an edge in the starting pitching matchup.
Last year's Reds had significant problems against left-handed pitching. This year's Reds only have one recipe for winning ball games. Get the Reds in Great American Ballpark and face a slower left-handed starter. That's what David Peterson is, and they'll be meeting him at home today.
Peterson has put together a solid start to the season, but I don't think he's as good as the numbers would show. His xERA sits in the 57th percentile at 3.74 and the Reds have the seventh-best wRC+ against lefties this past month.
Peterson has also had the luxury of facing the Marlins twice in his last three starts, one of if not the worst teams against left-handers. He pitched well against the Ranges but allowed three runs in six innings. I think he's in line for a rougher outing, and he'll go up against Graham Ashcraft.
Ashcraft really hurt us in his last start, but I love what he brings to the table. While he doesn't strike out many opponents, he limits hard contact and keeps the ball on the ground. We assumed he could do that against the Cubs, but one grand slam and some lousy defense resulted in the worst start of his professional career. It raised his ERA from 3.27 to 4.53, and now I'm supposed to jump off the bandwagon? I won't be doing that, and I'm not afraid of this Mets offense at this current moment.
In the past month, the Mets rank 22nd in wRC+ and 22nd in Hard-Hit rate against right-handed pitching. When we shorten that sample to the past two weeks, they drop to 24th in wRC+.
At the time of writing, we have north of 80% of the money all over the Mets, and we've seen their money line creep to the -165 range. The line opened at -135 meaning the original line thinks this game should be much closer than most think. I agree with this logic, and now I think the Mets are widely overvalued. It's easy to dismiss Ashcraft after his last performance and back the better team to bounce back after a loss.
It's never that easy, and I think the Reds can keep it close through the first five innings. While I don't expect the Reds to dominate, I think Ashcraft is a better pitcher than David Peterson, and the Reds' strong suit is against left-handed pitching.
We see a very high total of 10 for this game, so we know runs will be scored. I think the Reds will score more. That's enough for me to back the Reds at plus value.
The Pick: Cincinnati Reds First 5 Innings ML (+130)
1 Unit to Win 1.3 Units
_________
Washington Nationals vs. Philadelphia Phillies: 7:05 PM EST
Josiah Gray (RHP, Nationals) [6-5, 4.22 ERA, 1.27 WHIP, 81 IP, 88 K, 35 BB]
Aaron Nola (RHP, Phillies) [5-5, 3.13 ERA, 0.92 WHIP, 103.2 IP, 117 K, 14 BB]
Is it a good idea to lift the ban on the Phillies? I think it is in this matchup because I'm not picking a winner, I'm going a different route. We have two excellent pitchers with very interesting splits facing offenses who haven't been able to touch the opposing starter. I think you know what direction I'm headed.
Let's start with Josiah Gray because he's pretty weird. Using "weird" to describe Josiah Gray may be an understatement. He has some of the strangest home/road splits. We had the under in his last start, which ended up hitting, but it was the biggest sweat of the season. Part of the reason I went for it was my belief that those numbers would normalize. After watching a decrepit Marlins team tough him up for six runs at home, it can't be a fluke anymore.
Josiah Gray is 4-0 with a 2.01 ERA in 40 innings on the road over seven starts. At home, he's 2-5 with a 6.42 ERA in 40 innings over eight starts. He looks like an ace on the road and a below-average back-end starter at home. It's a phenomenon that he struggled with last year as well, rocking a 6.23 ERA at home last year compared to a 4.28 ERA on the road.
This matchup was already played out on June 18th, where the final score was 2-1 that ended in the 10 innings. What's even crazier is that was Gray's lone excellent start at home, where he surrendered just one hit in six innings. While the familiarity doesn't necessarily help Gray, the wind blowing in at Citizens Bank Park should do the trick. According to the weather report, we have 8-10 MPH wind blowing in, which should help limit the long ball from these offenses.
If the Phillies couldn't hit Gray at home, I have no reason to believe they can hit him on the road where he's at his best. Especially considering Josiah Gray has been fantastic against right-handed bats this season. Without Bryce Harper, Kyle Schwarber is the only left-handed bat we should be worried about. He homered twice yesterday; I think it's fair to assume he's due for a let-down game.
Gray also throws his slider 30% of the time and only two Phillies have a run value against the slider this season greater than 0.5: Kyle Schwarber (2.8) and Rhys Hoskins (2.6). Schwarber is definitely the hitter to watch, as Hoskins has a .777 OPS against right-handed pitching and a 1.002 OPS against southpaws this year.
Opposing Gray will be Aaron Nola, who's been fantastic this season. Nola's problems can be attributed to command, but it's never been a walk problem. Nola has ace-level stuff but he can be beaten if he's not commanding the ball within the strike zone. When we look at his heat maps, he's been surgical within the strike zone which is leading him on an excellent path this season.
He's dominated the Nationals pretty much every time he gets the chance to face them. Through 134 PA, he's held the Nationals' current roster to a .195 opponent batting average, a .320 xwOBA, and a .426 xSLG while striking out 27.6% of hitters. Juan Soto and Josh Bell are really the only hitters we have to keep an eye on, and they are a combined 10-46 (.217 AVG) with four home runs. The potential for home runs could hurt us, but those were from last year when Nola had a home run problem. Against the Nationals, the average launch angle is just seven degrees and we have wind blowing in.
At the time of writing, we have seen north of 90% of the money come in on the over, yet the line has stayed at 8.5 or has dropped to 8 on some books. With all of these different factors working in our favor, I'll be targeting the first five innings and taking the under. I've seen different lines ranging from the first five innings at 4 or 4.5. I found this line on FanDuel, so do some line shopping to grab the 4.5. If you are unable to, I would still play the four number but with a bit more caution.
The Pick: Phillies vs. Nationals First 5 Innings Under 4.5 (-120)
1.2 Units to Win 1 Unit.
____________
I've written up a quick guide with critical terms and helpful tips.