Analysis
MLB Best Bets, Predictions, Odds for Giants vs. Padres, Guardians vs. Royals for July 10, 2022.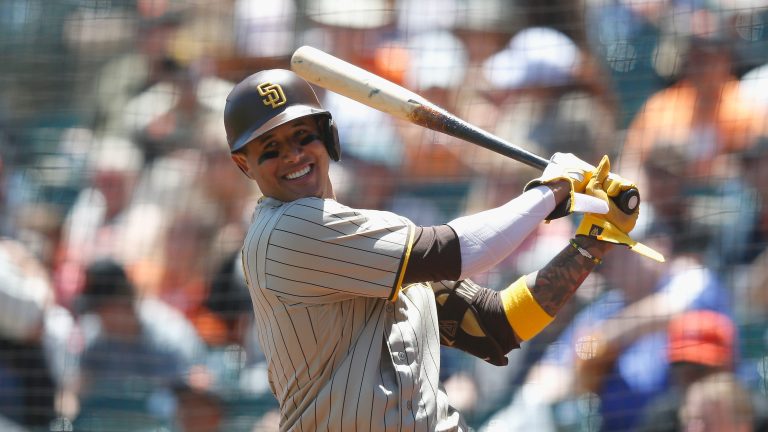 Yesterday was more of the same as yesterday. We went 1-1 and ended up exactly even. I like to think about that with a glass half full. We bet on baseball, had some fun, and didn't lose any money. That's a win!
Today is Sunday, notoriously a tough day on the baseball slate. I have plenty of leans today, but these are my two favorite MLB Best Bets for July 10. Let's end the week on a high note.
2022 MLB Regular Season Record: 129-104 (55%) +18.69 units
Subscribe to my Gambling/Fantasy Baseball Podcast: Not Gambling Advice
San Francisco Giants vs. San Diego Padres: 4:10 PM EST
Alex Wood (LHP, Giants) [5-7, 4.83 ERA, 1.33 WHIP, 78.1 IP, 75 K, 20 BB]
MacKenzie Gore (LHP, Padres) [4-3, 3.18 ERA, 1.35 WHIP, 65 IP, 68 K, 32 BB]
We head to San Diego for the final game of a four-game set. The Padres won the first two games but the Giants won yesterday's game behind a complete game from Carlos Rodon. The Giants needed that win badly as that was just their second win in the past ten games. The Giants need that type of performance to win at the moment, and I don't expect Alex Wood to replicate that.
Wood is coming off a solid start against the Diamondbacks on Tuesday. It was on the road, where he's struggled all season, but I don't put a ton of stock in it. He faced the seventh-worst offense by OPS against left-handers and they've been one of the worst since June 1st. The Padres are at their best against lefties, and they've beaten up on Wood before.
Wood has faced the Padres twice this season with both resulting in losses. His first start of the season came against them at home where he allowed two runs in 4.1 innings. In his second start at home on May 22, he couldn't get out of the fourth inning, allowing five earned runs on eight hits. This will be his first time facing them in Petco this season, and on the road, he has a 5.14 ERA compared to a 4.46 ERA at home.
On the other side, we have MacKenzie Gore, who is making his case for NL Rookie of the Year. His issues stem from a higher walk rate than we normally like to see, but the stuff is real. His xERA sitting at 4.54 is a cause for concern, but the Giants can't hit anything right now. In the last two weeks, the Giants have a 76 wRC+ with a .193 batting average against left-handed starters. In the same span, the Padres haven't been very successful either, but that's more of a cold spell rather than a problem at the plate.
The bullpen advantage would lean towards the Giants historically, but they haven't been better this year. The Padres bullpen holds the 13th best bullpen ERA while the Giants sit at 21. This should be a close game, but I'll take the home team to pull it out with more of the money currently on the Giants.
The Pick: San Diego Padres ML (-120)
1.2 Units to Win 1 Unit
______________
Cleveland Guardians vs. Kansas City Royals: 2:10 PM EST
Zach Plesac (RHP, Guardians) [2-6, 3.80 ERA, 1.23 WHIP, 85.1 IP, 60 K, 22 BB]
Zack Greinke (RHP, Royals) [2-5, 4.85 ERA, 1.31 WHIP, 68.2 IP, 34 K, 13 BB]
We head to Kansas City for the final game of a three-game set. The Guardians trounced the Royals yesterday by a score of 13-1 and now north of 95% of the public came in on the Guardians. Give me a break, this is a perfect spot to tail the home team, considering the line opened at -120 for the Guardians and is currently sitting at -120.
Based on that line movement, taking the Royals feels like the smart play. There are numbers to back this up though, but I'm not as confident in the full game because of how poor this Royals bullpen has performed. I'd rather isolate the first five innings as I believe Plesac could be in for a rough day.
Zach Plesac has some worrisome home/road splits that date back to last year. In 2021, he was a full run worse on the road, and this season, he has a 4.67 ERA on the road versus a 2.85 ERA at home. He's faced the Royals twice this season and he's pitched very well against them. In his lone start at Kauffman Stadium, he didn't allow a run through 5.2 innings of work. That was against a different lineup than we see today. Five hitters in the Royals lineup have a batting average of over .300 against Plesac.
Zack Greinke on the other hand loves pitching at home this season. He's rocking a 2.14 ERA at home versus a 7.46 ERA on the road. He faced the Guardians at the beginning of the season, throwing 5.2 innings while only allowing one run on Opening Day.
These two teams should battle it out, and I have a feeling this game will be tied in the later innings after the Royals take an early lead then blow it in the end. I see the first five money line as the best bet, considering it would push if these two teams are tied after five innings. Plus money, it's more than worth it for me.
The Pick: Kansas City Royals First 5 Innings ML (+100)
1 Unit to Win 1 Unit.
____________
I've written up a quick guide with critical terms and helpful tips.