Analysis
MLB Best Bets: Predictions, Odds for Pirates vs. Nationals, Tigers vs. Giants for June 28, 2022
Two MLB best bets for Tuesday.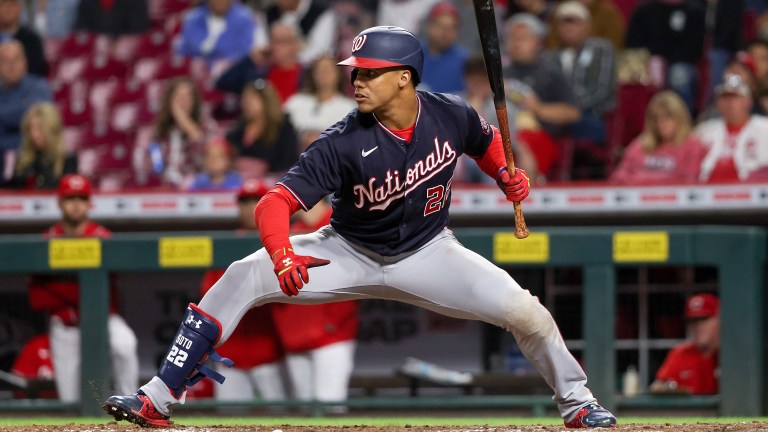 We had a solid day yesterday. We went 2-1 on our picks, good for a positive day. We took the Orioles and the under, but the Orioles decided they would hit the over by themselves.
We were on the Blue Jays through the first five innings as well, and they launched baseballs against rookie Connor Seabold.
Today I have two MLB Best Bets AND I'll be dropping two more picks in our Chalkboard Groupchat Today.
Let's stay in the green after a positive Monday.
2022 MLB Regular Season Record: 114-92 (55%) +14.64 units
Subscribe to my New Gambling/Fantasy Baseball Podcast: Not Gambling Advice
Pittsburgh Pirates vs. Washington Nationals: 7:05 PM EST
Jose Quintana (LHP, Pirates) [1-4, 3.60 ERA, 1.31 WHIP, 70 IP, 61 K, 23 BB]
Patrick Corbin (LHP, Nationals) [3-10, 6.60 ERA, 1.79 WHIP, 73.2 IP, 63 K, 28 BB]
I might be crazy here, but we have to be crazy when we enter the dog days of summer. As I am writing this, 95% of the money has come in on the Pirates. The Pirates are the fun and exciting team, coming off of a loss, with Jose Quintana on the bump. And yet, the line has moved in favor of the Nationals. That's a sign that the Nationals have a great shot at winning today and I can see why.
The Pirates have really struggled against left-handed pitching for the entirety of the season, posting the fourth lowest OPS in baseball against lefties this year. Pittsburgh has a bit of a new and revamped lineup, so I looked to see how they've been performing lately and it still hasn't been good. Especially on the road. In the last three weeks against left-handed pitching on the road, they sit with a 71 wRC+, a 3.5% BB rate, and a 30.6% K rate.
Patrick Corbin has been arguably one of the worst pitchers in the game over the last few years making it difficult to comprehend why he is favored in this matchup, but he has had success against the Pirates.
He faced them on the road this year, where he's been much worse, and threw 5 1/3 innings while allowing just two earned runs. Again, that wasn't the same lineup, but his numbers against the current Pirates roster are solid.
Through 29 plate appearances against the roster, he holds a .270 xwOBA, a .230 xBA, and a .277 xSLG. While that's not the biggest sample in the world, we should have the best version of Corbin today. He's better at home and is facing an offense that hasn't been able to touch a left-handed pitcher lately or at all this season.
Jose Quintana is near the top of my list for pitchers I think are due for regression. His 3.60 ERA is solid, but his 4.64 xERA ranks in the 26th percentile. The Nationals roster has seen him a ton in his career, so they'll know how to attack him.
I'd tell you the numbers, but Quintana has been so inconsistent in his career that you never truly know what version you'll get. He did face the Nationals this season, where he allowed three runs in four innings at home. A place where he's also performed better this season.
The Nationals don't demolish lefties, but they are better than the Pirates. In that same sample but at home, the Nationals have a 132 wRC+ with a 19.1% K rate and an 8.7% BB Rate.
The bullpen advantage would lean towards the Pirates, but it's not as big of a gap as some may think. There is enough here along with the line movement to jump on the Nationals today.
The Pick: Washington Nationals ML (-120)
1.2 Units to Win 1 Unit
____________
Detroit Tigers vs. San Francisco Giants: 9:45 PM EST
Tarik Skubal (LHP, Tigers) [5-5, 3.63 ERA, 1.13 WHIP, 79.1 IP, 84 K, 17 BB]
Carlos Rodon (LHP, Giants) [2.70, 1.09 ERA, 1.09 WHIP, 80 IP, 101 K, 28 BB]
We head to San Francisco for the first game of a two game set. These two teams aren't very familiar, but the Tigers have seen Rodon before to no avail. We have some interesting weather reports, fantastic starting pitchers, great bullpens that are rested and two offenses that don't perform as well against lefties. This is a recipe for an under.
While the Tigers have been hitting lefties at a decent clip this month, Carlos Rodon has owned them. In 93 plate appearances against the Tigers' current roster, he holds a .262 xwOBA, a .176 xBA, and a .304 xSLG while striking out 33.3% of batters.
He's also been phenomenal lately, holding a 1.20 ERA in June and he's only allowed one run in the past 21 innings. The best version of Rodon is at home, where he rocks a 2.18 ERA compared to a 3.06 ERA on the road. He has a much higher strikeout rate and a lower walk rate at home.
Opposing Rodon will be Tarik Skubal, who has been struggling lately. Lucky for him, the Giants have been a bottom 10 offense against left-handers in June, and over the past few weeks, it hasn't gotten much better. Skubal has faced some tough competition lately, facing the Red Sox, Rangers, and the Blue Jays in his last three starts. Those three offenses rank in the top 8 against lefties in June.
The lack of familiarity should bode well for Skubal as well as his ability to get out both righties and lefties. The Giants can platoon their way to wins if they see an advantage against the pitcher, but both sides of the plate have performed the same against him this season. It's easily forgotten that Skubal had a 1.45 ERA in May; he's such a good pitcher he has to turn it around.
The weather at Oracle Park should certainly help. According to Ballpark Pal, Oracle has the lowest projected run-scoring environment of the day. The weather forecast predicts a -31% chance of home runs, with an overall run-scoring projection of down 9%.
The Tigers bullpen has been one of the most underrated bullpens in baseball. They rank sixth in bullpen ERA and had a rest day yesterday. The Giants have the 8th best bullpen ERA in June at 3.33, and they also had a rest day yesterday.
As it stands right now, 94% of the money has come in on the over, yet the line has stayed at 7. While I liked the under already, the lack of line movement makes me even more confident.
The Pick: Tigers vs. Giants Under 7 Runs (-110)
1.1 Units to Win 1 Unit
____________
I've written up a quick guide with critical terms and helpful tips.