Analysis
MLB Best Bets, Predictions, Odds for Diamondbacks vs. Padres, Brewers vs. Giants, Rangers vs. Mariners for July 15, 2022.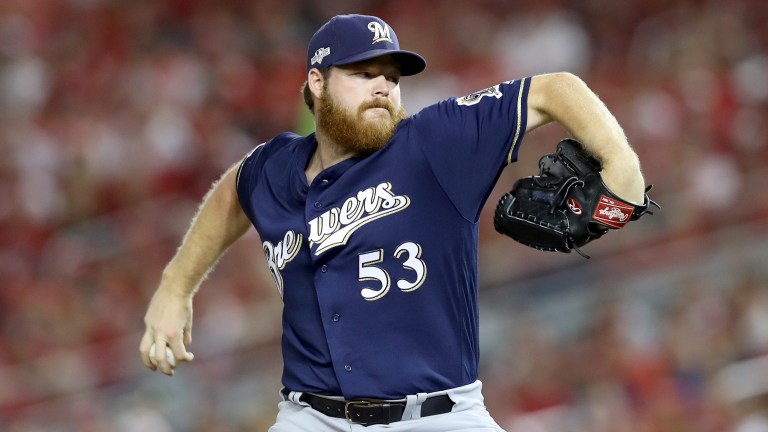 We needed to see one go through the hoop yesterday. While we did have a slight loss, we made out with a 1-1-1 day.
We are limping into the All-Star break. We have not been great this past week, but I like these plays today. I have three MLB Best Bets to send us into the weekend.
2022 MLB Regular Season Record: 132-110 (54%) +14.59 units
Arizona Diamondbacks vs. San Diego Padres: 9:40 PM EST
Madison Bumgarner (LHP, Diamondbacks) [5-8, 3.65 ERA, 1.35 WHIP, 91.1 IP, 66 K, 29 BB]
Yu Darvish (RHP, Padres) [7-4, 3.38 ERA, 0.99 WHIP, 101.1 IP, 91 K, 20 BB]
We head to San Diego for the first game of a three-game set. We have a solid pitching matchup today, as Madison Bumgarner has turned back the clock to produce excellent results so far. He'll face off against Yu Darvish, who's been phenomenal at home this year but has had rough road starts. Both pitchers have solid matchups today, and the Padres bats should come out slow after a series in Colorado.
One of the best systems this year has been betting unders on teams coming off playing at Coors Field. Adjusting to the new elements slows down an offense, and the Padres, on the surface, have been solid against lefties this year, but some of those numbers are inflated by multiple series at Coors Field. Over the entire season, the Padres rank 17th in OPS (.707) against southpaws, but when we look at the past two weeks, that OPS drops to .661. When we use a park-adjusted stat like wRC+, they rank 20th in baseball with an 89 wRC+.
Madison Bumgarner has had mixed results against this Padres offense. This will be his fourth appearance against the Padres this season. In his first start, he threw three innings while allowing just one hit and one run. He faced them twice at the end of June, totaling nine innings and allowing five earned runs. He has a 4.50 ERA against them this season with a .243 opponent batting average against the current roster. I expect those numbers to decline in a good way today, as the Padres bats should come out slow after a series in Coors Field.
On the flip side, we have Yu Darvish, who's been excellent at home and against the Diamondbacks' current roster. Darvish's dominance at home is nothing new, as he rocked a 3.38 ERA at home last season versus a 5.54 ERA on the road. This season, he has a 1.69 ERA at home versus a 5.25 ERA on the road. He's been fantastic against the Diamondbacks, throwing 13 innings while only allowing one run.
The Padres bullpen is worn down and hasn't performed well lately. The Diamondbacks bullpen had a day to rest, so they should be ready to go. Knowing this, I'd prefer to take the under through the first five innings. While the Padres' numbers against Bumgarner are solid, I think they'll initially come out slow due to the altitude change. I think Darvish should dominate again, and we'll see a total of 2-3 runs scored through five innings.
The Pick: Diamondbacks vs. Padres First 5 Innings Under 4 (-120)
1.2 Units to Win 1 Unit
____________
Milwaukee Brewers vs. San Francisco Giants: 10:15 PM EST
Brandon Woodruff (RHP, Brewers) [7-3, 4.01 ERA, 1.14 WHIP, 60.2 IP, 80 K, 16 BB]
Alex Wood (LHP, Giants) [6-7, 4.43 ERA, 1.27 WHIP, 85.1 IP, 83 K, 21 BB]
We have a similar matchup to last night's game which ended 3-2 in ten innings. The Brewers narrowly edged out a victory last night behind a solid performance from Corbin Burnes. Carlos Rodon got in trouble against the Brewers but did enough to put his team in a position to win. It wasn't enough, however, as John Brebbia allowed a run and Camilo Doval allowed a run in extra innings on an infield hit. Neither of these two offenses scares me, especially with their splits.
We spoke about this yesterday, and the same holds. The Brewers have struggled against left-handed pitching all season, and the same holds for the Giants, except its right-handed pitching. The line opened at seven, a bit lower than I would expect. This line respects Alex Wood, which makes a lot of sense by the numbers.
Alex Wood has been pretty unlucky this year, as evident by a 3.63 xERA which places him in the 61st percentile in baseball. He'll face a Brewers offense that ranks 17th in wRC+ at 95 with the 24th ranked slugging percentage, and the 27th ranked ISO. In summary, this Brewers offense can put together some singles, but there isn't much power.
According to a ballpark pal, we have colder weather, with winds blowing west to east. The weather forecast calls for a 31% decrease in home runs, giving it the lowest run-scoring environment of the day at -9%. We saw this happen in real time yesterday, as the Brewers only scored three runs on 13 hits. That wasn't a fluke; that's how the Brewers' offense operates against left-handed pitching.
Man, I love Brandon Woodruff. While he got off to a rough start, he's looked incredible since returning from injury. He dominated the Rays through five innings in return, then shut out the Pirates through six innings. He had to face the Pirates in back-to-back starts, and he allowed three runs in another solid six-inning performance racking up nine strikeouts.
Brandon Woodruff is still one of the best pitchers in the league, and his xERA this season reflects that. He's rocking the highest strikeout rate of his career, and his 2.99 xERA ranks in the 81st percI might be a little scared iftile.
Suppose Woodruff faced a team with plenty of power bats and the wind blowing out; I'd be slightly nervous. That's not the case here, as the Giants rank 27th in ISO, 29th in slugging percentage, and overall they have a 70 wRC+ against right-handers since July began. Woodruff should reverse that fluky road ERA of 5.63.
At the time of writing, a lot of money has poured in on the over, yet the line hasn't moved. Woodruff should dominate, and I expect Wood to hold the Brewers bats at bay. Knowing how tired the bullpens are, I'll be isolating the first five innings and taking the under.
The Pick: Brewers vs. Giants First 5 Innings Under 4 Runs (-125)
1.25 Units to Win 1 Unit
__________
Seattle Mariners vs. Texas Rangers: 8:05 PM EST
Robbie Ray (LHP, Mariners) [7-6, 3.51 ERA, 1.11 WHIP, 110.1 IP, 123 K, 28 BB]
Matt Bush (RHP, Rangers) [2-1, 3.64 ERA, 1.15 WHIP, 29.2 IP, 40 K, 9 BB]
The Mariners are the hottest team in baseball at the moment, but I don't love their matchup today. This Mariners team has skyrocketed into the AL Wild Card race after 11 straight wins, and they mounted an incredible comeback against the Rangers to win 6-5. I'm projected a bit of a letdown early on from this Mariners team, but I won't be betting the entire game as the Mariners' magic could continue in the later innings.
This is a slight fade on Robbie Ray, who's at his worst on the road and will be facing one of the hottest offenses in baseball against left-handed pitching. The Rangers have a 152 wRC+ since July began, with places them fourth in baseball during that span. They have been hitting nukes, registering the highest slugging percentage and ISO in that period. Ray has allowed 16 home runs this season, which has been a big problem for him.
Opposing Ray will be a bullpen game for the Rangers started by Matt Bush. While the Rangers bullpen isn't fantastic, it's pretty underrated. They rank 12th in bullpen ERA, right behind the Brewers. While the Mariners have been winning every day, it's been behind excellent pitching rather than incredible offense.
Robbie Ray has allowed 10 of his 16 home runs on the road in 16 fewer innings. Expect some fireworks from the Rangers offense today, and I think the Texas bullpen should keep it close enough to win or tie through the first five innings.
The Pick: Texas Rangers First 5 Innings ML (+140)
1.0 Units to Win 1.40 Units
____________
I've written up a quick guide with critical terms and helpful tips.