Analysis
MLB Best Bets: Predictions, Odds for Brewers vs. Nationals, White Sox vs. Rangers for June 11, 2022.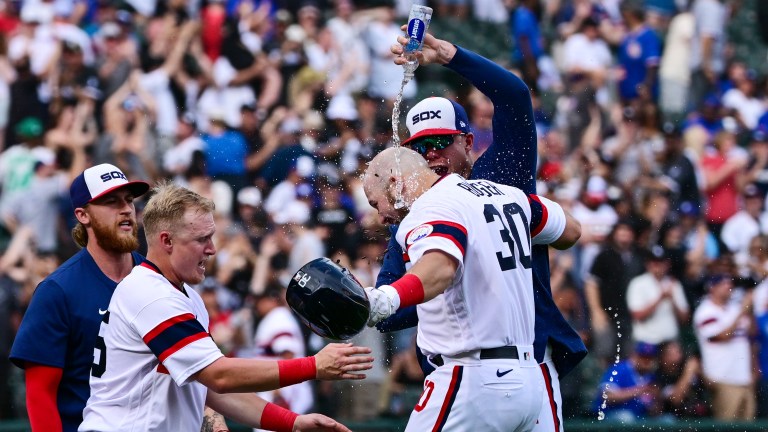 What a day yesterday. We went 2-0 on our official picks; we hit our underdog play on my twitter, and we even swept the PrizePicks slate.
We took two unders, with just seven runs scored in both games combined. The Guardians vs. A's under got scary in the bottom of the ninth as the Guardians tied it up. They walked it off with just one run, winning 3-2.
We took the under in Reds vs. Cardinals and saw a 2-0 win by the Cardinals.
We took the Marlins money line against the Astros, and they won 7-4.
We took five props on Prizepicks, and every single one of them hit with ease.
We can't win like that every day, but I have two more picks that I love just as much as yesterday. Let's stay in the green with two MLB Best Bets.
2022 MLB Regular Season Record: 93-75 (55%) +12.15 units
Subscribe to my New Gambling/Fantasy Baseball Podcast: Not Gambling Advice
Texas Rangers @ Chicago White Sox: 2:10 PM EST
Martin Perez (LHP, Rangers) [4-2, 1.56 ERA, 0.98 WHIP, 69.1 IP, 56 K, 16 BB]
Lucas Giolito (RHP, White Sox) [4-2, 3.54 ERA, 1.41 WHIP, 48.1 IP, 62 K, 19 BB]
We start in Chicago for the second game of a three-game set. The White Sox beat up on the Rangers bullpen en route to an 8-3 win. These two teams will send their best pitchers to the mound in what should be a very entertaining game.
Lucas Giolito will get the ball for the White Sox, coming off back-to-back rough starts. He had a 2.63 ERA going into his May 31st start against the Blue Jays before being torn up for six earned runs. That was against a scorching Jays offense, but the Rays roughed him up on June 5. He allowed five runs, but only two were earned.
He's due for a bounce-back start, especially against a Texas Rangers squad he's had success off before. In a small sample of 32 PA against the Rangers' current roster, he's been incredible. He holds a 43.8% K rate with a .125 opponent batting average. The contact quality has been very poor, holding a .190 xwOBA and a .242 xSLG.
Giolito has been susceptible to right-handed bats this year, but the two best right-handed bats in the Rangers lineup, Marcus Semien and Adolis Garcia, are a combined 2-16 with five strikeouts against him.
This game, for me, lands on the back of Martin Perez. He's been the best pitcher in baseball in terms of his production, as he continues to hold an ERA under two. Martin Perez has a 0.31 ERA on the road in 29 innings. Something has to give, right? The White Sox have the best OPS this season against lefties at .832.
While I think the Martin Perez experiment is real, this is not a good matchup for him. The White Sox are one of the best teams in baseball against lefties and come into this game scoring 17 runs in their past two games. Tyler Anderson was on a similar streak of dominance, and the White Sox put up four runs in three innings just two games ago.
This past month, the White Sox have a 142 wRC+ against left-handers, and they should see more lefties in the Rangers pen. It was a bullpen game for the Rangers yesterday, but they only used one of their southpaws. Arms like Matt Moore, Kolby Allard, and Brocke Burke should pitch in this one, giving the White Sox an even more significant advantage in the later innings.
The White Sox bullpen used Graveman and Hendricks last night, but Hendricks should be available after throwing just 15 pitches. The rest of the arms will be available as Davis Martin shouldered the load yesterday with five innings of work.
Not only do I think the White Sox have the advantage in the starting pitching department, but the Sox should be able to add on runs against this Rangers bullpen. I'll take the White Sox on the money line with more juice than I'd like, but it's worth it.
The Pick: Chicago White Sox ML (-140) Play to -150
1.40 Units to Win 1 Unit
______________
Milwaukee Brewers @ Washington Nationals: 4:05 PM EST
Eric Lauer (LHP, Brewers) [5-1, 2.38 ERA, 1.11 WHIP, 56.2 IP, 65 K, 17 BB]
Patrick Corbin (LHP, Nationals) [2-8, 6.71 ERA, 1.76 WHIP, 60.1 IP, 53 K, 24 BB]
We head to Washington for the second game of a three-game set. We saw the Nationals crush Aaron Ashby for six runs in 4+ innings and then put up four runs against reliever Miguel Sanchez. The Nationals get the luxury of facing a similar left-handed pitcher in Eric Lauer today, while the Brewers will meet one of the worst pitchers in baseball over the past few seasons.
Lauer and Ashby are not identical, but they throw from a similar arm slot, and their slider is the best off-speed pitch. This bodes well for a Nationals offense that ranks 12th in wRC+ at 134 against left-handed pitching at home in the past three weeks. If we shorten that sample to the past two weeks, the Nationals rank 5th in wRC+ at 197 against southpaws at home.
The Brewers, however, can't hit a lefty to save their lives. In the last three weeks, the Brewers sit at 29th in wRC+ against lefties on the road, rocking a crazy low 58 wRC+. If we shorten the sample to the last two weeks, they rank 25th in wRC+ at 71.
The Brewers haven't been able to hit a left-handed pitcher all year, ranking 26th in Team OPS. They were able to get five runs off Corbin the last time they faced him, but this Brewers offense looks terrible right now. They've lost seven straight, averaging just two runs per game.
I do not want to deal with this terrible Nationals bullpen, so I'd prefer to isolate the starting pitching matchup. Isolating a Patrick Corbin start could be a terrible decision, but with how bad the Brewers have been and how the Nationals bats are, I'm willing to play it for the value.
Taking a first five innings money line is different than taking the spread. If the score is tied after five innings, the bet will push. At +135, it's worth it for me.
The Pick: Washington Nationals First 5 Innings ML (+135)
1.0 Units to Win 1.35 Units.
______________
I've written up a quick guide with critical terms and helpful tips.