Analysis
MLB Best Bets: Predictions, Odds for Braves vs. Giants, Rockies vs. Marlins, Nationals vs. Orioles for June 22, 2022.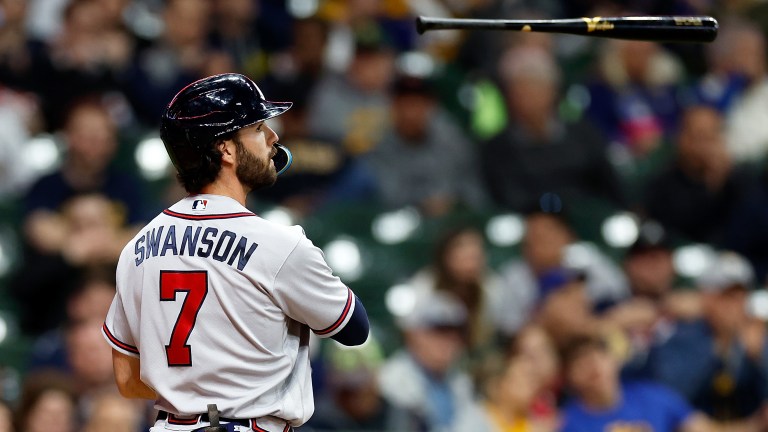 WHAT A DAY YESTERDAY.
3-0 sweep of the board, including our underdog pick in our group chat.
So many ups and downs over the season, so we have to treat it like any other day.
I'm back on the saddle with three MLB Best Bets today. Let's stay in the green.
2022 MLB Regular Season Record: 106-85 (55%) +13.82 units
Subscribe to my New Gambling/Fantasy Baseball Podcast: Not Gambling Advice
Colorado Rockies vs. Miami Marlins: 6:40 PM EST
Chad Kuhl (RHP, Rockies) [4-4, 3.69 ERA, 1.42 WHIP, 63.1 IP, 49 K, 27 BB]
Pablo Lopez (RHP, Marlins) [4-3, 2.85 ERA, 1.07 WHIP, 75.2 IP, 77 K, 20 BB]
We head to Miami for the second game of a three-game set. These two teams battled until the end last night, with the Marlins squeaking out the 9-8 win. This matchup shouldn't be as close today, as the pitching matchup and offense widely favors the Marlins.
Let's start with Pablo Lopez. He's coming off his worst performance of the year against the Mets in his last start, which raised his ERA from 2.30 to 2.85. With that said, Lopez is phenomenal at turning the ship around after a rough start.
He's had three starts this year while allowing four earned runs or more. When you combine his starts after a four-earned run outing, he's thrown 18.1 innings while only allowing two earned runs. Huge bounce-back start for him today.
We aren't just relying on a bounce-back based on that trend alone; he matches up very well against the Rockies. He showed it first-hand in his start at Coors Field, shutting them out through six innings. The Rockies are primarily right-handed which works right into Pablo's hands. He has performed much better against right-handed bats this season.
The Rockies really struggle against right-handed pitching. In the last two weeks, they rank 27th in wRC+ against right-handed pitching, and we all know they get even worse on the road. Since June began, the Rockies rank 29th in wRC+ against right-handed pitching on the road. There are 30 teams.
Opposing Lopez will be Chad Kuhl, who's had a decent start to the season. While his ERA is solid, his xERA sitting in the 39th percentile tells us that regression is coming, and this seems like the spot for that.
While the Marlins lineup can't hit a lefty, they can undoubtedly time up right-handers. Since June began, the Marlins are the ninth-best offense against right-handed pitching in terms of wRC+. If we look at how they performed at home, they jump to 6th in wRC+.
Considering the Marlins are -190 on the money line, I want to isolate the first five innings and take the better value.
The Pick: Miami Marlins First 5 Innings -0.5 (-125)
1.25 Units to Win 1 Unit
____________
Washington Nationals vs. Baltimore Orioles: 7:05 PM EST
Patrick Corbin (LHP, Nationals) [3-9, 6.59 ERA, 1.78 WHIP, 69.2 IP, 57 K, 27 BB]
Tyler Wells (RHP, Orioles) [4-4, 3.62 ERA, 1.07 WHIP, 59.2 IP, 36 K, 12 BB]
We head to Baltimore for the final game of a two-game set. The Nationals shut down the Orioles yesterday behind six exceptional innings from Erick Fedde. Jordan Lyles pitched well, but the Nationals ultimately won the game 3-0. Today, the Orioles are the favorite, and for good reason. They should roll against Patrick Corbin.
The Orioles can really hit a left-handed pitcher, especially lately. Since June began, the Orioles are the sixth-best offense in terms of wRC+ against left-handed pitching. In the last two weeks, they have a crazy high 148 wRC+ against southpaws.
Facing this Orioles offense will be Patrick Corbin. It's sad to see Corbin these days, as he's been the worst qualified pitcher in baseball for the past couple of seasons. Corbin can give you a decent start at home, he just can't pitch on the road. On the road this year, he's 1-4 with a 7.47 ERA.
It's not the most extensive sample in the world with only 51 PA against the Orioles' current roster, but he's rocking a .313 opponent batting average, a .327 xwOBA, and a .454 xSLG.
Opposing Corbin is Tyler Wells, who's putting together an excellent campaign for the Orioles. He's a four-pitch guy with solid command and an xERA sitting in the 56th percentile. He's underrated!
Since June began, the Nationals are 23rd in baseball in wRC+ against right-handed pitching. The Nationals do hit better on the road, so I shortened the sample to how they hit on the road against right-handers in June. They still sit at 23rd in wRC+. If we shorten that even more to the last two weeks, they drop to 27th in wRC+.
I'm riding the Orioles after a loss yesterday. Give me the value in the first five innings instead of riding a money line at -145.
The Pick: Baltimore Orioles First 5 Innings -0.5 (-105)
1.05 Units to Win 1 Unit
____________
San Francisco Giants vs. Atlanta Braves: 7:20 PM EST
Carlos Rodon (LHP, Giants) [6-4, 2.84 ERA, 1.14 WHIP, 73 IP, 91 K, 27 BB]
Charlie Morton (RHP, Braves) [4-3, 5.08 ERA, 1.37 WHIP, 67.1 IP, 75 K, 26 BB]
We head to Atlanta for the third game of a four-game set. The Braves won the first game narrowly 2-1, and the Giants won yesterday's matchup 12-10. Today, it seems like the Giants have the staunch pitching advantage, but I'm expecting an excellent start out of Charlie Morton.
In the last two weeks, the Braves have a 202 wRC+ against left-handed pitching at home. For those unaware of what wRC+ is, that means they are 102% better than average in this spot. When we make the sample a bit larger and take out the home field advantage against southpaws, they rank third in baseball in wRC+ at 158.
The Braves can hit, and while Rodon is excellent, he has been worse on the road this season. At home, he's 3-1 with a 2.18 ERA. On the road, he's 3-3 with a 3.38 ERA. His strikeout rate and walk rate are also much better at home.
It makes sense that the Braves crush lefties, as most of their lineup is right-handed. That also doesn't bode well for Rodon, as lefties haven't touched him all year (.427 OPS), but he is susceptible to right-handed bats (.630 OPS).
Alright, Chuck Nasty. Bring us home.
Charlie Morton has had his struggles this season. He started terribly, recording a 7.00 ERA in June. We saw some improvements in May, holding a 4.60 ERA that month. Since June began, he's thrown 18 innings and allowed eight earned runs while striking out 29 batters to give him a 4.00 ERA. He seems to be getting better as the year goes on, and he just put up his best start of the season on June 17.
While the Giants can certainly hit a fastball, they haven't been as successful against the curveball by run value. Morton throws that pitch more than his fastball or sinker.
I'm not expecting a shutout or anything from Morton, but I expect him to keep these Giants hitters at bay. Since June began, the Giants rank 12th in wRC+ against right-handed pitching at 110.
This play is unlike the other two, as I see more value in the entire game. The Giants used up all of their excellent bullpen arms yesterday, and arguably the two best, Dominic Leone and Camilo Doval, have pitched in back-to-back days, so that they won't be available. The Braves didn't use any of their best arms yesterday, so AJ Minter and Kenley Jansen will be available.
I think this game will be close early on before some late-game heroics from the Braves. I believe the Braves are favorites here for a reason, and I'll be taking them on the money line.
The Pick: Atlanta Braves ML (-125)
1.25 Units to Win 1 Unit
____________
I've written up a quick guide with critical terms and helpful tips.