Analysis
MLB Best Bets: Predictions, Odds for Braves vs. Giants, Cubs vs. Pirates for June 21, 2022.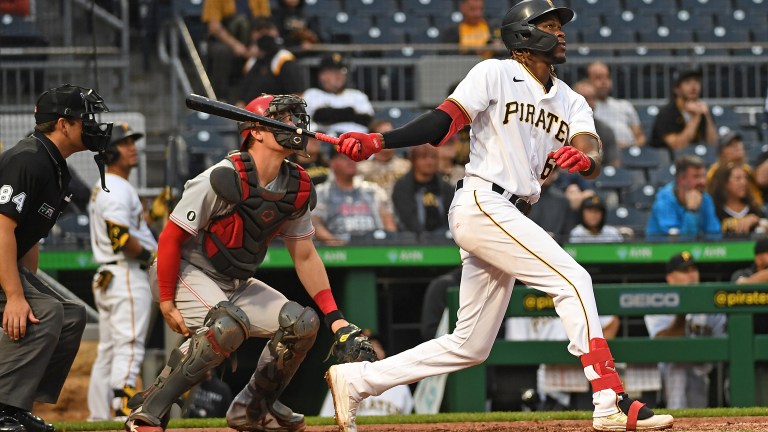 Today shows what we are made of. It's the longest day of the year in terms of physical sunlight. Are we going to spend our day outdoors? It depends if they have a TV.
We have baseball to absorb. After another even day yesterday, we are back at it with two more MLB Best Bets.
I also have a juicy underdog play I gave to our group chat on Chalkboard. Click this link to join the group for free!
2022 MLB Regular Season Record: 103-85 (55%) +11.27 units
Subscribe to my New Gambling/Fantasy Baseball Podcast: Not Gambling Advice
San Francisco Giants vs. Atlanta Braves: 7:20 PM EST
Anthony DeSclafani (RHP, Giants) [0-1, 6.08 ERA, 1.80 WHIP, 13.1 IP, 13 K, 2 BB]
Spencer Strider (RHP, Braves) [3-2, 2.45 ERA, 1.05 WHIP, 44 IP, 68 K, 21 BB]
We head to Atlanta for the second game of a three-game set. The Braves won in a close one yesterday after two fantastic performances from Logan Webb and Max Fried. This game should go a bit differently today, as there is a clear advantage in the starting pitching matchup.
Spencer Strider will get the ball for the Braves, putting together a case for NL Rookie of The Year. His enormous thighs grabbed our attention, but the 100 MPH fastball and disgusting slider have us dreaming of his potential. While his 2.46 ERA is impressive, I'm almost more impressed that his xERA is in the 88th percentile. He looks like the real deal, and he should carve through this Giants lineup.
Since the beginning of June, the Giants rank 15th in wRC+ at 101 with the seventh-highest strikeout rate. If we shorten that sample to just the past two weeks, we see the Giants rank 18th in wRC+ with a .203/.323/.338 slash line against right-handed pitching. While most of the Giants have a positive run value against the fastball, Strider doesn't throw any old fastball. Also, most of the Giants have a negative run value against the slider, so expect plenty of strikeouts from Strider today.
Opposing Strider will be Anthony DeSclafani, who was just reinstated from the 60-Day IL due to an ankle injury. DeSclafani was already off to a rough start before the injury, and now he has to head to Atlanta to face this juggernaut of an offensive unit.
Since June, the Braves have ranked 6th in wRC+ against right-handed pitching at 127. If we shorten that sample to just the past two weeks, they rank 4th in wRC+ with a .254/.333/.514 slash line. The Giants haven't seen Strider, but the Braves have seen DeSclafani.
Through 69 PA against the Braves' current roster, he's rocking a 20.3% K rate, a .273 opponent batting average, a .307 xwOBA, and a .421 xSLG. The average exit velocity against him is nearly 93 MPH.
With how hot this Braves offense is, they should be able to scrape through 2-3 runs against a pitcher coming off an injury. This injury to his ankle has bothered him for a while, as he was put on the IL in 2021 for the same issue.
I'm not expecting a good day from DeSclafani, but I also don't expect Strider to shut them out completely. I think Strider allows one run while DeSclafani allowed three, and the Braves easily cover the first five innings.
The Pick: Atlanta Braves First 5 Innings -0.5 (-120)
1.20 Units to Win 1 Unit
___________
Chicago Cubs vs. Pittsburgh Pirates: 8:10 PM EST
Matt Swarmer (RHP, Cubs) [1-2, 5.23 ERA,1.26 WHIP, 20.2 IP, 19 K, 8 BB]
Roasney Conteras (RHP, Pirates) [1-1, 3.06 ERA, 1.30 WHIP, 32.1 IP, 35 K, 12 BB]
I'm all aboard this Pirates hype train. After stomping all over the Cubs yesterday, I expect them to Cruz to another win. Yes, that was a Oneil Cruz pun because he was setting records before the third inning was over.
It's hard to believe your eyes when watching this young man play. He set the record this season for the hardest throw by a middle infielder at over 96 MPH. He posted sprint speeds north of 31 ft/sec; that's Trea Turner territory. He also hit a ball 112.9 MPH last night, the hardest of the game. He's a freak, and I want to be on his side today.
I just gushed over Oneil Cruz, but what I'm interested in is this starting pitching matchup. I'm becoming obsessed with this young right-hander in Pittsburgh who's displayed electric stuff, hasn't given up a run at home, and will face a Cubs offense that can't hit water if they fell off a boat at the moment.
Since June, the Cubs have ranked 16th in wRC+ against right-handed pitching. While that looks solid, they have had some help. They've played some games at home against the Padres where the wind was blowing out dramatically. Since they left the wind, they've scored eight runs in the past four games, with seven coming in one game against the Braves.
It'll be tough to convince you this Pirates offense is good, but they have been better at home. In the last two weeks, the Pirates rank 24th in wRC+ against right-handed pitching. If we shorten that sample to just facing right-handed pitching at home, they jump to 4th in wRC+ with a .244/.330/.477 slash line.
Matt Swarmer will take the ball for the Cubs, and while his 5.23 ERA is certainly bad, it's his 9th percentile 5.72 xERA, which is even more worrisome. He's a two-pitch guy, mainly displaying a slider and a four-seam fastball.
Swarmer has four starts this year, with three of them coming at home. His lone road start resulted in six earned runs over five innings, but that was the Yankees, so that we can give him a break.
Regardless, the Pirates should be eager to jump all over Swarmer with their new-look lineup. It's exciting to be a Pirates fan with all this young talent. I'll be on the Pirates through the first five innings instead of dealing with either bullpen or a pricey money line.
The Pick: Pirates First 5 Innings -0.5 (-110)
____________
I've written up a quick guide with critical terms and helpful tips.