Analysis
MLB Best Bets, Predictions, Odds for Astros vs. Blue Jays, Giants vs. Nationals, Royals vs. Mariners for April 24, 2022
Three MLB Best Bets for April 24, 2022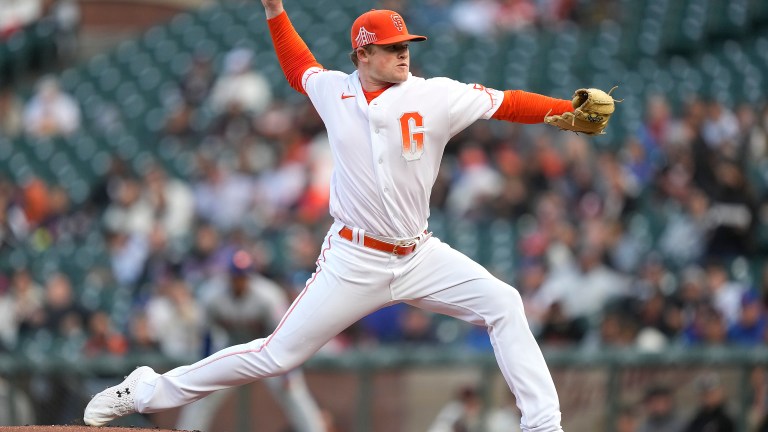 Yesterday marked a perfect 2-0 day, but not without a sweat. Both games came down to the very end, but both ended in a victory. We have three more MLB plays today to end the week, so let's get straight into it.
Peter's 2022 MLB Regular Season Record: 31-18 (63%)

Subscribe to my new Gambling/Fantasy Baseball Podcast: Not Gambling Advice.
Houston Astros ML (-125)
Yusei Kikutchi (LHP, Blue Jays): [0-1, 3.24 ERA, 1.56 WHIP, 8.1 IP, 5 K, 5 BB]
Luis Garcia (RHP, Astros): [1-0, 2.79 ERA, 0.93 WHIP, 9.2 IP, 8 K, 3 BB]
The Astros enter this game against the Blue Jays looking to avoid being swept at home. This season, the Astros have been pretty unlucky and now find themselves on a four-game losing streak. Luis Garcia will be toeing the rubber today against Yusei Kikuchi. Despite the Astros' offensive struggles so far, they only lost each of the first two games of this series by one run. And while they are potentially facing the best team in the American League this year, it is tough to see a team as deep as Houston losing five games in a row.
Fortunately for the Astros, Yusei Kikuchi has a career record of 1-5 with a 6.50 ERA against them. Kikuchi also has a pedestrian 4.88 ERA in 39 starts on the road. Kikuchi's advanced numbers mirror a similar story against the Astros. Through 149 PA against their current roster, he's pitched to a 5.84 FIP, .375 xWOBA, and a .506 xSLG. The Astros offense hasn't been great against lefties this year, but they should break that today against a pitcher they have plenty of success off of.
In 17 career games, Astros starter Luis Garcia has a 2.72 ERA. He is 1-0 with a 1.50 ERA versus the Blue Jays in his career. That lone appearance worked in his favor, but it's a tiny sample. Through 19 PA against the Blue Jays' current roster, he's pitched to a 1.98 FIP, .239 xWOBA, and a .164 xSLG with a 36.8% K Rate. Garcia was much better pitching at home last year, rocking a 2.39 ERA versus a 4.24 ERA on the road.
The Astros bats seem to be heating up a little bit. They got a first-inning bomb from Alex Bregman, and Kyle Tucker and Michael Brantley went 3-4 in yesterday's loss. I think the 'Stros bring this confidence into an early must-win game and put up a crooked number against Kikuchi. I would tail the Astros ML up to -135, but you should be able to find -130 on most sportsbooks.
San Francisco Giants First 5 Innings -0.5 (-120)
Logan Webb (RHP, Giants): [1-1, 2.55 ERA, 1.08 WHIP, 17.2 IP, 11 K, 4 BB]
Joan Adon (RHP, Nationals): [1-2, 5.87 ERA, 1.63 WHIP, 15.1 IP, 13 K, 9 BB]
The Giants took the first two games of the series against the Nationals in our national capital. We have a reasonably lopsided pitching matchup in Logan Webb versus Joan Adon. I faded Joan Adon against the Pirates, but he did have an excellent start against the Diamondbacks in his last outing. Webb is one of the best pitchers in the league, while I think Adon is one of the worst. I'm isolating this starting pitching matchup through the first five innings. In both of the Giants' wins in Washington, they struck early and did so with authority. I think they'll do it again today.
​​Logan Webb's chase rate is in the 88th percentile, and his average exit velocity of 86.7 MPH is on pace to be the greatest of his career, according to Baseball Savant. Against a dreadful Nationals lineup, he'll only improve on those numbers. He has minimal experience against the Nationals in his career. He faced them once last year, throwing three innings without allowing a run.
Adon has never faced the Giants, but his stuff won't scare them. Adon throws a 94 MPH four-seam about 63% without much movement. He mixes in a below-average curveball and occasionally goes with a changeup or slider. None of his pitches are good; the Giants should have a field day.
The Giants are now 10-5 on the season, trailing the Los Angeles Dodgers by one game in the National League West. Washington has recently struggled on both sides of the ball, and the Giants can afford to pitch around Juan Soto as he has very little protection in the lineup. I think the Giants continue to roll and win through the first five innings.
Royals vs. Mariners First 5 Innings Under 4.5 (-115)
Carlos Hernandez (RHP, Royals): [0-0, 7.27 ERA, 1.96 WHIP, 8.2 IP, 1 K, 3 BB]
Robbie Ray (LHP, Mariners): [2-1, 4.19 ERA, 1.24 WHIP, 19.1 IP, 13 K, 7 BB]
Yes, I know that these teams put up a combined 20 runs yesterday, but today will be a very different story. Carlos Hernandez will be going up against 2021 AL Cy Young Robbie Ray. Hernandez's numbers don't scream under, and Ray's velocity is down from last year. Here's why I'm on this under.
Despite Hernandez's poor numbers to begin the 2022 season, he has great numbers on the road and has pitched very well at T-Mobile Park. He pitched to a 2.21 ERA in 39.1 innings on the road last season compared to a 4.89 at home. In his previous start against the Mariners, he went 5.2 innings, allowing only one hit, one run, and he struck out six. He's not the brightest star, but today's matchup bodes well for him.
On the other hand, Ray shut out the Royals through five innings the last time he faced them. He struggled with his command a bit, but he pitched himself out of trouble when needed, and I expect the same from him today. In 32 PA against the Royals' current roster, he's thrown to a 3.69 FIP, .341 xWOBA, and a .385 xSLG. After last night's offensive outburst, I see both offenses coming out slow. The Royals are one of the worst teams in baseball against left-handed pitching, rocking a .521 OPS. After being hit by a pitch, Salvador Perez got an x-ray on his hand, but it was negative. He's day-to-day, so if he plays, he'll be a bit banged up.
T-Mobile Park also ranks as the third-worst ballpark in terms of the scoring environment today. Runs are projected at 6% below average, and extra-base hits are projected at 15% below average. With all these factors working in the pitcher's favor today, I expect a low-scoring affair with great value on the first five under 4.5 runs in this contest at -115.
________________________________________
I've written up a quick guide with critical terms and helpful advice if you choose to tail my daily picks. This daily column is updated every day between 9:00 AM – 12:00 PM EST.