Analysis
Houston Astros vs. Texas Rangers Best Bets, ALCS Game 3 Picks, Odds, Predictions for October 18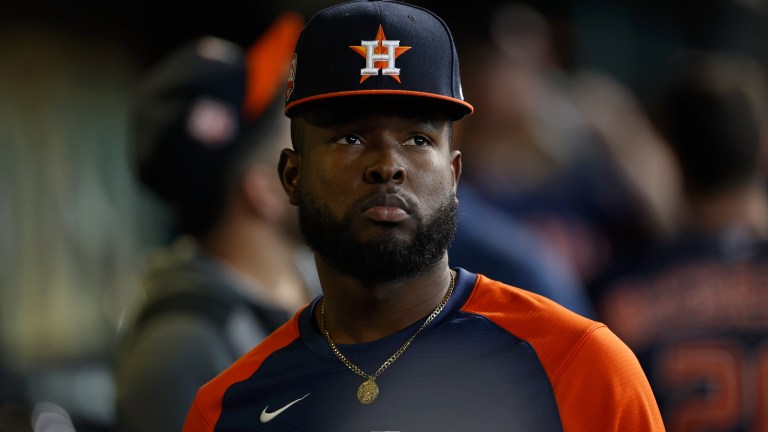 Imagine if all bets were that easy. Last night, we took the Phillies ML and Trea Turner to record a hit in a same-game parlay with +105 odds. Trea Turner's first at-bat was a home run, and the Phillies won 10-0.
Today, we switch gears to the ALCS for Astros vs. Rangers. Here is my best bet.
2023 MLB Regular Season: 154-165 (-11.66 U)
2023 MLB Playoffs: 9-9 (+0.97 U)
Houston Astros vs. Texas Rangers @ 8:03 PM EST
Pitching Matchup:
Cristian Javier: 4.56 ERA, 4.48 xERA, 4.58 FIP, 5.16 xFIP, 4.76 SIERA
Max Scherzer: 3.77 ERA, 3.28 xERA, 4.32 FIP, 4.02 xFIP, 3.77 SIERA
BetMGM and others have priced this game as if the starting pitching matchup heavily favors the Rangers. Do you see those numbers I typed up there? Throw those out the window.
Before this postseason, that was our last showing of the demon Cristian Javier in the playoffs.
Then, he did this. I included the tweets from Jeff Passan because he worded them perfectly. Javier regressed in his last start by allowing one hit. Those aren't his only post-season starts; he's been on this level.
In 37.2 IP, he's rocking a 1.91 ERA. Most of those innings have come out of the bullpen, as he's only recorded three starts. He threw 12.2 innings last postseason, allowing one earned run and two hits against the Yankees and Phillies.
Truthfully, it's hard to predict how Cristian Javier will pitch. I said throw his season stats out the window because he wasn't the same pitcher. The pitcher we saw against the Twins saw his velocity spike and his slider return to the 2022 version, where he posted a 2.43 xERA over the regular season. The Astros didn't flinch with Javier when we saw him get blown up earlier in the season, citing a mechanical adjustment as the issue.
The problem I've always had with Javier is his margin for error is so small. With a limited pitch mix, those pitches must be plus-plus for him to be effective. On June 3, he allowed eight earned runs to the Rangers, but his stuff was down. How can I put much stock into that start when he's a different pitcher if the velocity isn't there? The only thing we can do is hope that it's there, and it has been his last two starts, so this isn't simply blind faith.
Here's what we do know. Javier has faced this Rangers roster when he was at his best and at his worst. In 139 PA, his opponent's average against is .244 with a .332 xwOBA and a .429 xSLG. Those numbers are fine. Not great, but not bad either.
I highly recommend checking out this article about the Rangers' ability to barrel up sliders, which is Javier's outpitch. While the Rangers match up well against Javier on the surface, good pitching always beats good hitting. If he has it, he should dominate; if he doesn't, he'll get destroyed. He's a boom-or-bust pitcher, so I like backing him as a dog.
Max Scherzer is on the other side. I'm more confident that he struggles than Javier does. Scherzer's last start was on September 12th, so this will be his first start in over a month. His month of September was odd. He completely shut down the Twins over six innings. He turns around and gets blasted by the Astros for seven earned runs in three innings. Then he completely dominates the Blue Jays over five innings, then hits the IL.
We've been told he'll be on a pitch count. That story alone makes me want to fade him. It's the ALCS; if the Rangers feel he's not ready to handle a full workload, he must not be 100%. He went on the IL because of a teres strain in his right arm. "When this injury happened, we were in that-four-to-six-week window [necessary rest]," Scherzer said. We are right in that window, but now, all of a sudden, he's 100%?
We saw what Max Fried looked like early on, and he just had a blister. The rust combined with a hungry Astros team with success against him in the past does not scream success.
Houston is plenty familiar with Scherzer. In 170 PA against the Astros' current roster, the opponent average is .287 with a .345 xwOBA and a .485 xSLG. That's worse than Javier.
So why are we going with the first five innings when the Astros have the better bullpen?
For one, the Rangers bullpen has been totally fine. While the Astros have the edge late in the game, I can't cap that if the Rangers get a lead, the Astros will find a way to storm back. Javier is also a boom-or-bust candidate, so the game will most likely be out of reach if he gets destroyed. I'd rather fade the pitcher, I think, struggles the most than get in a battle of the bullpens, especially when they are offering the best price to do so.
I initially made the point that the books have priced Scherzer as the far superior pitcher in this one. Rarely will you see a first-five-innings line with more value than the full-game ML. I want to bet on the Astros because I believe Javier outduels Scherzer, so I'd prefer to soak up all the value I can.
This is a value play. I could look like a genius, or this will be out of reach early. It's a must-play on Houston to get a lead early at this price. We push if both pitchers get hit up and the score is tied. If you feel more comfortable going with the full game, you have my blessing, but this is the best price. This should be no higher than +110.
The Pick: Astros First 5 Innings ML (+118) Risk 1 U