Analysis
ALDS Game 2 Best Bets, Odds, Predictions for October 8, 2023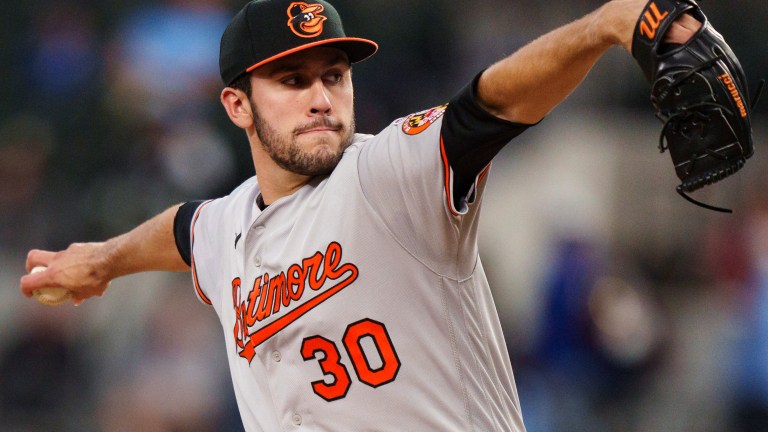 We dropped 1.25 units yesterday.
The Twins showed some fight at the end, but ultimately, the Astros got the better of them. We hit Clayton Kershaw under 15.5 pitching outs, but Kyle Bradish soiled the entry by going way over his strikeout total.
It was our first losing day since Monday Night, and we still sit in the positive in the playoffs. I'm back to deliver with two MLB picks for the two games on the slate.
Check out my MLB future on this series for more data.
2023 MLB Regular Season: 154-165 (-11.66 U)
2023 MLB Playoffs: 4-4 (+1.78 U)
Texas Rangers vs. Baltimore Orioles @ 4:07 PM EST
Pitching Matchup:
Jordan Montgomery (TEX): 3.20 ERA, 4.01 xERA, 3.56 FIP, 4.01 xFIP, 4.23 SIERA
Grayson Rodriguez: 4.35 ERA, 4.16 xERA, 3.93 FIP, 3.78 xFIP, 4.01 SIERA
The only other total I bet in the playoffs was the under in game two of the Twins vs. Blue Jays series. The reason I bet it was because I saw some bad ABs in game one, coupled with pitchers I love in game two. If the bullpens can perform, which they definitely did in game one, we should go well under the total in this one.
Jordan Montgomery needs respect. The man went into Tropicana Field against a great offense against lefties and turned in a seven-inning shutout. He's so steady, one of the more reliable pitchers in Major League Baseball.
That is now five straight starts for Montgomery, where he's allowed one run or fewer. He ended the season on a four-start stretch where he allowed two earned runs in 27+ IP. Baltimore ended the season on a nice stretch against lefties, putting up a 117 wRC+, ranking ninth in that span. However, that wRC+ is inflated due to maintaining the highest walk rate. Montgomery is built on command, sitting in the 82nd percentile in walk rate. The Orioles have a 112 wRC+ against lefties overall this season.
Montgomery is familiar with his opponent, dating back to his time with the Yankees. In 123 PA against this Orioles roster, they have a .307 xwOBA with a .375 xSLG to match a 23.6% K-rate with a 3.3% BB-rate. Monty has an incredible ability to put aggressive hitters in uncomfortable situations. He wants hitters to hit his pitches.
A young Orioles team with their backs against the wall, I feel, is an excellent matchup for Montgomery. He should get some bad swings from aggressive hitters, resulting in soft contact on the ground.
Overall, I do think we'll see the Orioles bats wake up slightly. I'm giving Montgomery a five-inning start where he allows two runs.
Grayson Rodriguez is a rocket ship. He was sent down after a rough start to his season, and he has an interesting relationship with the Rangers. They were the team he debuted against and he pitched well, allowing two earned runs in five innings. They were also the team that beat him up, which led to his being sent down, allowing eight earned runs in 3.1 IP. However, when he rejoined the Orioles, he was a different pitcher.
His velocity was jacked up all the way to 98-100 MPH. His changeup and slider got a few teaks; now they are legit secondary offerings. He put up a 3.18 ERA in his first three starts back. He put up a 2.64 ERA in August. His September was his best yet, posting a 2.17 ERA.
A part of me thinks the Rangers will hit him like they did before. However, early on, we will see the best stuff we've seen from a starter since Jacob deGrom.
That's a big statement. Some may say crazy. Kyle Bradish felt the adrenaline of his first playoff start, sitting 97 MPH on his fastball/sinker when he's normally 93-95. Grayson Rodriguez is sitting 98-100 MPH without adrenaline. He may be sitting 101 MPH with life through the first three innings.
Hitters can hit high velocity, but his breaking balls normally being 15-20 MPH slower is what makes hitters respect the fastball. Catching up to high velocity is easier when a player sits on a speed window. Grayson's fastball will look 104 MPH after snapping off his 80 MPH curveball and 84 MPH slider.
However, I don't think it will last. I think his outing will look like Bradish's. Flashing elite-elite stuff early, then tapering off. I'm expecting three shutout innings, then a few runs coming in the fourth and fifth innings. I'm giving him the same line as Montgomery: five innings and two earned runs. The Rangers have a 114 wRC+ against righties this season and a 121 wRC+ in September. It's clearly a good offense, but Grayson could dominate the 1927 Yankees if he looks like I think he will.
I was impressed with the Rangers bullpen. I thought Bochy pressed all the right buttons; I believe in his ability to put pitchers in positions to succeed. Only Josh Sborz is questionable, but even he only threw 20 pitches, and his last outing before that was on Thursday.
I think the Rangers bullpen has somewhat earned our respect. The starting pitching has been so good, but only Dane Dunning allowed a run when the bullpen was called upon. The Rangers bullpen has gone nine innings while only allowing one earned run. The Orioles bullpen is simply great, flashing that in game one. Outside of a Josh Jung home run against Jacob Webb, they were spotless, not allowing a hit in four-plus innings.
I love both starters and didn't love what I saw from either offense to pick a side confidently. I have more confidence in Monty, but I like the Orioles bullpen more. Give me the under in what I think should be an awesome pitcher's dual. Take this down to 7.5 at -105.
The Pick: Under 8 (-110) Risk 1.1 U
Minnesota Twins vs. Houston Astros @ 8:03 PM EST
Pitching Matchup:
Pablo Lopez (MIN): 3.66 ERA, 2.98 xERA, 3.33 FIP, 3.29 xFIP, 3.37 SIERA
Framber Valdez: 3.45 ERA, 4.30 xERA, 3.50 FIP, 3.39 xFIP, 3.70 SIERA
This is it, folks. If they don't win this game, the series is over. Could they rattle off two in a row in Minnesota? Sure. That plane ride home, down 0-2 to the defending champs, would not be fun. When they were down 5-0, I posted on Twitter that if they didn't show any fight, I would count the series as an L and not back them anymore. What did they do?
Back-to-back home runs by Jorge Polanco and Royce Lewis to pull within one. I asked, and they delivered. Based on what I saw, I still believe this team can win in Houston.
After taking a dagger to the heart, I wanted to see what the Twins looked like. They left runners on base early and couldn't manufacture a run. During this, they allow the Astros to put up a crooked number. Teams who weren't meant to be here would have rolled over.
That final score could easily have been 6-0, but the Twins battled, making the game close. They even got hosed on several balls-and-strikes calls, which could have squeezed the gap. The Twins weren't going to sweep their way to the World Series, and overall, I liked how they responded.
The full response will take place in game two. Twins bats have not seen Framber this season, but this current roster has logged 57 PA against the southpaw. They are rocking a .357 xwOBA with a .480 xSLG and a 14.4% strikeout rate. The Twins also found their groove against left-handed pitching as the season ended.
They put up a 147 wRC+ in the month of September, slashing .311/.393/.492 with a .885 OPS and a .380 wOBA. They have enough right-handed bats to fill a lineup with left-handed mashers.
Donovan Solano is in for Alek Kirloff (downgrade). Polanco and Castro switch to the right side, where they have a .823 OPS and a .855 OPS, respectively, this season, both in their better split. You have Lewis and Correa, self-explanatory. Kyle Farmer gets the start; he has a .781 OPS against lefties. Jeffers remains at catcher, another lefty-masher, rocking a .940 OPS. They have to make room for Michael A Taylor, who has a .914 OPS against lefties. It's a really strong lineup that's familiar with Framber Valdez.
That said, it's Framber Valdez in the playoffs. I've seen him carve through better lineups than this. However, we are in the midst of Framber's worst full season since 2019. He's going to have to be very good to outduel Pablo Lopez.
Everyone had their concerns about his issues at home when he threw against the Blue Jays and shut everyone up by tossing a gem. This Astros lineup is elite, not sugarcoating that. They were the one team that wasn't rusty off the bye. However, Lopez is a full tier above Ober and Maeda.
Lopez has logged 23 PA against the Astros' current roster, holding them to a minuscule .274 xwOBA and a .333 xSLG. It's a small sample, but at least there is prior success.
The bullpens are where things get interesting. Due to the early blowout, then the Twins coming back and making it close, we saw the bulk of the Astros bullpen. Neris and Pressly should be available, but the best of the bunch, Bryan Abreu, threw 29 pitches. I wouldn't be shocked to see him again today, but he won't be 100%.
The Twins didn't throw their three best arms: Brock Stewart, Griffin Jax, and Jhoan Duran. We will definitely see all of them if the game is even in striking distance, and all three can limit damage against any lineup. That's why I liked the Twins a lot moving forward; the bullpen is so deep that Baldeli really can't screw it up.
Pablo Lopez has been the better starter this year. The Twins will have the bullpen advantage in this one. They have success against Framber, and their backs are against the wall. It's now or never, Twins.
The Pick: Minnesota Twins ML (+120) Risk 1 U