Rankings
10 Teams With the Best Odds to Win the 2022 College World Series
MLB may be in a lockout, but the college baseball season is in full swing. Here are some teams to watch that can win it all in 2022.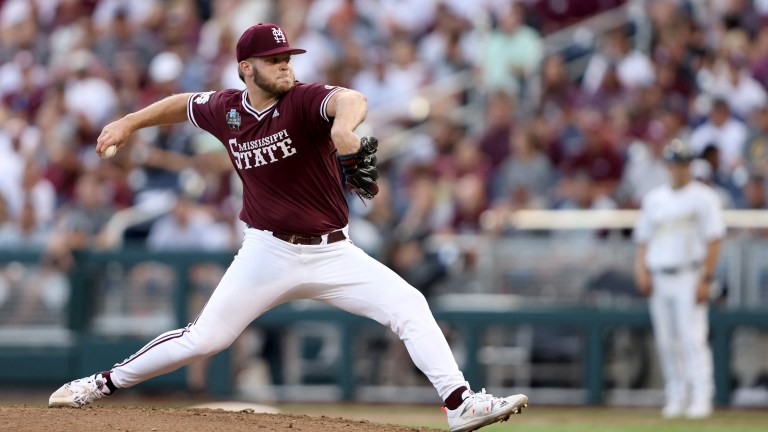 We are ten days into the NCAA baseball season, and we can't get enough of it. While MLB and the MLBPA argue over money, the college game has taken the baseball world by storm.
On the latest episode of "Not Gambling Advice," we go over the best bets to win the College World Series that kicks off June 16th.
Trends To Watch
Focus on the Front-Runners
Since 2013, only one team outside of the top 10 preseason rankings has gone on to win the College World Series. (Coastal Carolina was ranked #21 preseason back in 2015.) South Carolina won back-to-back titles in 2010 and 2011 and was ranked outside of the top 25 both years, though.
Runner-up? Not really, better luck next year!
The University of Virginia in 2015 is the only team in the history of the College World Series to finish runner-up and then win the following year. This trend potentially writes off Vanderbilt from the title, as they were the runner-up last year in a loss to Mississippi State.
Back-to-Back Champs?
South Carolina is the last team to win in back-to-back seasons, and Oregon State repeated in 2006 and 2007, but Mississippi State has an uphill battle to a repeat.
Teams That Can Win it All
1. University of Texas (+750)
Pete Hansen is one of my favorite pitchers in the country. He's a 6-foot-2 lefty who shoves. Hansen has 16 strikeouts in 11 innings over two starts, both wins, and he hasn't allowed a run yet. He had a 1.88 ERA last year, and we bet he finishes with an even better ERA this year. They also have Tanner Whitt, a freshman All-American who finished with a 3.16 ERA last year.
Texas had seven out of their 18 players listed on the "All BIG 12 Team," Including 1B Ivan Melendez, P Pete Hansen, SS Trey Faltine, and P Tristian Stevens. Faltine is a star player, already hitting over .300 on the year.
They get on base!
Eric Kennedy gets on base and steals instantly, swiping 18 bags last year. Tanner Witt and Tristian Stevens have big-league stuff. Tanner Whitt is a freshman All-American who finished with a 3.16 ERA last year that runs his fastball up to 97 MPH. Stevens limits the walk and has thrown 12 innings without allowing a run.
Ivan Melendez also has donkey pop. He's rocking an OPS over 1.000, and he hasn't even truly got going yet. He's leading the team in RBIs and has an OBP near .500, but we think he's only going to get better.
2. University of Arkansas (+1200)
Head coach Dave Van Horn is on a tear. From 2009 through 2019, the Razorbacks have finished with 40+ wins nine times, and in 2013, they won 39 games. They are consistently one of the best teams in college baseball, and the roster they have now rivals any of those teams.
The only possible holes in this team is their pitching after losing Patrick Wicklander, star reliever Kevin Kopps, and first-round talent Peyton Pallette. Someone will step up. Someone always does for Arkansas.
Cayden Wallace, Robert Moore, and Brady Slavens were great last year and are destroying baseballs again this season; Wallace is hitting .438 with four extra-base hits in four games already. Robert Moore is one of the best players in the country.
"Defense is where Moore shines, with strong instincts, quickness, and advanced actions up the middle." – Ryan Miller, Co-Host of Boys of Spring.
This is a scary team if Connor Noland can keep up his early success on the mound and with the mustache.
3. Louisiana State University (+1400)
As we've seen in years past, it takes top-end talent to win the College World Series, and LSU is chocked full of it. Dylan Crews is likely the best player in all of College Baseball, and he's not even draft eligible yet. He's one of the only hitters topping 110 MPH in exit velocity in all of college ball.
Behind him, Jacob Berry, Tre Morgan, and Cade Doughty make the Tigers' order genuinely menacing. Jacob Berry transferred from Arizona after hitting .352 with 17 home runs. Morgan had a .967 OPS in his freshman year with the Tigers and is off to a blistering start to 2020. Their pitching has a lot of questions as it lacks depth, but the Tigers have the most offensive firepower in the country and will likely make a deep run in the College World Series.
4. Oklahoma State University (+1800)
This team is so offensively gifted, and when it's firing on all cylinders, the Cowboys have as good of a shot as anybody.
Justin Campbell is the truth. He's a big 6-foot-7 right-hander who was one of five finalists for the John Olerud Two Way Player of the Year. He pitched against Vandy on February 18th, allowing a couple of runs but struck out eight in four innings of work. Jake Thompson, a grad transfer, is on an absolute tear. He went 6-for-10 with two doubles against Vanderbilt. Griffin Dooershing also has Donkey Pop; six extra-base hits in four games.
Through and through, one of the most talented teams in the country. They're currently ranked fourth, and at +2000, you're getting tremendous value.
5. Oregon State University (+1800)
Oregon State's offense is incredible. They had eight players who hit over .300 last year, and Garrett Forrester hit .299, so basically nine guys.
This year, it's the Jacob Melton show. Tommy White has taken the league by storm, but Melton might be the second-hottest hitter in the country. The man hit .404 last year, and right now, he's hitting .536 with a 1.497 OPS. He's got two bombs, two doubles, and two triples in seven games. Greg Fuchs and Wade Meckler are also hitting over .400.
Connor Hjerpe has been solid so far on the bump. He finished with a 4.21 ERA last year, but he's made some excellent adjustments, and he's only allowed one run in 11 innings so far while striking out 17.
They're well-coached and have been there before. They won back in 2018 behind Nick Madrigal, Adley Rutschman, Trevor Larnach, Steven Kwan, and an incredible pitching staff. This team isn't entirely on that level, but they have a great shot at making the College World Series.
6. North Carolina State University (+1400)
NC State got hosed in last year's College World Series. They were kicked out of Omaha after positive Covid-19 tests, losing their starting lineup against Vanderbilt in the semi-finals.
It's Tommy White's world, and we are just living in it. He's got nine home runs in eight games, and he's hitting .588. The crazy thing is, that's not even the best batting average on his team. JT Jarrett is hitting an absurd .591, and they have two other players also hitting .400.
Like Oregon State, the offense packs a significant punch, but the pitching is a question mark. Only Coby Ingle finished with an ERA below 3.60 in 2021. David Harrison has been probably their best pitcher so far, as Sam Highfill has been roughed up a bit against competition that isn't that great.
Tommy White has a chance to be the fifth college player to hit more than 40 HR in a single season. Lance Berkman was the last to do it, back in 1997 with Rice University. The offense is elite, but the pitching is the only thing stopping them from getting back to the College World Series.
7. Florida State University (+3000)
The saying has always been, "pitching wins championships," and Florida State has a top-five rotation. They have two preseason All-Americans in Parker Messick and Bryce Hubbart, who combine to form one of the best one-two punches in college baseball.
Messick was the ACC Pitcher of the Year last season, posting a 3.10 ERA in 90 innings pitched and backed it up with an outstanding performance in the Cape. Hubbart also enjoyed a phenomenal summer in the Cape, as he had a 0.87 ERA with Brewster.
Their offense is led by Miami transfer Alex Toral, who had a .834 OPS with the Canes in 2021 and is off to a great start in 2022 with the Noles. Behind Toral, they have a ton of scrappy hitters that love to get on base. Their pitching and defense will carry them far if they're able to score enough runs.
8. University of Mississippi (Ole Miss) (+2200)
Along with LSU and NC State, Ole Miss is another front runner for the best lineup in College Baseball.
Justin Gonzalez could be the best player in college baseball. He's a premium defender with ample power from the left side and a really sweet swing. Their pitching is solid and has an essential veteran presence.
Derek Diamond had a solid first outing on Opening Day, proving pitching won't be as big a concern as some had previously thought. They also have John Gaddis, a fifth-year transfer with flawless makeup. They also have a 6-foot-8 monster in Wes Burton, who hasn't thrown in 2022 yet. The sky is the limit for Ole Miss in 2022.
9. University of Tennessee (+1600)
This team has veterans!
Three players have been on the team for four years in their current starting lineup, including fifth and sixth-year players. Evan Russel, a fifth-year catcher, hit 14 HR last year. Their first basemen is sixth-year Luck Lipcius, who hit 15 home runs last season and can top that in 2022.
Tennessee has a knack for churning out dudes who throw 100+ MPH cheese. Remember Garret Crochet?
He's on the White Sox now, but they have more coming up the pipeline. Blake Tidwell has been getting a lot of attention after reaching 104 MPH. He's a clear first-round talent. There is a ton of buzz surrounding pitcher Chase Burns as well. He started on Opening Day for the Vols, touching 98 MPH over five innings with five strikeouts.
Jordan Beck, a two-way star in football and baseball in high school, is on a tear already. The Red Sox drafted him in the 14th round out of high school, and now he's pulverizing baseballs for Tennesse. He's got power and speed, racking up 15 home runs, along with eight stolen bases in 2021.
10. DARK HORSE: Long Beach State University (+5000)
Jack Noble pitched well against Mississippi State, and Luis Ramirez is the truth. They've combined for 22 1/3 innings, striking out 22 and not allowing a run. If the pitching can stay hot, they have a shot. The offense is the question, but they got four dudes hitting over .300, and Johnathan Long has donkey pop.
They may seem like College World Series longshots now, but they did just take two of three from an outstanding Mississippi State team, even with facing the best pitcher in College Baseball, Landon Sims.