Analysis
Why the Atlanta Braves Were Right to Promote AJ Smith-Shawver
Alex Anthopoulos is once again aggressively promoting one of the Atlanta Braves top prospects, calling on the live arm of AJ Smith-Shawver.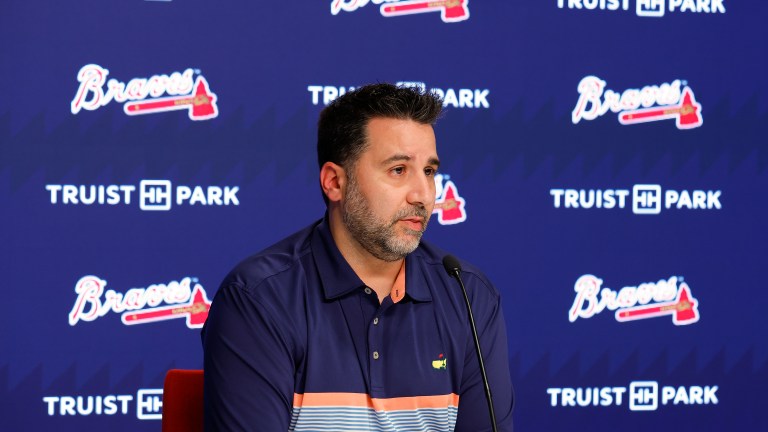 There have been some big names promoted during the 2023 season. While not all have faired well in their debuts, prospect fanatics are still enthralled with the chance to see their teams future begin to make their way to the Major Leagues.
The most recent, and possibly most controversial, is Atlanta pitching prospect AJ Smith-Shawver.
Who Is AJ Smith-Shawver?
Just two years ago, AJ Smith-Shawver was a senior at Colleyville Heritage High School in Colleyville, TX. Believe it or not, three years ago was the first time Smith-Shawver decided to become a pitcher.
Atlanta drafted him in the seventh round of the 2022 Amateur Draft at an over-slot value of $1 million in order to ensure he forwent his commitment to Texas Tech and began his professional career out of high school.
The six-foot-three right-handed pitcher flashes a fastball that sits comfortably in the mid-90s. To complement the heater, he has a late-breaking slider that has been identified as "plus", and a curveball he sprinkles in only around 10% of the time that has seemed to take over the change-up that he threw with very-little success in 2022.
Even with the lack of success, Atlanta is hoping to still be able to help him develop the pitch as he continues to work on it.
| | | | | |
| --- | --- | --- | --- | --- |
| FASTBALL | SLIDER | CURVEBALL | COMMAND | FV |
| 70/70 | 60/70 | 50/55 | 35/50 | 55 |
The grades on his pitches all rate at above-average marks, which is very impressive considering how recently he began pitching. The grades provided are going to be found on the new Top-100 Prospect update that Aram is going to release later this season. That update will give you a full breakdown of each of his pitches, and why Aram grades them as high as he does.
Even with the small sample-size of a track record on the mound, Atlanta is confident enough in his abilities to aggressively promote him to the big-leagues in order to help fill a gaping need for an effective bullpen arm.
Justification Behind the Decision
Atlanta has a strong history of being a successful organization. Even more so when Alex Anthopolous took over as the General Manager in 2017.
Since then, we have seen him make multiple aggressive decisions he felt would help get the organization to take the next step towards being World Series contenders on a yearly basis. Think as recently as last season when Michael Harris II was promoted from Double-A at a time when they needed production for an outfield position after losing Joc Pederson and Jorge Soler in free agency after winning the World Series in 2021. Now here he is promoting Smith-Shawver.
Smith-Shawver's first season in professional baseball was not the ideal start to a career, but his name generated a lot of buzz during spring training. Ever since then, the Atlanta front office made it a priority to give him every opportunity to develop his arsenal and allow him the opportunity to compete.
The aggressive promotion started when he was assigned to High-A this season even after the poor start to his professional career. What gave the organization the optimism in him was his ability to still confidently dominate with his fastball-slider combination.
The improved command throughout this time is what led to his success in overwhelming High-A hitters at the beginning of this season. In just three starts, he struck out 23 of 52 batters faced, not allowing a single earned run, while limiting hitters to just a .359 OPS. This all led to the quick promotion to Double-A Mississippi, where he became the youngest drafted player in the league.
Just as it seemed he was quickly getting comfortable after one start, he was again promoted to Triple-A. He made his first start on May 19th and, to the surprise of no one, was able to dominate hitters with his lethal combination of pitches.
What Can We Expect?
As per usual, and mentioned throughout multiple platforms, AA is very aggressive when it comes to roster movement. While many of us might not understand the reasoning behind some of the moves, they have all seemed to work for the organization, and has led to multiple winning seasons since his arrival.
AJ Smith-Shawver entered this season as MLB Pipeline's 4th-ranked prospect in the Braves organization. He was actually left off of the Top-100 prospect list on most sites throughout the industry. However, just as we've seen each season, there are those that "pop-up" solely based on their performance and tangible changes that are noticed in their development process.
As we now head into the summer of the baseball season, Atlanta plans to use Smith-Shawver in their bullpen which has desperately needed impactful reinforcement to help aid them in their journey to the postseason.
While he might not be the left-hander that they might have needed a tad bit more, what he has shown this season will give hope to the Atlanta-faithful.
If you want to try finding a 1-1 comparison to this situation, think back to Spencer Strider who was given an even more aggressive promotion down the final stretch of the season in 2021.
Having only thrown one inning at Triple-A and 2.1 innings in the majors, Strider went on to spend all of last year with the Braves, first pitching out of the bullpen before earning his spot in the rotation for the larger part of the season.
While many questioned this decision, much like the one surrounding Smith-Shawver, Strider proved to be a pivotal part to the bullpen when Atlanta needed it most.
Funny enough, like Strider, AJ Smith-Shawver will look to have major league success with a plus-fastball/slider combination.
I also would not put it past this organization, as mentioned in the quote from Manager Brian Snitker, that he ends up making a couple of starts for this team once he gets settled into the major league lifestyle. With as many questions as they have surrounding the health of Max Fried, Kyle Wright, and even that of recently-returned Mike Soroka, having the ability to deploy Smith-Shawver can prove to be another injection of youth into a ballclub that is ready to return to the World Series.