Rankings
The Top 10 Prospects Moved at the 2023 MLB Trade Deadline
Between Luisangel Acuña, Kyle Manzardo, Edgar Quero and Drew Gilbert, some of the top prospects in baseball were moved at this year's deadline.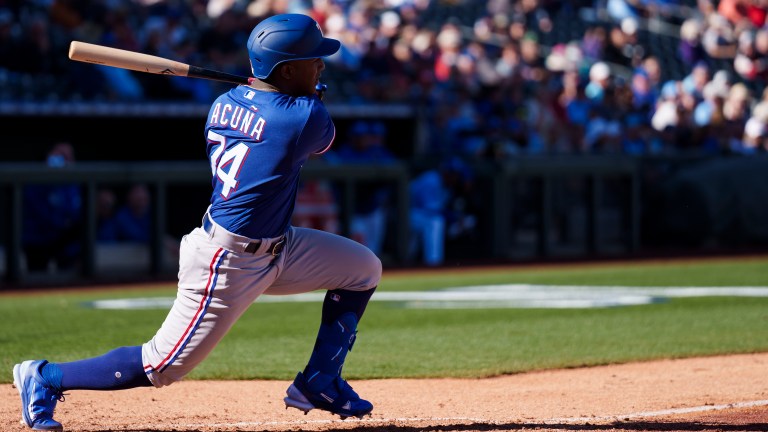 Though this deadline season lacked as many blockbusters as we'd become accustomed to in the last couple years, several top 100 prospects changed hands along with plenty of top five and top 10 ranked prospects in their respective organizations.
Just as we do every deadline at Just Baseball, here's the top 10 prospects moved this trade season.
Honorable Mentions
Kahlil Watson – SS – Guardians: A first round pick in 2021, Watson slipped to the Marlins at 16 due to makeup and signability concerns. The talented infielder has flashed his ability in his parts of two seasons with the Marlins, but also validated many of the teams that passed on him in the draft with frustrating behavior both on and off the field that resulted in him being benched.
He boasts plus speed and good power potential, but the production has not totally been there either. For the Guardians, Watson was a worthy flier for little cost as they sent Josh Bell to Miami while taking on Jean Segura's contract. Cleveland saves some money and picks up a former first round flier.
DJ Herz – LHP – Nationals: Command woes have plagued Herz in his professional career, but he has been able to skirt by at times thanks to his swing-and-miss stuff. The 22-year-old has a plus-plus changeup and funky release point that helps his low-90s fastball play up. There's plenty of reliever risk, but Herz should be a big-league arm in some capacity.
Ryan Bliss – 2B/SS – Mariners: One of the breakout prospects of the year for the Diamondbacks, Bliss cut down the whiff as he made the jump to Double-A. The former second round pick hit .358/.414/.594 through 68 Double-A games in the hitter-friendly Texas League and while the power is likely a bit below average, Bliss's improved feel to hit, athleticism and defensive versatility is reminiscent of a Jon Berti type.
Hao-Yu Lee – INF – Tigers: Signed for around $500,000 out of Taiwan in 2021, Lee has really impressed with his feel to hit through his first two Minor League seasons. The power is closer to average, but Lee has a fantastic approach with good contact rates and the ability to drive the ball to all fields.
Devin Mann – UTIL – Royals: Another blocked Dodgers prospect, Mann has consistently put up strong numbers in the minors. Mann is another patient hitter with average power that he gets into in games. While he is an average defender at best, Mann can play all over.
Sem Robberse – RHP – Cardinals: A Future's Game participant for the Blue Jays, Robberse has a trio of quality secondaries but has been held back by a below average fastball. If Robberse can see an uptick in velocity or improve the shape of the pitch, he could be a solid back e
Korey Lee – C – White Sox: Probably more of a placeholder until the newly-acquired Edgar Quero is ready to take the reins behind the dish, Lee is a solid defensive catcher, with a rocket for an arm. He may leave a bit to be desired with the bat, but at least offers some power. Lee should at least be a solid backup catcher.
Ky Bush – LHP – White Sox: More of a command-over-stuff southpaw, Bush has struggled this season as his command has waned. His above-average slider is his best pitch with a changeup that has improved, but the command will need to be near plus for Bush to have success unless he sees an uptick in stuff.
Jackson Wolf – LHP – Pirates: Shortly after making his MLB debut with the Padres, they shipped him to San Diego in a larger deal that included Rich Hill and Ji-Man Choi. Wolf is long and lanky at 6-foot-7, creating elite extension which helps his 90-92 mph fastball play up. Wolf is funky with good command and has enjoyed somewhat of a breakout season in Double-A.
10. TK Roby – RHP – Cardinals
A mid 90s fastball, hammer of a curve in the 79-81 mph range, along with a slider and changeup that flash average or better, there's no doubting the stuff from Roby. He also pounds the strike zone, keeping the walk rate low with plenty of whiff. Flirting with around 20 inches of induced vertical break on his fastball, Roby often gets hitters to swing under his heater to erase hitter's counts.
The surface level stats may not be great for the 21-year-old, but he was really settling into Double-A before going down with a shoulder issue. Unfortunately, injuries have been limiting for Roby over his career and are the biggest question around him.
9. Marco Vargas – INF – Mets
Though further away from the big leagues than any other prospect in this piece, Vargas is one of the more advanced 18-year-old hitters in the Minor Leagues. The sweet-swinging lefty has lit up the complex with a borderline-plus feel to hit and an extremely advanced approach.
Vargas has walked twice as much as he has punched out at the complex with exit velocities that are trending in the right direction. He will have to show more in full season ball, but Vargas could be on top 100 lists before long.
8. Nick Nastrini – RHP – White Sox
In terms of sheer stuff, Nastrini may have the best of any prospect arm moved in late July. The right-hander can run it up to 98 mph with a pair of nasty breaking balls and a changeup that has flashed as a good fourth pitch.
The challenge for the 23-year-old has been his command. He throws too many non-competitive pitches, specifically struggling with the control of his fastball, which he throws 45% of the time. He'll need to improve upon his 60% strike rate to reach his ceiling of a middle-rotation starter. If not, his stuff will play out of the pen in high leverage.
7. Thomas Saggese – INF – Cardinals
No batting gloves, defensive versatility and a guy who gets the most out of his roughly average tools cross the board, Saggese is a gamer and a high-probability big leaguer. A fifth round pick out of high school in 2020, Saggese has hit at every stop, finding himself knocking on the door of Triple-A as a 21-year-old.
An aggressive hitter, Saggese would benefit from cutting down his swing rate a bit, but he is a career .300 hitter in the Minor Leagues with an OPS around .870. The exit velocities are slightly above average, but he gets into his power well in games in large part to his ability to drive the ball in the air and generate carry. Playing in the Texas League helps, but he has flashed his sneaky game power in different environments.
6. Ryan Clifford – OF – Mets
An 11th round selection in the 2022 MLB Draft, Clifford was given late second money by the Astros to forgo his commitment to Vanderbilt. The newly-turned 20-year-old has showed off his easy plus power in his first full pro season, launching 18 home runs in his first 93 Low and High-A games while flashing exit velocities as high as 114 mph.
Clifford is limited defensively, putting more pressure on his bat, but his above average contact rates and low chase rates at the lower levels thus far provide plenty of reason to believe that his offensive profile can carry the load. There's shades of a lefty Mark Vientos, but Clifford is probably more advanced than than he was at this point.
5. Jake Eder – LHP – White Sox
Prior to Tommy John surgery, Eder had enjoyed as strong of a start to his professional career as possible. The fourth round pick in 2020 was assigned straight to Double-A where he pitched to a 1.77 ERA while punching out 35% of batters.
Unfortunately, Eder underwent Tommy John surgery followed by a flukey foot injury that resulted in nearly a two year layoff. There was some rust for Eder to understandably shake off through his first few starts, but over his last several outings at Double-A, he has looked much like the top 100 prospect most outlets tabbed him as prior to injury.
His fastball sits 92-94 mph with good life, but the slider is an easy plus pitch and his changeup continues to come along as a viable third offering. The 24-year-old has middle-rotation upside and instantly becomes one of the top arms in the Sox system.
4. Edgar Quero – C – White Sox
An advanced switch-hitter, Quero posted a 150 wRC+ as an 18/19-year-old at Low-A last season, skipping over High-A with earning an aggressive promotion to Double-A. Quero has met his match in Double-A, but has held his own, posting a .705 OPS (100 wRC+) while walking more than he has struck out. The challenge has been tapping into power for Quero, who has only hit three homers this season.
He has made strides defensively, improving his ability to limit the run game and receive. He may not wind up much better than an average defender behind the dish, but with receiving potentially being de-emphasized in baseball and good catch/throw skills, Quero should stick at catcher.
With borderline-plus contact rates and a minuscule chase rate, Quero has a high floor offensively. There's enough impact to project 10-15 homers as well.
3. Drew Gilbert – OF – Mets
Above average tools across the board, Gilbert quickly hit his way to Double-A by putting up video game numbers in his 21 games at High-A. It was a bit of a surprise that the Astros were willing to part with with their 2022 first round pick, but when you get a first ballot Hall of Famer with nearly half of his salary covered, sometimes you have to just push the chips forward.
The emergence of Jacob Melton, Luis Baez, Joey Loperfido, Zach Dezenzo and others may have made Gilbert a bit more expendable in their eyes.
Though he probably does not posses superstar upside, Gilbert is another high probability big leaguer with a good chance of sticking in centerfield. The 22-year-old instantly becomes one of the Mets top prospects, with the skillset to climb quickly.
2. Kyle Manzardo – 1B – Guardians
Perhaps the most surprising prospect moved at the deadline, Manzardo is a consensus top 100 prospect just a step away from being MLB ready. A look at the Rays organizational depth chart makes it clear why the team was willing to part with Manzardo for controllable pitching, but the first baseman was a great get by the Guardians nonetheless.
The 23-year-old went nuclear between High-A and Double-A last season, posting a 1.043 OPS with nearly as many walks as strikeouts. The numbers have been diminished in Triple-A for Manzardo as he has tried to tap into more game power, but his average exit velocity and 90th percentile max exit velocity have jumped multiple ticks. There is probably a bit of bad batted ball luck mixed with an over-emphasis on lift as Manzardo's ground ball rate has dropped to one of the lowest in Triple-A.
It's good to see Manzardo tapping into more raw power, but he is an easy plus hitter who does not need to launch 30 homers to be productive. He should find the balance between leveraging his added impact and not straying from the feel to hit that made him one of the best bats in the minors last year. The trade of Josh Bell shortly after Manzardo's acquisition should tell you everything you need to know about the Guardians confidence in him. He's still one of the safer bats in the minors.
1. Luisangel Acuña – SS/CF – Mets
A phenomenal athlete who keeps getting better at the plate, Acuña dismantled High-A pitching last season before running into stiffer competition as a 20-year-old in Double-A. In his second crack at the level this season, Acuña has improved across the board. He is still the elite base stealer he was last year, but with even more efficiency (42 for 48 on stolen base attempts).
His contact rates have improved, as has his ability to hit velocity, seeing his OPS jump by nearly 300 points against 94+ mph. The defense was always strong for Acuña at short, but he is progressing to plus territory there while looking the part in his limited action in center field. Still with room to add strength, Acuña already posts above average exit velocities and a max of 110 mph. At just 21 years old, there's already plenty to love with Acuña's game and more to dream on.