Rankings
San Diego Padres Top Prospects For 2024
Boasting six Top-100 prospects, the Padres have become masters of restocking their farm system through the draft and IFA despite constantly trading away their top assets.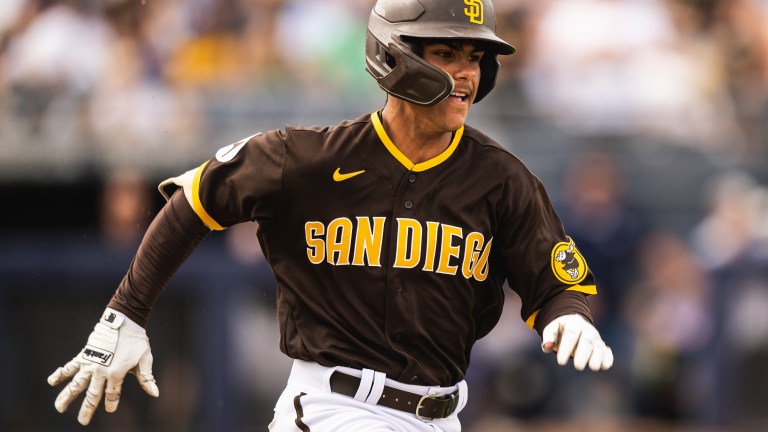 A system that took a big hit after the Juan Soto trade followed by a few others, A.J. Preller and Co. restocked the farm by doing what they do best: drafting. The big ticket international free agent signing of wunderkind catching prospect Ethan Salas didn't hurt either.
1. Jackson Merrill – SS – (Double-A)
Height/Weight: 6'3″, 195 | Bat/Throw: L/R | 1st Round (27) – 2021 (SD) | ETA: 2024
| | | | | | |
| --- | --- | --- | --- | --- | --- |
| HIT | RAW POWER | GAME POWER | RUN | FIELD | FV |
| 60/70 | 50/55 | 45/55 | 55/55 | 50/55 | 60+ |
An under-slot first round pick, the Padres followed their trend of scooping up pop-up prospects with the selection of Merrill. Not only has his hit tool translated, but Merrill is hitting the ball with more authority than many evaluators anticipated, and has looked explosive with even more room for projection.
Offense
Merrill starts with a slightly open stance, relaxed hands and his weight slightly stacked on his back side. His hand load is quiet and he uses a minimal leg kick to get himself closed while keeping his energy stored in his back hip. Merrill maneuvers the barrel really well with great plate coverage. His 88% zone contact and 83% contact rates are both strong, and despite a relatively aggressive approach (30% chase), Merrill has only punched out around 12% of the time.
At 6-foot-3, 175 pounds, he has a big frame with room to add more strength. While he still has some ways to go to tap into the impact that many evaluators believe he can, he has already flashed exit velocities as high as 110 MPH.
More lower half consistency and improved swing decisions should help Merrill tap into more juice as he sometimes takes "B" swings at borderline pitches in even/hitters counts, resulting in more weak contact and ground balls.
As he learns to leverage his hitter's counts and lift the baseball a bit more consistently, there's a chance for a rare blend of plus hit and power with Merrill.
Defense/Speed
While just an average runner, Merrill moves his feet well at shortstop and has the ingredients to stick there. He has worked on his explosiveness and quickness, looking much rangier than evaluators thought he would be coming out of high school. With an above average arm, soft hands and good instincts, Merrill should provide some value with the glove.
Outlook
An easy plus hit tool from the left side along with elite makeup and a good chance to stick at shortstop give Merrill one of the higher floors you're going to find from a 20-year-old prospect. With plenty of physical projection and continuous improvements on both sides of the ball, there is an All-Star ceiling to dream on with the former first rounder as well. Already one of the best shortstop prospects in the minors, Merrill has a chance to become one of the best overall prospects in the game.
2. Ethan Salas – C – (Double-A)
Height/Weight: 6'2″, 190 | Bat/Throw: L/R | IFA: $5.8M, 2021 (SD) | ETA: 2026
| | | | | | |
| --- | --- | --- | --- | --- | --- |
| HIT | RAW POWER | GAME POWER | RUN | FIELD | FV |
| 55/65 | 45/55 | 40/50 | 50/50 | 50/60 | 60 |
A wunderkind of a catching prospect, Salas signed for $5.8 million as the top prospect in the 2023 IFA class and was immediately thrusted into big league spring training action and a Low-A assignment prior to his 17th birthday.
Offense
Salas starts upright with his weight slightly stacked on his back side before sinking a bit further into his back hip with minimal hand movement in his load. His pre-swing moves are slow and controlled, while his swing is quick and violent. Salas incorporates his lower half really well, producing plus bat speed and above average pop.
He already has a great feel for the zone and recognizes spin well, boasting a chase rate below 20% and numbers that have steadily improved against secondary stuff as he has compiled at-bats. With an average exit velocity of 87 MPH and 90th percentile exit velocity of 102 MPH, Salas is already tapping into slightly above average power and has room for plenty more.
His feel to hit is extraordinary for his age and well above average in general. Both his 76% contact rate and 85% in-zone contact rate are strong figures that have improved as he has progressed through his first pro season.
Given where Salas is already at, it's easy to imagine him developing into a plus hitter. Already flashing solid impact, Salas should grow into above average power as well. His offensive upside is immense.
Defense/Speed
It's hard to remember a more advanced teenage catching prospect when it comes to receiving than Salas, reeling in the ball smoothly with elite hands. He moves well behind the dish, making strides as a blocker in his first pro season.
The Padres brass has already raved about the maturity of Salas and the way he handles bullpens, which should translate into strong game calling. Already with a well above average arm, Salas should grow into a plus thrower who has the goods to be a plus defensive catcher as he hammers down the fundamentals.
Outlook
Potentially elite on both sides of the ball with the makeup to reinforce the ability, Salas not only has All-Star upside, but he should be able to climb through the minors quickly as a high-probability big leaguer. His upside is one of the best catchers in baseball at the highest level, but even for as advanced as he is for a 17-year-old, he of course has some ways to go. Given his age, present tools/production, projection and makeup, Salas has a strong case as the best catching prospect in the sport.
3. Robby Snelling – LHP – (Double-A)
Height/Weight: 6'3″, 210 | Bat/Throw: R/L | 1st Round (39), 2022 (SDP) | ETA: 2025
| | | | | |
| --- | --- | --- | --- | --- |
| FASTBALL | SlIDER | Changeup | COMMAND | FV |
| 50/60 | 55/60 | 45/55 | 50/60 | 55 |
A top linebacker recruit in high school, Snelling is one of the most athletic pitchers you'll find. His advanced pitchability and developing stuff have him rising quickly and earned him Just Baseball's Minor League Pitcher of the Year honors.
Arsenal
A good feel for three pitches, Snelling features a fastball, curveball and changeup that can all be above average. Starting with his fastball, Snelling sits 92-94 MPH, touching 96 MPH. The pitch features a decent amount of carry, averaging around 18 inches of induced vertical break.
Snelling's slurvy breaking ball flashes plus, with two-plane break. He has a great feel for the pitch, landing it for a strike around 65% with the ability to manipulate it. As a result, Snelling is comfortable weaponizing it against both left-handed hitters and right-handed hitters if his changeup isn't there.
The changeup sits 85-87 MPH with decent fade. It's inconsistent for Snelling at this point, but flashes above average and induces a good amount of weak contact. If he can find a more consistent feel for his change, it could give him a third above average offering.
Outlook
An advanced prep arm, Snelling hit the ground running by dominating Low-A and High-A competition. His athleticism helps him repeat his delivery consistently, already boasting above average command with the potential for plus.
There's already good shape to his fastball, but if Snelling sees an uptick in velocity, it could easily enter plus territory. His great feel for a good breaking ball and developing changeup have him looking like a high probability big league starter with the upside of a borderline No. 2 or No. 3.
4. Dylan Lesko – RHP – (High-A)
Height/Weight: 6'2″, 195 | Bat/Throw: R/R | 1st Round (15), 2022 (SDP) | ETA: 2026
| | | | | |
| --- | --- | --- | --- | --- |
| FASTBALL | CHANGEUP | CURVEBALL | COMMAND | FV |
| 60/70 | 60/70 | 35/50 | 35/50 | 55 |
An electric right-hander who "fell" to 15th overall in 2022 due to Tommy John surgery in his senior year of high school, Lesko returned to action in the second half of last season, reminding many why he was the top prep arm in his class.
Arsenal
Lesko has the ability to dominate hitters with high fastball usage thanks to its mid 90s velocity and incredible life. In his 2022 debut, his fastball averaged 20 inches of induced vertical break, often ripping fastballs with 22 inches or more of carry.
The exploding life on his fastball helped him pick up big in-zone whiff numbers and a swinging strike rate of 14%. Averaging right around 94-95 MPH, Lesko can touch 98 MPH.
Working off of his lively fastball is a plus changeup with late arm side run in the upper 70s. It almost seems to stop mid-air with the way that Lesko is able to maintain his arm speed despite roughly 15 MPH of separation. The late fade makes it that much tougher for hitters as well.
With a more consistent feel for the pitch, it would likely play like a 70-grade pitch, especially off of his high-carry heater.
Rounding out the arsenal for Lesko is a big curveball in the low-to-mid 70s. The pitch hovers around 3,000 RPMs, but he really struggled to locate it in his pro debut and hardly needed it in high school. With so much break at a low velocity, it can be a bit easier for hitters to lay off of and more difficult for him to locate.
Lesko could probably benefit from tweaking the curveball to be shorter and harder or scrap it in favor of a slider. That said, he definitely has the ability to spin it, providing optimism that he can develop a good breaking ball.
Outlook
A good athlete on the mound with a pretty smooth delivery, it's probably safe to assume that he will improve upon his command woes through his first 33 professional innings — especially when you consider the fact that he was coming off of Tommy John Surgery.
Lesko's potential for both a 70-grade fastball and 70-grade changeup give him the upside of a No. 2 starter if he can continue to refine his command and find a more effective breaking ball. He has a chance to have a monster 2024 if he can stay healthy.
5. Dillon Head – OF – (Low-A)
Height/Weight: 5'10″, 185 | Bat/Throw: L/L | 1st Round (25), 2023 (SD) | ETA: 2027
| | | | | | |
| --- | --- | --- | --- | --- | --- |
| HIT | RAW POWER | GAME POWER | RUN | FIELD | FV |
| 45/60 | 40/50 | 30/40 | 70/70 | 50/60 | 55 |
Blazing speed with a natural feel to hit, Head has the mold of a table-setting center fielder.
Offense
A smooth, simple swing from the left-side geared for contact, Head sprays the ball all over the field with an excellent feel for the strike zone. Head has the ability to get to tough pitches and grind out at-bats, but will surprise with sneaky impact to his pull side. His elite athleticism aids him in the box both from a body control and adjustability standpoint; Head has a chance to be a plus hitter.
Defense/Speed
Head's elite wheels are evident both in center field and on the base paths. He possesses ridiculous closing speed with good reads already. On the base paths, Head has the quickness to be a stolen base machine.
Outlook
Plus plus speed, the potential for a plus hit tool and impactful defense in center field make Head one of the higher-floor prep bats drafted outside of the first several picks in recent memory. He has enough impact potential for gap-to-gap power, but even with below average power, Head has the skillset to be a dynamic top-of-the-order threat who accumulates WAR and stolen bases.
6. Jairo Iriarte – RHP – (Double-A)
Height/Weight: 6'5″, 200 | Bat/Throw: R/R | IFA: $75K, 2018 (SDP) | ETA: 2025
| | | | | |
| --- | --- | --- | --- | --- |
| FASTBALL | SLIDER | CHANGEUP | COMMAND | FV |
| 60/70 | 60/70 | 50/55 | 35/45 | 55 |
Signed for just $75,000 out of Venezuela, Iriarte saw his stuff jump nearly three ticks in 2023, helping him post the highest strikeout rate of his professional career and reach Double-A shortly after his 21st birthday.
Arsenal
Power stuff across the board, Iriarte's double plus fastball leads the way, sitting 95-97 MPH with exploding life. Upper 90s heaters get on hitters quickly as is, but the combination of Iriarte's flat vertical attack angle (-4.2) and seven feet of extension causes hitters to often miss under and late. He can run it up as high as 99 MPH.
Working off of his fastball is a sharp slider in the mid 80s and a hard changeup in the low 90s. Iriarte used his slider more frequently in 2023, going to it with 35% of his offerings and holding opponents to just a .150 batting average.
The sharp and late break the pitch features makes it effective against both lefties and righties, holding hitters to a .150 batting average in 2023. If Iriarte can fill up the zone a bit more than his 58% strike rate in 2023, it could very well enter plus-plus territory.
Rounding out his arsenal a low 90s power changeup similar to what you will see many of the Miami Marlins' young pitchers throw. He has cut his usage of the pitch a bit, as his slider has become a weapon for both-handed hitters, but he will still mix it in around 15% of the time.
It's an above average offering with decent fade, more often used as a weak contact inducer than a put-away pitch. He yielded a 58% ground ball rate with his changeup in 2023, but still picked up a fair amount of whiff early in counts. Where he can run into trouble at times is when the pitch firms up on him and/or he misses upstairs.
Outlook
The combination of Iriarte's electric stuff, loose, quick arm speed and tough release point make it easy to understand how he struck out 33% of batters in 2023. His delivery can be a bit inconsistent at times, evident by his 12% walk rate, but he has flashed stretches of solid command, especially with his fastball.
Iriarte has grown several inches and put on a fair amount of strength since signing with the Padres in 2018, now standing at 6-foot-5, 200 pounds. He has become a power pitcher in every sense, and if his command can take a step forward in 2024, the Padres could have a middle-rotation piece for the foreseeable future. If not, he has the stuff to be an elite high-leverage bullpen arm.
7. Adam Mazur – RHP – (Double-A)
Height/Weight: 6'3″, 180 | Bat/Throw: R/R | 2nd Round (53), 2022 (SDP) | ETA: 2025
| | | | | | |
| --- | --- | --- | --- | --- | --- |
| FASTBALL | SLIDER | Curveball | CHANGEUP | COMMAND | FV |
| 55/55 | 60/70 | 40/50 | 40/50 | 50/55 | 50 |
A strike-thrower with above average stuff, Mazur hit the ground running in pro ball, carving through High-A before holding his own in Double-A. There may be more in the tank as well.
Arsenal
Lanky with a loose, fast arm, Mazur fills up the strike zone with a four pitch mix, though his fastball and slider stand out. His above average fastball sits 94-96 MPH, touching 98 MPH. There are times where the shape of Mazur's heater leaves a bit to be desired, but others where the pitch features more cut/ride.
It could be intentional, or just an inadvertent slight cut to his release, but his fastballs that were getting 14-15 inches of induced vertical break and almost zero horizontal picked up much more uncomfortable swings from hitters than his fastballs that had 5-6 inches of horizontal. Mazur could see his fastball be closer to a plus pitch if he can harness the cut/ride action consistently.
His best pitch is his plus slider in the upper 80s with gyro break. The short, late break allows Mazur to command the pitch well, landing it for a strike 73% of the time in 2023. While he picked up plenty of whiffs on the offering (20% Swinging Strike rate), it was also a consistent ground ball weapon for him (51% ground ball rate).
While he will go to his fastball and slider 80% of the time, Mazur will mix in both a curveball and changeup evenly. While both pitches are fringy, they give him another look early in counts, using them to get ahead of hitters. His command of both pitches improved as 2023 progressed, but they will probably just be taste-breaker offerings.
Outlook
Between his pitchability and decent stuff, Mazur appears to be a high probability starter, even if it's closer to the back end of a rotation. To trend closer to a middle-rotation type, he'd likely need to find some consistency with the fastball shape and see one of his changeup or curveball make a leap, but considering his build, age and the fact that he was a late-bloomer in college, there could be more to unlock here.
8. Graham Pauley – 3B/LF – (Double-A)
Height/Weight: 6'1″, 200 | Bat/Throw: L/R | 13th Round (390) – 2022 (SDP) | ETA: 2025
| | | | | | |
| --- | --- | --- | --- | --- | --- |
| HIT | RAW POWER | GAME POWER | RUN | FIELD | FV |
| 50/55 | 50/55 | 45/55 | 50/50 | 40/50 | 50 |
Pauley broke out in his junior season at Duke, but was still an under-the-radar bat when the Padres snagged him in the 13th round of the 2022 Draft. It appears as though the Padres got in on Pauley at the right time, because he was one of the best hitters in Minor League Baseball in 2023.
Offense
Starting slightly open with his bat rested on his shoulder, Pauley uses a slow and controlled load that he starts early. He gets into his medium-sized leg kick shortly after the pitcher breaks his hands with a quiet hand load and is consistently on time. Sometimes with two strikes, Pauley will cut his leg kick a bit to get himself in a hitting position even earlier. This works in his favor because of how well he holds his backside and stays in his lower half.
Pauley's barrel enters the zone early and lives in the zone for a long time, helping him produce a zone contact rate of 87% while being able to drive pitches that get deep on him the other way for hits.
When he gets his "A" swing off, there's above average power to his pull side. Pauley's 90th percentile exit velocity of 102.5 MPH is a tick above average, and he launched a few 108 MPH homers to right in 2023.
Even if the game power is closer to average, Pauley's ability to drive the ball to all fields with good carry should make him a doubles machine. He racked up 60 extra base hits in 127 games last season.
A patient hitter, Pauley ran a chase rate just above 20% and walked 11% of the time. His good swing decisions and body control also help him post strong splits left on left, with an OPS above .900 against southpaws.
Defense/Speed
Though he's an average runner, Pauley is a good athlete who has seen a decent amount of action at third base, second base and corner outfield. He projects best at third base where his actions are smooth and his range is at least average.
Given the crowded nature of the Padres infield at the big league level and how quickly Pauley has climbed, he has saw some action in left field in 2023 with additional work out there in the Arizona Fall League. Having never played the outfield in college, there's some understandable shakiness with his reads, but Pauley should continue to improve with reps.
A savvy baserunner, Pauley swiped 22 bases on 27 attempts in 2023.
Outlook
Seemingly popping up out of nowhere, Pauley climbed three levels in his first full pro season and never slowed down. With a good feel to hit, great approach and above average power, he has a safe offensive profile with 20 homer upside and plenty of doubles.
9. Jakob Marsee – OF – (Double-A)
Height/Weight: 6'1″, 190 | Bat/Throw: L/R | 6th Round (180) – 2022 (SDP) | ETA: 2025
| | | | | | |
| --- | --- | --- | --- | --- | --- |
| HIT | RAW POWER | GAME POWER | RUN | FIELD | FV |
| 60/60 | 40/45 | 35/40 | 55/55 | 50/55 | 45+ |
A contact machine, Marsee tapped into a surprising amount of game power while leading the Padres organization in stolen bases.
Offense
An upright and slightly open stance, Marsee sinks into his backside with a hovering leg kick and coil. A short, quick swing with a great feel for the barrel, he sprays balls all over the yard with an impressive adjustability.
While most high-contact rate hitters tend to put the ball on the ground more frequently, Marsee consistently drives the ball in the air. He posted a ground ball rate of just 36% in 2023 along with a zone contact rate of 88%.
A selective hitter, he chased just 16% of pitches last season while walking as much as he struck out. Despite his below average exit velocities, Marsee's ability to consistently lift the baseball as well as leverage his hitter's counts helped him launch 16 home runs in 129 games while playing a large portion of his games in pitcher-friendly Fort Wayne.
Marsee's game power may not translate to more than 10-15 homers at the highest level, but his plus hit and ability to get on base bolster his offensive profile.
Defense/Speed
An above average runner who gets great reads in the outfield and on the bases, Marsee's speed plays like it's plus thanks to his feel for the game. He is an above average defender in center field, comfortably taking clean routes and is particularly comfortable running balls down driven right over his head. His above average arm would plays well in either corner as well. He swiped 46 bags on 55 tries in 2023.
Outlook
Marsee will have to really hit to be an everyday big leaguer, but his strong bat-to-ball skills and ability to get on base make that an attainable outcome. The ability to stick in center field and play great defense in either corner, paired with elite baserunning, elevate his floor and give him a good chance of at least becoming a fourth outfielder.
10. Samuel Zavala – OF – (High-A)
Height/Weight: 6'1″, 170 | Bat/Throw: L/R | IFA: $1.2M – 2021 (SD) | ETA: 2026
| | | | | | |
| --- | --- | --- | --- | --- | --- |
| HIT | RAW POWER | GAME POWER | RUN | FIELD | FV |
| 30/40 | 45/55 | 40/50 | 50/50 | 50/55 | 45+ |
A $1.2 million IFA signing in 2021, Zavala has put up strong numbers as a teenager at the lower levels, but whiff concerns and a bit less impact than expected leave his offensive profile with a bit to be desired at this point.
Offense
Starting upright with the bat rested on his shoulder and a slight backwards lean, Zavala uses a huge leg kick in tandem with a barrel tip to get into his hitting position. Along with the barrel tip, Zavala will push his hands far back behind his back foot.
When everything is on time, Zavala will run into baseballs with a pretty left-handed swing geared for lift, but the moving parts have been challenging for Zavala to time up against quality pitching. He tends to look a bit rushed at the plate, which results in him being caught in between.
Against heaters as a whole, he posted a swinging strike rate above 13% while hitting just .225 against non-fastballs in 2023. With a zone contact rate of 71% and overall contact rate of 67%, Zavala projects to struggle against higher quality competition.
He hedges the whiff issues with an extremely patient approach, chasing just 14% of the time and walking at an 18% clip. While he struggles to make quality contact with secondary stuff, he does a good job of laying off well-executed breaking balls and changeups.
A wiry frame with still plenty of room to add muscle, Zavala could tap into more power as he continues to fill out, but presently produces just average exit velocities. His ability to drive the ball in the air aids his game power output, but given his high-whiff, low-chase profile, he could benefit from leaning into the power side of things rather than trying to remain nimble enough to play center field.
Defense/Speed
An average runner, Zavala gets excellent reads in the outfield with clean routes and just enough closing speed. There's a chance he slows down a step as he continues to mature, but his above average arm would play well in either corner where he would be a well-above average defender. Zavala swiped 20 bags on 26 tries in Low-A, but would likely be just an opportunistic base stealer at the upper levels.
Outlook
Still a tough player to peg given his youth, decent results, some physical projection and red flags in the underlying data, Zavala is still an intriguing prospect with the chance to develop into a solid piece for the Padres.
It seems likely that the hit tool will be fringy for him at best, placing more importance on the power development of the 19-year-old. Though the exit velocities are average, there's still room for 10-15 pounds of muscle and potentially above average power. Until he starts impacting the baseball a bit more or makes a drastic leap in the bat-to-ball department, it's fair to wonder how he can produce enough at the higher levels.
11. Homer Bush – OF – (Double-A)
Height/Weight: 6'3″, 200 | Bat/Throw: R/R | 4th Round (128) – 2023 (SDP) | ETA: 2025
| | | | | | |
| --- | --- | --- | --- | --- | --- |
| HIT | RAW POWER | GAME POWER | RUN | FIELD | FV |
| 50/55 | 30/40 | 30/35 | 60/60 | 50/55 | 45+ |
A good athlete with a great feel to hit, Bush rarely whiffs and can really go get it in the outfield. His power is below average, but he sprays the ball all over the field and has a knack for finding the gaps. Bush enjoyed a fantastic pro debut, making the leap from Grand Canyon University to Double-A within 40 games.
The son of former big leaguer and Padres draft pick Homer Bush Sr., he possesses great baseball instincts and plus makeup. Much like his father, Bush can absolutely fly, posting the best 30-yard dash time at MLB's Draft Combine and swiping 22 bags on 24 tries in his pro debut. If Bush can tap into at least gap-to-gap power–his 6-foot-3, wiry frame suggests he can– he could be an exciting table-setter with a lot of helium in 2024.
12. Nathan Martorella – 1B – (Double-A)
Height/Weight: 6'1″, 190 | Bat/Throw: L/R | 5th Round (150) – 2022 (SDP) | ETA: 2025
| | | | | | |
| --- | --- | --- | --- | --- | --- |
| HIT | RAW POWER | GAME POWER | RUN | FIELD | FV |
| 40/45 | 55/55 | 50/55 | 20/20 | 50/50 | 45 |
A breakout junior season at Cal helped push Martorella into the first five rounds where he received an underslot $325,000 in 2022. He quickly mashed through the lower levels while tapping into the above average power that many scouts had thought was in the tank when he was a draft prospect out of high school.
Including the Double-A postseason, Martorella launched 21 homers and 30 doubles in 138 games, and his 90th percentile exit velocity of 106 mph borders on the plus territory with a max of 112 mph. Running a chase rate of just 20%, he is a patient hitter, though he struggled against breaking balls (.650 OPS). Being limited to first base puts pressure on Martorella's bat, but he has enough power to produce 20+ homers at the highest level if he can improve against secondary stuff.
13. Victor Lizarraga – RHP – (High-A)
Height/Weight: 6'3″, 180 | Bat/Throw: R/R | IFA: $1M – 2021 (SDP) | ETA: 2025
| | | | | | |
| --- | --- | --- | --- | --- | --- |
| FASTBALL | SLIDER | Curveball | CHANGEUP | COMMAND | FV |
| 45/55 | 40/50 | 50/55 | 40/50 | 45/55 | 45 |
Though his arsenal lacks a true plus offering, Lizarraga is a polished arm at 19 years old, posting respectable numbers and a strong workload in his first two full pro seasons. A big frame with room for more strength, there's hope he can tick closer to the mid 90s than the 91-93 mph range he sits at now.
Lizarraga's secondaries are decent with the curveball standing out as an above average offering down the stretch of his 2023 season. The pitch flashes some good depth in the upper 70s. His slider and changeup flash average. His intangibles and physical projection give him a shot of landing as a back end of the rotation starter.
14. Eguy Rosario – 2B/3B – (Triple-A)
Height/Weight: 5'7″, 190 | Bat/Throw: R/R | IFA: $300K – 2017 (SDP) | ETA: 2024
| | | | | | |
| --- | --- | --- | --- | --- | --- |
| HIT | RAW POWER | GAME POWER | RUN | FIELD | FV |
| 50/50 | 50/50 | 45/45 | 45/45 | 45/50 | 45 |
Injuries wiped out much of Rosario's 2023 season, but the stocky infielder finished the year strong in Triple-A before earning a cameo with the Padres in September. Nothing jumps out with Rosario, but his short, punchy levers help him boast a good feel for the barrel and sneaky power.
His 90th percentile exit velocity of 103 MPH is a tick above average, though he could probably benefit from being a bit more selective at the plate. A good athlete, Rosario can play a solid third base and second base with the ability to plug in at shortstop in a pinch. He has the goods to be a nice infield utility piece.
15. Marcos Castañon – 2B/3B – (Double-A)
Height/Weight: 6'0″, 205 | Bat/Throw: R/R | 12th Round (370) – 2021 (SDP) | ETA: 2025
| | | | | | |
| --- | --- | --- | --- | --- | --- |
| HIT | RAW POWER | GAME POWER | RUN | FIELD | FV |
| 40/45 | 55/55 | 50/55 | 30/30 | 35/40 | 45 |
A strong infielder with a thick build, Castañon is an aggressive hitter who swings hard. He has produced impressive power numbers through his first two pro seasons, following up 23 homers during the 2022 season at Low-A with 17 more between High-A and Double-A in 2023.
He surprisingly has run average contact rates along with exit velocities that flash plus with a max of 113 mph. He's a fringy defender but has seen action both at third base and second base. Castañon has some intriguing offensive upside if he can hit enough.
Other Names to Watch
Lamar King Jr. – C – (ACL): The son of former NFL first round pick and Seahawks edge rusher Lamar King, King Jr. looks the part, already standing at 6'3″ and a sturdy 215 at just 19 years old. The Padres' fourth round pick in 2022 out of high school in the Baltimore area, King showed solid plate discipline and sneaky speed to complement his mature frame in a limited sample at the complex this season.
Isaiah Lowe – RHP – (Low-A): Lowe was an overslot 11th round pick by the Padres in 2022, signing for roughly $400,000 to forego his commitment to Wake Forest. Lowe was limited to just 12.1 IP between the complex and Low-A in his first pro season, but battered the strike zone with powerful stuff from a sturdy frame.
Ryan Bergert – RHP – (Double-A): Former teammates with Alek Manoah and current Pirates prospect Jackson Wolf at West Virginia, Bergert has logged back-to-back 100+ IP seasons while flirting with 11.0 K/9 and not exceeding 4.0 BB/9. His age-23 season this year proved his prospect pedigree, logging sub-3.00 ERA's in both High-A and Double-A with legitimate sample sizes.
Jagger Haynes – LHP – (Low-A): Almost entirely unknown out of a town of just over 5,000 people in North Carolina, the Padres took the then-17-year-old Haynes in the fifth round of the COVID-hampered 2020 draft. Tommy John Surgery followed Haynes, but he racked up the punchouts in his first 25 innings in pro ball.
Alek Jacob – RHP – (MLB): Weirdness is the name of the game with Jacob, who could become the Padres' version of a Jimmy Herget-type reliever. Jacob got the call to the big leagues from a dominating Double-A stint this past season, and worked three no-hit innings while punching out five. The mid-to-high 80s sinker certainly isn't prospect-caliber, but his devastating sweeper from a one-of-a-kind arm slot could have him in a big league bullpen for a decade.