Analysis
Performing Prospects: The Hottest Hitters in Minor League Baseball
From High-A surprises to Triple-A mashers knocking on the door of the Major Leagues, here are the best bats in Minor League Baseball over the past several weeks.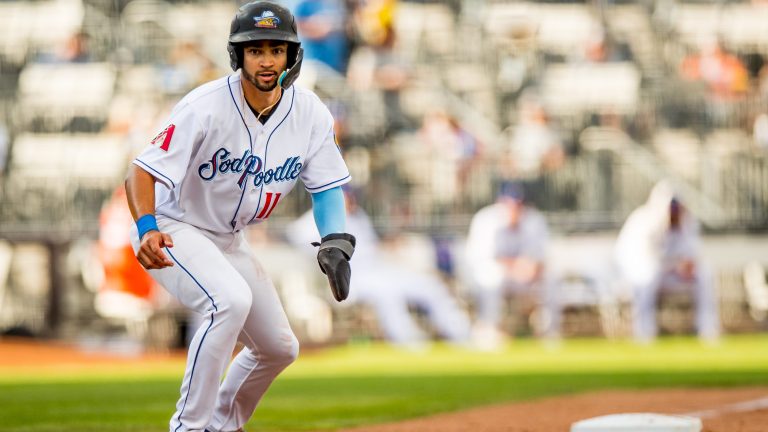 Every few weeks, we will hit the stat sheets to find the hottest hitting prospects in all of Minor League Baseball. With so much happening at all times, it can get tough to keep up with the hot hands that could be forcing their respective organizations into promotions.
Luckily, we're here to help do that.
Luis Matos – OF – San Francisco Giants
Last 20 Games: .402/.439/.674, 6 HR, 6 BB, 7 K
Season (AA/AAA): 54 G, .348/.415/.548, 13 2B, 9 HR, 35 RBI, 15-20 SB, 24 BB, 20 K
If there was a comeback player of the year award in the Minor Leagues, Matos would be the runaway favorite. Injuries and an aggressive approach hampered the 21-year-old last season, but it's a thing of the past.
Matos is healthy, has cut his chase rate down significantly, and since being promoted to the hitter-friendly Pacific Coast League, has simply been unstoppable. To put things in perspective, Matos has homered as many times (6) as he has struck out in his last 13 games. The Giants look like they have their future in center.
Christian Encarnacion-Strand – INF – Cincinnati Reds
Last 25 Games: .373/.463/.745, 11 2B, 9 HR, 29 RBI, 18 BB, 24 K
Season (AAA): 42 G, .362/.427/.735, 13 2B, 17 HR, 46 RBI
We might as well schedule this guy in on every heat sheet we do until the Reds call him up. Encarnacion-Strand just keeps getting better before our eyes which is hard to do considering the fact that he had a .955 OPS last season.
Through his first 18 games this year, CES "only" had an OPS of 1.097, since then, he has finally put things together with a 1.208 OPS over his last 25 games and the stat line you see above. More power will be on the way to Great American Ballpark soon enough.
Edwin Arroyo – INF – Cincinnati Reds
Last 15 Games: .383/.397/.650, 9 XBH (3 HR), 10 RBI, 5-6 SB
Season (A+): 47 G, .250/.293/.427, 11 2B, 7 HR, 24 RBI, 9-11 SB
Traded to the Reds in the Luis Castillo deal last season, Arroyo hit a bit of a wall after trading one of the more hitter-friendly Low-A ballparks in Modesto for one of the more pitcher-friendly environments in Daytona.
The slow finish to the year didn't deter the Reds, who assigned the 19-year-old to High for this season. He understandably took some time to get acclimated (it is also freezing in the first few weeks of the midwest league), but since then has looked like the Top 100 prospect the Reds acquired for their ace. He is hitting the ball harder, whiffing less and driving it in the air more. Good recipe.
Everson Pereira – OF – New York Yankees
Last 15 Games: .400/.456/.700, 3 2B, 4 HR, 9 RBI
Season (AA): 40 G, .285/.350/.514, 10 2B, 7 HR, 23 RBI, 7-9 SB
One of the more polarizing prospects in baseball, there is no denying the talent that Pereira has. 70 grade juice and good speed in center is a tantalizing profile, but higher whiff numbers and a pull-happy approach has left evaluators a bit nervous that Pereira may struggle to hit enough to reach his special ceiling.
The 22-year-old has been more patient of late while making much more frequent contact. If Pereira is putting it all together, look out!
Tsung-Che Cheng – INF – Pittsburgh Pirates
Last 15 Games: .364/.485/.655, 9 XBH (3 3B), 8 RBI, 13 BB, 8 K
Season (A+): 49 G, .307/.418/.587, 10 2B, 8 3B, 8 HR, 27 RBI, 13-22 SB, 34 BB, 35 K
One of the most underrated prospects in the Pirates system, Cheng blends a plus hit tool from the left-side with low chase rates and just enough impact to find the gaps. The 21-year-old has walked more than he has struck out over his last 30 games and has continued to flash the XBH ability of late.
Justin Crawford – OF – Philadelphia Phillies
Last 15 Games: .371/.420/.516, 5 2B, 2 3B, 9/10 SB
Season (A): 38 G, .336/.394/.436, 9 2B, 3 3B, 0 HR, 26 RBI, 24-27 SB
The son of MLB All Star Carl Crawford, Justin was selected 17th overall in the 2022 Draft and has immediately impressed with his elite speed and good bat to ball skills at Low-A as a 19-year-old. His gaudy 68% ground ball rate has only marginally improved during this hot streak, but there have been numerous swings over the last couple weeks that show flashes of the kind of impact the 6-foot-3, 175 pound outfield could eventually provide.
Tanner Schobel – UTIL – Minnesota Twins
Last 15 Games: .381/.458/.571, 3 HR, 5 XBH
Season (A+): 53 G, .284/.364/.431, 6 2B, 3 3B, 6 HR, 35 RBI, 8-9 SB
A second round pick in 2022, Schobel had a monster junior season at Virginia Tech before struggling in his first taste of Low-A last year. The hit-first utility man has been a machine of late, continuing to make plenty of contact, but with even more impact.
Quincy Hamilton – OF – Houston Astros
Last 10 Games: .317, 6 HR, 17 RBI, 4 BB, 9 K
Season (AA/AAA): 48 G, .272/.367/.500, 11 2B, 10 HR, 37 RBI, 5-9 SB
Hamilton has been a steady performer at every stop dating back to his collegiate days at Wright State. Over the last couple weeks, steady would be the wrong word to describe Hamilton's performance as "nuclear" would be much better suited. The man has homered six times in his last 10 games, reaping all of the rewards that come with a PCL promotion.
It helps that Hamilton joined Sugar Land on the road at Albuquerque where he launched four homers in that series alone, but this dude boasts a good blend of above average hit and power.
Austin Shenton – INF – Tampa Bay Rays
Last 20 Games: .408/.483/.789, 7 HR, 12 BB, 11 K
Season (AA): 52 G, .313/.408/.563, 18 2B, 10 HR, 36 RBI
A longtime deep-cut favorite of ours in the perpetually loaded Rays system, Shenton lost most of last season to injuries. He has bounced back in a big way this year hitting the ball hard (107 mph 90th percentile exit velocity) while really slashing the strikeout rate as of late. The Rays have a corner infield logjam in the upper minors right now…maybe Shenton gets the Alika Williams treatment?
Jud Fabian – OF – Baltimore Orioles
Last 20 Games: .362/.465/.681, 4 HR, 16 BB, 20 K
Season (A+): 50 G, .297/.401/.517, 11 2B, 9 HR, 43 RBI, 18-23 SB
As if the Orioles needed any more exciting outfield depth in their org, Jud Fabian is making waves from High-A. A second round pick in last year's draft, Fabian has hedged whiff concerns with a great approach and good power. As Baseball America's Geoff Pontes notes in his tweet below, he can defend well in the outfield too. A Double-A promotion shouldn't be too far away.
Jordan Lawlar – INF – Arizona Diamondbacks
Last 15 Games: .375/.412/.641, 10 XBH, 4-5 SB, 7 K in 68 PA
Season (AA): 48 G, .238/.335/.443, 10 2B, 8 HR, 24 RBI, 15-17 SB
Lawlar jumped out of the gate with a great first 15 games of the season before struggling to a .525 OPS in the subsequent 20 games. Now over his last 15 games, Lawlar has really kicked it into another gear, picking up 24 hits (10 for extra bases) while striking out just 10% of the time. As a 20-year-old in Double-A, it's hard to argue there are more than a couple shortstop prospects more impressive than Lawlar.
A.J. Vukovich – UTIL – Arizona Diamondbacks
Last 15 Games: .328/.365/.690, 10 XBH, 17 RBI
Season (AA): 47 G, .277/.323/.522, 9 2B, 10 HR, 37 RBI, 7-9 SB
A big, athletic, versatile player, Vukovich has come with an aggressive approach and whiff concerns since being drafted in the fourth round of the 2020 draft. Still just 21 years old and getting his first taste of Double-A, this hot streak is encouraging. A fun note, Vukovich has played four different positions in his 15 game heater alone: LF, CF, 3B, 1B.
Tyler Locklear – INF – Seattle Mariners
Last 15 Games: .315/.456/.593, 7 XBH (4 HR), 12 RBI, 10 BB, 16 K, 3-3 SB
Season (A+): 48 G, .311/.419/.572, 14 2B, 11 HR, 37 RBI, 7-7 SB
Locklear has mashed all year (.992 OPS), but somehow his last 15 games have been even better. Unfortunately, Locklear just hit the 7-day IL after he took a pitch on the hand, but the second rounder was making a strong case for a Double-A promotion by kicking his already great production to another level. Plus power to all fields and a patient approach have Locklear looking like an exciting power bat.
Jace Jung – INF – Detroit Tigers
Last 15 Games: .344/.406/.656, 4 2B, 5 HR, 15 RBI, 26% K%
Season (A+): 49 G, .268/.375/.474, 10 2B, 9 HR, 31 RBI
Viewed as a high floor college bat akin to his brother, Jace Jung did not quite get off to the hottest start to his pro career, OPSing just .706 at High-A last year. It looked like more of the same in the first couple weeks of the season from Jung before catching fire at the end of May. He's still whiffing too much, but we'll take what we can get.
Nick Yorke – INF – Boston Red Sox
Last 15 Games: .355/.406/.581, 3 2B, 3 HR, 14 RBI, 20 K%
Season (AA): 49 G, .297/.401/.500, 9 2B, 3 3B, 8 HR, 30 RBI, 6-10 SB
A 2020 draftee, Yorke got off to as strong of a professional start as any prep bat in recent memory before struggling at the plate last season at High-A. Injuries were likely a part of the equation, but he looked out of sorts at times.
The 21-year-old parlayed a strong Arizona Fall League into a solid start in Double-A this year and he has really gotten going over the last couple weeks. Not only does he have an OPS just under .900 over his last 15 games, but he has also produced 16 batted balls 95+ mph across that span including a 111 mph homer.
Michael Busch – INF – Los Angeles Dodgers
Last 15 Games: .305/.394/.576, 9 XBH, 14 RBI, 9 BB, 19 K in 71 PA
Season (AAA): 43 G, .310/.427/.518, 15 2B, 6 HR, 34 RBI, 32 BB, 40 K
I am begging the Dodgers to give this man regular big league AB's or trade him to someone who will. Busch has nothing left to prove in the minors and the power-hitting lefty has been strong all season. Busch predominantly played first base and second base last season, but has been much more action at the hot corner…something to monitor.