Analysis
NL West Prospects to Watch This Spring for Fantasy Baseball
From Corbin Carroll to Gavin Stone, the NL West is loaded with prospects for both redraft and dynasty leagues.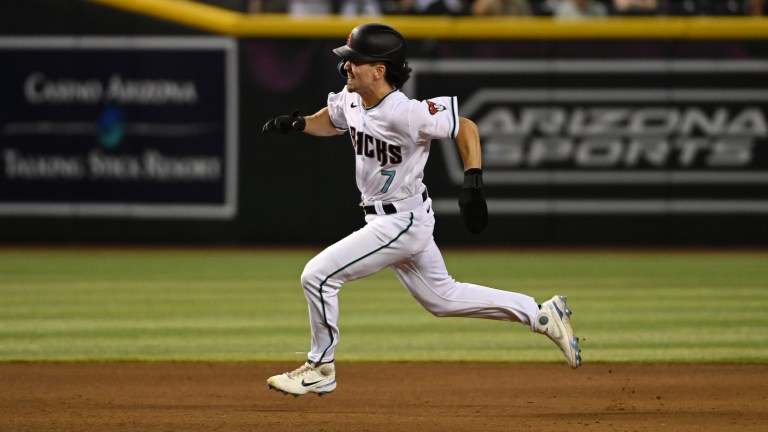 Time for the final division in the Prospects to Watch series, and we finish it off with the NL West. This division is loaded with prospects for both redraft and dynasty leagues. I have also seen a fair amount of these prospects over the years covering the California League.
I will note (*) which players are on the 40-man roster, because being on the 40-man roster means they have an easier route to being on the active roster (from the team's perspective). Any prospect not on the 40-man roster is a non-roster invitee.
Los Angeles Dodgers
Ryan Pepiot – RHP*, Diego Cartaya – C*, Michael Busch – 2B*, Miguel Vargas – 3B*, James Outman – OF*, Andy Pages – OF*, Landon Knack – RHP, Bobby Miller – RHP, Gavin Stone – RHP
When you draft and develop as well as the Dodgers do, you will always have a slew of arms. Stone is the best arm in the system and a top-25 prospect in the game. He's got everything you want in a fantasy pitching prospect: he gets whiffs, shows good command and will have a good team around him. 
Pepiot and Knack are two more talented arms, but they may end up as relievers just because of how deep the Dodgers' rotation already is. Both are probably better than Phil Bickford. Bobby Miller has the makings of a Walmart version of Walker Buehler, and that's still a good thing. He's an easy top-100 prospect. He can routinely post solid K-rates, and while he might give up a few more walks than you want, he'll have solid enough ratios. 
Outman should be the starting center fielder for the Dodgers. He hits the crap out of the ball and runs well. I think the strikeout rates will be a bit high, but that's fine because there is 20-20 upside here. I can't wait for some Outman bombs this season and this spring.
Vargas is dealing with a bit of injury, but that fracture won't detract from his dynasty value. Vargas hits the ball hard, and I love him. He is going to be the second baseman, and that boosts his value because 2B is kinda gross. 
Michael Busch is a Walmart version of Max Muncy, and that is a good player – he just needs to move to a different team to get a legit chance. He is an OBP asset as he draws his fair share of walks to offset his lower batting average. Pages won't be a batting average asset either, but he could hit 30 homers if given full-time playing opportunities.
Cartaya could be an all-around catcher who helps you with everything other than speed. His future is interesting because the Dodgers already have one of the best catchers in baseball in Will Smith, so there is no rush for Cartaya. Cartaya could be a Salvador Perez-type catcher in fantasy, minus that year when Salvy hit 48 homers; what a time that was. Think of Cartaya as a possible steady .240-.260 average guy with 20-25 jacks. That would make him a top 5-10 fantasy catcher. 
San Diego Padres
Jackson Merrill – SS
The Padres only have one real prospect who was invited to partake in spring training, but he's a damn good one. I would argue that Merrill is a better prospect than Marcelo Mayer, but I am often wrong (but seldom in doubt about it). He's got the contact skills and some power. I think he can leverage some of that contact into more power as he matures, so I am all the way bought in on Merrill. 
San Francisco Giants
Blake Sabol – C*, Marco Luciano – 3B*, Brett Wisley – 2B*, Luis Matos – OF*, R.J. Dabovich – RHP, Kyle Harrison – LHP, Casey Schmidt – 3B, Vaun Brown – OF
I haven't included many Rule 5 selections here, but I really like Sabol. He can make solid contact and hit for power, and he is athletic enough to steal a handful of bases. Luciano has seen his stock fall a bit, but when he is right, this is a 30-homer bat. He could be up in 2024. Matos's horrid approach was exposed at High-A, but the athlete here is enough to make me think he rebounds after a rough season. It's 20-20 upside if everything clicks. 
I love Wisely as a high-contact middle infielder. He's probably 2B only, but he's worth a look in deeper leagues. Dabovich is the same way because he's a pure relief prospect, but he could be up quickly. The goal here is for him to get saves early on in his career, but that Giants pen is deep, so he's a high-strikeout option. In deeper leagues, focus on skills as opposed to roles when it comes to relievers. 
Schmidt could very well get the third base job out of camp. He's got serious power and can really defend. Brown is a pop-up prospect for the Giants, but he really can hit and hit for power and even has a touch of speed. 
Kyle Harrison has the makings of a fantasy stud. The left-hander gets whiffs and will play in perhaps the greatest ballpark for pitchers. It can take pitchers a year to acclimate, but when he does, Harrison could be an SP2. His arm slot in the above tweet shows he will be tough to hit.
Arizona Diamondbacks
Ryne Nelson – RHP*, Gabriel Moreno – C*, Corbin Carroll – OF*, Brandon Pfaadt – RHP, Jordan Lawlar – SS, Deyvinson De Los Santos – 3B
The Diamondbacks have recently become a place you want pitching prospects to go. Between Ryne Nelson and Brandon Pfaadt, there are some intriguing arms in this org that will help the Diamondbacks and, more importantly for this article, your fantasy team. Both Nelson and Pfaadt are high-strikeout arms who pitch in a good ballpark on a team that might compete for the Wild Card. 
Moreno was the highlight of the Varsho trade, and he should be the starting catcher for the D-backs. He combines above-average-to-plus contact rates with some solid power. Even more appealing for fantasy purposes is that he can play second and third, which will help keep his bat in the lineup. 
Carroll is either the best or the second-best prospect in all of baseball. He combines superb contact skills and speed with some solid power. The dream is a .300 hitter who routinely blows past the 20-20 mark. I don't think there is 30-30 potential here, but 20-40 could happen during his best season. 
Lawlar had himself a very good first full season of professional baseball, making a brief cameo in Double-A. He hit .303/.401/.509 across three different levels, which is super impressive. The goal here is the rare five-category star who routinely puts up 20/20 seasons with good rates. De Los Santos has serious raw power, but who knows if he will ever hit enough. 
Colorado Rockies
Warming Bernabel – 3B*, Ezequiel Tovar – SS*, Nolan Jones – OF*, Drew Romo – C, Zac Veen – OF
I know it is very easy to dunk on the Rockies, but one thing they have been getting right is their drafting/signing and development of prospects. I love me some Warming Bernabel, this dude has some mammoth raw power in the tank – it is just a question of if he will hit enough. If he does, he's a fantasy star who routinely pumps 30 dingers.
Tovar should be given the everyday shortstop job out of camp because of his blend of hitting, defense, and speed. In the fantasy realm, we are talking about a guy who gets that Coors bump and hits 15-18 homers with 20-25 steals. This is Nolan Jones's last chance; he could be an OBP asset who hits 20-25 homers if he stops being so passive. 
Romo was initially better known for his defense, yet since becoming a pro, he has shown he can really hit and mix in some power. He is working his way into being a fantasy-relevant catching prospect who won't hurt you anywhere. As an added bonus, his glove will buy him plenty of playing time. Veen has yet to fully blow anyone away, but there is the upside here for 25-30 homers and 12-15 stolen bases. He's a great buy-low candidate.