Analysis
MLB Prospect Mailbag: The Dodgers Pitching Factory Has Reloaded
Ezequiel Tovar is riding the rollercoaster in his rookie season, while the Braves may have found another elite starting pitcher.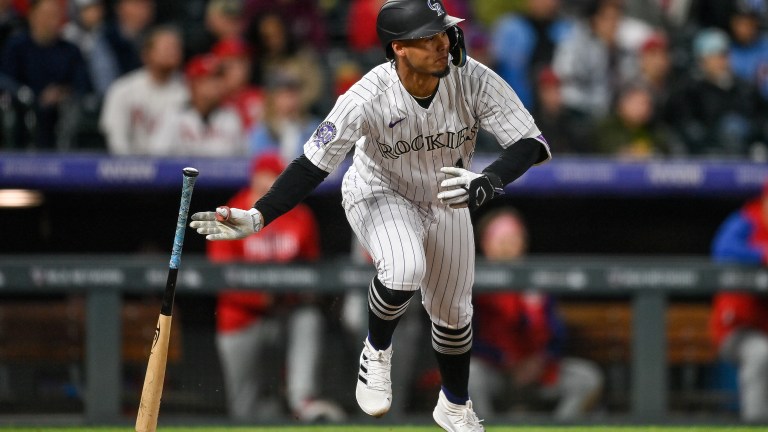 With so much going on across the Minor League landscape and so many topics to hit on, I will be fielding your prospect questions on my personal Twitter to be answered in this written mailbag, as well as on our prospect podcast, "The Call Up," every two weeks. It was awesome to see all of the questions flood in, and some that I did not get to in this written portion may be mentioned on the podcast.
If you missed the chance to fire some questions off for this mailbag, don't worry. I will be back at it fielding more questions on my personal twitter soon. Thanks to the folks who submitted questions!
Thoughts on Luis Matos [Giants] and where would you put him in top 100 rankings right now? – @SFGiantsFan2840
Man, what a wild ride the Luis Matos rollercoaster has been, and the kid is still just 21 years old! For transparency sake, I pushed all of the chips forward on Matos ahead of 2022, ranking him inside of our top 50 prospects in our preseason list. Injuries, approach issues, and significantly diminished exit velocities resulted in a .619 OPS in High-A, followed by a poor performance in the hitter-friendly Arizona Fall League.
As we are now finding out, much of the industry (myself included) was probably too quick to move off of Matos. You couldn't find him on one top 100 list ahead of this season, and he wasn't under serious consideration for ours. In hindsight, he was 20 years old dealing with injuries that we did not necessarily know the extent of, but were enough to keep him to keep him off of the field for decent chunks of time and impact his batted ball data.
Fast forward to this year, Matos not only looks healthy, but the game looks slower to him. The bat-to-ball skills have always been there, but an overly aggressive approach and challenges with pitch recognition undermined the feel to hit in High-A, especially when he was not feeling 100%.
Now in Double-A and a brief stint in Triple-A, Matos is walking more than ever while only striking out at an 8% clip. The key metrics that have helped Matos get here have been a 10% cut in chase rate, while halving his swinging strike rate to 7%. After posting a .600 OPS against breaking balls last year, the 21-year-old has an OPS in the high .900s against much better and more experienced pitching. He is probably a top 75 prospect at this point.
Still believe [Ezequiel] Tovar is an elite shortstop long term despite the contact issues and limited hard contact? – @MattyOT3
Okay, so there's a lot to unpack here. I will start with Tovar's struggles, and then add some context as to why I think it's important to be patient. Offensively, Tovar has been one of the worst qualified hitters in baseball. He has posted a .603 OPS (48 wRC+) with a 31% strikeout rate and almost no walks.
Defensively, Tovar has continued to improve, grading as an above average shortstop in the big leagues already, with the potential to be one of the better defenders at the position in the National League.
At the end of the day, though, Tovar is supposed to be much more than a glove-first shortstop, and I understand why we have reached the point of this question being asked. Ultimately, I believe that Tovar's struggles are more indicative of an overestimation of his readiness rather than his abilities. At 21 years old and nine months, Tovar is younger than prospects like Brooks Lee and Tyler Soderstrom, and only a couple months older than Noelvi Marte and Marco Luciano.
Tovar put up fantastic numbers through the minors and quickly got acclimated to Double-A, putting up strong numbers in 66 games before going down with an injury in late June last year. Upon his return in September, the Rockies assigned him straight to Triple-A, where he played just five games before getting the call up to the big leagues for the final few games of 2022.
In hindsight, this was a strange and over-aggressive way to handle your top prospect, even with his elite makeup and well-rounded game. Some red flags in his offensive profile included a 36% chase rate, 16% swinging strike rate, and subpar numbers against breaking balls in Double-A. Tovar overcame those red flags on sheer talent and a natural feel to hit, but it's exponentially harder to get away with any inefficiencies at the big league level.
So far this season, Tovar is chasing nearly 40% of pitches and bas been blown up by MLB-quality breaking balls (.130/.159/.215). He has struggled most with his ability to recognize such pitches, posting a staggering 52% chase rate against spin.
When I watch Tovar now, I see the talent that made him one of baseball's best prospects, but I also see someone who played a total of 70 games above High-A prior to his MLB debut–a talented player who was able to masque the holes in his approach with natural talent. Tovar could very well have started the year in Triple-A, put up a 110 wRC+ with good defense and a few too many K's, and nobody would be majorly concerned because he's 21 in Triple-A. But, for some reason, when an MLB team is aggressive with a guy, we lose that patience.
This is a longwinded way to say that I think he was rushed because of his incredible makeup and MLB-ready glove. I'd bet he's a hit in the clubhouse and fits right in. He's an asset to them at shortstop. But, he simply isn't experienced enough with the bat to hit consistently at this level. I think he'll get there, but it might take some time. Not J.P. Crawford time (three years)–more like Kyle Tucker time (one year).
How close are Bryan Woo and Jonatan Clase to being Top 100 guys – @Lyle_Goldstein
The Seattle Mariners farm system might be reloading before our very eyes. After the team traded away several top 100 prospects for big league pieces including: Noelvi Marte, Edwin Arroyo, Brandon Williamson, and Connor Phillips, among others, prospects like Bryan Woo, Jonatan Clase, Cole Young, and even Tyler Locklear are knocking on the door of the top 100. That's not including right-hander Bryce Miller, who we had in our preseason list.
To specifically answer Lyle's question (by the way, I recommend any Mariners fans follow Lyle on twitter and check out his Mariners podcast), Woo and Clase are virtual locks to be on our top 100 update in the coming weeks. I hate to spoil it, but I am just too eager to talk about these two.
Woo is cut from the same cloth as Bryce Miller: predominant usage of a fastball that hitters seem to struggle to get on top of, even if their life depended on it. Similar to Miller, Woo has 20+ inches of IVB on his fastball in the mid-90s that plays up even more thanks to his ridiculously low attack angle (or release point).
While the secondary stuff is lagging behind a bit, Woo's supreme confidence in his heater and his ability to pound the zone with it (71% strike rate) has allowed him to go to the fastball 60% of the time with great results. The former sixth round pick could ride his fastball to big league success, much like Miller, and his average slider is a good enough offering to mix in. For Woo to hit his ceiling, he'll need to see his slider command improve a bit, but the Mariners have another MLB arm here.
Clase is a more unique case, but still extremely exciting. He's a dynamic, switch-hitting prospect with 70 grade wheels who has also seen an uptick in power. Despite his smaller frame (5-foot-9, 190 pounds), Clase packs a punch and has continued to put on more muscle.
He has already exceeded last year's max exit velocity of 106 MPH with multiple 109 MPH batted balls this year along, with a three mile-per-hour jump in his 90th percentile exit velocity; it's no surprise that the result has been Clase being on pace for shattering his career marks in every power category. He's also on pace to shatter last year's stolen base total of 55, and more efficiently too; he is already 28-for-32 this season.
Clase's ability to walk, as well as his defensive abilities in center, is the icing on the cake of what can be a five-tool player when fully developed. Having just turned 21 years old and already succeeding in Double-A, Clase is on the fast track.
Henry Davis and Endy Rodríguez for the Buccos, who do you move away from catcher to get both of their bats into the lineup? – @NickShearer04
Trouble in paradise for the Pirates in this case! The organization holds two of the best catching prospects in baseball, and both of which are forcing their way towards Pittsburgh sooner rather than later. It's an interesting situation that I am sure General Manager Ben Cherington and Co. spend plenty of time thinking about, as the two seem to be on very similar timelines.
Rodríguez is more polished behind the dish with a slightly better feel to hit, but Davis has the higher offensive upside with his plus plus raw power, ability to consistently drive the ball in the air, and advanced approach.
Both Rodríguez and Davis are athletic catchers who are capable of playing other positions. The Pirates may be tipping their hand a bit with Davis seeing some action in right field recently for Double-A Altoona. With his rifle for an arm and improved receiving, I do think Davis could be an average defensive catcher, but he is still a bit iffy when it comes to blocking and some of the overall fundamentals.
Even if Davis continues to improve defensively, the majority of his potential value will come from his bat, which has 30 homer upside paired with a strong ability to get on base. Ultimately, I think both can catch for the Pirates at the highest level, but Rodríguez probably provides more value taking on the bulk of the duties behind the dish in a world where both are MLB-ready. The well-roundedness of Rodríguez's game is what makes him so valuable.
I think Davis will get acclimated pretty well to right field and split his time between there, DH and catching. If Davis reaches his offensive potential, the Pirates won't care where he plays.
Out of the Tulsa Drillers [Dodgers Double-A Affiliate] rotation, who do you feel is the best? – @santiagouuuu
The Drillers could easily have the most impressive rotation in the Minor Leagues. As everyone knows by now, the Dodgers do an unbelievable job of developing pitching talent, and several arms at the Double-A level are enjoying massive leaps this year. Let's set the scene with each of the arms and then I'll properly answer the question.
The Drillers starting arms include: Nick Frasso (1.01 ERA), Kyle Hurt (1.17 ERA), Emmet Sheehan (1.85 ERA), Landon Knack (1.59 ERA), River Ryan (2.17 ERA) and Nick Nastrini (2.55 ERA).
It's worth noting that the Texas League is a hitter-friendly environment, and the fact that the entire starting rotation for the Drillers are living well below the 3.00 ERA threshold is absurd. Each of these arms are nasty in their own way, but Sheehan seems like the best prospect to me.
At 6-foot-5, 220 pounds, Sheehan's windup is slow and controlled and his delivery is low-effort. His low vertical attack angle allows his upper 90s fastball to buzz by hitters at the top of the zone, and his slider/changeup tunnel off of it effectively. Opponents are hitting below .100 against his slider and barely above .110 against the change; both of which have the potential to be plus pitches with some more consistent feel. Sheehan is also the youngest of the bunch at 23 years old.
Kyle Hurt's numbers are impossible to ignore as well, and he is closer to Sheehan than some may think. His fastball has ticked up this season, now averaging 97 MPH. His changeup looks like a plus pitch, and the slider has improved drastically from last season. Hurt is on the "older" side at 25 years old, but his uptick in stuff paired with massive gains in the command department have Hurt tracking like one of the better arms in this system.
How good is AJ Smith-Shawver? – @Regan21124
This is a loaded question…as it should be. Smith-Shawver has not only solidified himself as the best prospect in the Braves system, but he is climbing as much as any pitching prospect in baseball, both from a level and ranking standpoint.
While Smith-Shawver was technically a seventh round pick, the Braves gave him roughly second round money to forgo his commitment to Texas Tech. Smith-Shawver showed off the stuff right away, but he battled some command issues in his first pro season at Low-A. A two-way commit for Texas Tech, Smith-Shawver is an extremely athletic pitcher and was able to clean up his delivery during the offseason.
The 20-year-old has cut his walk rate by 4% this season while upping his strikeout rate to 37%. His fastball averages more than 20 inches of induced vertical break, holding opponents to a .650 OPS with a pair of breaking balls that could be plus big league pitches if he can locate them more consistently.
It's extremely aggressive to have Smith-Shawver already in Triple-A, but he is talented enough to get outs against competition that is roughly seven years older than him on average. The other important part of this is that the Braves probably wanted to see their top pitching prospect using "normal" baseballs and not the pre-tacked balls in the Southern League, which can result in funky data. Cubs president Jed Hoyer recently cited this as part of the reason why they were eager to promote Ben Brown to Triple-A.
With Spencer Strider serving as a perfect template of an athletic pitcher with a carrying fastball, it's easy to get excited about Smith-Shawver's development within the Braves organization. If he is 60% of Strider (he has the talent to be more than that), I think the Braves would be pretty amped. Spoiler alert: Smith-Shawver will be on our updated top 100 list in the coming weeks.