Analysis
Meet Gavin Stone, The Pitching Prospect Who May Help The Dodgers This Year
In a loaded system, a mid-major mystery man may be the best of the bunch.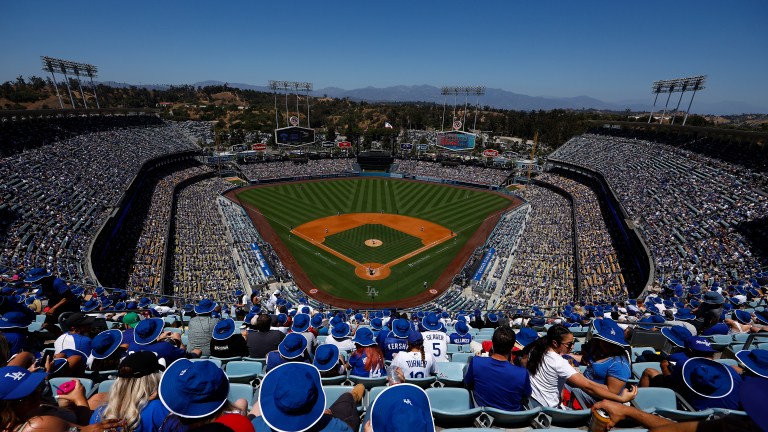 Who is Gavin Stone?
It's no secret that the Los Angeles Dodgers possess a talented and deep farm system that can stack up against any organization in baseball. Blue-chip prospects like Bobby Miller, Andy Pages, and Miguel Vargas deservedly dominate the headlines. And yet, amid the plethora of talent within the organization, the prospect having the loudest season of them all is pitcher Gavin Stone. 
The 23-year-old right-hander was drafted in the fifth round for a well-under-slot signing bonus of $100,000 in the abbreviated 2020 MLB Draft. Stone played his college ball for Central Arkansas, a relatively unknown mid-major Division I school that has produced only six big leaguers in the school's long existence. 
Stone was essentially an afterthought within this draft class, which saw the Dodgers draft Bobby Miller, Clayton Beeter, and Landon Knack with their top three selections. While the Dodgers certainly saw something in the undersized right-hander, there's no way they could have predicted the meteoric rise Stone has been on. 
Minor League Resume
Stone was only able to make two starts during the 2020 college season, so we'll start with his 2021 campaign. 
Stone was assigned to Low-A Rancho Cucamonga to begin the year and began displaying an elite ability to control the strike zone. His velocity had also taken a significant leap forward; after sitting in the low 90's during his time in college, Stone showed an ability to hold mid-90's heat late into outings. He posted dominant figures of 13 strikeouts-per-nine innings and 2.6 walks-per-nine to earn the promotion to High-A Great Lakes late in the year. His dominance only continued, as he posted an otherworldly 15.9 SO/9 against 2.1 BB/9 across 21 innings.
Overall across the two levels in 2021, Stone posted a solid 3.76 ERA and 1.23 WHIP over 91 innings. While certainly admirable, those numbers didn't scream future success. His 13.6 SO/9 versus just 2.5 BB/9 across both levels was the true sign of things to come. 
Fast forward to the 2022 season, and Stone has arguably been the best pitcher in all of Minor League Baseball at just 23 years old. 
Clearly too light of an assignment, Stone was promoted to Double-A Tulsa after just 25 innings with Great Lakes. While the jump from High-A to Double-A is tough for most young players, Stone has hit the ground running. 
Through 26 innings in Tulsa, Stone has posted a 1.73 ERA, 1.12 WHIP, and continued his supremacy over minor league hitters with 13.8 SO/9 and 1.7 BB/9. The righty has posted a 1.59 ERA over 51 innings in 2022 with the peripherals to back it up.
Scouting Report
I had the pleasure of witnessing Stone's best start of the year, which came on June 7 in Tulsa. I came away from the start convinced that Stone could pitch effectively in the big leagues this year if the Dodgers desired. Across six innings and about 90 pitches, Stone recorded 13 strikeouts and no walks. 
Stone works extremely fast and is a fiery competitor on the mound. He worked ahead in the count all night thanks to his ability to throw three of his pitches for quality strikes. He is exceptionally athletic and mobile on the mound, making it especially easy for him to repeat his mechanics.
The 23-year-old right-hander sat in the 93-95 MPH range all night with his four-seam fastball, spotting it to both sides of the plate as well as at the top of the zone to put hitters away. The offering featured great ride through the zone and had hitters consistently missing underneath it. Starters with Stone's fastball profile don't typically have advanced east-to-west command; Stone does. 
The best pitch in Stone's repertoire is a mid-80's changeup that features an abnormal amount of late drop and arm-side run. The pitch produced ugly swings all night against both lefties and righties and regularly missed bats even when located within the zone. To the naked eye, the immense amount of late-life could easily get it confused with a splitter. He threw it to the bottom of the zone at will, and it should miss bats at the highest level. 
Stone's third pitch is a mid-80's slider that he deploys mostly against right-handed hitters. While it may not feature the same movement as many of the sliders in modern-day baseball, Stone's ability to throw it for quality strikes when behind in the count allows the offering to play up. It will never be a bat-missing machine like the changeup, but it is a valuable pitch nonetheless. 
Stone sprinkled in a low 80's curveball to round out his arsenal. He only threw it about five times throughout the outing, and at least two of them backed up on him. It flashed solid depth and shape at the bottom of the zone, making it a nice change-of-pace pitch to be used sparingly. 
Grading out Stone would look something like this:
FB: 60/60
CH: 60/65
SL: 50/55
CB: 45/45
CM: 60/65
Outlook
Stone has the profile of an elite strike-thrower at the big league level. Due to his aggressive attack on the strike zone, Stone may be susceptible to the long ball, although it has not been an issue thus far. Command is, without a doubt, his most impressive quality. He has a preternatural understanding of when to throw his pitches for strikes and when to try and induce chases. His impeccable command allows him to effectively use this gift. Stone looks like a safe bet to be a No. 3 starter in a quality rotation, and has the potential to become even more than that. 
In a loaded Dodger system, it's easy to overlook prospects who lack impeccable pedigree and extraordinary physical gifts. Gavin Stone's assault on the minor leagues has simply made him impossible to ignore. Not bad for an under-slot, undersized fifth-rounder out of Central Arkansas.