Analysis
Japanese Super-Prospect Roki Sasaki Has Never Been Better
Roki Sasaki will soon be the most exciting prospect to come from the NPB since Shohei Ohtani, as one of the game's best pitchers right now.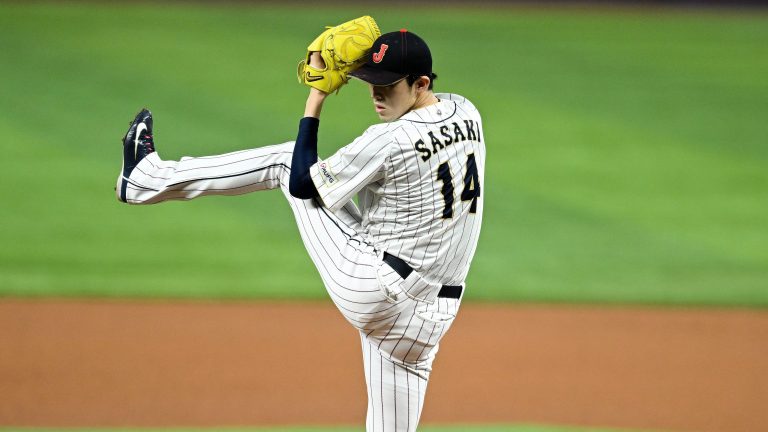 When 21-year-old right-hander Roki Sasaki took the mound for Samurai Japan in the 2023 World Baseball Classic, MLB scouts flocked to get an in-person look at the best pitcher in the world outside of affiliated baseball.
Despite barely being able to legally purchase a beer in the United States, Sasaki had already commanded a massive audience on the opposite side of the world from where he plays his baseball. A fastball that can touch 103 mph and a 90 mph splitter will do that. As will two dominant seasons in the second-most competitive baseball league there is (Nippon Professional Baseball).
Though Sasaki did not quite dominate to the degree that he had become accustomed to in his first two NPB seasons, he showed enough in his two WBC outings to create a buzz in the MLB community. The questions shifted from whether the hype was real to when we could see him stateside.
The posting system could delay Sasaki's move until 2027, his age-25 season, where he can leave as an international free agent with less financial ramifications for the MLB team who acquires him. If Sasaki requests to be posted and his team Chiba Lotte obliges, he could make his way to MLB sooner. You can read more on the posting rules from Sporting News.
Sasaki entered this season with an ERA under 2.00, while striking out nearly 11 batters per nine innings and walking less than two. Somehow, the talented 21-year-old has improved upon those numbers in 2023, pitching to a 1.48 ERA in 77 IP, with a 13.8 K/9, 1.6 BB/9 and 0.69 WHIP.
To take things a step further, Sasaki has struck out at least seven batters in all 12 of his starts this year, while punching out double digits in eight starts. After surrendering seven home runs in 129 1/3 innings last year, Sasaki has allowed just one homer this season.
It is not easy to put up numbers like Sasaki has at any level, in fact it takes special stuff and he has just that. He predominantly throws two pitches but they both happen to be potentially 80 grade offerings. He will also mix in an above average gyro slider in the upper 80s. Let's take a look at each of his pitches.
Fastball
Sasaki's fastball averages 99 mph and can get up to 103 mph with good carry at the top of the zone as well as some late run that helps him pick up plenty of ground balls and weak contact when he locates it in the lower third. He commands the heck out of it, landing the pitch for a strike nearly 75% of the time and typically drilling the target.
102 mph elevated will always get whiffs, but the late arm side action his heater gets, paired with Sasaki's phenomenal command of the pitch, allows him to work effectively east and west as well as north and south.
Right-handed hitters will see a pitch that starts middle-in, but runs late onto their hands. There's little a hitter can do when they're that tied up and it typically results in weak contact, a busted bat, or an ugly half-swing.
Some pitchers with late arm side run on their fastball have the tendency to leave it over the middle when they are trying to work towards their glove side, but it seems like Sasaki's fastball does exactly what he wants it to do consistently.
Against left-handed hitters, Sasaki has no fear of pitching inside. He will often work the fastball a few inches inside of the plate and run it right back in on the black. Lefties will often take the pitch for a strike or fight off a weak foul ball which sets up his diabolical splitter exactly how he wants (we'll get to that in a moment).
It probably comes without surprise that Sasaki has only surrendered four home runs on fastballs since the beginning of the 2022 season (218 1/3 IP), but his ability to locate the pitch has reached new heights in 2023.
Only one of those four homers allowed have come during the 2023 season and Sasaki has seen his whiff rate on the fastball jump by 3%, ground ball rate increase by 12% and overall percentage of balls in play decrease by 5%. In other words, an already incredibly effective pitch somehow became even more effective.
Splitter
Sasaki's splitter may be the easiest 80 grade I've ever given out. It mostly sits 88-92 mph but basically falls out of the sky as it approaches home plate. The pitch is so nasty that he could probably tell the hitter it is coming and pick up whiffs with it at a high rate, but the elite offering plays up even more working off of his triple digits fastball as you can see from this Pitching Ninja overlay at the end of the video.
Holding opponents to an OPS in the low .200s while throwing the pitch nearly 40% of the time is simply absurd. Not only is the offering as close to unhittable as any you'll find, he lands it for a strike nearly 70% of the time. For reference Kevin Gausman's exceptional splitter has a strike rate of just 57% this season.
Whether intentional or not, Sasaki's splitter has a couple different looks to it. Some will stall and dive straight downwards while others have a screwball-like arm side fade. Considering the fact that Sasaki has an unparalleled feel for his splitter, he could manipulate the movement by pronating more when he wants it to go fade arm side.
Regardless, hitters seem to have no clue where the pitch is going to end up despite Sasaki landing it for a strike more than two thirds of the time. He does not discriminate with the pitch, throwing it 40% of the time to lefties and 30% to righties with hitters of each side of the plate posting a batting average below .100.
Remember that fastball that starts in on a lefty before running back over the inside part plate? Imagine being geared up for that pitch and then getting this wizardry which starts in a similar spot before disappearing.
Slider/Cutter
The third pitch is a slider that he will manipulate to have more sweep in the upper 80s or gyro break in the low 90s.
Though his feel to spin the pitch is not as consistent as his other two elite offerings, Sasaki's slider gives hitters a third quality pitch to worry about. He will mostly mix the pitch in to right-handed hitters with right around 20% usage and has held opponents below the Mendoza Line with the offering this season.
He lands it for a strike far less than his fastball and splitter (60%), but Sasaki has doubled his overall usage of the pitch this season and has seen success. As he throws it more and finds improved consistency with the pitch, Sasaki could easily find a third plus pitch.
The video above is more of a sweeper. For righties, they are likely used to seeing a hard fastball running towards them or a splitter that dives downwards. Based on the swing the hitter takes in the video above, it is probably safe to assume that he was caught off guard by a pitch breaking away from him. He tunnels it so well that by the time the hitter can differentiate the spin, it's too late.
The cutterish version of Sasaki's breaking ball is closer to Emmanuel Clase's gyro cutter than the sweeper above. It could technically be considered his fourth pitch, but he seems to throw some sliders that lay in between the sweeper movement profile and gyro cutter profile. This is another one of those instances where it may be on purpose or the pitches may come out different each time he rips a slider.
Where Does He Stack Up?
Of course, we need to see Sasaki pitch in baseball's best league before we start calling him the best pitcher in the world, but he is one of the most talented pitchers on the planet. Though the NPB is not quite Major League Baseball, it's the next closest thing.
Mets right-handed pitcher Kodai Senga pitched to 2.59 ERA through more than 1,000 innings in the NPB and has found success in his first MLB season with a 3.31 ERA and 11 K/9. Sasaki's numbers in nearly 300 NPB innings dwarf what Senga did in his illustrious career and the 21-year-old has shown no signs of stagnation in his development. He somehow continues to get better.
If Sasaki were a prospect in affiliated baseball, he'd be No. 1 and it wouldn't be close. His average fastball velocity of 99.2 mph would be tops among all MLB starters, a half-tick above Hunter Greene who currently leads all big league arms with at least 750 pitches thrown this year.
While the level of competition may not be the same, strikeout rates tend to be lower in the NPB. The average strikeout rate in the NPB hovers around 19% while MLB's is around 23%.
Of course, the higher quality of pitching in MLB will contribute to that, but both Shohei Ohtani and Kodai Senga gained more than a full strikeout per nine innings after coming stateside; both of the aforementioned arms never flirted with 14 K/9 either.
Sasaki has said that pitching in the big leagues is his dream, making it only a matter of time. Whether he is posted in the next few years or waits until he is a free agent in 2027, MLB teams will be lining up to make Sasaki's dream come true…and theirs.