Rankings
Colorado Rockies Top Prospects For 2024
While the big league product hasn't been top-flight in recent seasons, there's plenty of room for optimism around what's to come in Denver.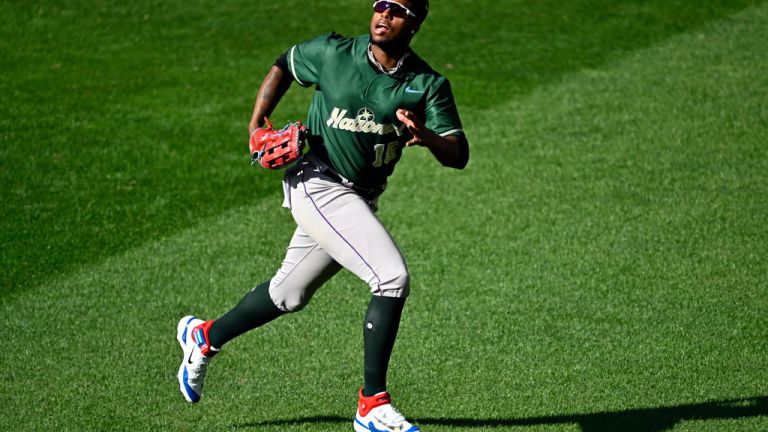 The Colorado Rockies have gone through an organizational reshuffling in recent seasons, with General Manager Bill Schmidt finishing just his second season at the helm in 2023. Coming off of a 59-103 year and without a season above .500 since 2018, the Rockies are the poster team for a rebuild. However, the light at the end of that tunnel is getting larger by the month, boasting one of the more exciting farm systems in baseball.
1. Adael Amador – 2B – (Double-A)
Height/Weight: 6'0″, 190 | Bat/Throw: S/R | IFA: $1.5M – 2019 (COL) | ETA: 2025
| | | | | | |
| --- | --- | --- | --- | --- | --- |
| HIT | RAW POWER | GAME POWER | RUN | FIELD | FV |
| 70/70 | 50/50 | 40/45 | 50/50 | 40/50 | 60 |
A switch hitter who also happens to be one of the best bat-to-ball prospects in the Minor Leagues, Amador boasts sneaky power as well, making him a potentially dynamic top-of-the-order threat.
Offense
Amador is a polished hitter who repeats his moves well with great timing. From the left side, Amador utilizes a gathering leg kick in tandem with a rhythmic hand load with impressive control. The way he is able to duplicate his swings and approaches at-bats is reminiscent of a big league veteran.
From the right side, Amador's lower half is a bit less involved, resulting in a little less power output. Amador makes up for it with elite bat-to-ball skills and low chase rates. You'll see Amador use his leverage counts to swing for more more frequently from the left side, but he is adept to adjusting within at-bats and catering his approach to the situation.
From the left-side, Amador is a plus-plus hitter, running some of the best contact rates in the Minor Leagues (91% zone contact and 87% overall contact). For reference, the only qualified hitters at the MLB level with a zone contact rate above 93% in 2023 were Miami's Luis Arraez and the Cubs' Nick Madrigal. Of course, it's much harder to make contact at those rates at the MLB level compared to High-A, but Amador already puts up higher exit velocities than the aforementioned two.
Amador has steadily put on some muscle since signing and has room for some a bit more strength as well. His 90th percentile exit velocity is just a hair above average at 102 MPH, but he will surprise evaluators (and opponents) with exit velocities as high as 110 MPH.
Amador's sneaky exit velocities are more likely to translate into a higher BABIP and plenty of doubles as opposed to home runs, as his flat swing results in more line drives and hard hit ground balls (as well as elite contact rates).
Most hitters who make as much contact as Amador tend to be aggressive at the plate; he is the opposite. Running a chase rate below 20%, he has walked more than he has struck out as a pro.
As a switch hitter with arguably the best hit-tool in all of the minor leagues who is on track to play his home games in one of baseball's most spacious outfields, Amador could very well compete for batting titles while hitting the ball hard enough to avoid any kind of "slap hitter" label.
Defense/Speed
With relatively average defensive tools across the board, there's a chance Amador could move to second base, where his defense would likely be more impactful. His actions have smoothed out a bit as he continues to rack up reps, but his arm is just average, as is his range. He could get by at shortstop, but Amador projects best at second base.
An average runner, Amador is probably not going to steal bases in bunches, but he is quick enough be a positive on the base paths overall and pick his spots to steal.
Outlook
Easily the best bat-to-ball prospect in the Minor Leagues, Amador is far more than that with the potential for average power as a patient switch hitter. The defense will be something to follow for Amador, not because he is totally incapable at shortstop, but rather the presence of Ezequiel Tovar and Amador's better profile at second.
Regardless, Amador's bat and approach should carry him up the Minor League ranks quicker than most of his peers, with the upside of becoming one of the best average/on-base guys at the highest level.
2. Yanquiel Fernandez – OF – (Double-A)
Height/Weight: 6'3″, 220 | Bat/Throw: L/R | IFA: $295K – 2019 (COL) | ETA: 2026
| | | | | | |
| --- | --- | --- | --- | --- | --- |
| HIT | RAW POWER | GAME POWER | RUN | FIELD | FV |
| 30/40 | 60/70 | 45/60 | 40/40 | 35/50 | 55 |
Light-tower power that Fernandez sells out for perhaps to a fault, there is special impact potential with the lefty slugger.
Offense
Big and powerful with a violent swing, Fernandez utilizes a decent sized leg kick and coil before taking big effort hacks at baseballs. There's some similarity to Jesus Sanchez of the Marlins in that regard. When everything is on time, Fernandez absolutely unloads on baseballs, flashing exit velocities as high as 114 MPH.
His impressive bat speed and quickness help him crush velocity, but he does have the tendency to get on his front foot too early against secondary stuff with an expansive approach. Running a chase rate around 38%, it's not a major surprise that Fernandez does not take many free passes. There's the potential for average bat-to-ball for him if he can gain more control of his lower half and cut down on the chase.
Already boasting plus raw power that he is getting into a fair amount in games. Fernandez still has more to unlock. He could feature plus plus juice as he matures both physically and with his moves in the box.
Defense/Speed
Fernandez does not move extremely well, limiting him to average defense in a corner. He has a plus plus arm in the outfield which helps, but he will probably not provide a ton of value with his glove or legs.
Outlook
There's no doubting the fact that Fernandez comes with an extremely volatile profile, but his ability to produce in huge numbers in High-A and earn a promotion to Double-A in his age-20 season, despite the rawness to his game, is a testament to his natural ability.
That said, natural ability can only take a prospect so far, and Fernandez met his match in Double-A with his lack of approach being exposed some. He has posted good numbers left-on-left in the early stages of his career and has flashed the ability to develop into a fringe-average hitter, which will be all he needs to tap into his 30 home run upside.
3. Sterlin Thompson – OF/2B – (Double-A)
Height/Weight: 6'3″, 190 | Bat/Throw: L/R | 1st round (31) – 2021 (COL) | ETA: 2024
| | | | | | |
| --- | --- | --- | --- | --- | --- |
| HIT | RAW POWER | GAME POWER | RUN | FIELD | FV |
| 55/55 | 50/55 | 40/50 | 45/45 | 40/50 | 55 |
A polished hitter with burgeoning power, Thompson is a doubles machine who is still searching for his long-term defensive home.
Offense
Thompson starts well into his legs with a slightly open stance and the bat resting vertically in front of his shoulder. He loads early with a gathering leg kick in sync with a deep hand load, helping him hold his tension in his back side. His swing is well-connected with a bat path geared for line drives to all fields. His hands work really well with good adjustability.
He posted above average contact rates while drastically improving his numbers against non-fastballs in the second half of the season against upper-minors pitching. The power output is currently average, but he flashes above average exit velocities and there is room for even more strength.
That said, his swing being geared for contact and adjustability may result in him being more of a doubles hitter than a consistent home run threat. There's still likely at least some game power in the tank for Thompson as he will leverage his hitter's counts well and flashes exit velocities as high as 109 MPH to the pull side.
Running about an average chase rate, Thompson controls the strike zone pretty well and walks at a decent clip. Though nothing jumps off of the page offensively, it's hard to find a deficiency as well.
Defense/Speed
A good athlete who saw action all over the diamond in 2023, Thompson projects best at second base, but was serviceable at third base and the corner outfield spots. His average arm is sufficient in the corners with good accuracy.
His reads in the outfield are a work in progress, but he should be close to an average defender at several spots. An average runner, Thompson is savvy on the base paths. He was 17-for-20 on stolen base attempts in 2023.
Outlook
A high floor piece for the Rockies, Thompson has climbed up the Minor League ladder quickly and is on track for a 2024 debut. His sound offensive profile and defensive versatility give him a great chance to become an above average regular who could plug into any spot in the lineup.
The ability to hit for a solid average paired with enough juice to hit 15+ homers and plenty of doubles, Thompson gives himself the potential for an offensive profile that is similar to an early Andrew Benintendi.
4. Chase Dollander – RHP – (CPX)
Height/Weight: 6'2″, 195 | Bat/Throw: R/R | 1st Round (9), 2023 (COL) | ETA: 2025
| | | | | | |
| --- | --- | --- | --- | --- | --- |
| FASTBALL | SLIDER | CHANGEUP | Curveball | COMMAND | FV |
| 60/70 | 50/60 | 45/55 | 40/50 | 50/55 | 55 |
One of the more electric arms college baseball has seen in several years, Dollander's disappointing junior season was still not enough to push him outside of the top 10 picks in this past year's draft.
Arsenal
An overpowering pitcher who is a data darling, Dollander runs out a four pitch mix with the potential for three plus offerings. His double-plus fastball sits 95-97 MPH, touching 99 MPH with exploding life at the top of the zone. Averaging around 16 inches of induced vertical break with late arm side run from a release height of 5.5 feet, Dollander's fastball is extremely difficult for hitters to get on top of while also frequently freezing them at the knees.
Working off of his fastball is a cutter-ish slider in the 86-88 MPH range. It played more like a slider in 2022, featuring more horizontal break and less vertical break in the mid 80s. With more sweep and separation in velocity from his fastball, it picked up more whiff and chase, while his shorter and harder cutter was barreled more frequently with less margin for error if he missed his spot.
The step backwards with his slider could have been due to the delivery inconsistencies he struggled with during his relatively frustrating 2023 season, but if he can regain shape closer to what we saw in 2022, it's an easy plus pitch. He landed his slider for a strike nearly 70% of the time in 2022 compared to a 60% strike rate in his final collegiate season.
Dollander's third pitch is an upper 80s changeup with some decent arm side fade. He could probably benefit from killing more spin, as the pitch averaged around 2,000 RPM in his sophomore season compared to 2,200 RPM last season. He still landed it for a strike at a strong 67% mark, but it did not feature the same string pull that it had in the past.
Even with less movement, Dollander can rack up plenty of chase swings as hitters gear up for his lively fastball from the aforementioned low release point. If he can kill the spin back to the 2022 levels, it could be a plus offering.
Rounding out the arsenal is an upper 70s curveball that he will mix in a handful of times per start. Likely due to his inconsistent delivery, the shape of the pitch was inconsistent. At times, it would feature more downward break while other instances it would look more like a slurve.
Outlook
With such a great pitcher's build and a smooth, athletic delivery, Dollander could have put himself right alongside Paul Skenes as the top arm in the draft. He was still easily one of the best pitchers in his class, despite his ERA doubling to 4.75 in his draft year, because of the immense upside he has already displayed.
There's some discrepancies in his mechanics from 2022 to 2023 and with a relatively small tweak, Dollander could quickly solidify himself as one of the best pitching prospects in the game thanks to his lively stuff and tough release point for hitters. Pitching prospects have not fared well for the Rockies in recent years for a myriad of reasons, but none of them were as talented as Dollander, who has frontline upside.
5. Drew Romo – C – (Triple-A)
Height/Weight: 5'11″, 205 | Bat/Throw: S/R | 1st round (35) – 2020 (COL) | ETA: 2024
| | | | | | |
| --- | --- | --- | --- | --- | --- |
| HIT | RAW POWER | GAME POWER | RUN | FIELD | FV |
| 50/55 | 40/40 | 30/35 | 50/50 | 60/70 | 50+ |
A glove-first catcher with a good feel to hit from both sides of the plate, Romo finished strong in 2023 and looks to be the team's future behind the dish.
Offense
A nearly identical setup from both sides of the plate, Romo's swing is geared for contact, featuring minimal movement prior to launch from both a hand load and stride perspective. Getting to his spot early helps Romo see the ball early, and make plenty of contact. Seeing the ball early may also contribute to his high swing rate, pulling the trigger at 56% of pitches with a chase rate of 36% in 2023.
Though his power is below average, Romo will look to catch balls out front and lift pull side. Most of his offensive value comes from his bat to ball skills, especially from the left side. Romo ran a zone contact rate of 88% from the left side in 2023 while striking out 18% of the time.
Overall, Romo has been more productive from the left side as a pro, but has enjoyed stretches where he is better from the right side. The challenge for Romo has been consistently producing from both sides at the same time.
His above average hit tool gives him a chance to carry his weight offensively, but Romo will need to cut down on his high swing rate for his offensive profile to become a bit more appeasing. He made progress in this regard in 2023, chasing at a 41% clip through his first 50 games of the season before cutting that figure down to 33% over the remaining 57 games, including the Arizona Fall League. Unsurprisingly, his walk rate more than doubled in that span as well.
Defense/Speed
Romo's defensive prowess behind the dish is where he will likely push himself to the big leagues. He is one of the more athletic catchers in the Minor Leagues, moving and blocking well with a plus throwing arm that consistently helps him produce sub 2.0 second pop times. His receiving is already solid and has continued to get stronger.
He is ahead of his years when it comes to the intangibles at the catching position, making him a high probability backup at the very least if the bat does not come along. Romo runs well for a catcher, posting average run times to first base.
Outlook
It was a tale of two halves for Romo in 2023, who posted just a .640 OPS through his first 45 games of the season before mashing to an .883 OPS over his subsequent 50 contests. His strong finish earned him a Triple-A cameo at season's end with a great chance of debuting in Denver at some point in 2024.
The glove will surely lead the way for Romo, but Patrick Bailey of the Giants serves as excellent example of what could be as his defense continues to track towards elite behind the dish. If he can just hit enough to carry his weight at the bottom of the order, the Rockies likely have their catcher of the future.
6. Cole Carrigg – OF/SS – (Low-A)
Height/Weight: 6'3″, 195 | Bat/Throw: S/R | 2nd round (65) – 2023 (COL) | ETA: 2026
| | | | | | |
| --- | --- | --- | --- | --- | --- |
| HIT | RAW POWER | GAME POWER | RUN | FIELD | FV |
| 40/50 | 40/50 | 35/45 | 60/60 | 55/65 | 55 |
An athletic switch-hitter with defensive versatility, Carrigg's relatively pedestrian collegiate numbers and a shoulder issue caused him to slip out of the first round, but he looked like a first round talent in his pro debut after making a swing tweak.
Offense
A nearly-identical setup from both sides of the plate that he adjusted upon entering pro ball, Carrigg starts completely upright with his feet about shoulder-width apart and hands rested in front of his chest. His adjusted setup is very reminiscent of Alex Verdugo's before he pulls his hands back with a gather into his backside.
Despite the moving parts, Carrigg's athleticism allows him to execute these moves with consistency and rhythm while starting the load early. Comparing the pro video to his time at San Diego State, Carrigg's adjustments have helped him stay in his backside longer and utilize the ground to generate power. He struggled with power leaks due to a premature forward move and dormant lower half at times in college.
The adjustments have also improved his bat path, living in the zone longer and maintaining his direction well, rather than spinning off like he had the tendency to do prior. After posting a max exit velocity of just 104 MPH with metal, Carrigg launched homers of 109 MPH and 108 MPH in his first 36 pro games thanks to his mechanical improvements. In 133 collegiate games, he hit just seven home runs, but nearly matched that total with five homers in those 36 pro games.
The power is still fringy for Carrigg, but at 6-foot-3, 200 pounds he has a solid chance to tap into average juice as he continues to reap the rewards of his optimized mechanics. He is a bit aggressive at the plate with the tendency to expand at the bottom of the zone with heavy fastballs and changeups. His plus speed helps him steal hits on balls hit into the ground.
Defense/Speed
Carrigg's ridiculous tools are more than evident on the defensive side of things, where he is capable of playing all over the diamond at a high level. He is a bit raw when it comes to the fundamentals, but that is to be expected of a player who moved all over the diamond in his collegiate career with the athletic ability to make him a better defender than most no matter where you stick him.
With a plus plus arm and plus speed, Carrigg may project best in center field, where his reads and jumps looked solid already. The Rockies also had Carrigg make some starts at shortstop where his range and arm stood out. His actions are a bit raw, but his hands work well overall. An inefficient base stealer in college, Carrigg has the speed to be a consistent 20+ bag threat eventually.
Outlook
A high-variance prospect, Carrigg's tools, defensive versatility and impressive offensive upside from both sides of the plate make him one of the more exciting prospects in the Rockies system. If Carrigg can continue his power trend upwards, some pressure could be taken off of the hit tool, but even if he is average in both departments, he has the goods to be a very valuable everyday piece, much like Tommy Edman in St. Louis.
7. Jordan Beck – OF – (Double-A)
Height/Weight: 6'3″, 230 | Bat/Throw: R/R | 1st Round (33) – 2022 (COL) | ETA: 2025
| | | | | | |
| --- | --- | --- | --- | --- | --- |
| HIT | RAW POWER | GAME POWER | RUN | FIELD | FV |
| 30/35 | 60/60 | 55/55 | 55/55 | 50/55 | 50+ |
A big-bodied power threat, Beck hit the ground running in his first full pro season, flashing exciting tools across the board.
Offense
Starting slightly closed with active hands that waggle in conjunction with his front foot, Beck's setup is somewhat reminiscent of Mike Trout's with an even bigger leg kick. Beck syncs up his active pre-swing moves well, likely aiming to avoid stagnation and maintain fluidity as players with his build tend to be on the stiffer side.
Beck's athleticism helps him repeat his loud moves relatively well, as does his early load. He possesses plus power to all fields with a swing geared for lift. The loft in his swing leaves him exposed to fastballs at the top of the zone, but he has little issue catching up to top-end velocity beneath the upper third.
With the tendency to get long to the ball, Beck likely projects as a below average hitter, running a contact rate of 67% and zone contact rate of 75% in 2023. His ability to consistently tap into his power in games as well as draw free passes at a decent clip hedges his lack of bat-to-ball.
Defense/Speed
An above average runner with a plus arm, Beck projects as an above average outfielder in either corner. He saw a decent amount of action in center field as well in 2023, where he held his own. Beck's above average wheels are of value on base as well, swiping 20 bags on 25 tries.
Outlook
Beck has the goods to be a power hitting corner outfield who provides value beyond the bat, but he will need to make some gains in the contact department to realize his offensive potential. He has a chance to be a low-batting average, 30 home run threat with some value on defense.
8. Robert Calaz – OF – (DSL)
Height/Weight: 6'2″, 180 | Bat/Throw: R/R | IFA: $1.7M – 2023 (COL) | ETA: 2028
| | | | | | |
| --- | --- | --- | --- | --- | --- |
| HIT | RAW POWER | GAME POWER | RUN | FIELD | FV |
| 30/40 | 50/60 | 45/55 | 50/50 | 40/50 | 50+ |
Exciting power potential with a chance to stick in center, Calaz was one of the most impressive players in the DSL last season.
Offense
Starting with a wide stance, Calaz utilizes a large weight shift into his backside but holds the tension in his back side well through launch. Such a substantial transfer of weight can cause a power leak forward, but Calaz utilizes the ground well while being adjustable with his lower half.
He is rotationally explosive, generating plus bat speed, but he also has the tendency to pull off with his front side. His lower half control and good barrel path help him still drive the ball the other way for hits even if he is a bit too "spinny," though higher quality breaking balls and harder fastballs could present more challenges.
Calaz has already flashed plus power with exit velocities as high as 113 MPH in the DSL with plenty of batted balls 105 MPH and above in his 43 games. Such strong exit velocities in his age-17 season bodes well for his long-term power outlook.
It is early in the development of Calaz so he could make some strides in the bat-to-ball department, but he projects as a fringy hitter who can make enough contact to get into his big power in games.
Defense/Speed
A slightly above average runner, Calaz has a chance to stick in center if he does not slow a step thanks to his instincts and comfortable reads. His average arm should play fine in all three outfield spots. He should be able to mix in a handful of steals per year.
Outlook
Calaz's plus raw power with the chance to stick up the middle enticed the Rockies enough to make him the crown jewel of their 2023 IFA class, shelling out nearly $2 million to sign him. Early results have only added to the intrigue, as the teenager flashed some of the best raw power in the DSL with palatable whiff rates. Even if Calaz has to move to a corner, his defense would be comfortably above average with his plus power profiling just fine.
9. Zac Veen – OF – (Double-A)
Height/Weight: 6'4″, 195 | Bat/Throw: L/R | 1st Round (9) – 2020 (COL) | ETA: 2024
| | | | | | |
| --- | --- | --- | --- | --- | --- |
| HIT | RAW POWER | GAME POWER | RUN | FIELD | FV |
| 40/50 | 40/50 | 35/45 | 60/60 | 45/55 | 50 |
Viewed by many as one of the highest upside bats in the 2020 class, Veen got off to a hot start to his career before Double-A pitching and injuries halted his momentum.
Offense
Standing at 6-foot-4 with long levers and plenty of projection on his frame, Veen found himself tinkering with his set up and pre-swing moves in his abbreviated 2023 season. It's worth noting that he was dealing with a nagging wrist injury that would eventually end his season, but he has struggled with his timing and secondary stuff since he got his first taste of Double-A in 2022.
Veen has struggled to identify spin, often getting caught in between and looking rushed. He has flashed a decent feel for the barrel, providing hope for an average hit tool if he can find some more rhythm and consistency with his moves.
Though Veen's frame suggests power potential, his exit velocities have been fringy as a pro. He is wiry with as much room to add strength as just about any prospect. Still just 22 years old with a wrist issue in the rearview mirror, it is still far too early to give up on Veen. 2024 will be a pivotal season for Veen to showcase some added impact and more consistent swing mechanics.
Defense/Speed
Best suited for a corner outfield spot, Veen's plus speed helps him handle center field in a pinch, but is most impactful on the base paths. Before seeing his season cut short, he stole 22 bags on 24 tries in just 46 games. Veen stole 55 bags in 2022.
Outlook
Veen is an incredibly difficult prospect to project given the gap between what can be and what currently is. The wrist injury further clouded the lens as Veen did not get an opportunity to right the ship in 2023, which was just his age-21 season.
While it is too early to give up on Veen, it is fair to be skeptical if the projection that once had him looking like one of the most intriguing bats in the 2020 class will ever be realized. That said, Veen offers exciting wheels, room for more power and has flashed a feel to hit that could combine to make him an above average regular.
10. Sean Sullivan – LHP – (Single-A)
Height/Weight: 6'4″, 200 | Bat/Throw: L/L | 2nd Round (46), 2023 (COL) | ETA: 2026
| | | | | |
| --- | --- | --- | --- | --- |
| FASTBALL | Slider | CHANGEUP | COMMAND | FV |
| 60/70 | 40/45 | 50/60 | 40/50 | 50 |
Sullivan was the Robin to Rhett Lowder's Batman for top-ranked Wake Forest this past spring, posting a mid-2.00's ERA and an incredible 111/21 K/BB ratio. Unique angles from the left side with big whiff potential make Sullivan an intriguing arm with a reliever's floor.
Arsenal
Tall and long limbed with a low release point, Sullivan is extremely deceptive. While his fastball sits in the low 90s, Sullivan averages around 7 feet of extension with spin rates around 2,500 RPM, causing the fastball to get in on hitters quickly.
Sullivan dominated with his heater at Wake Forest, using it roughly 75% of the time while holding opponents to a batting average around .150 with an in-zone whiff rate of 35% and chase rate just under 40%.
Of course, Sullivan will struggle to succeed against more challenging competition with such heavy fastball reliance, but he creates similar angles to Kyle Harrison of the Giants, who has succeeded at the upper levels with greater than 60% fastball usage. With his long, slender frame, Sullivan is a candidate to see his fastball velocity jump a couple ticks, which would make it a plus plus offering.
Sullivan's feel for his two secondaries was inconsistent throughout his collegiate season, but he also did not need to throw his changeup or curveball much more than a combined 20% of the time because of how dominant his heater was.
His changeup is the better of the two secondaries, hovering in the low 80s with good arm side fade. His release point being both low and far towards the first base side makes it extremely difficult for right handed hitters to pick up, often geared up for a fastball and waving right over it.
Sullivan's release point and the action of the pitch does make him susceptible to arm-side misses, landing the pitch for a strike only 55% of the time. With more consistent command, it could become a plus pitch.
Rounding out the arsenal is a fringy slider with decent shape, but the tendency to be a bit big, lacking some desired bite. It is a good pitch to back door right-handed hitters and steal strikes early in counts, but it is not the put away pitch he needs left on left. He only landed it for a strike around 54% of the time in 2023 and may benefit from tweaking it to a harder, shorter slider.
Outlook
Given Sullivan's fastball dependency and lack of a projectable third pitch at this stage, there's a significant amount of reliever risk with the southpaw. That said, he has flashed the ability to fill up the strike zone, posting one of the best K-BB figures in college baseball as a draft eligible Sophomore who transferred from the Big 10 (Northwestern) to the ACC (Wake Forest).
There's reason to believe Sullivan can further develop his secondaries considering his limited experience and lack of need to throw them, but if he can't stick as a starter, he has the goods to be a wipeout high leverage reliever.
11. Carson Palmquist – LHP – (Double-A)
Height/Weight: 6'4″, 185 | Bat/Throw: L/L | 3rd Round (77) 2022 (COL) | ETA: 2025
| | | | | | |
| --- | --- | --- | --- | --- | --- |
| FASTBALL | SLIDER | CHANGEUP | Cutter | COMMAND | FV |
| 55/55 | 55/55 | 40/50 | 40/40 | 40/45 | 50 |
An extremely funky lefty with decent stuff, Palmquist thrived in his first full pro season, carving through High-A before showing well in Double-A. Palmquist made the move from the the closer role to the rotation for the University of Miami in his junior season, making 2023 not only his first full pro season, but also only his second season as a starter since high school.
Though he only operates in the low 90s, Palmquist's outrageously low release height of 4.6 feet and ability to hide the ball with an inward twist and whip-around delivery helps him generate plenty of whiff. At 4.6 feet, Palmquist's release height is lower than any qualified MLB starter while averaging 14 inches of horizontal break. He picked up a 16% swinging strike rate on his fastball in 2023.
His slider is a comfortably above average pitch in the mid 70s, but was inconsistent from a command perspective. Palmquist's low 80s changeup flashes average and he will mix in a fringy cutter. Similar to fellow funky lefty Sean Sullivan, Palmquist has the floor of a big league reliever, but with some further refinement of his secondaries, he could stick as a starter.
12. Dyan Jorge – SS – (Low-A)
Height/Weight: 6'3″, 170 | Bat/Throw: R/R | IFA: $2.8M – 2022 (COL) | ETA: 2026
| | | | | | |
| --- | --- | --- | --- | --- | --- |
| HIT | RAW POWER | GAME POWER | RUN | FIELD | FV |
| 50/55 | 35/45 | 30/35 | 60/60 | 50/55 | 50 |
A glove-first shortstop with a contact-oriented approach, Jorge enjoyed a strong showing in the Complex League before holding his own in Low-A. His power is well below average, posting a 90th percentile exit velocity of just 99 MPH and average exit velocity of 82 MPH. There's some hope that Jorge can tap into more power as his 6-foot-3, 170 pound frame provides ample projection. His approach is advanced.
Jorge is a plus runner who moves his feet really well at shortstop with clean actions and an above average arm. He should have no issue sticking at the position. Defense, speed and bat-to-ball skills could make Jorge a light-hitting everyday shortstop.
13. Benny Montgomery – OF – (High-A)
Height/Weight: 6'4″, 205 | Bat/Throw: R/R | 1st Round (8) – 2021 (COL) | ETA: 2026
| | | | | | |
| --- | --- | --- | --- | --- | --- |
| HIT | RAW POWER | GAME POWER | RUN | FIELD | FV |
| 30/30 | 55/65 | 45/55 | 70/70 | 50/60 | 50 |
An incredible athlete with elite tools, Montgomery's chaotic swing has created skepticism as to whether he will ever be able to hit enough to reach his potential. His loud hitch was long a point of contention from his detractors, and while Montgomery has been able to tone down the move a bit, it is still disruptive to his timing.
Another challenge for Montgomery has been his premature forward move, which causes his barrel to drag. The fact that he has been able to compete despite the swing inefficiencies is a testament to Montgomery's freakish athleticism. The hitch could be subdued enough to get away with if he cleans up the lower half.
Montgomery has flashed exit velocities as high as 113 MPH, but his swing inefficiencies resulted in a ground ball rate of 63% in 2023. He hedges the whiff with a patient approach, chasing just 23% of the time.
A plus plus runner, Montgomery has the goods to stick in center field and has gradually improved as a base stealing threat. There's few prospects–if any–outside of their org's top 10 with more upside than Montgomery, however there's very real concerns that he may never hit enough.
14. Hunter Goodman – OF/1B – (MLB)
Height/Weight: 5'11″, 210 | Bat/Throw: R/R | 4th Round (109) – 2021 (COL) | ETA: 2024
| | | | | | |
| --- | --- | --- | --- | --- | --- |
| HIT | RAW POWER | GAME POWER | RUN | FIELD | FV |
| 30/30 | 65/65 | 60/60 | 45/45 | 30/35 | 45+ |
Big power is the name of the game for Goodman, leading all Minor League hitters with 70 home runs since the start of the 2022 season. He made some impressive strides in the bat-to-ball department in 2023, cutting down his whiff rates by around 5% and his chase rate by nearly 10%.
The hit tool is still below average, with the likelihood of striking out around 30% of the time, however his 2023 improvements provide optimism that he can hit enough to tap into his easy plus power enough to stick in the big leagues.
A converted catcher, Goodman split time between the outfield and first base, but is better suited for the latter. His plus arm helps his case in right field. With ridiculous numbers against left-handed pitching since the start of 2022 (1.162 OPS), the 2021 fourth round pick looks like a potential platoon power bat.
15. Jordy Vargas – RHP – (Low-A)
Height/Weight: 6'2″, 195 | Bat/Throw: R/R | IFA: $500K, 2021 (COL) | ETA: 2026
| | | | | |
| --- | --- | --- | --- | --- |
| FASTBALL | Curveball | CHANGEUP | COMMAND | FV |
| 50/55 | 50/60 | 40/50 | 35/45 | 45 |
An athletic right-hander with a loose, quick arm, Vargas has some loud stuff that he is still working to harness. His fastball sits 93-95 MPH, touching 96 MPH and flashes some late arm side run. The pitch can flatten out at times, but plays as an above average heater when he is generating late life to his arm side.
Vargas' best out pitch is a mid 70s curveball with solid depth and two-plane break. He struggled to command the pitch, landing it for a strike just 52% of the time. It flashes plus when he is around the zone with it. Rounding out the arsenal is a fringy changeup that flashes average when Vargas has a feel for it. He sprayed the pitch for much of 2023, with a strike rate below 50%.
For Vargas to realize his potential on the mound, he will need to make some major strides with his feel for his secondaries as his fastball does not generate enough whiff to get away with elevated usage.
Other Names to Watch
Warming Bernabel – INF – (Double-A): Limited to just 91 games due to injury in 2023, Bernabel disappointed in his Double-A debut, hitting .225 with just two stolen bases and a .608 OPS. However, we need to remind ourselves that Bernabel couldn't legally drink until early June of this year. Already having a Double-A season under his belt, Bernabel has plenty of time to recapture his prospect intrigue from a season ago.
Gabriel Hughes – RHP – (Double-A): The former two-way player will be sidelined for the entirety of the 2024 season after undergoing Tommy John Surgery, but the tenth overall pick in 2022 has a fastball/slider combination that will at the very least push him into a major league bullpen.
Ryan Ritter – MIF – (Double-A): Ritter has always had excellent defensive tools, but the former Kentucky Wildcat tapped into unforeseen power in hitter-friendly environments in 2023. On top of going 20-25 in the stolen base department, he launched 24 homers in 119 games in his first full professional season. Ritter offers a high floor with his speed and defense, but offensive impact is the next step.
Victor Vodnik – RHP – (MLB): A Rule 5 Draft candidate last offseason, Vodnik stayed with Atlanta and was the main return to Colorado in the Pierce Johnson deal at this year's trade deadline. His first taste of the big leagues didn't go all too well, but he still logged a 3.35 ERA in 53.2 IP in the minor leagues in 2023.
Isaiah Coupet – LHP – (Single-A): Coupet didn't turn 21 until after his season concluded, and it was an excellent professional debut after posting 12.8 K/9 and under 3.0 BB/9 in over 50 innings at Ohio State this past spring. While his fastball doesn't jump off the page, he is a spin machine, ripping off both a sharp slider and a tumbling curveball.
Kyle Karros – 3B – (Single-A): The son of longtime big leaguer Eric Karros, Kyle had a decent season at UCLA before being taken in the fifth round of this past year's draft. While the power hasn't truly reared its head just yet, he walks almost as often as he strikes out and has staying power at third base.
Coco Montes – UTIL – (MLB): A utility infielder who enjoyed an uptick in power in conjunction with improved contact rates in 2023, Montes dominated the PCL on his way to an MLB debut. He could be a decent bench piece.
Jimmy Herron – OF – (Triple-A): A former third round pick, Herron has flown under the radar since being traded to the Rockies organization, but has consistently put up solid numbers. He can play all three outfield spots with a good feel to hit and sneaky pop. He's a fourth outfield type.