Rankings
Chicago Cubs Top Prospects For 2023
A big market team with money to spend, the Cubs may just be buying time for their next wave of stars to break in to the Bigs.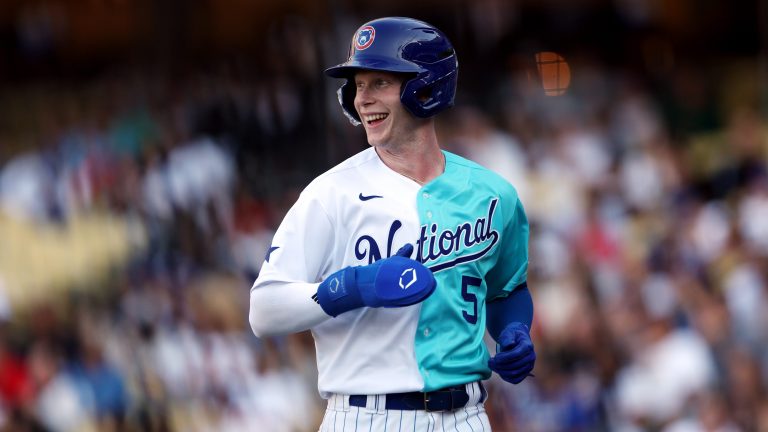 One of baseball's most improved farm systems over the last year, the Chicago Cubs have added a ton of talent via trades and development. Led by an exciting charge of hitters, the Cubs have started to build some intriguing pitching depth as well.
1. Pete Crow-Armstrong – OF – (High-A)
Age: 20 | Height/Weight: 6'0′, 185 | Bat/Throw: L/L | 1st Round (19), 2020 (CHC) | ETA: 2024
| | | | | | |
| --- | --- | --- | --- | --- | --- |
| HIT | RAW POWER | GAME POWER | RUN | FIELD | FV |
| 40/50 | 50/55 | 45/50 | 60/60 | 60/70 | 60 |
Acquired in the Javier Báez deal from the Mets last season, Crow-Armstrong missed all but six games of his 2021 campaign due to a shoulder injury. An advanced feel to swing the bat and elite defensive potential had PCA making up for lost time this past season.
Offense
Due to 2020's pandemic and an injury that wiped out Crow-Armstrong's 2021 season, we were left not totally knowing what to expect from the former first-rounder this past season. What became abundantly clear rather quickly was the fact that PCA has a bit more to him than many were giving him credit for around the time he was traded straight up for Javier Báez.
PCA starts with an upright stance before sinking into his backside as he gets his hands into a launch position. The move is simple and the 20-year-old repeats it with ease, which helps him be on time frequently.
A smooth, level swing that is geared for line drives, PCA has shown plenty of comfort spraying the ball all over the field. An area where he has surprised a bit more is the pull-side power department. Crow-Armstrong finished the season with 16 home runs and has recorded exit velocities of 107 mph on several occasions this year. Still with some room to fill out a bit and twitchy athleticism and bat speed which allow him to turn on pitches middle in with authority, 20+ home runs is not out of the question for the newly-turned 20-year-old.
Given the confidence that PCA has in his ability to put bat on ball, he can get a bit swing happy at times. Like many young hitters, the high fastball has been an area of temptation that he has succumbed to, though I expect the talented hitter to quell his aggressiveness against better pitching in High-A and beyond.
Defense/Speed
A plus runner with great instincts, PCA makes an impact both on the base paths and in the field with his legs. Defensively, Crow-Armstrong has a chance to be a perennial Gold Glover in center field. His reads are great, as are his jumps and there's no doubt about his closing speed. An above-average arm is just the icing on the cake for a guy who should command the outfield as well as anyone in the business once he gets to the big leagues.
On the base paths, PCA has already made his speed known, swiping 13 bags in his 38 Low-A games prior to his promotion during the summer. There is probably some room for improvement in terms of picking the right spots to run and getting slightly better jumps from first base, but the speedster should be a 20+ stolen base threat annually.
Outlook
There was no doubt that PCA would be a solid, high floor prospect thanks to his elite defensive potential and speed as a left handed-hitting center fielder. The question seemed to be, "how much upside does he have?"
It seemed that the Mets weren't even sure of how much upside their 2020 first round pick had given their willingness to part with him for a few months of Javier Báez. As we are quickly learning, PCA has the ability to impact the baseball more than many expected and an All-Star ceiling is not outlandish. Even with nearly two lost seasons, he is still just 20 years old and already hit his way to High-A to finish the 2022 season.
Crow-Armstrong is a hard-nosed gamer who is doing all of the things we thought he would do pretty well, exceptionally well while doing the things we weren't totally sure he was capable of with the bat already.
2. Brennen Davis – OF – (Triple-A)
Age: 23 | Height/Weight: 6'4′, 220 | Bat/Throw: R/R | 2nd Round (62), 2020 (CHC) | ETA: 2023
| | | | | | |
| --- | --- | --- | --- | --- | --- |
| HIT | RAW POWER | GAME POWER | RUN | FIELD | FV |
| 45/55 | 55/60 | 50/55 | 55/55 | 50/55 | 55 |
After a breakout 2021, injuries and a back surgery in May stifled Davis' momentum in the early going of 2022. Davis has a chance to be a dynamic outfielder with an enviable combination of power and speed, but he will need to find health and consistency in Triple-A.
Davis returned from injury for the final month of the Triple-A season and got more at bats in the Arizona Fall League while eying a strong start to 2023 and a potential call up.
Offense
When Davis was drafted in 2018, he was seen as a tall, lanky kid with quick-twitch ability, but scouts were unsure what to expect with the bat. After all, Davis did not really focus on baseball until his senior season of high school, excelling on the basketball court as well.
Early in Davis' career, you'll also see an "armsy" swing that doesn't incorporate his lower half very much. An inconsistent lower half is common among younger players and is going to be even more pronounced when you are 6-foot-4, 175 pounds. Davis showed up in 2019 looking much more physical and has continuously added strength. Now listed at 210 pounds, you can see the physicality making its way into Davis' game.
It doesn't take much for Davis to generate power, especially now that his lower half plays a part in his swing. Limited effort and quick twitch athleticism allow Davis to control his body well. Despite his long levers, Davis typically does a good job of staying short to the ball. The outfielder has no problem hitting the ball where it's pitched and has shown an easy ability to leave the yard from foul pole to foul pole.
Defense/Speed
A plus runner, Davis has the goods to stick in center field along with an above-average arm which could handle either corner as well. Like many young outfielders the 22-year-old could improve on his reads in center, but his quickness from his days on the basketball court and recovery speed give him a margin for error.
While stolen bases have not been a huge part of his game, Davis' plus speed and long strides make him an effective base runner and he should be able to swipe 10-15 bags per year with ease.
Outlook
Davis earns high marks for his makeup and work ethic, which has been backed up by his consistent progression. The former second round pick has mashed his way to Triple-A in just 152 games. The power/speed combo that Davis possesses along with a good feel to hit evoke some young Matt Kemp memories.
It was huge for Davis to return to the field before the end of the 2022 season to shake off the rust from missing the majority of the season. It will likely take Davis some time to fully regain his explosiveness both at the plate and in the field, and he was one of the most closely watched prospects in the Arizona Fall League.
Davis has elite offensive upside with the ability to play all three outfield spots at a high level. A mostly lost 2022 season hurts, but Davis climbed levels so quickly that he will still be relatively young for the Triple-A level at 23 years old by the start of next season. If Davis is not hampered by his back injury, he could blossom into an all-around All-Star in the Cubs outfield.
3. Owen Caissie – OF – (High-A)
Age: 20 | Height/Weight: 6'4', 210 | Bat/Throw: L/R | 2nd Round (45), 2020 (CHC) | ETA: 2024
| | | | | | |
| --- | --- | --- | --- | --- | --- |
| HIT | RAW POWER | GAME POWER | RUN | FIELD | FV |
| 40/50 | 55/65 | 40/55 | 50/45 | 35/50 | 55 |
Big time physical projection and a pretty good feel for the strike zone, Caissie has immense offensive upside, especially in the power department. The then-teenager received an aggressive assignment to High-A for 2022 and responded well.
Offense
Standing at 6-foot-4, 210 pounds with already impressive present pop, many evaluators are eager to see what kind of power Caissie will be able to generate as he continues to fill out and mature physically and at the plate.
Caissie has not totally tapped into his big raw power in games due to his struggles to lower half inconsistencies. This is common for tall young hitters and his tendency to lose his back hip and drift will cause his bat to drag through the zone sometimes. As a result, Cassie found himself out on his front foot too frequently on off speed pitches, causing more weak contact and ground balls.
When Caissie is able to keep his weight back and stay in his back hip, the way he can impact the baseball to all fields is impressive and his pull side power can be jaw-dropping. Caissie is short to the ball and can really turn on pitches middle-in with authority. The newly-turned 20-year-old had 38 batted balls over 105 mph and reached exit velocities as high as 114 MPH.
When everything is in sync for Caissie, you can see flashes of a potentially special power bat. As Caissie continues to iron out the inconsistencies with his lower half, there is foul pole-to-foul pole power potential for the Ontario, Canada native as he has the ability to generates a ton of leverage and natural carry.
Defense/Speed
Caissie moves well for his size, but his limited experience in the outfield heading into 2022 was evident in his reads and routes. A comfortably above-average arm and more than enough athleticism to be passable in a corner outfield spot, there is plenty of reason to believe that Caissie can develop into at least an average defender and he made solid strides defensively this season.
Caissie mentioned in our interview with him on "The Call Up" that he plans to train all offseason at the Cubs complex in Arizona with a focus on gaining speed and explosiveness. He even mentioned adding stolen bases as a priority.
Outlook
Already putting on shows with his majestic batting practice homers, we started to see flashes of his plus raw power in games this season. Still with plenty of room for added strength and power in the tank and a mature approach, Caissie will need to find more consistency with his lower half and body control in general to consistently tap into his big time juice.
Still extremely young with a solid High-A season under his belt, Caissie is progressing nicely and could be a middle-of-the-order masher capable of 30+ homers if the raw pop can translate into game pop.
4. Kevin Alcantara – OF – (High-A)
Age: 20 | Height/Weight: 6'6, 200 | Bat/Throw: R/R | IFA: $1M – 2018 (NYY) | ETA: 2025
| | | | | | |
| --- | --- | --- | --- | --- | --- |
| HIT | RAW POWER | GAME POWER | RUN | FIELD | FV |
| 35/50 | 55/70 | 40/60 | 55/55 | 40/50 | 55+ |
Projectable would put it lightly with the 6-foot-6, athletic Alcantara. Acquired from the Yankees in the Anthony Rizzo deal, Alcantara has a chance to be a terrorizing middle-of-the order bat with sneaky complementary tools.
Offense
This year was our first full-season look at Alcantara, and the million-dollar international free agent has not disappointed. As you may expect with a tall, lanky hitter, there's some swing and miss concerns with Alcantara, but his athleticism helps him control his large frame through his swing.
By nature, Alcantara can get long at times with his swing and can find himself struggling to get around on higher velocity. However, he has worked to be much quicker and direct to the baseball, seeing improvements with his contact rates and ability to handle hard stuff in.
The long levers Alcantara possesses helps him generate a ridiculous amount of whip and bat speed, launching homers as far as 452 feet this season while flashing exit velocities as high as 112 MPH. The tall slugger has no problem with plate coverage, crushing pitches middle away. 15 of his 40 extra base hits in 2022 went to the opposite field.
Alcantara is a fairly aggressive hitter, with a 32% chase rate this season, but much like his contact rates, the newly-turned 20-year-old's approach progressed nicely as the season went on. The Cubs were in no rush with Alcantara, letting him feel things out for the entire season in Low-A which allowed him to keep working towards tapping into his power in games rather than sending the youngster into fight or flight mode in High-A.
Built like an NBA small forward with impressive athleticism, there are few prospects in baseball with as much projection as Alcantara. It's a big leap from the complex to Low-A and he handled it extremely well as a teenager. Assuming Alcantara adds more strength and continues his maturity as a hitter, the offensive outcomes for the young outfielder are really limitless.
Defense/Speed
Alcantara possesses above average speed thanks to his long strides which allow him to cover plenty of ground. Though there's plenty of reason to believe he can stick in center, there is a chance that Alcantara could slow down a step as he physically matures. He would project as an above average outfielder in a corner with a pretty good arm.
His speed translates more into closing speed in the outfield than quick burst base stealing, but Alcantara can still get to his top speed quick enough to steal 10-15 bags annually and provides overall value on the bases.
Outlook
Prospects with 70 grade raw power to dream on and potential to stick in center field don't come around every day. Though still a very volatile prospect profile, Alcantara's strong first full season in Low-A hedges at least some of the extreme risk around his hit-tool.
The 20-year-old has a sneaky good feel to hit and improved in that department as the year went on. A decent ability to recognize spin and comfort driving the ball to all fields give Alcantara the potential to be an average hitter while is massive power potential gives him All Star offensive upside at a premium position.
5. Matt Mervis – 1B – (Triple-A)
Age: 24 | Height/Weight: 6'2, 235 | Bat/Throw: L/R | UDFA – 2020 (CHC) | ETA: 2023
| | | | | | |
| --- | --- | --- | --- | --- | --- |
| HIT | RAW POWER | GAME POWER | RUN | FIELD | FV |
| 55/60 | 60/60 | 55/60 | 35/35 | 40/45 | 55 |
Baseball's biggest breakout prospect in 2022, "Mash Mervis" has already become a farm system celebrity for Cubs fans. Though it seems like Mervis came out of nowhere, he was one of the best performers on the Cape in 2019 and a victim of a shortened 2020 Draft. Mervis has a great chance to be the Cubs starting first baseman in 2023.
Offense
Mervis detailed his swing adjustments on our prospect podcast "The Call Up" back in May, then proceeded to climb three levels, mashing to a .310/.381/.610 line with 36 HR and 77 XBH over the course of the season. What stands out the most with Mervis is how his numbers improved as he jumped levels. After striking out in 24% of the time in High-A, Mervis cut that to 20% in Double-A and then just 14% in Triple-A. At the same time, Mervis' walk rate and OPS steadily climbed.
A big, strong guy who focuses on staying compact to the ball and minimize his movements, Mervis has the confidence to catch up to velocity while possessing the body control and pitch recognition skills to pick up spin and drive it.
Mervis hit .319/.360/.468 against fastballs 95+ MPH this season while posting an OPS of .854 against non-fastballs. The pull-side power for Mervis is easily plus, but he looks to use the whole field and hits the ball where it's pitched. Even when he is a bit out in front on off speed offerings, Mervis has the swing malleability and strength to drive the ball out of the yard when he doesn't get his "A swing" off.
A somewhat aggressive hitter, Mervis has seen his walk rates continue to rise as the season has gone on, but also makes so much quality contact that the slightly high chase rates are not really a concern.
The combination of hit-tool and power makes it easier to buy what Mervis sold this season, but his numbers left-on-left really solidify how safe his offensive profile is. In Triple-A this season, Mervis crushed lefties to a .978 OPS.
Defense/Speed
A former two-way player at Duke, Mervis also played some third base when he was not pitching. Though limited to first base professionally, he moves well at the position and has a plus arm with soft hands. He should be an above average defender.
Outlook
Not only has Mervis been the biggest breakout prospect in 2022, but he's also flat out been one of the best hitters in the Minor Leagues. Some evaluators may want to see Mervis do what he did this season for a bit longer before considering him a top 100 prospect, however they probably won't even get the chance. Mervis was sent to the Arizona Fall League where he posted a .914 OPS with only eight strikeouts in 17 games.
The main reason we did not see Mervis promoted to the big leagues at the end of last year was due to the fact that he is not Rule 5 eligible until the end of 2023 and the Cubs already have a 40-man roster crunch. Mervis' batted ball data and overall numbers are similar to that of Vinnie Pasquantino, and much like the Royals, I really believe the Cubs suddenly found their first baseman of the future in Matt Mervis.
6. Hayden Wesneski – RHP – (MLB)
Age: 25 | Height/Weight: 6'3, 210 | Bat/Throw: R/R | 6th Round, 2019 (NYY) | ETA: 2023
| | | | | | |
| --- | --- | --- | --- | --- | --- |
| FASTBALL | SLIDER | CUTTEr | CHANGEUP | COMMAND | FV |
| 60/60 | 60/60 | 50/50 | 45/50 | 50/55 | 50+ |
Traded from the Yankees near the Trade Deadline, Wesneski enjoyed a phenomenal MLB debut with the Cubs last season and should have every chance to claim a rotation spot in 2023.
Arsenal
Wesneski has a unique delivery where he hides the ball for a long time before whipping his arm around from a three-quarters arm slot. With an assortment of pitches that dive in different directions, Wesneski's stuff can be difficult to pick up.
The right-hander has a pair of fastballs that he will attack hitters with: a four-seamer at 93-95 mph and a sinker at 92-94 mph. The four-seamer features some ride, especially from Wesneski's low release point. Wesneski generated a ton of whiffs at the top of the zone with his four-seamer while using his heavy sinker with a ton of arm side run as a ground ball inducer.
Wesneski's best out pitch is his sweeping slider with more than 17 inches of horizontal break in the low 80s. The pitch immediately translated to the big league level generating plenty of Pitching Ninja worthy whiffs. Opponents across all levels last year hit just .127 against the offering with a 42% strikeout rate.
He also features a shorter, sharper cutter in the upper 80's which he can land for a strike with more ease than his slider. Wesneski will go to his cutter more frequently against left-handed hitters in an effort to tie them up.
Rounding out Wesneski's diverse arsenal is his mid 80's changeup. The pitch has flashed above average with good arm side fade. Wesneski exclusively uses the pitch against lefties, mixing it in around 20% of the time to opposite handed hitters.
Outlook
Wesneski will be 25 years old at season's start and should claim a spot in the Cubs rotation after his six impressive appearances last season. With back to back successful seasons in the upper minors, Wesneski was trending towards a safe back-of-the-rotation starter with the floor of a swingman. After what Wesneski showed in his big league debut, there is very reasonable hope for a bit more upside.
7. Jordan Wicks – LHP – (Double-A)
Age: 23 | Height/Weight: 6'3, 220 | Bat/Throw: L/L | 1st Round (21), 2021 (CHC) | ETA: 2024
| | | | | | | |
| --- | --- | --- | --- | --- | --- | --- |
| FASTBALL | SLIDER | CUTTEr | CURVEBALL | CHANGEUP | COMMAND | FV |
| 50/55 | 50/55 | 40/50 | 40/40 | 70/70 | 50/60 | 50+ |
Selected in the first round out of Kansas State as arguably the most advanced pitching prospect in the 2021 Draft, Wicks rode his elite changeup to early professional success while seeing the rest of his arsenal slowly tick up as last season went on.
Arsenal
The best college southpaw in the 2021 draft class, Wicks carved through Big-12 competition with his plus changeup and overall feel to pitch. Though Wicks will not light up the radar gun, his high-spin fastball has plenty of riding life and late zip in the 92-94 MPH range, generating more whiffs than the naked eye would expect.
Wicks' sneaky fastball sets up his tumbling changeup really well with late drop that dives under barrels. On top of the late, nasty movement the pitch boasts, Wicks helps it play up by matching the arm speed that he has on his fastball while hiding the ball effectively as well.
Wicks will use his average or better slider to get left-handed hitters out as it features a good amount of sweep and can push towards 3,000 RPMs. The offering flashes above average and with his cross-body release, it can be extremely difficult for left-handed hitters to stay on the pitch. Wicks landed the pitch for a strike at an impressive 66% mark.
Towards the end of the season, Wicks started to mix in a cutter in the 89-91 mph range. Shorter than his slider and about 7 MPH harder, Wicks used it to tie up righties pretty effectively over his last few starts of the year. The pitch could develop into an above average offering that gives Wicks another look.
The fifth offering for Wicks is an average curveball that he will mix in to steal strikes or give another look to right-handed hitters. While not a great out pitch, Wicks utilizes it well thanks to his impressive feel to pitch and savviness in mixing up his secondaries. The development of his cutter may lessen Wicks' curveball usage.
Outlook
When the Cubs selected Wicks 21st overall in 2021, even they knew that it was unlikely for the left-handed pitcher to become a frontline arm. That said, the Cubs were attracted to the high probability that the Kansas St. standout could be a solid rotation piece in the near future. His first full professional season was just about everything the Cubs could've asked for with a 3.80 ERA between High-A and Double-A with an impressive 23.1% K-BB%.
Wicks repeats his mechanics well and saw a slight uptick in velocity as the year went on, leaving hope for a bit more upside. The 23-year-old has a shot to be a solid No. 3 starter with a high floor as a backend arm.
8. Cade Horton – RHP – (CPX)
Age: 21 | Height/Weight: 6'2, 190 | Bat/Throw: R/R | 1st Round (7), 2022 (CHC) | ETA: 2025
| | | | | | |
| --- | --- | --- | --- | --- | --- |
| FASTBALL | SLIDER | CURveball | CHANGEUP | COMMAND | FV |
| 60/70 | 60/70 | 50/55 | 40/50 | 40/55 | 50+ |
A superb athlete, Horton had hopes of playing both football and baseball at Oklahoma while being a two-way player on the diamond. Tommy John surgery put an end to the dual-sport dream, but Horton impressed as a third baseman and starting pitcher, parlaying a lights out finish to his 2022 season into a top 10 selection in the MLB Draft.
Over his final four collegiate starts, Horton struck out 40 while walking just four against some of the nation's best offenses.
Arsenal
Horton struggled with his command after returning from Tommy John surgery, but things really clicked for him at the end of the season as his Sooners pushed towards the College World Series. Horton's mid 90s heater came back right away, but the quality of the pitch was more evident as he started to pound the zone with it. Horton can touch the upper 90's, generating whiffs at the top of the zone.
The second plus pitch for Horton is his 87-89 MPH slider which flashed double plus by season's end. He has a lot of confidence in the pitch, throwing it in different counts as well as using it as his go-to put away pitch.
Horton would mix in a curveball in the low 80's which has the makings of an above average pitch, but blends with the slider at times. As the 21-year-old develops and differentiates the pitch from his slider, it could be an above average third offering.
The final pitch for Horton is a hard changeup in the 86-88 mph range, though he did not throw it much at all at Oklahoma. With his athleticism and ever-improving feel to pitch, there is reason to believe that Horton can find a fourth quality pitch with his change.
Outlook
The Cubs feel as though they snagged Horton as he was on the cusp of completely breaking out and a lot of the data backs that up. Though he is still raw for a college arm, Horton easily has the highest upside in his class.
A premium athlete with already two plus pitches, there is frontline upside to dream on with Horton, but also a very short track record and some development needed. If Horton's positive command trend continues, don't expect him to be outside of the top 100 list for long.
9. Cristian Hernández – SS – (CPX)
Age: 19 | Height/Weight: 6'2, 175 | Bat/Throw: R/R | IFA $3M – 2020 (CHC) | ETA: 2025
| | | | | | |
| --- | --- | --- | --- | --- | --- |
| HIT | RAW POWER | GAME POWER | RUN | FIELD | FV |
| 35/50 | 50/60 | 40/60 | 55/55 | 40/50 | 50+ |
Extremely talented but still far off, Hernandez has as much upside as any prospect in the Cubs system, but looked overmatched by quality stuff at times at the complex.
Offense
Wiry, but explosive, Hernández utilizes a gathering leg kick to get into his lower half before unleashing his plus bat speed. Hernández's swing is smooth through the zone and lives there for a while.
When everything is on time, Hernández looks under control with good feel for the barrel providing optimism that he can develop into an above average hitter. His struggles with pitch recognition can cause him to get out of sorts at times,
Projecting Hernández's offensive upside is extremely difficult because of the fact that his athleticism continues to translate more onto the baseball field even as he continues to add strength and size. Just take our word for it, his offensive upside is immense, to say the least.
Defense/Speed
Typically, teenage shortstops with tons of physical projection tend to move from shortstop to another position, however Hernández continues to get better at shortstop as he matures both physically and mentally. Hernández's plus speed translates to twitchy quickness in the field, showing off impressive range and the arm to complement it.
Expect the Cubs to continue to develop Hernández at shortstop as the youngster's tools evidently translate into plenty of defensive upside. In 2021, Hernandez swiped 21 bases in 24 tries in the DSL, for what that is worth, but stolen bases should be a part of his game at any level given his speed and quickness.
Outlook
Cristian Hernández is ahead of his years in a lot of aspects, especially at the plate. Still, Hernández has yet to make his debut stateside and has plenty to prove once he does. Again, trying to project a prospect as raw and early in his development as Hernández is extremely difficult, however the skillset and ahead-of-his-years polish make the 18-year-old a surefire top-100 prospect and one of the names we are most excited to follow in 2022.
10. Ben Brown – RHP – (Double-A)
Age: 23 | Height/Weight: 6'6, 210 | Bat/Throw: R/R | 33rd Round (983), 2017 (PHI) | ETA: 2025
| | | | | |
| --- | --- | --- | --- | --- |
| FASTBALL | SLIDER | CURveball | COMMAND | FV |
| 70/70 | 40/50 | 60/65 | 40/50 | 50 |
Acquired at the deadline from the Phillies for David Robertson, Brown eclipsed 100 innings in a season for the first time in his career last season while punching out 34% of High-A/Double-A hitters. Brown's upside is becoming increasingly difficult to ignore.
Arsenal
Brown has two big league pitches that could probably work in a big league bullpen right now. Leading the way is his 95-97 MPH fastball that explodes out of his hand. The pitch gets on hitters quick from Brown's 6-foot-6 frame, generating a lot of whiffs in the zone and late foul balls.
Working off of Brown's double-plus heater is his power curveball in the 85-87 MPH range. The pitch is easily plus and Brown is confident with it, landing it for a strike more than 70% of the time last season while holding opponents to a .511 OPS.
Brown's slurvy curveball has the tendency to blend with his upper 80's slider which is an average offering, but flashes better. The 23-year-old made strides with his command last season, attacking hitters with a ton of confidence. Brown walked two batters or fewer in 19 of his 23 appearances.
Outlook
Tommy John surgery and the 2020 COVID cancelled season held Brown to just 100.1 innings pitched since being drafted as an over-slot prep arm in 2017. Brown tossed more innings last year (104 IP) than the previous four years combined, making up for lost time and building his workload up.
The right-hander saw his velocity increase as the year went on, which is a great sign given the fact that he had never thrown more than 57 innings in a single season. For Brown to stick as a starter, he will need to distinguish his breaking balls better as he did not even experiment with a changeup last season.
Brown has a great fallback as a high leverage reliever, as his fastball could easily touch triple digits in short spurts with his power curveball. Given his limited innings, the Cubs will likely give Brown plenty more time to figure it out as a starter and it is hard to deny his results between High-A and Double-A last season.
The Next Five Prospects
Alexander Canario – OF – (Triple-A): After a dreadful start to the season, Canario went nuclear. The 22-year-old mashed 37 homers between A+/AA/AAA while seeing his strikeout rate decrease and walk rate increase as the year went on. Canario is always going to whiff a decent amount, but his improved approach and plus power lend reason for Cubs fans to hope that he can keep things rolling into Wrigley. Canario could be a nice platoon bat.
*Canario unfortunately injured his ankle in the Dominican Winter League in early November and required surgery. There is no timetable on his return.
Daniel Palencia – RHP – (High-A): You simply won't see many fastballs like Palencia's. The 22-year-old averaged 98.3 MPH on his heater, topping out at 103 MPH last season. His low 90's slider flashes plus and he also mixed in a changeup and curveball in the upper 80's. Palencia was used as a "starter" last season but predominantly pitched in three or four inning spurts. His fastball slider combination is perfect for a big league bullpen and we could see him fast tracked as a reliever.
Porter Hodge – RHP – (High-A): A 13th rounder in 2019, Hodge broke out last season, pitching to a 2.63 ERA in 109.1 innings between Low-A and High-A while striking out more than 30% of hitters. The 21-year-old features a 93-95 MPH fastball and an above average slider. Hodge is still trying to find a consistent third pitch between his curveball and changeup mixing both offerings in. A big bodied righty, Hodge could develop into a back of the rotation arm or decent reliever.
James Triantos – 3B – (Low-A): A second round pick in the 2021 Draft, scouts loved how advanced the teenager was with the bat and we saw that translate into a pretty smooth transition to Low-A last year. The challenge with Triantos is he is a third baseman who lacks power projection. His 98.9 mph 90th percentile exit velocity is well below average though there is some room for strength in Triantos' frame.
His 91% zone contact was spectacular and he did show a bit more athleticism than many expected in his first full season. Triantos saw a little bit of action at second base last season and that may just be where he projects long term.
Yohendrick Piñango – OF – (High-A): Piñango was viewed as a breakout candidate going into last season, but just couldn't put it all together approach wise. High chase rates and struggles with breaking balls led to just a .297 OBP, though the 20-year-old flashed well above average power and solid bat to ball skills.
He's limited to mediocre defense at a corner, but I still believe that Piñango can put things together offensively. Piñango exceeded the 110 mph threshold on batted balls several times last season and has plus power to dream on with good contact rates. He just needs to swing at the right pitches.
Other Names to Watch
Darius Hill – OF – (Triple-A): The way Hill hits looks a bit frantic but the results are hard to deny. The 25-year-old has an elite feel for the barrel and can spray the ball all over the field. Between AA and AAA last year, Hill slashed .314/.359/.453 while striking out at just a 13% clip. Hill has gap to gap power and is really in tune with himself as a hitter. Capable of playing all three outfield spots, Hill profiles nicely as a fourth outfield type if he can keep hitting.
DJ Herz – LHP – (Double-A): Herz enjoyed a really nice start to the season in High-A before his command issues took a life of its own in Double-A. The left-hander walked 33 batters in 31.2 innings, seeing his ERA inflate to 8.24 in nine starts. Herz has a cross body release that makes his fastball and plus changeup difficult to pick up, but he struggles to repeat it.
Luis Devers – RHP – (High-A): The Cubs MiLB pitcher of the year, Devers carved up High-A hitters with his plus changeup. The challenge for the 22-year-old is that his fastball sits in the low 90s at best and he doesn't have another strong secondary offering.
Miguel Amaya – C – (Double-A): Injuries have held Amaya back over the last couple seasons, but the talent is still evident. He posted strong numbers in 28 Double-A games and projects as an above average defender behind the dish if healthy. At just 23 years old, I am not ready to give up on the once highly-regarded prospect.
Jackson Ferris – LHP – (CPX): Drafted 47th overall and signed for nearly twice the slot value, Ferris was one of the most intriguing high school arms in last year's draft class. Ferris is advanced for an 18-year-old lefty with room to add more velocity. He could be a name that flies up this list quickly.