Analysis
Athletics' Denzel Clarke Showing Both Promise and Risk
One of the Athletics top prospects, Denzel Clarke has flashed plenty of promise to be an impact player, as long as he develops the hit tool.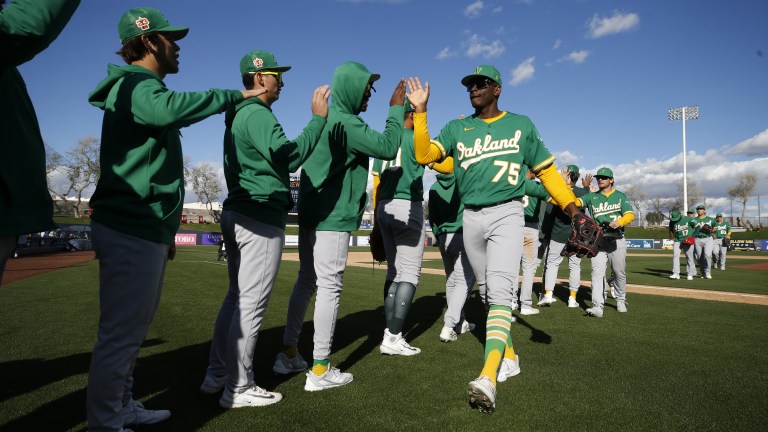 Last year at the Future's Game Athletics outfielder Denzel Clarke seemed to quietly make his way through the festivities. He drew a walk and a strikeout across three at-bats, people noticed him, and then he went back and joined his teams High-A affiliate in Lansing, Michigan to finish out the season.
The supremely athletic prospect with legitimate power upside smacked eight home runs, and stole 16 bases over 51 games in the Midwest League. He also struck out 36.2% of the time, pretty much negating all the good he was producing.
Fast forward to 2023. After missing time to start the season, Clarke returned to action by blasting four home runs in his first four games with Double-A Midland. In the 22 games since, he's hit only one home run, but still is slashing .276/.410/.561 across his 122 plate appearances this year. He's a polarizing player who can bring a lot to the table. There's a long line of amazing athletes with hit tool questions who never quite made it. It's a risky profile, but watching Clarke play makes it easy to realize why teams take the risk.
The first thing that jumps out about the 23-year-old outfielder is his size. Clarke is every bit of his listed 6-foot-5, 220-pound listed height and weight. He's built like a wide receiver in football. There's even some bloodlines, his cousin's being Guardians Josh and Bo Naylor.
Clarke has pretty easy plus raw power, he arguably has double plus wheels, and he is a plus or better glove in the outfield. He's the kind of electric player that makes things happen.
Last year he hit inside the park home runs in back-to-back games. The flashy plays are just a tool in his tool box and far from what makes him the player he is, but being able to make those plays is just another aspect of what could make him great if he reaches his highest percentile outcome.
I was able to see Clarke a bunch last year when he was in the Midwest League. His defense stood out as much as anything else. He can already play a very good center field. The speed was helpful on both sides of the ball, including an inside the park home run.
What struck me most, however, was the kind of easy power Clarke had. I did a more complete writeup of my thoughts last year for Prospects Live.
Video Breakdown
Digging into video of Clarke, a lot of that writeup remains true. Despite the strikeout numbers and hit tool questions, he recognizes spin out of the hand well. He just doesn't offer at it very often. He's a dead red fastball hitter, but when he gets a fastball he can do damage with it.
One key difference this year is that Clarke is not diving out at offspeed pitches when he recognizes them. Last year he'd identify spin then get out on his front foot to try and foul it off. He's shows the ability to keep his hands back when he offers at those pitches this year. Contact still isn't there, but the result is that he can stay back and spray fastballs the other way.
The last part to check in on is his speed. It's unreal. The power and speed combo plays out really well on one particular triple. Clarke went down and drove a ball to the right-centerfield gap. The outfielders played it as well as they could, and still Clarke winds up with an easy standup triple.
Or how about extending a routine single into a double just because he can.
Scouting The Player
The days of me genuinely believing Clarke is a top 100 prospect are gone. I was enamored by the skill-set when I first saw it. He does, however, have top 100 upside. With his ability to make things happen in all phases of the game, he can be the kind of electric player that contributes to wins.
The only thing certain right now is that Clarke's outcome as a player will rely solely on how his hit tool develops.
There's going to be swing and miss in his game. That's the downside to his long levers. That doesn't mean he will always have a strikeout percentage in the mid-30's. Clarke has made very clear strides in handling offspeed pitches. A year ago he was lunging, this year he's keeping his hands back.
The struggles are not for lack of recognizing the pitches. Prospects are not finished products, they need to develop certain parts of their game. Having the skill to recognize spin and hitting it with success are two different skills. Clarke has the former and is showing signs that he's working hard on the latter.
The biggest problem is that instead of attacking offspeed, he rarely offers at it. And when he does, he often isn't making contact. He's purely a fastball hitter right now. Taking the next step to not only swing, but actually hit non-fastballs is the single biggest factor for Clarke in reaching his lofty ceiling.
To his credit, he's making it work in Double-A through a patient mindset that waits for pitchers to make a mistake with their fastball. Catching the velocity isn't and issue, so he works counts. The strikeout rate hides the fact that Clarke has never had a walk rate under 12 percent at any level. So far this year he's posted a 14.8 percent walk rate. Even when he doesn't walk, Clarke goes deep into a lot of counts.
A patient hitter with power, speed, and defensive ability that struggles to consistently hit is a player to dream on. Dreams can work out to become one of the best players in the league, however more often than not the players you have to dream on fall short.
Baseball is a hard game. For every player that doesn't make it, there's a tooled up player that keeps the dream alive. The risk level is very high, no way around it. If there were ever a risky player to bet on, though, personally I'm willing to take on the risk for Denzel Clarke.