Analysis
Zach McKinstry Establishing Himself With Detroit Tigers
No one thought much of the Tigers picking up utilityman Zach McKinstry prior to the season, but now he is looking like a piece for the future.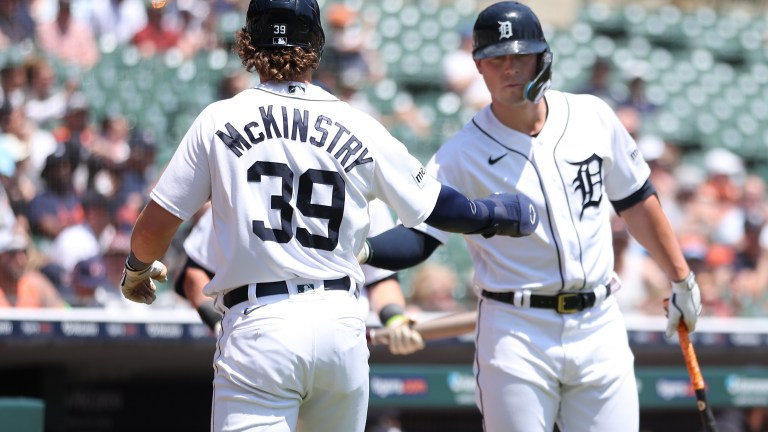 As spring training came to a close, fans were crunching the numbers and partaking in their favorite activity: roster predictions. A wrench was thrown into those discussions when the Tigers acquired Zach McKinstry from the Cubs on March 27th. At the time, it looked like a depth move where a fringe utility player would go to a team with low expectations to help fill out the roster.
Well, expectations have started to change in Detroit and McKinstry has played a big role in the Tigers better than expected start.
The 28-year-old former 33rd round pick out of Central Michigan has already beaten the odds to make it to the show. He's one of six players to sign from the 2016 33rd round, and the only one to make it to the big leagues. McKinstry could not crack into a regular spot on the Dodgers roster before getting traded to the Cubs, where playing time was once again limited.
Since joining the Tigers, opportunity has allowed him to blossom into one of Detroit's most important players. McKinstry's .288/.400/.432 slash with four home runs has been good for a 138 wRC+. A depleted roster and lackluster farm system has made McKinstry's success even that much more important.
At the Plate
McKinstry was beginning to enter into the "AAAA" player discussion. Too good for the minors, but not quiet good enough to stick on a major league roster. Through the first two months, he's squashed that label. The talent was always there and his track record through the minors showed what we are currently seeing was a possibility, but opportunity was lacking.
An ability to see pitches, not chase, and work deep counts has propelled McKinstry to the top of the order. In the leadoff spot (25 starts) he's slashing .321/.449/.441 helping to set the table and allow Akil Baddo to see better pitches. Not only is he getting on base, he's stealing them. His 10 stolen bases are already more than he had at any level in his career.
Two of the biggest difference from 2022 to 2023 has been McKinstry's success against fastballs and breaking balls. He's currently hitting .324 off fastballs (up from .212 last season) and .265 on breaking balls, and improvement from .170 in 2022.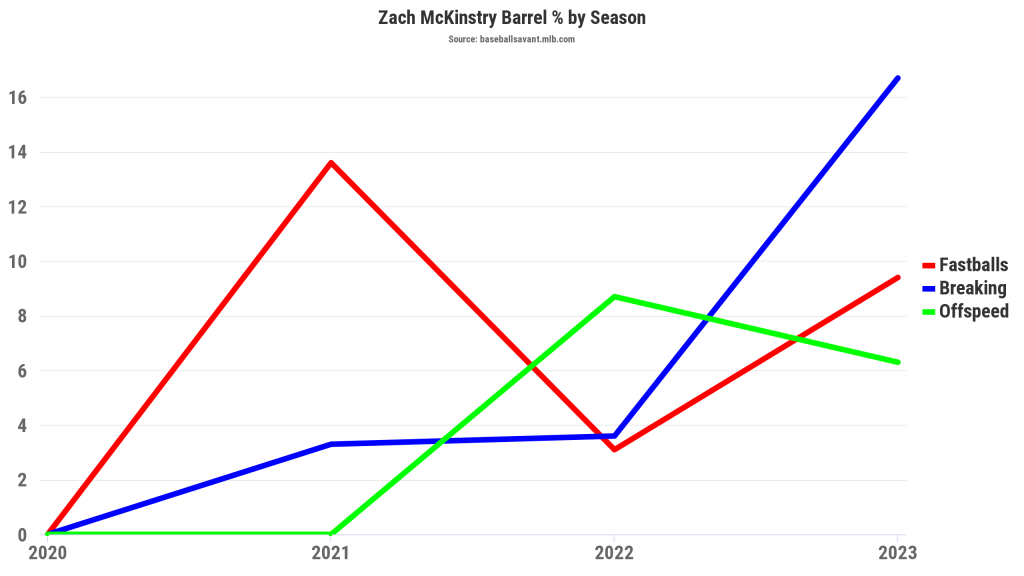 The contact he is making on these pitches has also been better than last season. His overall barrel percentage has jumped from 4.3% to 10.6% which has lead to 11 of his 38 hits going for extra bases. Perhaps his greatest metric has been a 27.2% line drive rate, showing plus contact leading to the most desirable results. He's lifting the ball, making impact, and flashing speed on the bases. Not sure you can ask for anything more.
In the Field
You usually do not ask too much out of a utility guy. Go out there, fill in when needed, and whatever you get from the bat is a plus. McKinstry's bat has caught the eyes of Tigers fans, but his work in the field is just as important.
So far, McKinstry has played:
2B – 23 games
3B– 12 games
RF – 11 games
LF – 8 games
SS – 2 games
His versatility has allowed manager A.J. Hinch play with the lineup while also helping the Tigers stay afloat when injuries have occurred. No matter where he's played, he's performed fairly well. Hell, he even showed off the arm from right field.
Perfect positioning catching the ball where he would load to throw, and delivers a strike to gun the runner down. This is one play, but it speaks volumes to the value he's brought the Tigers. A guy who just seems to make the right plays and does the little things in order to win. No matter what he has been asked to do, McKinstry has gone out there and done it at a high level.
Will the bat cool off? Maybe so. It's easy to say the guy no one expected to be this good has to return to what we previously thought of him. But what I am seeing is a player who's making great contact, only swinging at strikes, and continuing to show improvement. Even if he does slow down at the plate, his versatility will carry his value.
It's early in the Scott Harris era, but getting McKinstry right before the start of the season is a feather in his cap. Even if he does not prove to be part of the future, he's provided 1.6 fWAR and played a crucial role in this team being in second place. Realistically, the Tigers are not a playoff team. Injuries have made that possibility even lower. But that doesn't mean we cannot celebrate and appreciate a terrific start from an underdog story.