Analysis
Why the Cincinnati Reds Should Keep Jonathan India
With top prospects rising, the Reds have a glut middle infielders to sort out and some have pointed to Jonathan India as a trade candidate.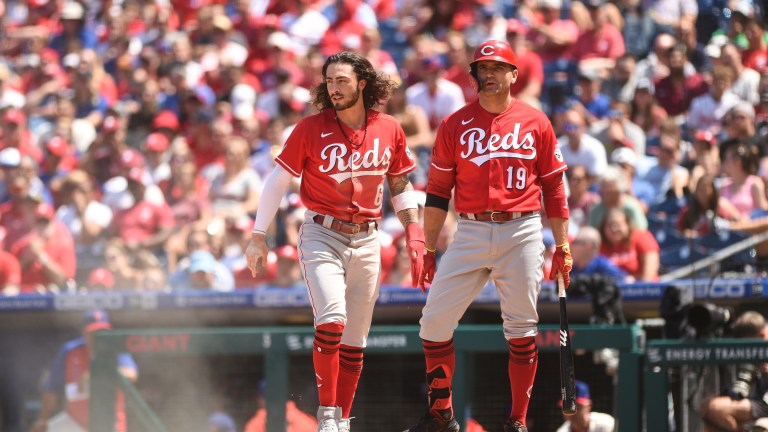 As Reds fans, we have been programed to trade away good players to build towards the future for about a decade. At times, that's absolutely the right, and smart baseball move. However, trading Jonathan India at this point in time would be a mistake.
The Reds former first round pick in 2018 has blossomed into one of the better hitters in the Reds lineup for the past three years. He exploded onto the scene is 2021 winning Rookie of the Year while holding down the leadoff spot. After injury led to struggles in 2022, India looks to be back to the player we saw in 2021 and should factor into the Reds future.
If you are not as in tuned with the Reds, you might be wondering why they would consider moving India. A young player, under team control, who's been productive for a team that's about to turn the corner. Well, you came to the right spot.
Where will India Play?
Since debuting, India has only been in the lineup at DH and second base. With a plethora of infield prospects on the way, many have pointed to India as the one who needs to be moved off his position, and I agree. India's defense at second has been well below par and his athletic ability would make a move to corner outfield a possibility.
Do I think it's without a doubt the only option? Of course not. Moving the other players to different positions is possible, just like India was shifted to second his rookie season. It makes the most sense to move India because he has already shown his defense is shaky, and the Reds could use a corner outfielder. A simple solution, on the surface.
To this point, we have not seen any proven signs of moving India off second. Not to say we will not, but we haven't yet.
Contract Situation
Following the 2023 season, India will enter his first year of arbitration. He will be arbitration eligible for the 2024, 2025, and 2026 seasons. In 2024, he will see a substantial increase from his $760,000 2023 salary, and will continue to get pay bumps each season in arbitration until he reaches free agency after the 2026 season.
Cincinnati is in a situation where they have very little guaranteed money on the books during those seasons. If they decide to trade India, money cannot be the excuse. His salary is unlikely to breach $6 million a season during that time, making it very manageable for the Reds. Regardless of where he plays, his production compared to salary would be be a steal, he'd earn more on the open market.
Taking advantage of team control and lower salaries gives the Reds their best chance to be completive. Part of attracting free agents is constructing a team that looks ready to win, and India is a big part of that.
The Case for Keeping India
The Reds have been building towards a completive window that begins in 2024. India has been one of their better players and it entering what most would consider his prime. Even with the prospects on their way, you can find a spot for India. Try him in the outfield. Play him at DH. Exhaust the options before moving a player of his caliber and contract situation.
Yes, India has struggled defensively. I think it's important to remember each player will have flaws and India's offensive ability outweighs his defensive liability. The Reds need some veterans with a track record and India can be just that.
With three years of control left, there should not be a rush to move him. Counting on several prospects to turn out is a risky game, and the Reds can afford to wait on that decision. Deciding to trade him this season seems like a rushed decision. With that much control, they do not have to talk extension yet. That's a different story for a different day.
The Reds have a young, plus bat with three years of control who absolutely loves being part of this team. From all accounts, his teammates love having him around. If Cincinnati wants to compete in the coming years, they need India more than they need prospects.