Analysis
Why Freddie Freeman Should Get MVP Votes in 2022
If the best player on the best team deserves to win the MVP, then Freddie Freeman should be awarded for his play with the Dodgers this year.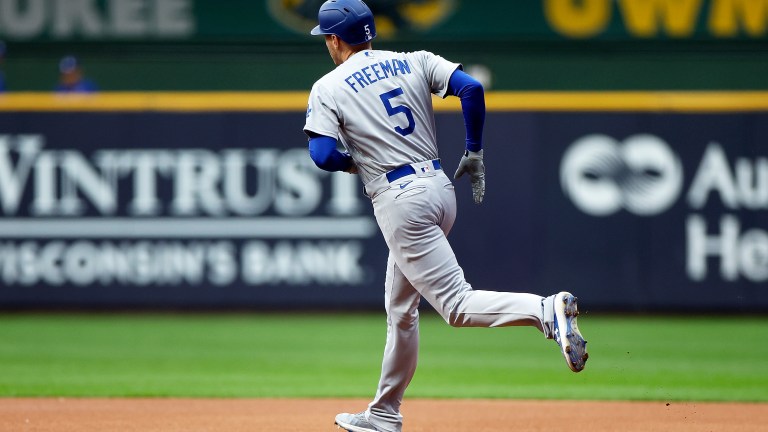 Death, taxes and the Los Angeles Dodgers looking like World Series favorites no matter who is on the roster.
Despite having a few of the mainstays struggling to start 2022, and having some key pieces in and out due to injury, the Dodgers have found their stride going 35-7 since June 28th and are coming off a 12-game win streak. 
With so many players coming in and out of the lineup, there have been two mainstays in LA that have been in the lineup for all 115 games thus far; Freddie Freeman and Trea Turner.
While both have had incredible seasons, it's the $162 million man that's been the Dodgers best player so far this season. 
Freeman leads all qualified hitters on the team with 5.2 fWAR, a 157 wRC+, .394 wOBA and holds a slash line of .320/.398/.523.
The 2020 NL MVP has quietly continued his reign as one of MLB's best players, leading the Dodgers to the best record in the league while providing a stabilizing force in the middle of an always shifting lineup.
Freeman has anchored a team with the best offense in baseball by wRC+ and a team that is on pace for 112 wins — which would be a record for a historic franchise. His case for MVP lies in the stability he's brought to the Dodgers and just how good their team has been.
Why Freeman Should Garner MVP Votes
If you subscribe to the narrative that MVPs should be the best player on the best team, Freeman is a layup pick.
Of course, that argument doesn't hold as much weight in today's game but maybe in a year where there are so many candidates with a shot at the award, winning should be the tiebreaker.
Looking strictly at fWAR, Nolan Arenado has been the best player in the senior circuit (6.0), thanks in large part to his defense. Paul Goldschmidt (5.7), Manny Machado (5.4), Francisco Lindor (5.2) and Dansby Swanson (5.1) all join Freeman and Arenado in the 5+ WAR club so far this season with a handful of players close behind. 
But only three of those players play on 70+ win teams right now; Freeman, Lindor and Swanson.
If the Dodgers do end up breaking their wins record and finish as the top team in the NL, it will likely be in large part due to Freeman's play. With Clayton Kershaw recently heading to the IL and Walker Buehler now out for the remainder of the season, the offense will need to continue their high level of play down the stretch.
Since the Dodgers started their run on June 28 and went scorched earth, Freeman has a .348/.417/.594 slash line and a 178 wRC+, showing just how much Freeman's play drives the Dodgers success.
Even if you don't agree that the MVP should end up with the top player on the best team in the regular season, Freeman deserves to be in the conversation and receive some votes to pick up his second MVP in three years.
What Can Freeman Do to Pass His Competition?
If you separate players from teams in the MVP conversation, Freeman likely has some work to do to catch up to the early favorites in Goldschmidt, Arenado and Machado. 
By taking a look at Freeman's MVP 2020 season — sample size aside — we can get a glimpse at what kind of player he can be at his best. If he can take the 60-game sample from 2020 and apply it down the stretch, he may be able to break away from the rest of the NL MVP contenders.
In 2020, Freeman had a significantly higher walk rate (17.2%) than he has in any other year of his career, to go along with a career-best isolated power mark (.299). 
With only 16 home runs so far this season, Freeman's power numbers are potentially keeping him from being the MVP favorite.
ZiPS has him projected to hit just eight more home runs which would put him at 24 on the season, which is a number that most of the NL MVP candidates have already surpassed. If Freeman won MVP and finished his season in line with ZiPS' projections — it would also be the least amount of home runs hit by an MVP since Jose Altuve hit 24 in 2017.
So how can Freeman tap into the power that we saw in 2020?
Well, he can work on hitting the ball in the air a little bit more. In 2020, he had a near career-best 17.2-degree launch angle, which combined with his excellent bat-to-ball skills, resulted in more power. This season his launch angle is back on par with where he's been for most of his career at 14.3 degrees.
Say Freeman can tweak his approach a little bit at the plate, find some more power down the stretch and lead the Dodgers to a franchise record in wins, his MVP case becomes a lot more convincing.
Even if he just keeps producing as one of the most consistent hitters that MLB has seen over the past 11 years, there's a good chance that Freeman will once again be in the middle of the MVP conversation in the National League.
All stats courtesy FanGraphs and from before play on August 17th.