Analysis
Why Do the Reds Have the Worst Record in Baseball?
While the Reds were not expected to contend this season, no one expected them to get off to this bad of a start as they have been the worst team in baseball.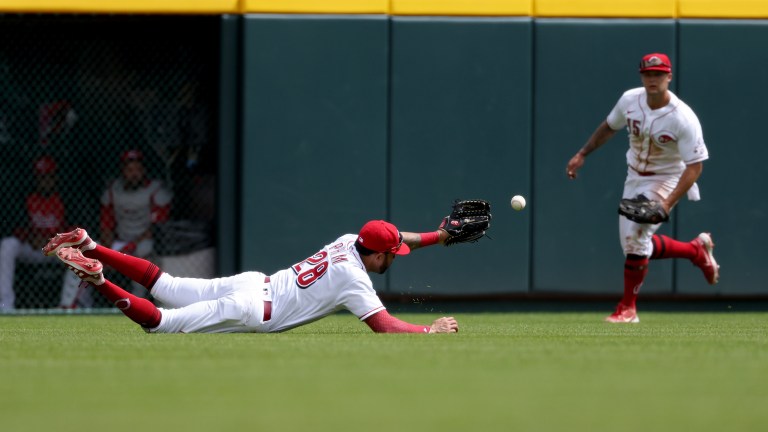 The Cincinnati Reds currently hold the worst record in baseball at 3-13. A win over the Cardinals on April 24th ended their dreadful 11–game losing streak in which they were outscored 20 to 68. The beginning of the 2022 season has been nothing short of a perfect storm in Cincinnati.
Although the Reds have the worst record, is this really the worst team in the league?
A quick glance at the roster would lead you to believe they are roughly average to below average. Multiple media outlets predicted the Reds to win around 75 games, much higher than their current pace. Which leads us to the question, why do they Reds have the worst record in baseball?
Injuries
Of the projected Opening Day roster, the Reds are currently without nine players and that's not including Justin Dunn and Tejay Antone, who suffered long-term injuries last season. Ace Luis Castillo and newly acquired veteran lefty Mike Minor have yet to pitch this season. Lucas Simms, a key bullpen piece, has pitched in one game.
Projected starters Jose Barrero, Jonathan India, Tyler Stephenson, and Mike Moustakas have all missed time, while key bench bats in Donovan Solano and Max Schrock have yet to suit up. Injuries have tested the depth in the organization, which has proved to be less than ideal. You simply will not be competitive if Brandon Drury, Colin Moran and JT Riddle are consistently in the lineup.
Jonathan India and Tyler Stephenson are the two most impactful injuries. In 2021, India provided the Reds with a legit leadoff hitter, something they lacked from the past decade. India showed flashes of power and an ability to get on base at a .376 clip in 2021. The lack of a true leadoff hitter in his absence has been one of the many reasons this team has struggled to score runs.
Stephenson's absence not only takes a bat away in the middle of the order, it also puts pitchers in a difficult spot. Top prospects Hunter Greene and Nick Lodolo are pitching to Aramis Garcia (new to the organization) and Mark Kolozsvary (rookie) who lack experience with this pitching staff.
Underperforming Players
The Reds offense has been absolutely abysmal to start the season. Ranking last in wRC+ (56), average (.186), on-base percentage (.262), and slugging (.277) it's obvious why this team has not won many games. While the replacement-level players filling in for injuries plays a factor, even the proven hitters are just not hitting.
Of the 12 players to log more than 20 at-bats, only three have a wRC+ in 2022 that is higher than their career numbers. Tyler Naquin, Brandon Drury, and Tyler Stephenson. Here's how the other nine look:
| | | |
| --- | --- | --- |
| Player | 2022 wRC+ | Career wRC+ |
| Joey Votto | 40 | 148 |
| Kyle Farmer | 76 | 83 |
| Tommy Pham | 75 | 121 |
| Aristides Aquino | -39 | 87 |
| Jake Fraley | 42 | 85 |
| Mike Moustakas | -38 | 98 |
| Nick Senzel | 13 | 77 |
| Colin Moran | 58 | 98 |
| Jonathan India | 53 | 119 |
wRC+ from Fangraphs as of 4/25/22
As you can see, the Reds have several players with career wRC+ below league average. You can chalk that up to roster construction by the front office. The more concerning part is how the top to middle of the order players are hitting. India only played in seven games before getting injured. Pham had a late start to spring training and is working on timing. Joey Votto, well, I am not sure what the excuse is.
Votto has always been a slow starter throughout his career. His career .280/.394/.482 March/April slash line is the lowest of any month in all three categories.
Is what we have seen in 2022 more than a slow start?
Slashing .151/.297/.170 with one extra base hit to go along with 22 strikeouts and only eight walks leave us asking when we should raise concern.
Votto's fallen below the 20th percentile in hard hit percentage, barrel percentage, strikeout percentage, and other advanced metrics painting his Baseball Savant page blue. At 38 years old, is Votto going through an early season slump or could this be the beginning of the end for a great player?
The Schedule
As if injuries and underperforming offense wasn't enough, the Reds have faced a brutal schedule. According to Power Rankings Guru, the Reds have faced the toughest schedule to date. Opening on the road against the defend champion Atlanta Braves, returning home versus the Cleveland Guardians before departing on a west coast road trip against the Los Angeles Dodgers and San Diego Padres. The opponent once the Reds returned home? The first place St. Louis Cardinals.
A brutal stretch to start the season might not end soon. Next up on the schedule is the Padres, Colorado Rockies, and Milwaukee Brewers before they face the Pittsburgh Pirates, who are playing better than expected.
Of course most series look difficult when you are at the bottom of the standings. Honestly, the schedule does not get much better until June when they face the Arizona Diamondbacks and Washington Nationals a combined 11 times and by then, who knows what the record will look like.
Is There Hope?
Playoff hopes are all but out the window. A start this slow is difficult to bounce back from. The National League Central is one of, if not the, weakest division in baseball, and the Reds have shown they are not yet competitive enough to win it. However, this is not a 50-60 win team.
Luis Castillo is close to a return along with Tyler Stephenson and other key pieces to this lineup. Hunter Greene and Nick Lodolo are top-tier prospects who will continue to improve as the season goes on.
Once players return, the depth will improve drastically. Current starters will return to bench roles and the Reds should have a more respectable offense. While this team has plenty of flaws, we all know they are not as bad as they have shown to start the season. We are still in April, and sample sizes are small. The Cincinnati Reds will get better. Hell, it's hard to get worse.