Analysis
Who's Better in 2023: Mets or Braves?
Two teams that finished with an identical record last season atop the NL East. Who will come out on top of the division this year?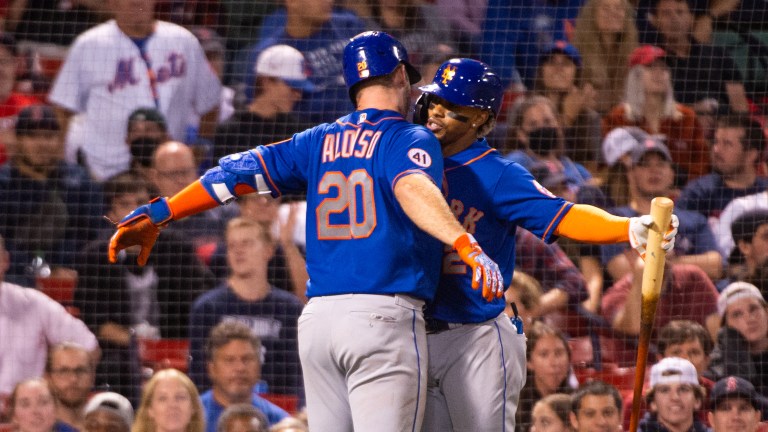 The Atlanta Braves have reigned supreme over the National League East for five seasons in a row now, but last year was the closest they have come to ceding their crown.
In year two of the Steve Cohen era, the high-priced New York Mets went from being a 77-win team in 2021 to improving their win total by nearly 25 games. From April 12th through the end of the September, the Mets spent only a single day outside of first place in the National League East.
Their last game in September however came against the Braves, the first of a three-game set in which they would get swept. When it was all said in done, both teams finished with an identical 101-61 record, but losing that last series tipped the tiebreaker in Atlanta's favor as they won the season series 10-9.
Come October, each team suffered a devastating loss in the postseason, letting the Padres and Phillies advance past them, where they would ultimately meet in the NLCS. Now as we turn the page to 2023, the Mets and Braves will once again be set to duke it out atop the National League East, before hoping for some better results come playoff time.
Who Has the Better Starting Lineup?
| | |
| --- | --- |
| braves Projected Lineup | Mets Projected Lineup |
| 1. Ronald Acuna Jr. – RF | 1. Brandon Nimmo – CF |
| 2. Michael Harris II – CF | 2. Starling Marte – RF |
| 3. Austin Riley – 3B | 3. Francisco Lindor – SS |
| 4. Matt Olson – 1B | 4. Pete Alonso – 1B |
| 5. Sean Murphy – C | 5. Jeff McNeil – 2B |
| 6. Ozzie Albies – 2B | 6. Daniel Vogelbach – DH |
| 7. Eddie Rosario – LF | 7. Mark Canha – LF |
| 8. Travis d'Arnaud – DH | 8. Eduardo Escobar – 3B |
| 9. Vaughn Grissom – SS | 9. Omar Narvaez – C |
Last year, the Mets and Braves each featured high-powered offenses, but one's that operated in different ways. For New York, the name of the game was getting on-base at high clip and grinding starting pitchers down top-to-bottom in their order.
The Braves took a different approach. Mash dingers in bunches.
New York finished the season second in on-base percentage and third in wRC+ as a team. The Braves on the other hand finished second behind only Aaron Judge's Yankees in home runs.
This season, each team returns a very similar lineup, with the Mets making marginal additions like Omar Narvaez at catcher and Tommy Pham as their fourth outfielder, while the Braves made a big swing to acquire catcher Sean Murphy.
First Five
When breaking down a starting lineup, it is always important to look at the top and see what collection of star talent a team can put together. Between these two squads, we are looking at seven former All-Stars, a Gold Glove catcher and the top two NL center fielders based on fWAR last season.
Being strong up the middle is always the sign of a good ballclub and it really doesn't get much better than Francisco Lindor, Jeff McNeil and Brandon Nimmo. That trio combined for an fWAR of 18.1 last season, with Lindor leading the charge with his 6.8 fWAR season (the top mark between these two teams).
Pete Alonso led the National League in RBIs last season, driving in 131 runs with 40 home runs to boot. Starling Marte was an All-Star for the Mets last season as well, posting a healthy 136 wRC+.
On the Braves side, their strength comes from the corners and it really doesn't get much stronger than Austin Riley, Matt Olson and Ronald Acuna Jr. Riley transformed into a fringe MVP candidate the last few seasons and Olson hit 34 home runs in a down year last season. Really though, the big question mark going into this season is Acuna.
Acuna looked like a shell of himself in 2022, posting a .413 slugging percentage that was damn-near 200 points lower than the .596 slugging percentage he had in 2021 prior to tearing his ACL. If Acuna gets back to his MVP self, the Braves first five has the chance to be the best in baseball. Especially when you consider the defense that Sean Murphy provides behind the dish and Michael Harris II provides in center field.
With all of that said, when we look at the combined fWAR from each of these five from last season, the Mets do come out on top. Adding Murphy's total in Oakland to the foursome of Harris, Acuna, Olson and Riley put the Braves quartet at a combined fWAR of 20.7, compared to the Mets' 25.0.
A full season of Harris and a return to norm for Acuna and Olson should correct that for the Braves, but it might be fair to say the Mets have a higher floor, while the Braves have the higher ceiling.
Final Four
Looking at the back-half of the lineup and the requisite depth on the bench, the Mets roster may be a bit deeper than Atlanta's. The Braves have Ozzie Albies, arguably the best player of the bunch, and Travis d'Arnaud is coming off an All-Star season. Still, there are a lot of question marks behind them.
Eddie Rosario was not good last year, posting a 62 wRC+ and a -1.1 fWAR. Marcell Ozuna wasn't much better, as his wRC+ was 89 and his fWAR was -0.6 (not to mention the morality issues of still rostering him).
Vaughn Grissom has a tall task in front of him replacing Dansby Swanson, but he will certainly be up to it offensively. The rookie hit .291/.353/.440, with a 121 wRC+ in his first 156 plate appearances at the big league level. On the defensive side, Grissom has been working with the best infield coach in the business in Ron Washington, but that does not guarantee success.
Beyond their starting lineup, the Braves bench looks rather thin right now, as roster resource projects Orlando Arcia, Sam Hilliard and Jordan Luplow to grab the last three spots, with Arcia being the only real net positive MLB player of that group.
The bottom of the Mets lineup includes Daniel Vogelbach at DH, where he hit to a 144 wRC+ after being acquired at last year's deadline, and three quality veterans in Mark Canha, Eduardo Escobar and Omar Narvaez.
Narvaez might not bring much offensively, but he will form a great platoon with backup Tomas Nido defensively while the Mets wait on top prospect Francisco Alvarez.
Canha got on base at .367 clip in his first season in Queens and while Escobar struggled for most of the season, a torrid September allowed him to finish the year with a 106 wRC+ and 20 home runs. Both of these veterans are expected to start on Opening Day, but top prospect Brett Baty could theoretically grab either of their starting jobs soon if they get off to a slow start.
Lastly looking at the bench, the Mets have defensive whiz Luis Guillorme (who posted a .351 OBP), Tommy Pham and as of now, Darin Ruf slated to make the team. Ruf was dreadful with the Mets last season and could certainly find his place supplanted on the roster by top prospect Mark Vientos or free agent signing Danny Mendick (could begin the season on the IL) if he has a bad spring.
Who's Got the Better Rotation?
| | |
| --- | --- |
| Braves Projected Rotation | Mets Projected Rotation |
| 1. Max Fried | 1. Max Scherzer |
| 2. Kyle Wright | 2. Justin Verlander |
| 3. Charlie Morton | 3. Kodai Senga |
| 4. Spencer Strider | 4. Jose Quintana |
| 5. Mike Soroka | 5. Carlos Carrasco |
| 6. Ian Anderson | 6. David Peterson |
| 7. Bryce Elder | 7. Tylor Megill |
This is where we start to see how evenly matched these two teams are. It really doesn't get better than Max Scherzer and Justin Verlander but if you told me Max Fried and Spencer Strider combine to post a better season in 2023 I would not bat an eye.
Kyle Wright won 21 games last year and pitched to a 3.19 ERA, while Charlie Morton remains an ageless wonder with his great curveball. The Braves back-end of the rotation has depth, but certainly some questions with Mike Soroka coming off years of injury and Ian Anderson coming off a brutal 2022 campaign.
When we look at the Mets rotation, they really do go seven-deep, with David Peterson being one of the best sixth starters in the game and Tylor Megill looking to bounce back after an injury-plagued campaign. Really though, the arm to watch is the Japanese sensation, Kodai Senga.
If Scherzer and Verlander stay healthy and Senga's ghost fork translates against MLB hitters, the Mets could have the best trio of starting pitchers in baseball.
Who's Got the Better Bullpen?
| | |
| --- | --- |
| braves Late Inning Bullpen Options | METS Late Inning Bullpen Options |
| 1. Raisel Iglesias: 2.47 ERA, 2.99 xFIP | 1. Edwin Díaz: 1.31 ERA, 1.04 xFIP |
| 2. A.J. Minter: 2.06 ERA, 2.68 xFIP | 2. Adam Ottavino: 2.06 ERA, 2.79 xFIP |
| 3. Joe Jimenez: 3.49 ERA, 2.70 xFIP | 3. David Robertson: 2.40 ERA, 3.71 xFIP |
| 4. Collin McHugh: 2.60 ERA, 3.24 xFIP | 4. Brooks Raley: 2.68 ERA, 3.28 xFIP |
| 5. Lucas Luetge: 2.67 ERA, 3.95 xFIP | 5. Drew Smith: 3.33 ERA, 3.72 xFIP |
2022 Stats
Even with the additions the Mets made to their starting rotation, their bullpen might be the area they most improved this offseason.
The addition of David Robertson and Brooks Raley to essentially replace Seth Lugo and Joely Rodriguez from last year's pen should go a very long way. The Mets also re-signed their best two relievers from last season in Edwin Diaz and Adam Ottavino.
We'll give Atlanta the nod just based on their track record of finding great success from their relief arms for years now, but the Mets big three of Diaz, Ottavino and Robertson is set to lock down a lot of close leads in 2023.
Who's Better: the Braves or the Mets?
This is one where as I write this, I really don't know. These teams finished with an identical 101-win record last year and both look set to be just as good this season.
One thing that could be a bit overlooked though when it comes to the Braves is the loss of Dansby Swanson. They certainly have enough talent to absorb the loss, but we can't just ignore the fact that they are losing the Gold Glove-winning shortstop who hit 25 home runs, drove in 99 and posted an fWAR over 6.0.
With the additions the Mets made, their three top 100 prospects rising to the surface and the loss of Swanson, I'm leaning towards the Mets, but you'll have to listen to my full conversation with Jack McMullen on the Who's Better Baseball podcast to know where I ultimately lie on this one.