Analysis
What is Going On With The Cleveland Guardians?
The Cleveland Guardians have gotten off to a rocky start, look nothing like the team that finished so strong to win the AL Central in 2022.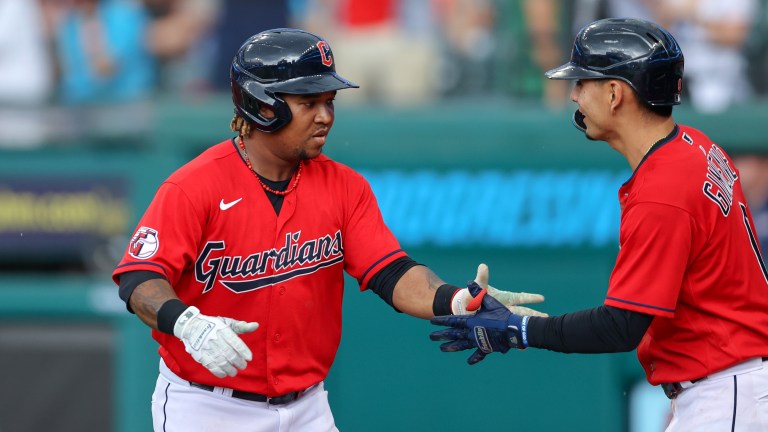 Imagine your waking up in Cleveland in December of 2022. Your Guardians are the youngest team in baseball and American League Central Division champs. Walked off the 86-win Tampa Bay Rays in 15 innings in early October, advancing to the divisional round of the playoffs to face the Yankees.
Although the 2022 season ended a few days later, there's plenty to be excited about. They kept the team intact over the offseason and added the switch-hitting power bat of Josh Bell into their lineup. Sounds like the Guardians are going to be great for a long time.
Flash forward to the present day where they currently sit 20-26 and hitting .228 as a team, the sixth worst in baseball. Through an unfamiliar cold stretch with this young group, the Guardians have produced a league-worst .642 OPS.
Last year collectively hitting .254 as a team (7th in MLB) and sixth in hits, gave fans reason to believe it was only going to progress, especially after adding Josh Bell and losing Austin Hedges in the offseason.
This hasn't been the case for Cleveland, with no one hitting above .300 and just Jose Ramirez and Steven Kwan hitting over .250. Newly acquired Josh Bell displayed his rare switch-hitting success in Washington and San Diego last year as the only switch hitter with 10+ bombs who to hit over .260 from both sides.
However, the first two months for Bell haven't gone as hoped, hitting .227/.339/.353 with a 93 wRC+ and just 3 home runs. The Guardians brought in Bell to add some power to their lineup, which was an area of weakness their offense had last season. Those issues have not been fixed at all this season, as their power production remains elusive.
Oscar Gonzalez was nothing but impressive last season and has shown no signs of it with a .190/.213/.288 slash line, resulting in getting sent down to Columbus to figure things out. Add Andres Gimenez to this list, who had a breakout year in 2022.
Gimenez hit .297/.371/.466 with a 140 wRC+ and 17 home runs last season. With a 6.1 fWAR, Gimenez was considered one of the most valuable middle infielders in the baseball. Which is why the Guardians signed him to a seven-year, $106.5 million contract.
In his first year under the new deal, Gimenez is hitting .226/.298/.342, with just three home runs and a 78 wRC+. Considering his slash line is nearly mirroring his production in 2021 and last year, Gimenez had a .353 batting average on ball in play, there is great cause for concern here.
But the good news is it is still early.
Help is on the horizon as Josh Naylor has caught fire this week hitting .500 with 4 HRs and 12 RBIs in his last five games. One of the few guys in this lineup who is expected to hit over 20 HRs has found his swing. Now if other Guardians could follow, this team can straighten out the ugliness of April and May and be an entirely new squad in June.
The top of the rotation has held its own with ace Shane Biebers' 3.08 ERA and Cal Quantrill finding his rhythm holding opponents to a .186 batting average and just a 2.21 ERA in three starts this month. However, it's been the back half of the rotation which has skipper Terry Francona scratching his head with Zach Plesac getting sent down after posting a 7.59 ERA. Hunter Gaddis and Peyton Battenfield both didn't meet expectations producing ERAs over five.
Triston McKenzie who's coming off a statement season with a sub-three ERA last year, will be on the injured list at least the first two months of the season. Aaron Civale was terrific in two starts early this season with a 2.84 ERA and 2.51 FIP but was placed on the injured list on April 10th.
More young talent emerges from Columbus for the Guardians to relieve their troubles as rookies Logan Allen and Tanner Bibee dominated their first month of big-league action to aid the Guardians offensive flaws to begin the season. Left-hander Logan Allen has a 3.04 ERA in five starts and 29 strikeouts through 26.2 IP. Bibee's had an impressive first five starts as well with a 3.05 FIP and a 3.18 ERA over 28.1 IP.
Both arms have been pivotal in replacing McKenzie and Civale. They've allowed the Guardians front office to exhale after disappointing performances from their offense and Plesac, Battenfield, and Gaddis to start the young season.
We can keep pointing our fingers at all the underachievers on this team in the first quarter of the season. However, some things don't change as the Guardians are striking out the least as a team, the same spot they finished in last year. But like every team in a 162-game season, teams go on losing streaks and rough patches, but the Guardians always had an answer last season leading to their 92-win season.
I'm confident this team will figure something out, I'm just not sure what the answer to this puzzle is if no one can hit. With still three quarters left in the season and luckily just 4.5 games back from the Twins in the first place, there's still time to turn the ship around. Cleveland needs Josh Naylor to stay hot and hopefully, more Guardians will follow. Staying healthy, and getting Triston McKenzie back on the bump would be crucial as well. McKenzie made his first rehab assignment Saturday in Columbus.