Analysis
What Happened to Gleyber Torres?
Once viewed as a franchise player, Gleyber Torres has become a disaster in 2021.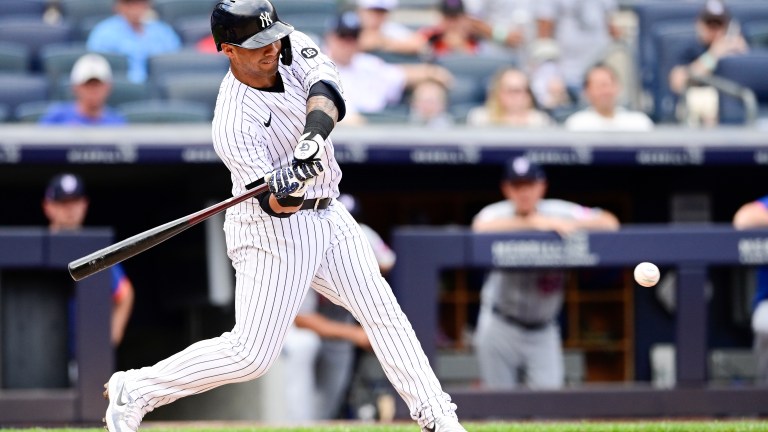 It wasn't all that long ago that Gleyber Torres was a 22-year-old two-time All-Star poised to become one of the best middle infielders in baseball. In fact, that was true just two years ago. After rising through the Minor Leagues as one of the game's top prospects, Torres quickly became a crucial piece of the Yankees' promising, young core. Now, the 24-year-old is barely playable, forcing New York's hand on whether to bench him, demote him or just ride it out and hope for the best.
Power Outage
The biggest, and most talked about, issue for Gleyber Torres in 2021 has been his complete lack of power. Torres ranks 131st out of 135 qualifiers with a .069 isolated power (ISO). Additionally, his .308 slugging percentage (132nd) and .635 OPS (129th) are both in the bottom 10 of all qualified hitters. After mashing 62 home runs through his first two Big League seasons (one per 17.5 plate appearances), Torres has hit just six big flies over the last two years (one per 76.2 plate appearances).
Interestingly, the problem is not one of making contact, but rather the type of contact he's making. Torres is drawing more walks this year than he did in his 38 home run 2019 campaign, and his chase rate, whiff rate and strikeout rate have all improved as well.
| | | | | | |
| --- | --- | --- | --- | --- | --- |
| Season | Walk Rate | Strikeout Rate | Chase Rate | Whiff Rate | wRC+ |
| 2018 | 8.7% | 25.2% | 30.3% | 31.4% | 121 |
| 2019 | 7.9% | 21.4% | 31.3% | 28.0% | 124 |
| 2020 | 13.8% | 17.5% | 20.1% | 28.0% | 106 |
| 2021 | 11.8% | 20.2% | 21.7% | 26.7% | 82 |
Despite improved plate discipline, Gleyber Torres's production has fallen off in recent years.
However, his hard hit rate has dropped from 36% in 2019 to 32.7% this year, and his barrel rate is down nearly five percent over the same span. As a result, Torres now sits in the fifth percentile of all hitters in exit velocity (85.9 MPH). Additionally, Torres is hitting the ball on the ground seven percent more frequently than he did two years ago. Maybe it's the deadened baseballs, maybe it's a mechanical issue, but whatever it is, it's a major problem for Torres and the Yankees, and it explains the lack of power.
Can't Handle the Heat
As we've noted, Torres's struggles date back to the 2020 season. Since the start of last year, he has a .240/.338/.328 (.666 OPS) triple-slash line with just six home runs in 457 plate appearances. This is much more than a slump. His downturn in production appears to be tied to his inability to hit fastballs. Through his first two seasons, Torres hit 42 of his 62 home runs off heaters, and had slugging percentages of .549 in 2018, and .603 in 2019 against the offering. It was by far his favorite pitch to hit against.
Since then, Torres's success against fastballs has fallen off a cliff, with just 14 extra-base hits over the last two seasons combined. This year, he's batting .203 with an abysmal .285 SLG against four-seamers. Additionally, his -9 run value against fastballs is tied for the third worst of any hitter against any pitch this season. Considering his pull rate has also dropped over five percent since 2019, it appears Torres has an issue catching up to velocity. This also helps explain his precipitous drop in power. And on top of the struggles against fastballs, Torres also hasn't hit a home run off a breaking ball since 2019.
Inflated Career Numbers
When you dig deeper into Gleyber Torres's early-career success, there's a concerning trend: Torres has benefitted greatly from sharing a division with the lowly Baltimore Orioles. In 175 career plate appearances (11.3% of his career total) against Baltimore, Torres is slashing .344/.429/.742 (1.170 OPS). He has also hit nearly a quarter (16) of his 68 career home runs against the Orioles.
If you take that dominance away, Torres would have a .255/.326/.423 (.749 OPS) career triple-slash with 52 home runs in 1,370 plate appearances. Torres also has a .743 OPS when facing teams with a winning record in his career. It's fair to wonder if that mediocrity is more indicative of the type of offensive player he actually is.
Defensive Nightmare
On top of his poor performance at the plate, Torres has also been one of the worst defensive shortstops in the league this year. Torres's -5 DRS ranks 107th out of 120 qualified defenders and is fourth worst amongst shortstops. Additionally, his -5 OOA places him 206th out of the 233 qualifiers for that metric. This is after Torres finished with a league-worst -9 DRS at short in 2020 (minimum 300 innings played).
Simply put, he should not be playing shortstop and it was unfair of the Yankees to put him there full-time. Franchises like the Dodgers and Rays put their players in a position to succeed. The Yankees cannot say the same and moving Torres to short might be the most glaring example of that. It wouldn't be a surprise if he's been taking his struggles in the field with him to the plate or vice versa.
What Should the Yankees Do?
This is a complicated situation. Torres is still just 24-years-old and doesn't become a free agent until after the 2024 season. In a perfect world, he works out of his funk over the next few months and we can drop this conversation. However, I'm not sure how much longer of a leash can be afforded to Torres. This is a Yankees team with high expectations that has greatly disappointed so far this season. They can't afford to have a black hole at one of the game's most crucial positions.
For that reason, if New York can acquire a clearly superior player at the trade deadline, they should jump on it. However, they have a limited prospect pool, so that won't be easy. The big question for me is if the team will look to add even a marginally better middle infielder than Torres via trade. We'll know the answer to that within three weeks.
New York can also look to a loaded free agent shortstop class this winter if ownership is willing to shell out the money for a player like Trevor Story. If that happens, the team can either move Torres back to second base, or do something that seemed unthinkable at this time last year, and trade him. Ultimately, I expect the Yankees to stick with Torres through the end of the season and see if he can get going. If he doesn't, it'll be one of the team's biggest offseason storylines.