Analysis
What Does Germán Márquez's Injury Mean for the Rockies?
Nearing the end of his contract with the Colorado Rockies, news of Tommy John surgery could not come at a worse time for Germán Márquez.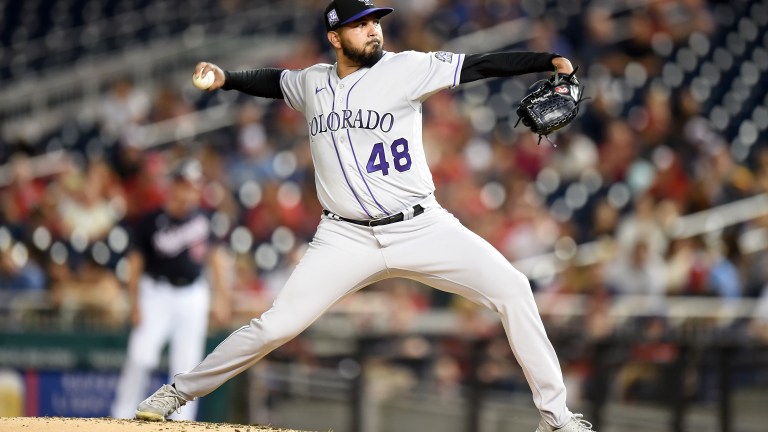 If the Colorado Rockies have an ace, it's Germán Márquez.
Consider the data. The 28-year-old righty came to the Rockies through a trade with the Tampa Bay Rays. Since arriving in Colorado in 2016, Márquez has pitched in 1016 innings, ranking him 43rd among all active pitchers. Additionally, he has earned a career ERA+ of 111 — keep in mind, that's for a pitcher throwing half his games at Coors Field. He is only two strikeouts behind Jorge De La Rosa for the most strikeouts in Rockies history (985).
Actually, just savor this moment from 2018 that illustrates just how good Germán Márquez can be:
In 2021, he was named an All-Star, and in 2018, he won a Silver Slugger. Through it all, though, he has been an anchor. When the Rockies were skidding and needed someone to change the momentum, Márquez has often been that player.
Throughout his career, he has experienced some minor injuries, and he was coming off a 15-day IL stint for right forearm tightness when his latest arm injury emerged. But, overall, Márquez has been a durable pitcher for a demanding baseball team.
His announcement on Tuesday that he will undergo Tommy John surgery deals a blow to the Rockies' starting rotation.
"I kind of thought this was coming," an emotional Márquez told the media. "I'll get through this, but it's tough."
With this in mind, two questions are worth exploring. First, what does it mean for the Colorado Rockies' starting rotation, and, second, what does it mean for Germán Márquez, who is in the final year of a five-year, $43 million contract?
What's the status of the Rockies' rotation?
It's not good.
Going into the 2022 offseason, the Rockies knew they had to improve their pitching. "We need to get pitching," general manager Bill Schmidt said. "We need starting pitching, no doubt, and we need bullpen arms. We need to get them any way we can."
They were moderately successful with their bullpen acquisitions but considerably less so with their starting pitching, signing only free agent José Ureña to a one-year, $3.5 million deal. (More on that in a moment.) They also acquired Connor Seabold from the Boston Red Sox.
Márquez, Freeland, and Gomber were coming off down years while Ryan Feltner was forced to learn quickly.
The Rockies began 2023 with the following rotation:
• Germán Márquez
• Kyle Freeland
• José Ureña
• Austin Gomber
• Ryan Feltner
The hope was this rotation could hold things together until Antonio Senzatela returned in early May from ACL surgery.
Meanwhile, few replacements waited in the farm system. Noah Davis had shown promise; Peter Lambert was coming off Tommy John surgery and trying to regain his control; prospect Ryan Rolison continued to experience persistent health issues. In short, the Rockies had little margin for error.
But the initial rotation did not pan out.
The Rockies currently have a collective ERA of 5.73 (25th in MLB) and fWAR of 0.7 (26th in MLB). Moreover, they have MLB's second-lowest strikeout rate (17.7%), eighth-highest walk rate (9.3%), fourth-highest HR/9 mark (1.79). They rank 29th in innings thrown (146.0).
These numbers are grim, but the rotation has recently begun showing signs of improvement. Initially, Márquez and Freeland were solid while Gomber and Feltner struggled. However, the latter evened out in their last two appearances, and recently those four pitchers appeared to gain some stability.
Ureña, though, never put the pieces together in 2023. He started five games with each outing being short and costly while his ERA ballooned to 9.82. On April 25, he was DFA'd.
Noah Davis was called up to replace Ureña. He made two appearances before being placed on the 15-day IL with right elbow inflammation. (Davis says he believes will recover quickly, but given the Rockies' season so far, such assumptions seem foolhardy.)
Meanwhile, Antonio Senzatela was furiously rehabbing with the Rockies' Triple-A affiliate in Albuquerque. Everything just needed everything to hold together just a little bit longer . . . .
And then the news broke of Márquez's injury.
To address his absence, the Rockies have moved Connor Seabold from long relief into the rotation, and Senzatela will return on Friday. However, all of this happens after the Rockies finally managed to win some games, including a series against the Brewers.
Schmidt has said the Rockies will continue to scour the free-agent market for pitching, but none of this is good news for an already stressed team with a 12-20 record.
What's next for Germán Márquez?
That's unclear, but the injury could not come at a worse time for the Rockies' ace.
He is in the final year of a contract that gives the Rockies a $16 million club option in 2024.
It was widely assumed the Rockies would exercise their option. However, given that Tommy John surgery typically requires 12-18 months for recovery, it seems unlikely the Rockies will spend that much for a pitcher who will probably miss all of next season.
Would the Rockies attempt to renegotiate his 2024 contract? Would Márquez decide to try his luck elsewhere? These are big questions for a Rockies team with its contention window just beginning to open. Moreover, the higher levels of the Rockies' farm system are not strong in terms of pitching.
Player injuries are never good, but this one is especially devastating for all involved. The consequences will linger well beyond the 2023 season.