Analysis
Washington Nationals Trade Deadline Preview
The Washington Nationals are in the midst of a rebuild. With one of MLB's worst farm systems, who can they trade at the deadline to improve it?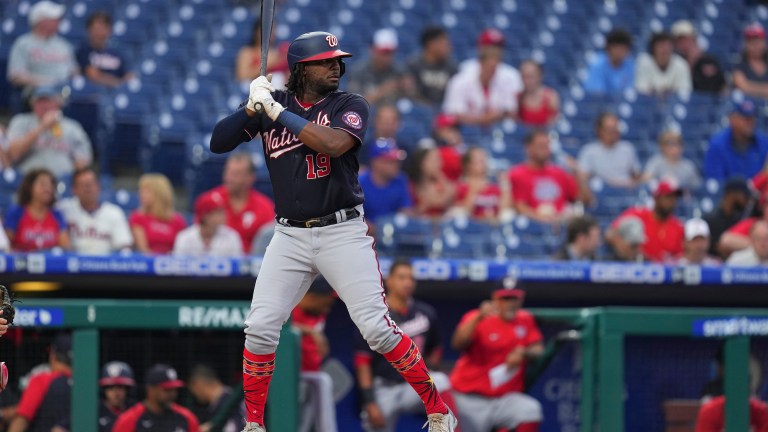 The Nationals are currently 30-54 and in last place in the NL East. I think it's safe to say there won't be a magical run like 2019.
Of that World Series team, only a handful of regulars are still with the organization. The current roster consist of a strange mixture of young players and past their prime veterans.
There is no question that when we get to the trade deadline what the Nationals plan will be. They certainly aren't buying, so the question is more who do they have to sell and what can they get for them.
The Nationals are in the midst of a rebuild and have several veterans on one-year deals they could move for younger assets. With one of the baseball's worst farm systems, Washington will need to capitalize at the deadline and work towards building up their pool of prospects.
Who's on the Trade Block?
Josh Bell – 1B
2022 Stats: .311/.393/.502, 12 HR, 47 RBI, 147 wRC+
Potential Fits: Blue Jays, Red Sox, Brewers, Guardians
Bell was traded to Washington from Pittsburgh before the 2021 season for Eddy Yean and Will Crowe. The switch-hitting first basemen is having a career-year and could be the Nationals representative in the All-Star game. Bell has a blend of power to all fields and bat-to-ball skills that would help any lineup.
Being a switch-hitter improves his fit, no matter how lefty or righty heavy the lineup might be. If we take one look at his Baseball Savant page, you can see that the numbers he is putting up are sustainable.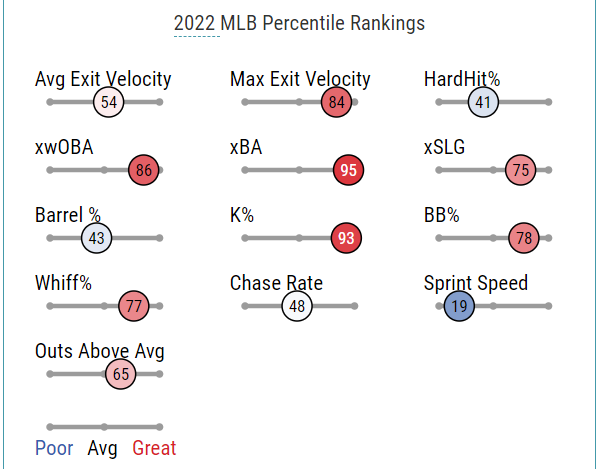 Bell is set to become a free agent after this season. Currently making $10 million, Bell will be due a pay raise. Even as a rental, Washington should expect a nice haul of prospects in return.
Cesar Hernandez – 2B
2022 Stats: .249/.308/.311, 75 wRC+
Potential Fits: Angels, Mariners, Giants, Cardinals
The second switch-hitter to appear on the list, Hernandez brings a much different skill-set than Bell. The veteran second baseman has no home runs after posting 21 just a season ago. At this point in his career, he's a bench bat or injury replacement.
While the return for a declining second baseman without much power will be light, the Nationals need to acquire as much young talent as possible. Signed to a one year deal, Hernandez will be a cheap insurance policy for an acquiring team.
Victor Robles – CF
2022 Stats: .231/.305/.297, 72 wRC+
Potential Fits: Phillies, Mets, Marlins
Victor Robles has yet to live up to his lofty prospect expectations. The 25-year-old brings little to nothing at the plate, but has plus speed and a great glove in center. A team in need of better defense in center, with the ability to steal a few bags, could be intrigued.
Robles is under team control through 2024, making a deal tricky. Will teams view Robles as a starter or fourth outfielder? How do they Nationals view him in their long-term plans?
While he might not fetch a huge return, Robles can still bring some value if the right team scoops him up.
Nelson Cruz – DH
2022 Stats: .241/.322/.369, 94 wRC+
Potential Fits: Brewers, Mariners, Giants
The ageless wonder could be on his eighth team come August first. After putting up a wRC+ of 105 or higher each of the past 14 season, Cruz is on pace to end that streak this season. His 94 wRC+ would be his lowest since 2007.
Cruz has been known for his power throughout his illustrious career. However, through 41 games in 2022 Cruz has only eight home runs. Regardless, teams will want his bat in their lineup. The cost will be cheap and I know teams will convince themselves there's still home runs left in him.
Erick Fedde – SP
2022 Stats: 5-5, 4.29 ERA, 4.34 FIP
Potential Fits: Twins, Angels, Cardinals
Erick Fedde will not excite many fanbases. The former first-round pick profiles as a back of the rotation arm or depth piece. But often times, that's exactly what a team needs. An experienced pitcher to get them through injuries or round out the rotation.
Fedde is under team control for two more seasons and will remain very cheap, even when he earns a bump up from his $2.15 million dollar contract. Washington likely does not see him as a big part of the future and might be willing to trade him for a prospect.
Tanner Rainey – RP
2022 Stats: 1-3, 3.54 ERA, 4.25 FIP, 11 SV
Potential Fits: Most contenders
Non-competitive teams should always be willing to trade from their bullpen. Rainey is a flame thrower with his fastball ranking in the 92nd percentile in velocity. In addition to his velocity, Rainey's pitches have excellent vertical movement. Teams often target pitchers with movement, and Rainey fits that description.

Rainey would likely be acquired to fill a set-up or middle relief role, but has gained experience as a closer. This season Rainey has racked up a career-high 11 saves. Rainey comes with three more seasons of team control which could lead to a better return for Washington.
Outside of Josh Bell, Rainey might be able to offer the best return for Washington at this year's deadline.
Juan Soto – OF
2022 Stats: .231/.388/.451, 137 wRC+
Potential Fits: N/A
I had to save the best for last, right?
Well, no.
While Juan Soto would bring back a franchise-changing return, the deal is simply too complicated to pull off at the deadline. The phenom outfielder will likely be given every opportunity to be extended, rather than traded.
Any acquiring team would need a better idea of their financial situation going forward. Even with two more years of control, whoever hypothetically acquired Soto would likely want to extend him. Figuring that out is an offseason situation, not something that can be hammered out at the deadline.
As you can see, the Nationals do not have many high-end pieces to move. Bell will be one of the top available bats at the deadline and the drop off is significant from there. With where the farm system currently ranks, any prospects will be welcomed. The Nationals need to restock the system and prove to Soto there's a reason to stick around. The clock is ticking.