Under the Radar MLB Rookies
These MLB rookies deserve more attention.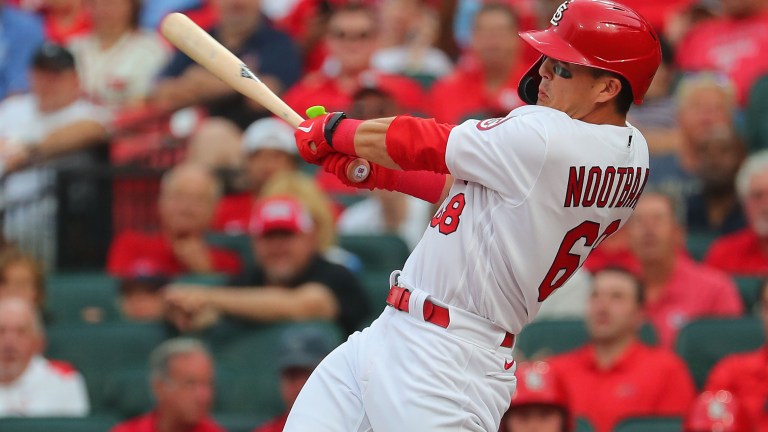 Lars Nootbaar – RF – St. Louis Cardinals
There may not be a man more famous in St. Louis right now than Lars Nootbaar. Outside of St. Louis, you may have trouble convincing people he is a real person. If you aren't a Cardinals fan and are wondering who that is, well you came to the right place. With two outs in the ninth and runners on first and second in a three run game, Colin Moran drove one deep to right field that looked destined for the bullpen. Bolting towards to the warning track and quickly running out of room, Nootbaar leaped and snagged the ball, saving the game for the Cards.
The 2020 shortened season created opportunities for players to step away from the day-to-day grind of minor league baseball and focus on their development. Many were able to make adjustments in the batting cage and weight room, which for Nootbaar, was a must. He has always possessed a strong bat to ball ability and a feel for the zone, a career 16% strikeout rate is a testament to that, but has lacked power to truly set himself apart.
Nootbaar came out slugging in 2021, hitting six home runs in 136 plate appearances, which was a shock for a guy that had only hit nine bombs in his first 610 plate appearances in the minors. The soft swinging Nootbaar was no longer, a new hitter with a "swing hard" approach took his place.
Now just 68 plate appearances into his major league career, the 23-year-old is excelling at the highest level. He has carried his advanced approach to the majors, striking out only 16% and walking 10%. His whiff rate of 7.8% is tied with Cedric Mullins, who I believe shares many similarities with Nootbaar. Some potential comps include Alex Verdugo and David Peralta, each of whom possess elite control of the zone, solid defense and adequate power. The shoot for the stars, 99th percentile outcome comp for Nootbaar would be Jesse Winker, which could only be made possible by a massive increase in power. It's unlikely, but nothing is truly out of the question for a 23-year-old.
Regardless, if Nootbaar can sustain the power he is already showing, he'll have no troubles sticking in a corner outfield role. The problem will be fighting off one of Tyler O'Neill, Harrison Bader, and Dylan Carlson for an outfield spot in St. Louis. O'Neill is having a breakout year, currently ranking 14th in baseball in xwOBA. Bader is an average hitter, but is second among center fielders with eight outs above average. His presence in the center cannot be replicated by many. Carlson, a Rookie of the Year contender coming into the year, is currently on the injured list with a wrist injury, but has performed well this season. He has a 108 wRC+ in almost 500 plate appearances, and at the young age of 22, should continue to develop game power.
The most likely course of action for the Cardinals next season and the remainder of this season, will be deploying Nootbaar against righties, which he has a 141 wRC+ against this season, and giving one of the other three outfielders rest. Depth is the biggest strength for any team and with Nootbaar solidifying himself, the Cardinals will be four deep in the outfield next season.
Abraham Toro – 3B – Seattle Mariners
Mariners GM Jerry Dipoto received some flack for selling Graveman, who was on an expiring contract, to the Astros for third basemen Abraham Toro and reliever Joe Smith. The Mariners were entrenched in the Wild Card race, only 2.5 games back at the deadline. It was a move that supposedly shook up the clubhouse, but Dipoto ensured fans and players that the focus was still on building a playoff team for this year and into the future. Dipoto may have known something we didn't, as the Mariners are still just three games back of the AL Wild Card. Toro, the centerpiece of the return, has been a major part of the Mariners effort to stay in the wild card race.
The 24-year-old slugger was clearly overmatched in his first big league stints in 2019 and 2020, and even to begin this season he struggled, hitting .211 in 122 PA before settling in with the Mariners. In 102 plate appearances since the trade, Toro is batting .303 with a 143 wRC+ while walking as much as he strikes out at 9.8%. Only seven players have a lower strikeout rate over that span. Even bouncing balls don't phase Toro.
In a game dominated by strikeouts, Toro defies the trend much like rookie sensation and former number one prospect, Wander Franco, who is also a switch hitter. The similarities between Franco and Toro at the plate are striking, which is an endorsement of Toro's skill set rather than a knock on Franco's. Both players currently dominate from the right side of the plate, especially Franco, who has a 174 wRC+ from the right side and 84 wRC+ from the left side. With more development of the left handed swing, Toro and Franco are destined for great success in the future. Of course, Franco has an ability to hit that is matched by few, but the similarities cannot be ignored.
Among players this season with more than 200 plate appearances, Toro is one of seven to have less than a 15% strikeout rate, greater than an 8% walk rate and greater than a .150 ISO. Jose Ramirez, Cronenworth, Altuve, and Rizzo are multi-time all-stars with Flores and Gurriel representing solid everyday players. Toro's floor is extremely high with a chance to be an all-star caliber player with more development of his power.
Daulton Varsho – C/OF – Arizona Diamondbacks
It has been the tale of two halves for Daulton Varsho, who hit only .143 in 84 at-bats to begin the year before being sent down to get his approach sorted out… and boy did he ever. Varsho hit nine home runs in 18 games at Triple-A before being recalled to the big club, where he has a 138 wRC+ in 143 plate appearances since his return. It's a dramatic shift for Varsho, but shouldn't come as too much of a surprise for a guy who was a top 100 prospect with power potential coming into the season.
Fangraphs gives Varsho 50 grade raw power and only 45 grade game power, but he's already outgrowing those grades and is showing 30 home run potential. Since his return on June 20th, Varsho is tied with Austin Riley with a .269 ISO. The Braves star third baseman has 27 home runs to his name this season and is showing off his own 70 grade raw power, but is proving that Varsho's power is here and is real.
Beyond the power, Varsho displays an advanced eye for the zone, walking 16.1% of plate appearances since his return, which ranks sixth in baseball over that span. Players that walk at such a high clip are able to be productive even when their bat is cold, which gives Varsho a major edge value wise.
Multi-position players have become more popular in recent years, but it is truly rare to see a player suit up at catcher one day and trot out to center field the next. For Varsho, it's just another day at the office. So far this season he has played 27 games behind the dish and 28 games in the outfield. It's an invaluable skill to stay in the lineup everyday as a catcher, which excellent outfield defense and 89th percentile sprint speed allows him to do. He's tied with J.T. Realmuto as the fastest catcher in the bigs with a 28.7 feet per second average sprint speed and currently has the fastest home to first time at 4.20 seconds. Watch as he speeds around the bases at Coors Field.
Varsho truly brings everything to the table: power, a great eye, multi-positional ability, as well as plus speed and defense. Five tool players are hard to come by, but Varsho is as much of a five tool player as anyone and has the potential for 25-30 home runs in a full season of play. The future is bright for the young catcher hybrid in Arizona, but it's going to take much more talent for the Diamondbacks to return to their old winning ways.