Analysis
Top Five Designated Hitters For The 2023 Season
Some of the game's best bats are so potent, they don't need to play a position to bring immense value to their clubs. Here are the best DH's.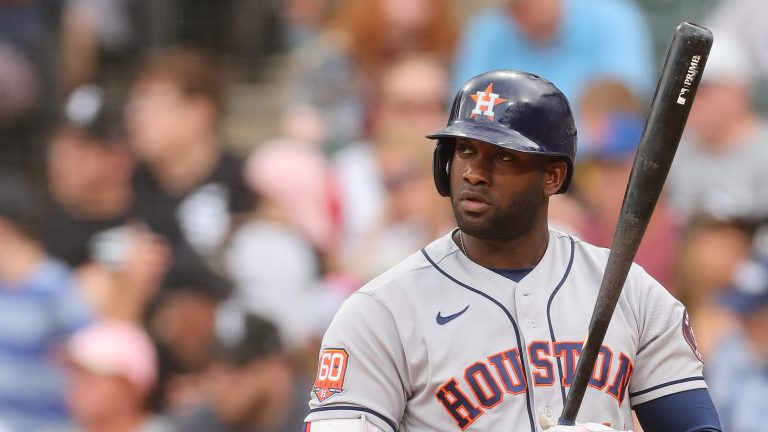 Over the past few weeks, we have gone around ranking the top players at each position in Major League Baseball. Now we shift over to the bats without a position, ranking the top DHs in the game heading into the 2023 season.
With the advent of the universal DH, there are now way more at-bats available to hitters who struggle to field a position. However, teams have strayed away from using a primary DH, opting to instead spread the wealth when it comes to their DH spot, cycling between multiple options to keep guys fresh throughout the year.
There are still some DH's that stand out though, who are capable of providing incredible impact without ever picking up a glove and heading out into the field.
Honorable Mentions
J.D. Martinez: One of the most consistent hitters in baseball, J.D. Martinez appeared to be on the decline last year and still posted a very respectable season. The 35-year-old hit .274/.341/.448, with 16 home runs and a 119 wRC+. If nothing less, Martinez will rake against left-handed pitching, posting a 175 wRC+ against southpaws last year.
If he reverts back to 2021 form, Martinez will easily be a top-five DH in baseball and could be one of the best middle of the order sluggers in the game. The Dodgers could have a bargain on their hands with Martinez signing a one-year, $10 million deal this offseason.
Justin Turner: The first two honorable mentions on this list essentially traded places this offseason, with Justin Turner filling Martinez's vacant DH spot in Boston. Turner has been one of the best hitters in baseball since coming over the to Dodgers in 2014, hitting .296/.375/.490, with a 136 wRC+ across his eight-year career in Los Angeles.
After getting off to a slow start last year, Turner really turned it on down the stretch, hitting .319/.386/.503, with a 152 wRC+ in the second half. The 38-year-old just had a scary situation unfold in spring training though, as he got hit in the head by a pitch, requiring 16 stitches. Hopefully Turner can get back in the box soon and still be himself, because the Red Sox will need him this year.
Daniel Vogelbach: Don't be surprised if Daniel Vogelbach turns in a very sneaky productive season as the Mets primary DH in 2023. The 30-year-old is sitting in the perfect position, playing for a team that has plenty of traffic in front of him in the lineup and plenty of protection behind him. More importantly, the Mets can shield Vogelbach from his Achilles heel. Left-handed pitching.
Vogelbach rarely saw a southpaw after being traded to the Mets last year and the platoon approach netted fantastic results, as the left-hander hit .255/.393/.436, with a 144 wRC+. Known for his great plate discipline with his career 15.7% walk rate, facing only righties, that ticked up to 18.0% in a Mets uniform.
5. Eloy Jimenez
2022 Traditional Stats: 84 GP, 327 PA, .295/.358/.500, 16 HR, 54 RBI
2022 Advanced Stats: 1.7 fWAR, 144 wRC+, 22.0% K%, 8.6% BB%
Will 2023 be the year that Eloy Jimenez finally puts it all together?
Having debuted in 2019, Jimenez hit 31 home runs as rookie and finished fourth in the AL Rookie of the Year voting. He then went on to win a Silver Slugger in the shortened 2020 season, hitting 14 home runs in 55 games, with a .296/.332/.559 slash line and a 138 wRC+.
Injuries book-ended Jimenez's 2021 season, limiting him to just 55 games played. When on the field, Jimenez wasn't the same hitter, posting a 100 wRC+. Last year, Jimenez once again missed time due to injury, but got back to being the same elite hitter we saw in the first two years of his career.
The 26-year-old hit .296/.358/.500, with 16 home runs and a 144 wRC+ in 84 games. If the White Sox can keep him in the lineup more by making him the primary DH, Jimenez could be one of the top hitters in the American League this season.
4. Giancarlo Stanton
2022 Traditional Stats: 110 GP, 452 PA, .211/.297/.462, 31 HR, 78 RBI
2022 Advanced Stats: 1.2 fWAR, 115 wRC+, 30.3% K%, 11.1% BB%
Giancarlo Stanton is coming off what was statistically the worst season of his career, posting the worst AVG, OBP, SLG and wRC+ of his career. Still, Stanton hit 31 home runs in 110 games and drove in 78 runs.
In the first half, Stanton was actually great, hitting 24 home runs in 76 games with a 134 wRC+. After being an All-Star and winning the game's MVP award, Stanton dealt with an Achilles injury that limited him to 34 games in the second half. There was a 180-point difference between his first and second half slugging percentage, clearly showing the impact of the injury.
If Stanton is able to stay healthy, he's capable of hitting 40 home runs and being a key contributor for the Yankees. At 33 years old, Stanton is just not a safe-bet to stay healthy anymore.
3. Kyle Schwarber
2022 Traditional Stats: 155 GP, 669 PA, .218/.323/.504, 46 HR, 94 RBI
2022 Advanced Stats: 2.6 fWAR, 128 wRC+, 29.9% K%, 12.9% BB%
When it comes to home run per plate appearance, only Aaron Judge has been a more prolific home run hitter than Kyle Schwarber over the last two seasons. In 2021, Schwarber hit 32 home runs in 113 games. Then last year, he left the yard 46 times.
Schwarber has never posted a season where his fWAR was over 3.0, as his overall value is often diminished due to his poor play defensively. With Bryce Harper set to miss the start of the season, Schwarber can return to being the Phillies DH, where he can bring more value than if he has to play out in left field.
2. Shohei Ohtani
2022 Traditional Stats: 157 GP, 666 PA, .273/.356/.519, 34 HR, 95 RBI
2022 Advanced Stats: 3.8 fWAR, 142 wRC+, 24.2% K%, 10.8% BB%
Shohei Ohtani is without question one of the best designated hitters in the game, while also being an even-better pitcher. The 28-year-old superstar has hit 80 home runs over the last two seasons, tied with Vladimir Guerrero Jr. for the second-most in baseball behind Aaron Judge.
Ohtani's season in 2021 was superior to his 2022 campaign when it comes to his offensive numbers, as he hit more runs, stole more bases and posted a better slash line across the board. Still, Ohtani is showing that his floor offensively is getting on-base at .350 clip with a slugging percentage over .500, which is elite for any hitter.
1. Yordan Alvarez
2022 Traditional Stats: 135 GP, 561 PA, .306/.406/.613, 37 HR, 97 RBI
2022 Advanced Stats: 6.6 fWAR, 185 wRC+, 18.9% K%, 13.9% BB%
If you polled pitchers around the game, there are few hitters in baseball more feared than Yordan Alvarez. The smooth-swinging 25-year-old has already signed the richest contract ever for a DH and at six years, $115 million, it still feels like a bargain.
Alvarez's 185 wRC+ was the second-best mark in MLB last year and his 13.9% walk rate is not far off from his 18.9% strikeout rate. Alvarez was one of six platers who got on-base at over a .400 clip last season and one of two who slugged over .600 as well. Putting up a 6.6-win season as a DH is insane, which is why he was the clear-cut best fit to headline this list.