Analysis
Three Hitters To Pick Up in Fantasy This Week
Rookie Brett Baty is playing well, Jorge Soler has rediscovered his power stroke and we are soon to see Elly De La Cruz make his debut.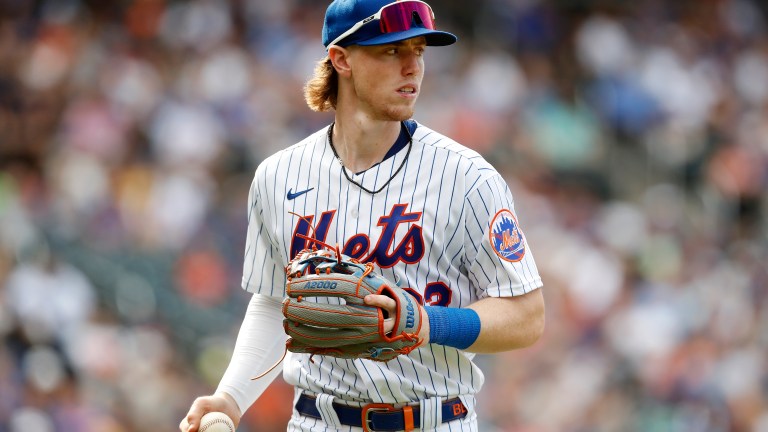 The deeper we get into the fantasy baseball season, the tougher it is to find impact players available to add on the waiver wire. Many of the best players have already established themselves on fantasy rosters and what is left over are players who are far from sure things to have a long-term impact.
Still, there are three players this week that have not been rostered in most leagues that you should hop on and pick up immediately if available. For additional discussions and other options, check out the Just Fantasy Baseball Podcast on YouTube or your favorite podcast app.
Brett Baty – 3B – New York Mets
Yahoo Ownership – 30%
There is a legitimate case to be made that upon his promotion to the bigs, Brett Baty, who was hitting .400 with five home runs in nine games, was the best hitter in the minor leagues. Since his arrival he's done nothing but mash and the metrics below the surface point to continued success.
In 29 games with the Mets, Baty is hitting .258 with four home runs, which is good for a .773 OPS. Undoubtedly, solid numbers for a 23-year-old top prospect getting his first taste of big league pitching, but the numbers below the surface scream that Baty will become fantasy relevant here very soon.
When analyzing rookies, I generally like to disregard their first 10-15 games or so to allow them to adjust to the bigs and get settled, so I'm going to do the same for Baty, which brings us to May 1st. Since May 1st, Baty has a strikeout rate below 17%, a walk rate above 11% and a hard hit rate of 57%. The only other players that match that criteria are Ronald Acuña Jr., Yandy Diaz, Will Smith and Kyle Tucker. Ever heard of any of those guys?
It would not surprise me if Baty went on to hit near .300 with plus power the rest of the season and he's been moved up to fifth in the Mets lineup in recent days, which boosts his upside. He's an add in all 12 team leagues and a speculative add in 10 team leagues.
Jorge Soler – OF – Miami Marlins
Yahoo Ownership – 47%
Remember when Jorge Soler hit 48 home runs in 2019? Well he's somewhat replicating that in Miami in 2023 and we should all be along for the ride no matter how much it hurts our team's collective average.
Soler has already hit 12 home runs in 46 games, which ties him for the ninth-most home runs in baseball and as you may have guessed, all of them have been nukes. His shortest home run went a whopping 395 feet and his longest traveled 468 feet. When he's locked in, he's one of the most fearsome hitters in the game and so far this year, that's been the case.
If you still don't believe me that he's crushing the baseball, his 18.2% barrel rate is 11th-highest in baseball right ahead of Ronald Acuña Jr. and right behind Pete Alonso. The biggest improvement, and the reason I believe this is more than a hot streak, is that Soler is barreling breaking balls this season. He's lowered his whiff rate against breaking balls by more than 7% and has hit four of his 12 home runs against breaking balls.
He's a much more complete hitter and is quickly becoming fantasy relevant again.
Elly De La Cruz – 3B – Cincinnati Reds
Yahoo Ownership – 22%
The current number one prospect in baseball needs to be added in all keeper leagues ASAP and even in redraft leagues, De La Cruz will be fantasy relevant as soon as he gets the call up to the bigs, which could be coming sooner than later. Just Fantasy Baseball's Clay Snowden believes June 2nd will be the night De La Cruz makes his debut, which is just a mere week and a half away.
If you aren't aware of who Elly De La Cruz is, let me enlighten you. He's hitting .281 with seven home runs and a .962 OPS, while also adding seven stolen bases. His power is so ridiculous that he hit three balls above 117 MPH in one game and his .307 Isolated Power would be the sixth-highest ISO in baseball.
The one hole in De La Cruz's game is the strikeout rate, which has consistently hovered around 30% for his career, but he's the rare hitter that can whiff at a high rate, but sustain a high batting average because the contact he puts into play is that good.
He's a generational talent that could take the world by storm, so if you're looking for a player that could be a league winner, Elly De La Cruz is that guy. He's as high upside as it gets.