Feature
The Top 10 Most Overrated Players in Baseball
These ten players might be making a few too many millions.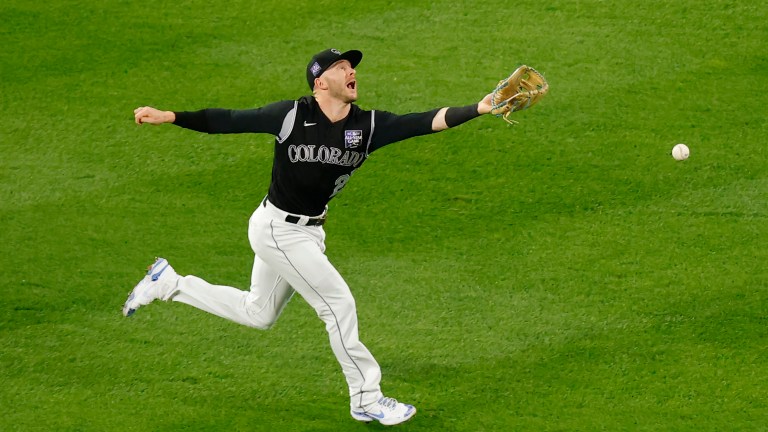 We are a community of baseball folk that prefers to lift players rather than tear them down. That being said, we have had so many people ask us about or most overrated players that we gave in. This doesn't mean they're bad players, just not as good as the masses think they are! We did also just finish the Top 10 Underrated Players in Baseball, so we have to bite the bullet on this one.
In the latest episode of the Just Baseball Show, Jack and I break down our 10 Most Overrated Players in baseball with a simple caveat: All players on this list make at least $10 Million per year.
Top 5 Overrated Pitchers (According to Peter Appel)
5. Hyun Jin Ryu – SP – Toronto Blue Jays

Ryu isn't a bad pitcher by any stretch of the imagination, but he certainly isn't close to a Top 10 pitcher that people were screaming at us on social media about when we made our lists earlier this year. That's one of the reasons he's the fifth most overrated pitcher, but here are more.
Since the sticky stuff crackdown, and you'll see that as a trend on this list, Ryu has a 4.75 ERA, 9th worst for those who qualify in that span. Across the same timeframe, Ryu is only striking out seven batters per nine innings, down from 9.7 K/9 in 2020. His ERA is near four this year, and his advanced numbers don't really indicate he's been that unlucky. He's 34-years-old and he'll be 35 before the start of 2022.
Ryu doesn't rely on velocity, so he could age gracefully, but I think he reached a peak in 2018 and 2019. The southpaw is owed $40 million over the next two years, so the Jays are hoping he has some more left in the tank. Again, important to note, he's not a bad pitcher, but I don't believe he really ranks close to the aces in baseball.
4. Kyle Gibson – SP – Philadelphia Phillies
Remember when Kyle Gibson was a hot commodity a couple of months ago? Well, that may have been short-lived. He is now your fourth most overrated starting pitcher in baseball. Since joining the Phillies, he has a 4.46 ERA and is only striking out 5.5 batters per nine innings.
Again, he's not a bad pitcher; he's just not as good as people make him out to be. The pitch mix is average, he doesn't command the ball all that well, and his track record is more reminiscent of the guy we have seen as a Phillie than a Ranger. He's closer to an average big league pitcher than a really good one.
3. Aroldis Chapman -RP – New York Yankees
Yankee fans are all too familiar seeing the Yankees season end at the hands of their flamethrower, Aroldis Chapman.
He has become the most overrated relief pitcher in baseball and slots in at three on this list. This really hurts because I personally ranked him as the number one reliever in baseball, considering he added what looked to be an unhittable third pitch. So much for that.
Ranks among qualified relievers since June 1st:
ERA: 146th out of 156 (6.23)
WHIP: 154th out of 156 (1.88)
FIP: 152nd out of 156 (6.01)
xFIP: 100th out of 156 (4.45)
BB%: 154th out of 156 (18.8%)
HR/9: 151st out of 156 (2.08)
That's just so bad, and he is the second highest paid reliever in baseball ($18M in 2022). I don't know if I trust him anymore to get big-outs, and that'll be a huge issue come playoff time.
2. Aaron Nola – SP – Philadelphia Phillies
I don't mean to pile on this Philadelphia pitching staff, but Aaron Nola is the second most overrated pitcher in baseball. Since that amazing season back in 2018, he has a 4.01 ERA. He's not bad, but again, by no stretch has he lived up to the expectations so far. At this point, I would argue he's closer to a No. 3 or 4 starter in a strong playoff rotation. The sticky substance crackdown has also not been kind to Nola. He has the 8th worst ERA in baseball since June 21 at 4.95, for those that qualify.
His ERA this season is north of 4.50, and yes, he's been a bit unlucky when you look at the advanced metrics, but isn't he just supposed to be way better than this? Nola is 28-years-old, he should be in his prime right now, but if this is all he's got, well, the Phillies need to add some more starters if they want to be a true threat of of the NL in the future.
1. Yu Darvish – SP – San Diego Padres
The most overrated pitcher in baseball may shock some of you, but man, oh man, has he been dreadful since the sticky substance crackdown. Yu Darvish is the most overrated pitcher in all of baseball. Let me take you through his season and where things went south.

Rank among qualified starters since July 1
fWAR: 100th out of 116 (0.0)
ERA: 114th out of 116 (7.57)
FIP: 99th out of 116 (5.33)
HR/9: 110th out of 116 (2.66)
xFIP (much more favorable to him): 26th out of 116 (3.58)
His K and BB rates were still strong, each ranking in the top 25
Over that stretch, he has faced the Diamondbacks three times, Marlins, the Rockies at home, Nationals, Phillies, Braves, and Dodgers.
I don't want to hear about the injuries, everyone deals with them, and back tightness shouldn't turn you from elite to bottom of the barrel after three months. That was a bit harsh; I hope he isn't dealing with something serious. I do think it begs the question, however, why haven't the Padres shut him down if he's really injured?
Ask yourselves, with Blake Snell heating up, and Joe Musgrove dominating, do you want him pitching more than once in a playoff series? I say no, which is far off from what Darvish is supposed to be.
Top 5 Most Overrated Hitters (According to Jack McMullen)
5. Salvador Perez – C – Kansas City Royals
**Editor's note: Jack is alone on this take.
This one may get us annihilated. He's such a likable guy. And he's the first catcher to hit 40 bombs since 2003. But Salvador Perez is a liability at catcher at this point. It's a crazy development given that Perez was a defensive beast when he made six straight All-Star games from 2013-2018, but he was an above-average hitter, by OPS+, just two out of those six years.
The past two years offensively have been a different story, and he's one of the more feared big boppers in baseball right now, however all of his defensive abilities are gone. He is, without question, the worst defensive catcher in baseball by just about any given metric. Take your pick.
4. Anthony Rendon – 3B – Los Angeles Angels
Yes, I know he's banged up. And yes, I understand that he was consistently really, really good until this year. He hit .300 with 40+ doubles each of his last three years in Washington. But didn't the thought kind of sort of creep into the back of your mind that maybe the Angels shouldn't be committing nearly $250 million to this guy over seven years?
Boras bump, I know, but he was always just really, really good. I don't think I could've called him a top three third baseman in the game at any point without really thinking through that. I am incredibly concerned with the injury issues. I don't think the Angels botched on the Josh Hamilton/Albert Pujols level, but I'm willing to put it in sharpie that I thought this was a drastic overpay. And so far, I'm right.
3. Javier Baez – SS/2B – New York Mets
I want everyone to understand something. I genuinely used to love Javy Baez. He was easily my favorite player to watch in baseball in 2018. But something has just gone horribly wrong. He is NOT SPEAKING HYPERBOLICALLY, one of the worst players in baseball in terms of strikeout rate and walk rate. He's in the top 1% in strikeouts and the bottom 1% in walks drawn.
Let's put this another way. He's striking out 35% of the time. The only time his K rate's been worse was when he played in 50 games and hit .170 as a 21-YEAR-OLD.
The stubbornness kills me. It's been seven years, and he still can't lay off a slider low and away in a righty-righty matchup. And for everyone telling me that he's a defensive wizard, he's a defensive liability. He makes Sportscenter's top-10 more than the average shortstop. But he's in the bottom half of the league in outs above average, and he leads the league in errors committed.
2. Cody Bellinger – OF/1B – Los Angeles Dodgers
This hurts. He was so entertaining from 2017-2019.
He hit .305 with a .406 OBP and 47 bombs two years ago! But we started to see a slide in 2020. And this year has been absolutely DREADFUL. His OBP's at a career-low by 100 points. His slugging % is at a career-low by 100 points. He's hitting .167 in 80 games. He's chasing a ton of pitches, swinging, and missing all the time, and he's got a lower expected batting average than Jarred Kelenic, Jackie Bradley Jr., and Eugenio Suarez.
He's an elite defensive outfielder. I so badly want his season struggles to be lasting effects from the shoulder injury last postseason, but his swing looks totally out of sorts. I'm worried the old Belli is gone.
1. Trevor Story – SS- Colorado Rockies
Did you know there are 11 active Trevor's in Major League Baseball right now? There are four active Jack's and 3 active Pete/Peter's. Not incredibly fascinating, but I bet you didn't know that.
This Trevor is having his worst season since 2017. The 28-year-old could just be checked out of Denver, but he is having the worst defensive season of his career (-5 OAA).
Story has just a 97 wRC+ and is on pace for his lowest HR total of his career. Over his last two full seasons, Story averaged 36 bombs and 97 driven in. If you expand his 2020, he was on pace for 30 homers and 84 driven in. It is safe to say Story won't hit those marks this year.
Let's be honest, with a lot of these power and speed guys, we tend to ignore swing-and-miss blatantly. This is actually the first time in Story's six- ear career that he has fewer strikeouts than games played. And he's still in the bottom third in the league in whiff rate. Let's hope that a change in scenery reinvigorates the shortstop, but leaving the altitude is rarely a positive for hitters.