Analysis
The New York Mets Just Bought a Multi-Year Rebuild in a Week
Once the Mets decided to sell, they went all-in by cashing their two-highest priced assets, leveraging their contracts to buy top prospects.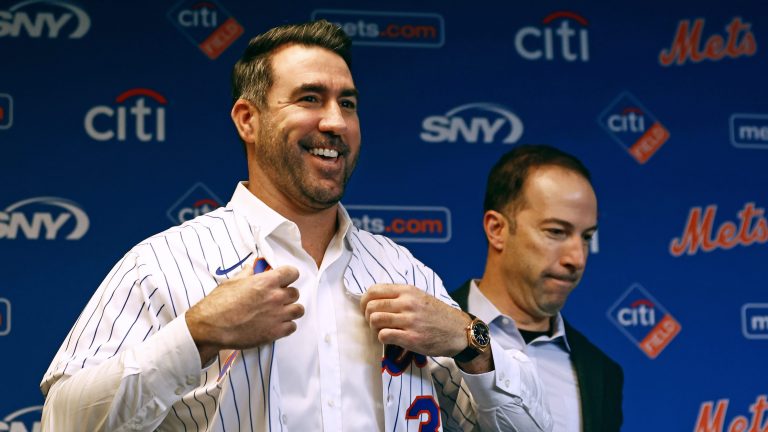 What a difference a week makes. Ahead of the MLB Trade Deadline, the New York Mets made the decision to go head-first into a rebuild, trading two future Hall of Famers in the span of four days.
Dating back to their trade of Eduardo Escobar in June, the Mets shipped out seven players off their big league roster in return for 10 prospects. After an offseason where the Mets spent big money to be favorites, they had to turn around and eat a lot of that money to go the other way, hoping to inject life into their farm system
Mets GM Billy Eppler called it a "repurposing" of Steve Cohen's investment in the team, because you are never supposed to use the word rebuild in New York, but that is exactly what the Mets did. Eppler is right though, in that they were able to "repurpose" Cohen's investment, particularly the one he made in Max Scherzer and Justin Verlander and turned it into a franchise-altering return.
Why the New York Mets Needed to Rebuild
As someone who covers this team on a daily podcast, I have learned a thing or two about how New York Mets owner Steve Cohen operates. The main thing, which is blatantly obvious, is that he does not care about money.
He is the proverbial big money gambler at the poker table, who uses his deep pockets to outbid everyone else and force them to fold. Problem for Cohen so far is that his hand is consistently worse than the other players at the table.
Cohen inherited one of the worst-run franchises in Major League Baseball when he purchased the Mets from the Wilpons for $2.4 million back in 2020.
Dating back to when the Mets stumbled their way into the World Series in 2015, the franchise has consistently been in a win-now mode (without the actual win part). New York tore everything down back in 2011, rebuilding under GM Sandy Alderson, who targeted young starting pitching.
The Mets drafted Jacob deGrom, Matt Harvey and Steven Matz and traded Carlos Beltran as a rental for Zack Wheeler. They then added Noah Syndergaard and Travis d'Arnaud by trading knuckleballer R.A. Dickey, coming off a stunning Cy Young season.
It took years for the Mets to build that core, and once they had it, they would spend years trying to build around it to re-capture the magic they found in 2015. The Wilpon-led Mets traded countless prospects over that time, with their only semi-sale being the 2018 deadline where they saved as much money as they could on the players they dealt and got nothing but relief prospects in return.
Cohen has been paying money hand-over-fist ever since taking over the team, attempting to buy a contender while the Mets go through the painstaking process of rebuilding a farm.
What has always mattered to Steve Cohen, more than even winning in the short-term, is building a great farm system. That is why he has poured so many resources into player development and that is why the Mets avoided trading their top prospects at last year's deadline when they had a first place team who had a chance to win it all.
The Mets have been playing the long-game for awhile, but were using free agency to put together an entertaining team in the meantime. Outside of re-signing/extending their own core (Francisco Lindor, Edwin Diaz, Brandon Nimmo, Jeff McNeil), and signing Kodai Senga, all of the deals Cohen's Mets have signed have been short-term.
There was always an expiration date on the Scherzer-Verlander era. They were meant to be the bridge to the next era of the Mets baseball for two-to-three years while the farm was being built. If you have been listening to Cohen and Eppler, this has long been the plan. Spend big now, build a farm, become a sustainable winner later.
Now because the Mets could not get out of their own way on the field this year, they were finally able to get out of their own way on their rebuild. Cohen told the players he was looking for an excuse to buy, but if they gave him a reason to sell, he'd look to capitalize.
And boy did the Mets do all they could to capitalize.
Why the Mets Traded Their Aces
The Mets could have gone halfway into this rebuild, and focused squarely on 2024.
They could have kept Scherzer and Verlander, or even just one of the two, traded all their rentals, and then looked to retool around them next year.
There is no doubt the 2024 Mets would have been in a better position to win it all, but if you really take a hard-look at the franchise long-term, another bad year could have set this franchise back in a huge way. Verlander and Scherzer are diminishing assets, and they have been ever since they put pen to paper on their respective contracts that paid them $43.3 million a season.
The Mets outbid everyone to get these future first-ballot Hall of Famers to sign on the dotted line, but there is a reason nobody matched their offers. Putting that much money on the line for starters in their late 30's and early 40s was always a risky move to anyone not named Steve Cohen.
Last year, the move from Scherzer paid off brilliantly. While he missed some starts, Scherzer pitched to a 2.33 ERA across his 23 starts and 145 1/3 innings pitched. The Mets won 101 games under his leadership, the second-most in franchise history.
Unfortunately things started to turn for Scherzer down the stretch last year, when he lost his final regular season start with the division on the line to the Atlanta Braves, then gave up four home runs in his lone Mets playoff start in their NL Wild Card loss to the Padres.
Then came the Mets disappointing run this year, where Scherzer pitched to a 4.01 ERA and gave up 23 home runs in 107 2/3 innings. Because he is Scherzer, everyone assumes he can still be great, and there is every chance he will be. Still, Cohen was right to reassess what he had in Scherzer and how his $130 million investment should be utilized for the franchise moving forward.
Scherzer was getting around $14.6 million for the remainder of this season. If the Mets missed the playoffs, that is sunk cost. Instead, Cohen ate that money and looked to flip Scherzer for future assets. He found a partner in the Rangers who needed Scherzer more this season and was able to get a consensus top 100 prospect for him in Luisangel Acuña.
While it took over $35 million sent to the Rangers to get this deal done, the money spent is nothing to Cohen. He could have spent over $57 million for essentially one more title run with Scherzer, or he could spend $35 million to have full control on a top 100 prospect in Acuña. Who just happens to have a brother who is an MVP candidate in their division.
There is no question which is more valuable to the Mets. Which almost makes the Scherzer trade a no-brainer. Dealing Justin Verlander was a little more complicated because they had a chance to make two more runs at a World Series with him. Again though, Verlander is a diminishing asset.
At 41 years old, Verlander of course carries some injury risk, as there is not much precedent for what he has been doing. He is quite literally one of the greatest pitchers of all-time. With that said, when you have to throw out one of the three seasons in which you have control, the final two become far less valuable.
Assuming he hit 140 innings in 2024, Verlander had a $35 million vesting option in 2025. If exercised, the Mets owed Verlander $93 million over the life of his contract. They were wasting $14.6 million of that in a lost season anyway. It made sense to sell if a certain prospect value was met and the Houston Astros came through.
The Mets essentially made the same deal on the financial side of things. They sent $35 million to cover the remainder of his contract for this year and around half of the next one, while agreeing to pay half of Verlander's 2025 vesting option.
Out of the $93 million the Mets could have owed Verlander through 2025, they will instead pay $52.5 million and take arguably the two best prospects in the Astros system in return with Drew Gilbert and Ryan Clifford.
Through the Scherzer and Verlander trades, the New York Mets landed three prospects that immediately slot into the front half of their top 10. If they Mets decided to hold their aces, yes they would have still added some depth to their system by trading rentals, but overall the sale would not be franchise-altering.
Did the Mets Win the Trade Deadline?
The New York Mets won the offseason thanks to Steve Cohen's money and again the result is the same at the trade deadline. Outside of David Robertson, the Mets ate money on pretty much every player they traded at the deadline to enhance their prospect returns.
With players like Mark Canha and Eduardo Escobar, eating down those contracts allowed the Mets to land an arm they like that will slot somewhere around the 15 range in their system. Solid pick-ups for sure, but not exactly franchise-altering.
Robertson held the most value at the deadline, which is why the Mets did not have to eat his contract at all. It is also why they landed their best prospect, outside of the ace trades, in infielder Marco Vargas. The 19-year-old prospect is tearing up the Florida Complex League and could be a top 100 prospect before too long.
But by trading Scherzer and Verlander, the Mets went from landing maybe one top 100 talent to three or four. There is every chance that Gilbert and Acuña are everyday players by the end of next season and there is every chance Clifford ends up being the best player of them all.
While he wasn't a first-round pick like Gilbert, Clifford signed out of high school for $1.26 million, which is more like second-round money than where he was drafted in the 11th round.
Having turned 20 years old just two weeks ago, Clifford is tearing up High-A, a league where guys are years older than him. Across 58 games played, Clifford has 16 home runs.
Adding four top 100 talents could take years for some franchises, but if things break right on Clifford and Vargas, the Mets could have accomplished that in a week.
When you set aside the financial implications of it, what the Mets were able to accomplish at this deadline was very impressive. They were able to leverage their financial advantage over other teams and turned it into the biggest prospect return any team received at the deadline.
Losing Justin Verlander and Max Scherzer from their 2024 roster is a big blow, but when you consider what they added for it, the New York Mets absolutely won the deadline.