Analysis
The Mystery of Adalberto Mondesi
Once one of the most exciting prospects in MLB, Adalberto Mondesi has flashed incredible tools, but has never been able to stay on the field.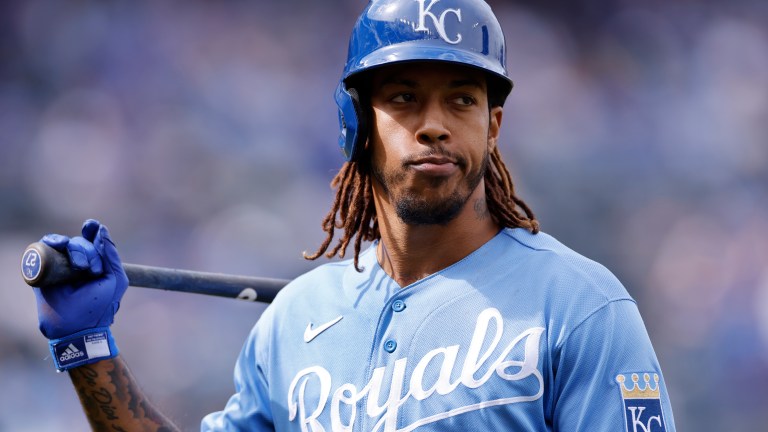 Making your major league debut at 20 years old is remarkable in itself. Adalberto Mondesi not only did that but became the first player to make his major league debut in a World Series back in 2015.
The following year, MLB Pipeline considered him the number one overall prospect in the Kansas City Royals system and the No. 37 overall prospect in all of baseball. The hype around Mondesi continued to grow and was real.
The Royals and Royals' fans saw Mondesi as their future shortstop. He may not become a superstar, but the potential for a great player existed in his toolset. Someone that the team could build around the future around.
Mondesi had some of the best tools among shortstops. He struggled with the bat, but had 15-home potential with 70-grade speed. He flashed Gold Glove potential on the field with his quickness, ability to get to any ball, and a strong arm. It was clear that his feel for the strike zone could hold him back, but the loud tools outside of that gave so many so much hope for what his future held. 
Early Struggles
Then General Manager of the Kansas City Royals, Dayton Moore, had nothing but glowing reviews of Mondesi, including comparing him and his athleticism to Patrick Mahomes. The Royals were aggressive Mondesi. They were pushing him up level by level at such a young age despite the issues of making contact at the plate. In both 2016 and 2017, Mondesi struggled mightily. He sported over 30% strikeout rates and could not get on base.
The inability to make contact limited Mondesi to only 47 games in 2016 and 25 in 2017. Due to his young age, many felt that much of this was related to his young age and aggressive push through the minors. There was still some hope left that he could power through this. The Royals weren't too concerned. On top of that, they were coming off back-to-back World Series runs, and Alcides Escobar was handling shortstop for them.
Finding Success
Fast forward to the start of the 2018 season. Fans were excited about the potential of Mondesi starting the season with the big league club, but Mondesi experienced his first significant injury as he battled right shoulder impingement syndrome.
This caused Mondesi to lose nearly half of the season. Despite the injury, Mondesi was on the verge of a breakout that season, hitting 14 home runs, stealing 32 bags, and posting a 113 wRC+. He even cut his strikeout rate below 30%! There were so many signs of hope for the young shortstop. 
The power and speed blend, on top of the defense, had so many dreams of what Mondesi could be. The big flaw to his game was his ability to walk and get on base, and some of his swing and miss concerns. But the pop he kept flashing and Statcast breaking things he was doing on the base paths had many overlooking that. 
He carried over his health into the start of the 2019 season, but then in June, Mondesi faced his second injury. This time a groin injury. Fortunately, it didn't keep him out long, but just a month later, Mondesi was back on the injured list with a shoulder injury. He didn't come back until September, and then Mondesi hit the injured reserve for a third time, missing the last five games of the season. 
Despite the injuries, Mondesi found a way to put together a respectable season knocking out nine home runs and stealing 43 bases. He still struggled with picking up spin and controlling the strike zone. The walk rate was still under 5%, which crushed his OBP.
It was all kinds of impressive that he could steal 43 bags with the injuries, lack of ability to get on base, and only playing in 102 games. This was the kind of player Mondesi would be… above-average pop, elite speed, and an inability to get on base at a high rate, but many were quite okay with that. The faith was still there regardless of the injuries becoming more and more concerning. 
Never-Ending Battle With Injuries
The 2020 COVID season rolled around, and Mondesi hit the injured reserve again in August, but it didn't stop there. What followed was multiple injuries, keeping Mondesi out for long periods of time.
3/30/21 – Right oblique strain
5/31/21 – Hamstring
6/20/21 – Oblique
4/26/22 – Knee
3/30/23 – Knee
The Mondesi era was pushing it's way to an end. It officially came to a point where Mondesi couldn't find a way to stay on the field. As soon as he got healthy and back on the field, it seemed like a month later, and he'd be back on the injured reserve.
The Royals then drafted Bobby Witt Jr. in the 2019 MLB Draft and were prepared to groom him to become their next starting shortstop, leaving many to wonder what the future meant for Mondesi. There were questions if he would even be more than a utility player for the Royals. 
In 2022, Mondesi started with the big league club at shortstop, and there were talks he'd take more of a utility role to save his body. In April, the most unfortunate injury happened to Mondesi; he tore his ACL. The Kansas City and Royals fans quickly realized that this might be the last time we see Mondesi in a Royals uniform.
Trade to Boston
On January 24, 2023, Mondesi was officially traded to the Boston Red Sox for left-handed reliever Josh Taylor. The Mondesi era in Kansas City was officially over, and fans will always have to live wondering what Mondesi could've been. All that potential in the world will always be the "what if" question.
It's been six months since the Red Sox acquired Mondesi and thirteen months since he had surgery to repair his torn ACL. The Red Sox had acquired Mondesi when Trevor Story went down with his injury, and now Story might beat Mondesi back on the field.
When Mondesi will be back on the field isn't entirely clear. He is down in Florida and still rehabbing. He's progressed to taking grounders but has yet to go further, experiencing multiple setbacks. You start to wonder if we will even see Mondesi in a Boston Red Sox uniform.  
You can only feel for Mondesi in this situation. He saw Boston as an opportunity to turn the page, and now he faces some of the same adversity and setbacks he did in Kansas City. It is one of the unfortunate human elements of the game that you can't control. Lets hope we see him out on a field soon trying to make his comeback. Mondesi may be one of the biggest "what if " stories for the Kansas City Royals, but in Major League Baseball.