Analysis
The Miami Marlins May Have Just Saved Their Season
The Marlins were on the brink of losing another series, but back-to-back comeback victories have kept them alive in the NL Wild Card race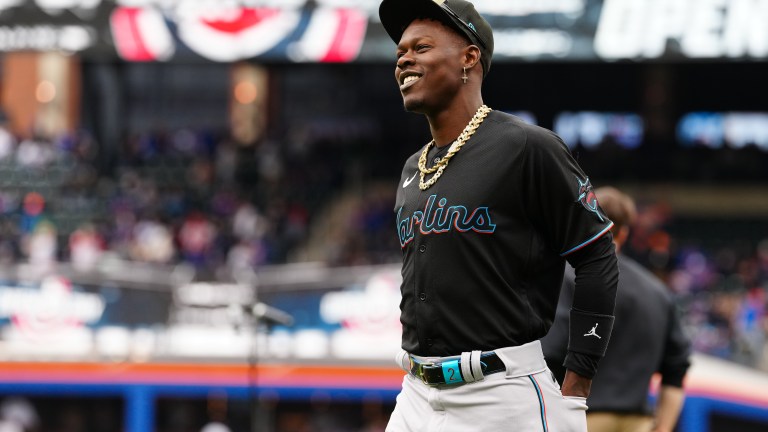 The Miami Marlins had their best first half in franchise history in 2023, heading into the break at 14 games over .500. Since the break, however, they have been nothing short of dismal.
After a massive win over the Cincinnati Reds–who are also struggling–Wednesday, the Marlins moved to just 7-17 in the second half.
Their offense has gone quiet, the pitching staff has struggled in the absence of Eury Pérez and the bullpen has nearly fallen apart. In less than a month, the Marlins went from 14 games over .500 to just two games over Tuesday night.
That is when all hope seemed lost. The Marlins were facing the Cincinnati Reds at Great American Ballpark. They had already dropped the first game of the series and the game was tied 1-1 in the fifth. That is when disaster of highest order struck.
Stuart Fairchild sent one out to right and right-fielder Jesús Sánchez took a bad route to the ball, letting it get past him and into the corner. Sánchez chased it down, and somehow got off a strong enough throw to the cutoff man to set up a play at the plate.
Fairchild saw the stop sign about half-way down the third-base line, but when the ball bounced awkwardly and catcher Nick Fortes mishandled it, Fairchild scored to give the Reds the lead. I hope I did a good job describing the kind of calamity it was, but it may be better to just watch the video and see for yourself.
This was the moment I declared the Marlins dead. They seemed headed for a sixth-straight loss and their eighth in nine games. They had the worst non-Athletics record in the second half. Their offense showed no signs of life. They were about to fall behind 2.5 games behind the Reds in the Wild Card. It was over. Right?
WRONG!
That is when Jorge Soler rang the doorbell and gave the Marlins life. A two-run bomb out to right center gave the Marlins a lead with two outs in the seventh inning. David Robertson shut the door in the ninth–after two rough outings following his trade to Miami–and the Marlins got a huge win. Soler's homer was perhaps the biggest of the Marlins' season.
It did not even hold up as such for 24 hours. Enter Josh Bell, one of the Marlins trade deadline acquisitions, brought in to provide much-needed pop to the Marlins lineup. He would do just that Wednesday afternoon.
With the Marlins down 4-1 in the 8th and again showing no signs of life on offense, Bell rung throughout Cincinnati with a two-out three-run blast to tie it up. It was Bell's second of the game and showed exactly why he was brought in for the playoff push.
That would only last as the biggest home run of the Marlins season for an inning! That is because in the ninth, Bryan De La Cruz stepped up and took the first pitch of the inning out to right to give the Marlins the lead. Robertson would again shut the door, and the Marlins picked up a series win of which the magnitude cannot be overstated.
Despite the two massive victories, Miami is floundering and heading for a brutal stretch. Their next four series will likely make or break their season. They have three-game series at home with the Yankees and Astros then on the road with the Dodgers and Padres. Go .500 in that stretch, you got a chance. Lose eight-of-twelve and there goes your season.
The good news though, is the Marlins still have a chance in the first place. They showed massive resiliency in these past two games, coming from behind in both to pick up huge wins. These are the type of wins we have not seen from the Marlins in the past, and make fans feel this year's club may truly be different.
Fans were all ready to write this season off, but the Marlins have given themselves a lifeline. Now they will need a lot to go right to take advantage and get themselves into the Postseason.
Keep Ringing The Bell
I think it is fair to say that Kim Ng is really good at her job. There have been some misses in free agency, but some are not her fault. Other than that, Ng has done a really good job at getting the most with what she has.
Turning Jean Segura and Kahlil Watson into Josh Bell is just another example of this. Segura had a brutal season, and it was time for him to move on. Kahlil Watson has not only struggled on the field, but has some off-the-field issues with the Marlins that warranted a move from the organization.
Bell's numbers in Cleveland were not pretty, but his underlying metrics suggested a positive regression to the mean was coming. In eight games with Miami, that positive regression has been huge. He is slashing .323/.400/.667 with three homers, two doubles and seven RBI.
In his first game with the Marlins he went 4-for-5 with a homer and a game-tying RBI in extras. In short, he has been as big for Miami as he is a human being.
The Marlins will absolutely need Bell to keep producing and especially in big spots if they are to get into October. They needed a bopper like him so desperately, and somebody besides Luis Arráez that can drive the lineup by himself. The Marlins have been far too reliant on Arráez this year and it has showed in the (few and short) times he has struggled.
Bell has a $16.5M player option for 2024 that will likely be picked up, and he could become a piece of the Marlins core if he keeps this up. Getting all that for Jean Segura and Kahlil Watson? My hat is off to you, Kim Ng.
Starting Pitching Resurgence
The Marlins HAVE to get better starting pitching down the stretch. After they sent down Eury Pérez to slow down his arm, the Marlins struggled mightily in the rotation. It seemed like Sandy Alcantara was the only guy who could consistently give them six-plus innings, and his struggles at times this year have been well documented.
Luckily, Sandy has turned it around recently. Before a rough go against Texas last time out, Sandy threw 18 innings and allowed just one run in two starts.
Everybody else has been really underwhelming.
Miami had to send down Edward Cabrera because of control problems. Braxton Garrett has had a few rough goes at it. Jesús Luzardo has been up-and-down and while Johnny Cueto has not been terrible, he has really struggled to keep the ball in the yard. The Marlins actually just won their first Cueto start of the season Wednesday.
The Marlins are built on starting pitching and to see it be a cause of their struggles has been disheartening. Miami is not going to win with offense very often, so they need to limit teams every night to really get hot. Eury is back now and though his first outing was rough that will be a huge boost.
I was really surprised the Marlins did not go out and get a starting pitcher at the deadline. I understand it was hard with limited assets in this market, but they really could have used one. They not only need more effective starters, they need arms to take up innings. They have put way too much stress on the bullpen and it has shown in the struggles of AJ Puk.
The rotation has to get right. If Sandy is going to be back in Cy Young form it will be huge, but they will need more than that. One of Pérez, Luzardo, Garrett, or hell even Cueto are going to have to step up. If they can deliver them to the postseason, a top three of Sandy, Eury and Luzardo could be as dangerous as any come October.
Jazz Stay Healthy
Jazz Chisholm Jr. is a very good baseball player. It is safe to say that at this point. He has been a really pleasant surprise in center this year, and his offensive numbers when he is on the field are really solid.
The problem is he has been unavailable far too often for the Marlins. Jazz has played in just 53 games this year after playing in just 60 in 2022. Durability is the only question Jazz has left to answer as a Major League Baseball player.
The good news for this year is Miami only needs him to stay healthy for about 50 more games. If he can do that, he could provide a massive lift to the Marlins offense. It is so clear when Jazz is out there how much better they are with him than without him. Sorry, David Samson.
It is not only that he has a chance to go 20-20 in less than 100 games, there are intangible boosts he brings everyday. The Marlins play with more energy when he is the lineup. His speed, flare and passion are a boost in the field, on the bases and at the plate. But again, this is all when he is actually out there.
Jazz has all the makings of a special player, but he has one hurdle left to clear. If he can stay healthy for the home stretch, then give the Marlins a full season in 2024, he could help take the offense to new heights.
For now, the focus is on August, September and hopefully October. With Jazz and Bell in the middle of the lineup everyday, this lineup looks so much better. Do I even need to say what the stipulation is?
Finishing Strong
I liked what the Marlins did at the deadline. I did not have super strong feelings about it, but I think they made winning moves to improve the team. They also made themselves better in the future, which considering their position was great foresight.
The most win-now move they made was David Robertson, and they did it to sure up the back end of the pen. That looked to be going south right away as he allowed two-run homers and the lead in two of his first three outings. However, Robertson has since turned it around with two lock-down efforts in those wins against Cincinnati.
The pen was a strength for the Marlins early in the year. In fact, it is probably the main reason they still even have a shot at the playoffs in the first place. They would not be here without the early-season heroics of A.J. Puk and Tanner Scott. But Puk has struggled mightily since, Scott has shown the inability to close and everything else has been rough.
Robertson makes everybody in the pen better, because it moves everybody up a spot. He is also legitimately one of the best closers in the game.
The Marlins desperately need that because they play way too many close games. The reason they have blown so many games is because of how many close games they play to begin with. The more opportunities to blow games you have, the more games you are going to blow.
Games are only going to get tighter and more intense as we go down the stretch. The Marlins will need their bullpen to return to early-season form and get back to locking games down. 26-10 in one-run games is not only about luck, it is about having relievers that are good in tight spots.
If David Robertson can be the guy to deliver wins night-after-night for the Marlins they will have a really good shot at it.
A Mess Around Them
The Marlins have struggled mightily in the second half but have managed to stay alive in part because teams around them are also struggling. The Reds have fallen off, the Diamondbacks are floundering, the Phillies and Giants have yet to truly pull away. If it were not for the struggles of these teams, the Marlins may not have a chance at all.
Luckily, they do! However, they cannot keep relying on these teams to continue losing. The Cubs are on fire. The Padres are lurking and a team everybody in the National League should fear. Yes, those teams losing certainly helps, but the Marlins have to start taking care of business.
These next four series are huge. They have to show they can compete with elite teams like the Astros and Dodgers. Fans should want to see them beat up on the Yankees, who have their own problems. You would also love to see them win a series against the surging Padres and put that fire out.
I feel like any time I write about the Marlins it always comes with the stipulation that a lot has to go right. In the future, you would like to see them widen their margin for error by improving their roster. But they cannot do that now. The deadline is gone and the Marlins made the moves to set them up for a run. A lot needs to go right, but if it all comes together it could be beautiful. The only reason we are even still talking about it, is because they may have just saved their season in Cincinnati.