Analysis
The Marlins Acquire Jake Burger for Top Prospect Jake Eder
The Miami Marlins finally add a big bat into the middle of their lineup, but give up a highly-touted pitching prospect to land Jake Burger.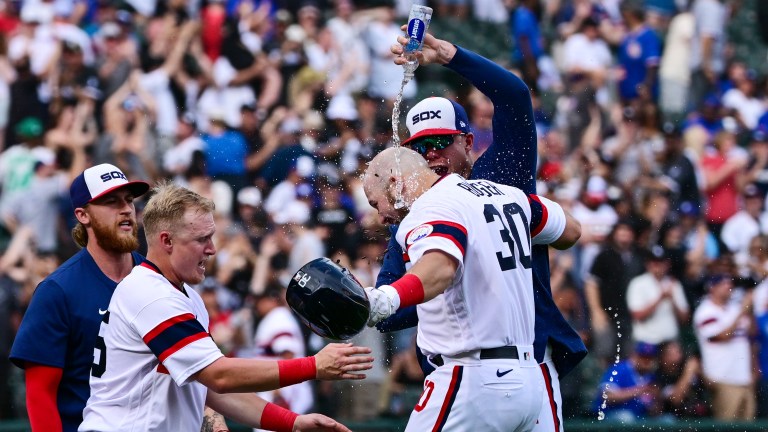 With a slow deadline thus far and minimal traction for hitters around the league, the Marlins went out and acquired third baseman Jake Burger in exchange for pitching prospect Jake Eder. Burger has broken onto the scene as a powerful bat in the White Sox lineup this year and has been one of the only steady pieces for Chicago.
Burger is slashing .214/.279/.527 with 25 home runs this season for the White Sox. A power-above-everything bat, Bugrer has been one of the best pure power hitters in the American League but comes with poor on-base skills and a lack of a defined position. He's been one of the most clutch members of the White Sox this year, coming up with many key home runs.
Burger is an incredible story as someone who has fought through two Achilles tears on his way to the Majors and has taken his game to the next level this season with the White Sox. He's quickly become a fan favorite in Chicago with his heroic home runs and fun attitude. From the Marlins' perspective, Burger becomes a key power bat in a lineup that clearly needed upgrading in order to compete with the other teams contending for the NL Wild Card.
The concern with Burger is his contact skills as he's currently in the bottom 10th percentile of baseball in strikeout rate, whiff rate, and chase rate this season. However, with a hard-hit rate over 50% and a ridiculous 19.6% barrel rate, the Marlins will be banking on his power output to offset the swing-and-miss concern.
Burger will have the chance to play third on a regular basis for the Marlins as opposed to the White Sox who still have Yoan Moncada starting there regularly. The Marlins will hope he can maintain his power production, while the White Sox cash in at the peak of his value this season.
The White Sox were able to attain a prospect that is certainly going to be in Top 100 lists across the baseball industry when more updates come out soon. Eder is a left-handed starter, which the White Sox needed, and has the upside of a true middle-of-the-rotation piece for the future. Eder broke onto the scene in 2021 with a terrific showing at Double-A before undergoing Tommy John Surgery and missing all of the 2022 season.
It's taken him some time to settle in this season but he's starting to turn the corner recently. In his 24 minor league games, mostly in Double-A, between 2021 and this season Eder has a 2.60 ERA with 147 strikeouts across 110.2 innings pitched. He's able to get a lot of whiffs with his fastball and slider and has continued to settle in as he pitches more this season.
Eder will instantly become one of the top arms in the White Sox system and will have the ability to debut in 2024 with increased time to develop coming off of surgery this season. Eder is a high-upside piece that figures to remain in Double-A with the White Sox for the rest of this season as he works on getting back to his top-level ability.
While Burger has been great this season, the White Sox seem to have gotten excellent value for a player who is best suited as a designated hitter with the minimal defensive ability and legitimate concern around his approach.
The White Sox continue to trade from their roster in an effort to retool and build up a generally lackluster farm system that looks greatly improved with the various moves made this week. Cashing in on Burger at the peak of his value is the right decision for the future even though he has become quite a fan favorite in Chicago.
Meanwhile, the Marlins will attempt to push for a Wild Card spot with Burger in the fold with an offense that isn't quite at the level of some of the other contenders in the National League right now. Whether Burger will be enough for the Marlins remains to be seen and they paid a high price in order to bring him to Miami.