Analysis
Seattle Mariners Have Fought Back Into Contention
Seattle's offense is finally heating up, and it's clear this Mariners team isn't going down without a fight.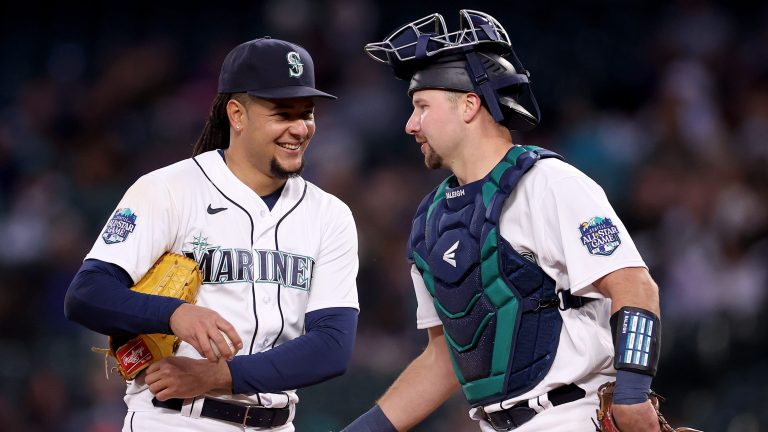 For the second year in a row, the Mariners are fresh out of the All-Star break and leaning into their momentum.
No, they haven't won 14 in a row the way they did a calendar year prior (as part of taking 22 of 25 games). But after emerging victorious in seven of their final nine contests before the break, capped off by stealing three of four from the Astros in Houston for the first time since 2018, Seattle found themselves a game above .500 and four games out of the final AL Wild Card spot.
The team averaged over five runs per game during that stretch, including a total of 20 runs in their four contests at Minute Maid Park. They allowed less than two and a half runs per game in that time span, allowing just six runs to cross the plate in the quartet of games in Houston.
After a victory on Sunday against the Detroit Tigers, the M's now sit 46-46, five games back of Houston for the third Wild Card berth.
They are, and have managed to be, a top-five team in both their rotation and bullpen – by fWAR, ERA, FIP and xFIP – throughout most of the season. They were rewarded by two starters receiving invitations to the Midsummer Classic, Luis Castillo and George Kirby, and a handful of their bullpen arms also had viable cases. If not for their pitching, the club would likely be well out of contention by now.
But what has ignited their recent turnaround is that the offense has finally started to heat up.
They have found their answer at DH. The Mariners had the worst production out of the designated hitter spot through the first two months of the season. Fast forward to today, and Mike Ford has been on a surge in his 33 games up in the big leagues this season. Ford is slashing .276/.326/.632/.959 with nine home runs and a 163 wRC+. It is by far his best stretch since 2019, when he was with the Yankees.
Tom Murphy has also found his power stroke in a limited sample size, smashing four home runs and putting up a gargantuan 213 wRC+ since the start of June, giving the Mariners yet another weapon in the armory that has aided the beginning of an offensive turnaround.
Since June 1, Teoscar Hernández (132 wRC+), J.P. Crawford (132 wRC+) and Eugenio Suarez (111 wRC+) have come back to life as well. The pieces are beginning to fall into place, with the hope that at some point in the second half, Julio Rodríguez finds his regular form at the plate as well.
So, where does that leave the Mariners?
They have a young core, a roster that is built to win and a menacing pitching staff. By all accounts, they should be buyers at the trade deadline.
Jerry Dipoto rarely acquires rental players, opting to trade for controllable pieces that can help the club beyond the current season. Who that could be will become much clearer in the next couple of weeks before the deadline. But with the way the team is trending right now, thanks to muscling their way to a strong first-half conclusion, they are very much still in playoff contention.