Analysis
The Mariners Have Formed An Elite Bullpen With New Faces
For the third consecutive year, the Seattle Mariners have created one of the best bullpens in baseball, but with a different group of arms.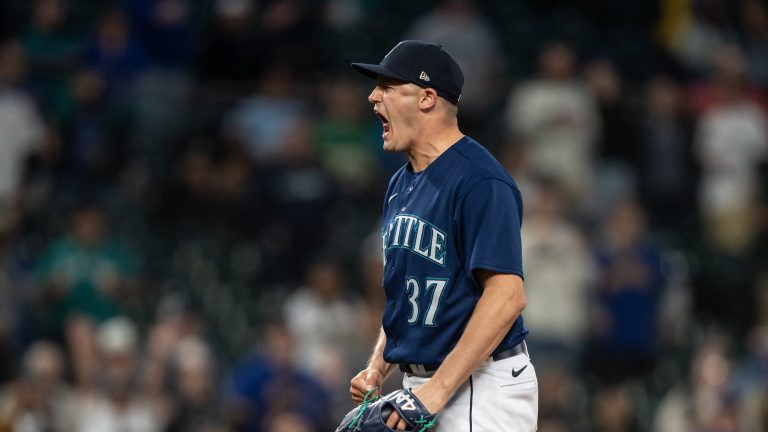 Bullpens are fickle. You hear that line time and time again in today's game when on the topic of big-league bullpens and individual relievers.
And it's true. To be a dominant or even consistent reliever year over year in the majors leagues is incredibly rare. To have a group of relievers that turns over every season to form an overpowering bullpen is now unheard of. The days of the Royals three-headed monster from 2014-2016 are behind us.
But now for the third year in a row the Mariners have assembled a lights out bullpen. They rank first in FIP (2.96), second in fWAR (3.0) and fourth in ERA (3.19).
Here's the catch: for the most part it has been a different group each of the three seasons. Jerry Dipoto has mastered the craft of finding hidden value in underrated relievers, bringing them in and turning them into stalwarts.
The group in 2021 was headlined by Casey Sadler (42 Appearances, 0.67 ERA, 2.41 xERA, 2.48 FIP, 1.1 fWAR), Paul Sewald (62 Appearances, 3.06 ERA, 2.85 xERA, 2.08 FIP, 14.47 K/9, 1.4 fWAR) and Drew Steckenrider (62 Appearances, 2.00 ERA, 3.35 xERA, 3.35 FIP, 1.3 fWAR).
In 2022 Sewald held over, though Sadler missed the season with a shoulder injury and Steceknrider didn't stick long term. But the depth lengthened when Andres Munoz (64 Appearances, 2.49 ERA, 1.84 xERA, 2.04 FIP, 1.9 fWAR) and Matt Brash (34 Relief Appearances, 2.35 ERA as a reliever) exploded onto the scene, along with a few other contributing pieces.
In 2023, it is basically a whole new flurry of arms aside from Sewald and Brash. To be frank, this group looks like the most ferocious one yet. And that's with Munoz, very arguably a top five reliever in the game, having only tossed 3.1 innings on the season due to a shoulder injury that has kept him sidelined since early April.
Let's take a look at this year's stable.
Trevor Gott
Acquired: Signed a one-year, $1.2 Million deal this past off-season
2023 Stats: 25 Appearances, 1.90 ERA, 2.57 xERA, 1.81 FIP, 0.9 fWAR
Gott has thrived on limiting hard contact this season. He ranks in the 94th percentile in all of baseball in Barrel% and the 93rd percentile in xERA (per Baseball Savant).
Gott has mixed in five different offerings out of relief this year, but more often than not he will opt to go to his cutter, sinker and four-seam fastball. His cutter has been his deadliest pitch for the majority of his career, and that remains true in 2023. Opponents are hitting just .175 against it, good for a -3 Run Value.
Justin Topa
Acquired: Traded to the Mariners from the Milwaukee Brewers in exchange for Minor League RHP Joseph Hernandez this past off-season
2023 Stats: 22 Appearances, 2.66 ERA, 2.98 xERA, 2.99 FIP, 0.4 fWAR
Topa's story is such a unique one. His big league career was essentially saved with the help of Rob Friedman (otherwise known as Pitching Ninja) in 2019. Friedman posted some videos of Topa in some live at-bats that were seen by some scouting departments. The Brewers took a chance and signed him.
Fast forward to his time with the Mariners and he has been one of the team's go-to high leverage relievers. Topa also induces a healthy dose of soft contact. He is an earthworm when it comes to keeping the ball on the ground, running out a 60% ground ball rate for the year.
His sinker and slider have both been impactful pitches with Run Values of -3 and -2, respectively.
Gabe Speier
Acquired: Claimed off waivers by the Mariners from the Kansas City Royals this past off-season
2023 Stats: 24 Appearances, 2.95 ERA, 2.55 xERA, 2.03 FIP, 0.5 fWAR
The Mariners did not have a southpaw in their bullpen for the majority of 2022. On Opening Day of 2023 they didn't either. That was until Speier was called up from Triple-A Tacoma within the first week.
Call Speier "The Chase Rate King". Because he is.
He ranks in the 100th percentile of baseball in Chase Rate. A deceptive lefty who throws a ton of strikes (98th percentile in BB%), Speier also uses a healthy sinker/slider combo to sit down opposing hitters. He mixes in a four-seam fastball and a very occasional changeup as well.
Matt Brash
Acquired: Player To Be Named Later from the San Diego Padres to the Mariners in exchange for reliever Taylor Williams in August of 2020
2023 Stats: 26 Appearances, 4.64 ERA, 3.35 xERA, 1.88 FIP, 0.8 fWAR
Don't let Brash's ERA deceive you. He has been ridiculously unlucky in the early going and still profiles as an upper echelon reliever. Brash has the highest BABIP of any reliever in baseball by far at .532. The next closest is former Mariner Rafael Montero at .439 who, funny enough, was incredibly unlucky in the BABIP category in Seattle as well.
Brash is flexing an absurd 17.3 K/9 with his high-90's fastball and absolute whiffle ball slider. Sure, his command can always improve a little bit (although he is not built to be a true command guy). But between the strikeout rate and all of his underlying numbers, there's not too much to worry about. He is going to bounce back to his usual form in no time.
Paul Sewald
Acquired: Signed by the Mariners to a Minor League Deal in January of 2021
2023 Stats: 23 Appearances, 3.18 ERA, 1.67 xERA, 2.44 FIP, 0.7 fWAR
To do what Sewald has done in three consecutive seasons is remarkable. You don't find many relievers who can stay consistently effective for a prolonged period of time like that. But he has while twirling high fastballs and a much heavier dose of sweepers than he ever threw with the Mets, which has led to a 34.5% Strikeout Rate thus far.
Opponents are hitting under .200 against both of Sewald's pitches with his four-seamer holding a -3 Run Value. His fastball only sits at 91-92 MPH, but it's the high spin rates that make it so tough to put a barrel on (sits just shy of 2,500 RPM's on average).
And his Baseball Savant page is bright red (in other words, it is very good). He ranks in the 95th percentile or above in K%, xBA, xSLG and xERA (in which he ranks in the 99th percentile).
Tayler Saucedo
Acquired: Claimed off waivers by the Mariners from the New York Mets this past off-season
2023 Stats: 10 Appearances, 0.90 ERA, 2.51 xERA, 1.39 FIP, 0.2 fWAR
Saucedo had a solid year in 2021 with the Blue Jays but threw just 2.2 innings last season due to being sidelined with a hip injury. He has had a resurgent year in 2023. A small sample size, yes, as he has not been utilized as much as some of the other arms. But when called upon he has been lights out.
Until Friday night against the Pirates, Saucedo had not given up a run. His sinker has been his best friend on the young season, with opponents putting up both a batting average and slugging percentage of a measly .071 against the pitch.
Andres Munoz (Currently on the 15-Day IL)
Acquired: Traded to the Mariners from the San Diego Padres along with Ty France, Taylor Trammell and Luis Torrens in exchange for catcher Austin Nola, reliever Dan Altavilla and reliever Austin Adams in August of 2020
2023 Stats: 4 Appearances, 0.00 ERA, 3.33 xERA, 2.38 FIP, 0.1 fWAR
Make no mistake about it, while the bullpen group has been excellent so far, they are only about to elevate upon the return of Munoz.
Munoz has one of the best sliders of any reliever in baseball. But due to it not being the top slider in his own bullpen, it just gets slightly overshadowed by Brash. Munoz muscled up a -20 Run Value on his slider last season. Opponents posted a .126 batting average against it and slugged just .176.
And when he opts to get away from his primary pitch? All he does is counter with a heater that has an average velocity of over 100 MPH and tops out at 104. Talk about a formula for punching tickets. 
Penn Murfee (Currently on the 15-Day IL)
Acquired: Selected by the Mariners in the 33rd Round of the 2018 MLB Draft
2023 Stats: 15 Appearances, 1.38 ERA, 3.09 xERA, 4.28 FIP, 0.0 fWAR
Murfee is cut from the same cloth as Sewald. He won't blow any fastballs by hitters with purely velocity (averaging 89 MPH this year). He does so with his lethal sweeper and placement of high heaters with solid spin.
After Murfee held opponents to a .125 average against the sweeper a season ago, it has now dropped to an .040 average and .040 slugging percentage in 2023. The xSLG on the pitch is still only .172.
When Murfee gets off the IL, he is yet another fine asset in the Seattle bullpen.
Arriving Soon: Prelander Berroa
Acquired: Traded to the Mariners from the San Francisco Giants in exchange for INF/OF Donovan Walton
2023 Bullpen Stats (Minor Leagues): 5 Appearances, 7.1 IP, 1 Hits, 0 ER, 5 BB, 12 K's
Have you read through this so far and thought "what a ridiculous armory of arms?" Well, it may not even have its bazooka yet.
Berroa, who was just converted from a starter to a reliever in the last couple weeks, is on a fast track to the show. And he will be with the team in the very near future, with the exact date still unknown.
Compared similarly to when Seattle moved Edwin Diaz from a starter into a reliever's role in 2016 (in which he spent just a few weeks pitching out of the bullpen in Double-A before getting the call-up), Berroa has the stuff and ability to miss bats that is comparable to Diaz from when he debuted.
An upper 90's fastball and a wipeout slider have given Double-A hitters fits out of relief this year, even in such a limited number of innings. Corralling big league command will be the key (in similar fashion to Brash), but if he executes that facet of his game, he has the potential to be incredibly valuable at the back end.
Final Thoughts
The craziest part is even behind all of these guys, there is still more depth. Matt Festa, a key piece of last year's bullpen group, was sent to Tacoma after displaying some rocky command throughout his first few outings. Festa now holds an ERA of 0.47 in 16 outings with the Rainiers.
And Diego Castillo, who was a staple for the Mariners in each of the last two seasons, holds a 1.08 ERA in eight appearances with Tacoma after his demotion in late April. Juan Then has also thrown a handful of innings in the big leagues for the Mariners with his sinker/slider duo.
What Dipoto and company have done is flat out ridiculous. And it is at the point where if Seattle acquires a relief pitcher, you assume they are going to work out until they prove that they don't.