Feature
The All-Time MLB Postseason Team
Looking back at MLB history, there are players who shined more when the lights were brightest. Here are a few that stand out above the rest.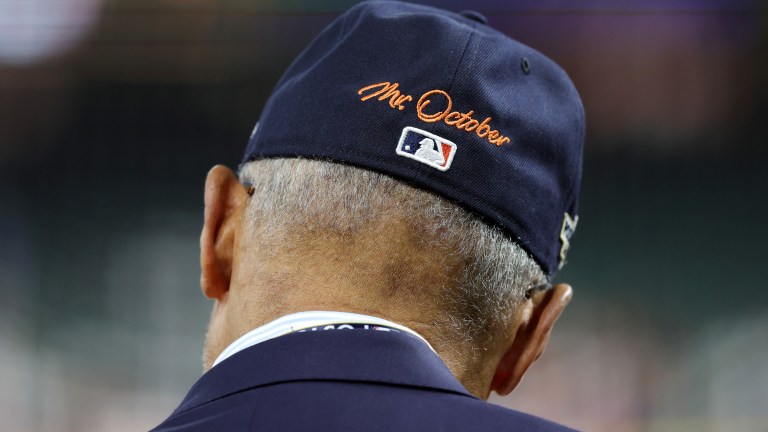 The idea that players rise to the occasion in the playoffs or World Series is exaggerated. They are immune to the moment. And as you'll see by this rundown of October's greatest performers, they are comprised of players who did pretty well in every other month.
This team of postseason standouts consists of a starting lineup along with a relief pitcher and closer. In certain instances, players who just missed but warrant honorable mention are highlighted.
C: Yogi Berra
Tom Brady has nothing on Yogi. The Hall of Fame player and quote maker was in a record 14 World Series and won 10 rings. He had plenty to do with getting them. A part of the pre-playoff era, Yogi was a Fall Classic regular thanks to the Yankees dynasty from the late 1940s through the early 1960s. He still holds World Series records for games played (75), at bats (259), hits (71), and doubles (10).
Signature performance: For all his greatness at the plate, Yogi's most memorable October appearance came when he ended up in the arms of Don Larsen after calling his perfect game in Game 5 of the 1956 World Series.
1B: Albert Pujols
It's extremely hard to not take Lou Gehrig. He was a major contributor to six titles thanks to a .361/.483/.731 in 34 World Series games. But Pujols' stat line over a greater sample size takes precedence. With the Cardinals, he homered 19 times and drove in 54 over 77 postseason contests and walked more times (49) than he struck out (40).
Signature performance: The easy call is his three-homer night against the Rangers in the 2011 World Series. But a special nod to his season-saving moonshot in Houston against Brad Lidge. It's probably still going.
2B: Roberto Alomar
Alomar went to the playoffs with three different franchises and won back-to-back rings in Toronto. He was a big reason the Jays made their first World Series with an MVP performance in the '92 ALCS and hit a ridiculous .480 in the six-game win over Philadelphia in '93. In 77 postseason games, he had a .381 OBP, 17 doubles, 33 RBI, and 20 steals, all while his stellar glove rarely failed him.
Signature performance: Alomar had 11 hits during the 1992 ALCS, none bigger than a game-tying homer off Dennis Eckersley in Game 4 at Oakland Coliseum that helped Toronto take a 3-1 lead in the series.
SS: Derek Jeter
Sure, Jeter was in the right place at the right time. Very few get the chance to play an entire season's worth of games in the playoffs (158 to be exact). But the numbers (and the moments) are hard to argue with. An .838 OPS, 200 hits, 32 doubles, 20 homers. In any season, that would be impressive. In the totality of a postseason career, it goes up ten-fold. Then there are the great defensive plays, "The Flip" best among them.
Signature performance: A walk-off homer in Game 4 of the 2001 World Series to beat Arizona just after the stroke of midnight on November 1.
3B: George Brett
Too often, Brett was the best player on a team good enough to come up just short. The Yankees were in the Royals' way three times. Kansas City broke through in '80, but fell to Philly. It ended in '85, with Brett's stellar performance in the ALCS and Fall Classic. He hit .337/.397/.627 with eight doubles, five triples, 10 homers, 23 RBI, and 30 runs in 43 postseason games.
Signature performance: Three homers at Yankee Stadium in Game 3 of the 1978 ALCS…in a loss.
OF: Lou Brock
With 21 games (three World Series), he has the least amount of postseason experience of the players here. But he hit .391/.424/.655 with a 1.079 OPS, seven doubles, two triples, four home runs, and 13 RBIs. More significantly, he solidified himself as the best stolen base artist of his time, swiping seven apiece in the '67 and '68 World Series.
Signature performance: Brock's speed was detrimental to the Red Sox's hopes in 1967, especially when he stole three bases in the deciding seventh game as the Cards won, 7-2.
OF: Babe Ruth
The easy part was selecting him for this team. The harder part was figuring out his position. Once the record-holder for consecutive scoreless innings pitched in World Series play, Ruth then became the first to hit three homers in a Fall Classic game. He'd do it again (still the only player to do it twice) and in total hit 15 homers to go along with 33 RBIs.
Signature performance: Fact or fiction, his "Called Shot" in Game 3 of the 1932 World Series at Wrigley Field is forever legendary.
OF: Reggie Jackson
You didn't think we'd forget "Mr. October", did you?
Reggie's finest hour is one of the great individual efforts in any game in postseason history, but it overshadows what he did on other occasions—like when he won the first of his two World Series MVP's with a homer in '73 as a member of the Oakland A's. His OPS in the four World Series he played in (and won)? 1.212.
Signature performance: Game 6 of the 1977 World Series at Yankee Stadium. Three home runs on three swings off three different pitchers. Iconic.
DH: Manny Ramirez
Regardless of how his career ended or his legacy, it's hard to leave off the all-time postseason home run leader. Ramirez hit 29 in 111 games — a huge contributor for Cleveland, Boston, and the Los Angeles Dodgers. He tallied 78 RBIs and posted an OPS of .937 as well. It was a tough call between him and David Ortiz, who both share the distinction of helping end the Red Sox curse in 2004. Ortiz has 17 homers and 61 RBIs to his credit.
Signature performance: The Sox' next title run in 2007 got off to a tremendous start when Manny launched a ninth-inning three-run homer off Francisco Rodriguez.
SP: Sandy Koufax
From 1962 through the end of his career in '66 was perhaps the most dominant stretch a pitcher has ever had. And he had the chance to showcase that dominance when it mattered most. In winning two World Series MVPs, Koufax made seven starts. He had a 0.95 ERA, 0.83 WHIP, and 61 strikeouts over 57 innings with four complete games.
Signature performance: It's hard to believe a 13-strikeout day at Yankee Stadium in 1963 isn't it, but that's the case when you throw a two-hit shutout in Game 7 on two days' rest — which is exactly what he did in 1965.
RP: Madison Bumgarner
When you saw what transpired in Game 7 of the 2014 World Series, who better to have coming out of the bullpen? In 102 1/3 postseason innings, "MadBum" has a 2.11 ERA, 0.90 WHIP, and 87 strikeouts. On top of his heroic relief effort to beat the Royals, he's also tossed three shutouts in his 14 starts.
Signature performance: See above. The winner-take-all in Kansas City.
Closer: Mariano Rivera
A product of the time period, the team, and his durability, the five-time champ is seventh (among all pitchers) in career postseason innings (141 to be exact). That's almost as remarkable as what he did in them: 0.70 ERA, 0.76 WHIP, and 110 strikeouts. He converted on 42 of his 47 save chances. His dominance became so commonplace, we remember the games he didn't finish perhaps more so than the many he did.
Signature performance: Overshadowed in the dramatics of Aaron Boone's ALCS-ending walk-off in 2003 was Rivera tossing three shutout innings in Game 7, earning the win and the series MVP.