Analysis
Texas Rangers Offseason Outlook for 2023-2024 Free Agency
A ready-made World Series champion, the Texas Rangers don't have many needs this offseason, but will be making some key moves to stay on top.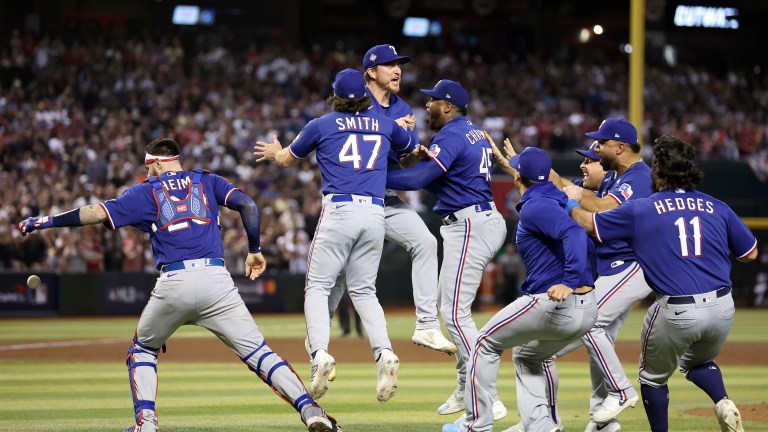 Hey, it's a pretty good time to be a Rangers fan! Texas just won their first World Series in franchise history to cap off an unbelievable season that culminated in a postseason where they took down their rival and the defending champions while dominating every other opponent in their way.
The Rangers will enter 2024 at the top of the league with holes to be filled but primarily the goal of defending their title next season. This team has a core of extremely talented and still fairly young players with a deep farm system that presents reinforcements that will be on the way when needed.
There are no major holes to be fixed on this team, but rather a few key decisions to be made on free agents and how to add pieces to support their championship team. This roster is set in win-now mode for the next five years and likely more, which will tell the story of this winter.
Money honestly will not be a factor for the Rangers after their spending spree the past few seasons and they'll be willing to enter luxury tax if they can help bolster their roster.
The positional breakdown is the easiest way to understand where players could depart and what spots on the depth chart need to be filled by internal options or new additions to the roster.
Infield
Under Contract: Jonah Heim, Nathaniel Lowe, Marcus Semien, Corey Seager, Josh Jung, Ezequiel Duran, Josh H. Smith, Sam Huff
Free Agents: Mitch Garver, Austin Hedges
The middle infield duo of Marcus Semien and Corey Seager proved to the world in the World Series why the Rangers paid them a combined $500 million dollars. They were exceptional and will continue to lead this offense for the duration of the decade.
It doesn't stop there with the infield talent as Josh Jung took a huge step forward in his rookie season and is a potential extension candidate as he's locked into the third base job in Texas. Nathaniel Lowe didn't make a huge impact in the playoffs but he has remained a constant presence at first base and has three more years of control via arbitration.
To round out that group behind the plate is Jonah Heim who ascended to being one of the top catchers in baseball this season. That group of five is excellent and the only decisions to be made are in regard to the back-up catcher position and a potential utility infielder off the bench.
Mitch Garver is the only everyday offensive player on the roster headed for free agency and he's the best hitting catcher on the market even though he's not going to be an everyday catcher for essentially any team looking to sign him.
The Rangers could spend big and bring him back for his role as the regular designated hitter and backup catcher. This allowed him to shine in 2023 and it could be in the best interest of both sides to stick together.
If the Rangers become priced out due to the demand for Garver's bat, they could turn to fellow free agent Austin Hedges as a defensive-minded backup catcher. He was acquired at the deadline when Heim was dealing with an injury and clearly became an emotional leader in the clubhouse.
If Texas has full confidence in their talented offense without Garver, a reunion with Hedges may make sense.
Sam Huff has exciting upside at the plate that could be tapped into but his defense behind the dish has been subpar and it doesn't seem like the defending champions would like to have him as the secondary catcher on the roster behind Heim. It feels like bringing back either Garver or Hedges makes the most sense, but an external veteran backup could fit as well.
Ezequiel Duran and Josh Smith are both depth options and Duran seems like a safe bet to make the roster in a utility role similar to that of last season. Adding another infielder who can play all over would be logical as well and there are plenty of veteran options available on the market. The Rangers are in an excellent position with their five starters in the infield locked in for next year.
Outfield
Under Contract: Evan Carter, Leody Tavares, Adolis Garcia, Ezequiel Duran
Free Agents: Robbie Grossman, Travis Jankowski
The Rangers utilized a platoon system with much of their outfield this past season, especially in left field. That is no longer going to be a problem since 21-year-old rookie Evan Carter established himself as a key member of this core. Furthermore, Leody Tavares took a step forward this season in center field and the Rangers lucked out with superstar prospect Wyatt Langford falling to them with the 4th overall pick in the 2023 draft.
Then there's Adolis Garcia who is coming off one of the best postseasons we have ever seen from a hitter despite him missing the second half of the World Series with an oblique injury.
This outfield is in as good of a position as any in the league with Langford likely to make his way to the league sometime in 2024. Both Robbie Grossman and Travis Jankowski are set to be free agents, but the Rangers are going to be perfectly fine with or without the two of them.
The only addition that needs to be made is a potential platoon hitter to help ease the pressure on Carter against left-handed pitchers and can also back up Tavares on occasion. This role is frankly perfect for Grossman which could lead to a possibly short-term reunion with the veteran switch hitter.
There are additional options out there in free agency and Duran could also fill the role of right-handed hitter to match up against left-handed pitching. Once Langford, Just Baseball's fourth-ranked prospect in baseball, makes his much-anticipated debut Tavares will become possibly the best fourth outfielder in baseball.
One free agent addition is likely needed whether it be a reunion with Grossman or an external option like Tommy Pham or Adam Duvall. This player would also factor into the designated hitter mix depending on whether or not Garver is brought back. No matter what move is made, this is another positional group where the Rangers are in a great position. Having Garcia, Carter, Tavares, and Langford in the mix for the future is about as much as a team can dream of rostering.
Starting Pitching
Under Contract: Nathan Eovaldi, Max Scherzer, Jon Gray, Dane Dunning, Andrew Heaney, Jacob deGrom*
Free Agents: Jordan Montgomery, Martin Perez, Jake Odorizzi
The Rangers could lose one of their postseason aces in free agency while not expecting a return from Jacob deGrom until late season at the earliest and they're somehow still in a good spot.
Jordan Montgomery's free agency is the biggest question mark to watch this offseason in Texas as at least half the teams in the league will be seeking the services of the dependable veteran starter. He was a huge part of the Rangers' run to a World Series title this year after being acquired at the deadline to stabilize an injury-riddled rotation.
Texas would love to keep Montgomery but there's a high likelihood that another team pays way over market value to bring in one of the top pitchers available this winter. Another factor for the Rangers to consider is that they already have five clear rotation options, not including deGrom, who will hopefully return late in the year.
Nathan Eovaldi will remain atop the rotation in 2024 and has a player option for 2025 which would be declined as of today but it's hard to know where this season will take him. Max Scherzer has one more year under contract as well, with nearly half of his money being paid by the Mets next year.
Beyond that duo, Jon Gray is signed for two more years at a fairly affordable rate. Andrew Heaney accepted his player option for $13 million to remain with the Rangers and Dane Dunning still has three more years of club control.
That five-man rotation would be more than formidable but this is the defending champions we're talking about here. It still feels like the Rangers will push to re-sign Montgomery with the ability to shift either Heaney or Dunning into a swingman role next season.
They could also consider a lesser free agent if they don't want to invest big money into a starter but want another option on the roster.
A possible reunion with Martin Perez could make sense if Montgomery departs as he's another pitcher with the ability to come out of the bullpen as he did in the postseason this year. Texas will fill a hole if needed come the deadline next season, exactly like they did this year, but I expect one more starter whether it be Montgomery, Perez, or an external option to be added.
Bullpen
Under Contract: Jose Leclerc, Josh Sborz, Cody Bradford, Brock Burke, Brett Martin, Jonathan Hernandez, Matt Bush
Entering the playoffs, the bullpen was supposed to be the biggest weakness in Texas.
They relied heavily on two key pitchers and they led the way in the late innings for the duration of the postseason. The Rangers, in a rather obvious decision, picked up Jose Leclerc's team option for a little $6.25 million which will keep him in a high-leverage role for 2024 before he hits free agency next winter.
The breakout reliever in October was Josh Sborz who delivered countless times for Texas and is under team control for three more seasons. That duo will remain intact for next year but Texas will need to fill out a deeper bullpen behind them.
Cody Bradford is coming off an effective rookie campaign where he also played a role in several postseason games. Brock Burke didn't have the best season in 2023 but was great in 2022 and should remain in at least a lower-leverage bullpen role.
Beyond those four pitchers, Texas has a handful of options that could crack the roster but none seem like a guarantee right now. Aroldis Chapman, Will Smith, and Chris Stratton are all veteran pitchers headed for free agency but Texas could look to bring any of them back on short-term deals.
There are plenty of relievers on the market this year and it would make sense for Texas to spend a little on a key arm or two given the very strong status of the rest of the roster. A big-time left-handed arm could replace Chapman in late-inning situations if he signs elsewhere. Maybe the Rangers even take a shot at Josh Hader, but he could be out of their intended price range.
Texas will likely add at least two pitchers to the bullpen mix and this will be another spot where they will probably add at the deadline like most contenders do every summer.
Outlook
The championship window is wide open and Texas is looking for more than just one World Series with this core. They may experience the classic "World Series Hangover" early in the season, but their combination of young talent with extensive resources should position them to make a run again in 2024.
A few pitchers need to be added or retained this offseason, but this roster is ready to compete for many years to come. The Texas Rangers are a juggernaut, folks.