Feature
Still Sticky After All These Years: The 40th Anniversary of 'The Pine Tar Game'
Forty years ago, a game between the Royals and Yankees ended in the most unique fashion, over the amount of pine tar on George Brett's bat.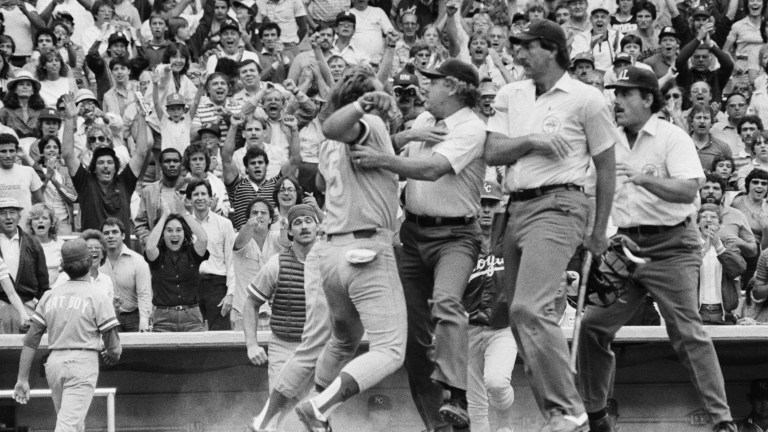 Two lessons were learned after the events of July 24, 1983 at Yankee Stadium. First, there are rules in baseball that have no impact on the outcome. Second, don't make George Brett mad.
Baseball has its share of images that are iconic, emotional, and surreal.
Brett storming out of the dugout when his go-ahead home run was disallowed is all of those.
The Yankees were preserving a one-run advantage with two outs in the ninth on a Sunday afternoon when the perennial All-Star — a thorn in the Yankees' side during many playoff battles — stepped up to face fellow future Hall of Famer Goose Gossage. One of the best hitters in the game going up against the most intimidating closer in the game. The lefty swinger prevailed, sending a fastball into the right-field stands.
As Brett rounded the bases, New York manager Billy Martin walked out of the dugout and straight to home plate umpire Tim McClelland. Never one to let a rule pass him by, Martin contended that the pine tar on Brett's bat was higher than the 18 inches major-league law allows per Rule 1.10 (b).
Without measuring tape, McClelland measured the bat against the 17-inch width of home plate. It was determined the pine tar was too high. With his left hand, McClelland held the now-tainted bat and pointed it at Brett in the dugout. With his right hand, he closed his fist to call Brett out — nullifying the home run and ending the game.
Then all hell broke loose.
Brett didn't just come out to argue. He exploded with the force of a rocket launcher — arms flailing and eyes bulging. His jersey might have been powder blue but his face was red. Umpires, Kansas City manager Dick Howser, and teammates hastily restrained Brett from getting to McClelland and…who knows what. Luckily we didn't find out. The call stood and New York won — at least for the moment.
The Royals immediately protested. Less than a week later, American League president Lee MacPhail agreed. He overruled the decision and restored Brett's homer. That meant the rest of the game still needed to be played. On August 18, same place but with different umpires, some 1,200 fans gathered to watch the conclusion.
It took all of about five minutes but wasn't without more absurdity. Billy Martin symbolically protested the game by putting Ron Guidry, a pitcher, in center field and Don Mattingly, a left-handed first baseman, at second base.
Even before the first pitch of the resumption came to the Royals' Hal McRae — Martin literally protested, stating Brett didn't touch all the bases on his home run. But umpire Davey Phillips produced an affidavit signed by the July 24th umpires stating Brett did. Martin now had enough and got ejected from the game — at least what was left of it.
There was little drama after that, as Dan Quisenberry closed out a 5-4 Royals win with a 1-2-3 bottom of the ninth.
George Brett won batting titles in three different decades, chased .400 in his MVP season of 1980, tallied more than 3,000 hits, and a 1985 World Series champion. His career is not defined by "The Pine Tar Game," but even decades later, it'll always be a part of any conversation — no matter where he is.
"Pretty much every time I play golf," Brett said, "they want to check my clubs."