State of the Division: NL East
A star-powered division fighting the injury bug.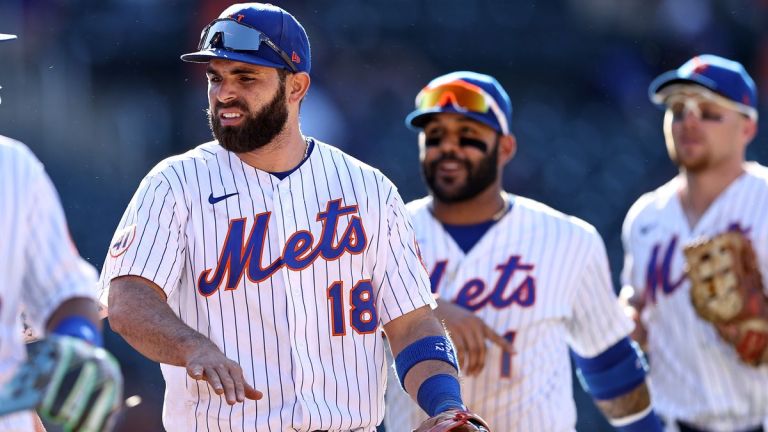 Heading into 2021, many were pointing towards the NL East as possibly the best division in baseball. In true baseball fashion, things have not shaken out the way we expected with the NL East combining for a .470 winning percentage as essentially every team in the division has been snake bitten by injuries.
Things are still going to be contentious down to the last days of September, but for now teams are limping their way to the All-Star Break.
New York Mets – First Place!
The idea of the Mets being in first place was never a far-fetched one. In fact, heading into the season many sports books had the Mets as the favorite to take the division. The big surprise is that the Mets have won ballgames with this lineup. Check it:
Frankly, Monday's lineup is far from the worst we've seen out of Queens this year amid the team's laundry list of injuries. The Mets have had 24 different position players start for them this season, yet they sit comfortably 2.5 games ahead of the Atlanta Braves.
It's a marathon, not a sprint, and the Braves will surely make their push, but the fact that the Mets are holding onto first place without Michael Conforto, Jeff McNeil, Brandon Nimmo, J.D. Davis, Luis Guillorme and of course Noah Syndergaard has to have fans feeling good about the days ahead. Not to mention, star shortstop Francisco Lindor might as well have been on IL the first two months of the season, hitting below the Mendoza line through the first 45 games.
2. Atlanta Braves – 2.5 GB
The defending NL East champs have somewhat been treading water all year at around .500. For the Braves, anything but an NL East title would be a disappointment. Atlanta was one game from the World Series, but not everyone has played to their 2020 level so far this season for the Braves.
A strength has become a weakness as the Braves bullpen has been nothing shy of a disaster outside of Luke Jackson. After posting the 4th best ERA mark for all bullpens in 2020, the Braves now rank 26th in baseball with a 4.76 bullpen ERA. Emphasis on almost returning everybody because the Braves are really feeling the loss of 2020 closer Mark Melancon who is now pacing baseball with 19 saves in San Diego.
Atlanta has also dealt with injuries of their own after emerging stud Huascar Ynoa lost a boxing match with the dugout bench and broke his hand, Mike Soroka suffered a setback in his rehab from a torn Achilles, Travis d'Arnaud out with a bad thumb injury and Marcell Ozuna staring jail time in the face.
The good news is the Braves have the maybe best player on the planet right now in Ronald Acuña Jr, third baseman Austin Riley has broken out this year, Max Fried is back to looking like Max Fried and catching prospect Shea Langliers looks like he is poised for a call-up soon after an incredible start to his season.
Pitching is going to be a major question for the Braves with Ynoa reportedly out until mid-August and no timetable set on Soroka, but expect GM Alex Anthopoulos to do something to answer that question.
3. Philadelphia Phillies – 4 GB
The Phillies are one of those teams that is just impossible to figure out. There is plenty of star power with Bryce Harper, J.T. Realmuto, Zack Wheeler and Aaron Nola, but they also send one of Chase Anderson (7.34 ERA) and Matt Moore (7.36) out there every fifth day to go with an improved but unreliable bullpen.
Despite Harper and Realmuto combining for a .900 OPS as well as Jean Segura and Rhys Hoskins enjoying productive seasons, the Phillies offense has been middle of the back, weighed down by sophomore slumping Alec Bohm, a struggling Didi Gregorious and a razor thin bench.
On the mound, the Zack Wheeler/Aaron Nola duo has the potential to be as good as any, and Zach Eflin has slotted in as a nice third arm. However, Nola has not quite pitched to his standards, and as mentioned earlier, the Phils currently have no answer for the back end of their rotation (I'm talking to you, Spencer Howard!).
The good news is, the underlying metrics point towards better days ahead for the talented Aaron Nola and Alec Bohm is just too damn good to be sporting a sub .600 OPS. If we know one thing about Phillies GM Dave Dombrowski, it's that he is not afraid to make a move, no matter what the cost is prospect wise. The Phillies don't have much minor league talent to trade from, but that won't stop Dombrowski from calling around.
4. Miami Marlins – 6.5 GB
The Marlins have an enviable amount of young talented arms, but that is where the envy ends. On the offensive side of things, let's just say the Marlins leave a bit to be desired.
Tied for 27th in baseball with a .670 OPS, the Marlins have rode the arms of Sandy Alcantara, Pablo Lopez and Trevor Rogers to stay in ballgames. The emergence of Jazz Chisholm has been a much needed boost, but outside of Starling Marte and Jesus Aguilar, production comes at a premium for the meager Marlins offense.
For that reason, the Fish have felt their injuries a bit more than maybe some other teams would. Shortstop Miguel Rojas has been out with a dislocated finger and third baseman Brian Anderson is on the shelf with a dislocated shoulder, leaving the Marlins with lineups that make the Mets starting nine mentioned at the top look like an all-star team.
The good news for the Marlins is that Sixto Sanchez should return at some point this season to bolster the team's already extremely talented rotation, as well as top 100 prospect Edward Cabrera who is working back from an injury of his own.
Miguel Rojas and Brian Anderson should return around the All-Star Break, which will no doubt give a boost to the struggling offense. The Marlins also have outfield prospect Jesus Sanchez posting a 1.088 OPS in AAA, but refuse to call him up for whatever reason.
It's a shame you need to score to win, because this Marlins team can really pitch.
5. Washington Nationals – 7 GB
If your big off-season acquisitions are Kyle Schwarber and Josh Bell, you shouldn't be surprised when you are sitting in last place in June. Yes, the Nationals also added Brad Hand, but you need to be winning to pick up a save.
Max Scherzer, at age 36, has been carrying the rotation, which quite literally does not feature another reliable arm presently as Stephen Strasburg continues to battle injuries, Patrick Corbin has struggled and then Joe Ross and Jon Lester toe the rubber two out of five days.
When Trea Turner is leading your team in home runs, that should be the ultimate red flag when it comes to your offense. Juan Soto is heating up again and will be just fine, but Starlin Castro, Josh Harrison, Victor Robles and the free agent additions of Schwarber and Bell are doing what was expected: not scoring much.
The Nationals were my pick to finish last coming into the season, and unfortunately for D.C. fans, I think it is only going to get worse. There is a good chance Scherzer is sent out of town to spark a rebuild if the losing continues and at that point you may be looking at one of the worst teams in baseball.