News
State of the AL East: Yankees Stay Red-Hot
An updated look at all five teams in the AL East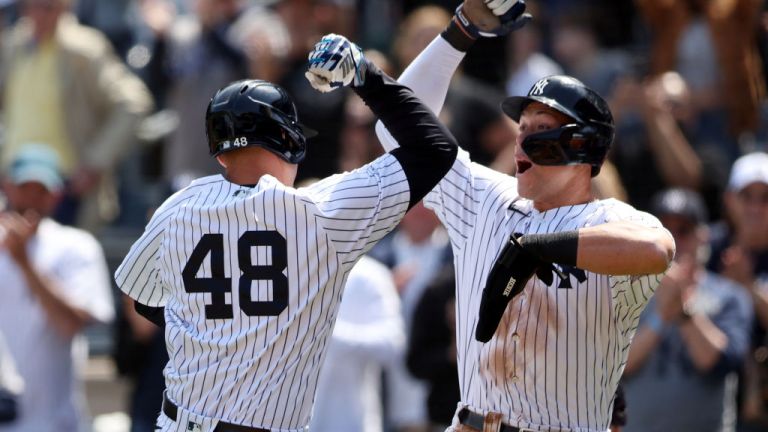 Another week in the AL East has passed, and while not much has changed in the placement of the standings, there's still storylines to discuss.
The New York Yankees are still red hot. Toronto and Tampa dueled for the first time in 2022 this past week. Boston seems to be kicking into gear with four wins over the last seven days. And Baltimore took a series from the Cardinals! Wild stuff.
As we finish the fifth week of play in the AL East, it's been nothing but pure entertainment thus far. This ultra-competitive division will play out like a pure soap opera in 2022, and it hasn't disappointed whatsoever.
Let's wrap up last week's action in the American League East.
1. New York Yankees: 25-9 (6-1 last week)
Baseball's best team through the first month of action continues to thrive. The New York Yankees had another successful seven days.
After completing the series win against Texas on Monday, New York swept Toronto in a two-game-set at home, then travelled to the Windy City for a four-game set. The Yankees took three of four from the White Sox, with their lone loss coming in game three of the series on Saturday.
The Yankees mashed in Chicago, scoring 33 runs during the series, and ten-plus runs in each of the first two games. Despite only racking up two hits yesterday, they were able to bag five runs due to Michael Kopech's inability to throw strikes in the second inning.
Along with a successful road trip, the Bronx Bombers took two earlier in the week from Toronto. Now 7-4 against the Blue Birds this year, I might begin to change my mind about who the best team in the American League is. Stay tuned to find out!
New York begins a four-game-set in Baltimore tonight, then travels back home to face the White Sox once more.
2. Tampa Bay Rays: 21-14 (3-3 last week)
Tampa Bay experienced two of the American League's best teams this past week, facing off against the Angels in LA, then travelling back home to face Toronto. As the Yankees continue to surge, the Rays' struggles this week aren't helping their case to reclaim the top spot in this division.
Not to mention, Tampa was no-hit on Tuesday night, as rookie Reid Detmers threw a two-strikeout hitless ball game in just his 11th career start.
After allowing a combined 23 runs to a potent Angels offense during the first two games, the Rays bounced back and took the series finale. They then travelled back home to face their division rivals in Toronto, and took the first and third games against the Blue Jays.
Tampa's pitching shined against Toronto, surrendering seven runs over the series. A much-improved tally as compared to their series with the Halos.
Now 4.5 games back of the Yankees, Tampa Bay will look for a spark this week to possibly help them catch the division leaders.
The Rays will begin a three-game-set against the Tigers at home tonight, and after an off-day Thursday, will cap off their week with a matchup against the Baltimore Orioles in Baltimore.
3. Toronto Blue Jays: 18-17 (1-4 last week)
Toronto continues to struggle in third place of this division with two series losses against Tampa Bay and New York. What the hell is happening in Canada right now?
Blue Jays closer Jordan Romano surrendered Aaron Judge's first career walk off on Tuesday night, and they dropped game two against the Yankees the next day. Tampa Bay was out for blood following their brutal series loss against Los Angeles, taking two of the three games during that series.
Highly touted as one of the best two teams in this division, the Blue Jays have disappointed so far this season. But it just doesn't make sense. With two starters in the top twenty of Starter ERA with Manoah and Gausman, and such an elite offense, surely they must be churning out results.
It simply just hasn't worked out over their first 35 games. Now barely above .500, Toronto needs to start picking up good results before they slide too far down in the table.
They will look to get back on track this week, with a six-game home stretch against Seattle and Cincinnati over the next seven days.
4. Baltimore Orioles: 14-21 (3-4 last week)
The Orioles continue to grasp onto the fourth place in this division, until Boston inevitably takes over in the coming weeks. But for now, they're stringing together a few decent results for themselves.
After taking the series finale against the Royals on Monday, the Orioles travelled to St. Louis and beat up on the Cardinals! Claiming games one and three for themselves, Baltimore impressed against a Cardinals team that will be looking to compete with the Milwaukee Brewers in the NL Central this season. They were then brought down to earth by the Tigers, swept in a three-game-set in Detroit over the weekend.
This Orioles team is just simply not as bad as we all thought they were. With a staff ERA of 3.79, which ranks in the middle of the pack in MLB during the 2022 campaign, they aren't horrible.
Baltimore will continue to string together decent results and play spoiler in this monstrous division. And when their young guns come up, they'll be even better.
Back home this week, the Orioles begin a four-game-set against the Bronx Bombers tonight. Following those results, they welcome Tampa Bay to Camden Yards for a three-game-series to finish their week.
5. Boston Red Sox: 13-21 (3-2 last week)
This Red Sox team is alive! After Boston manager Alex Cora shaved his beard on Monday, the Red Sox put in a decent shift this past week. Splitting a series with the world champion Atlanta Braves, then rounding up their week with a series win against Texas, they're beginning to put it all together.
Trevor Story launched his first home run as a member of the team in Atlanta. Rafael Devers, Xander Bogaerts, and J.D. Martinez are all raking with each of them obtaining above a 140 wRC+. The Red Sox are out of their skid!
In all seriousness, its only a matter of time before this team gets rolling. The bats are too incredible to completely fall off a cliff, and we're starting to see those results pan out. Boston needs to keep up this pace if they want to catch their division rivals. They currently sit twelve games back of the first place Yankees and want to make a serious playoff push before it's too late.
 The Red Sox begin a seven game homestand tonight, welcoming the Astros to town for a three-game-series. They then will finish out their week against Seattle, with four games on that slate throughout the weekend.