Analysis
Spring Training Notes: White Sox vs. Rangers
Between Tim Anderson and Corey Seager, as well as plenty of young players, there was a lot to watch in this spring training contest.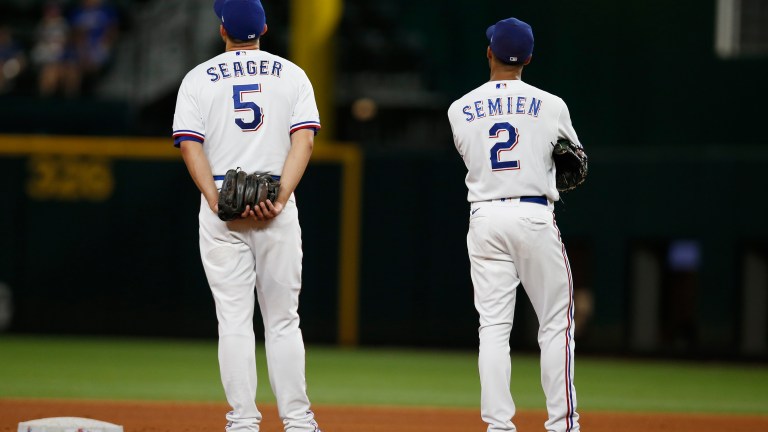 I might need to make this a yearly trip given how exciting the energy of Spring Training has been so far. This was my fourth game of the trip as I continue to watch all the happenings of Arizona and especially Camelback Ranch.
Today's game was between the White Sox and the Rangers. I got to talk with a few players in the White Sox clubhouse before the game and will have a full story on top prospect Colson Montgomery coming soon.
The Rangers roster features ample young talent and fortunately many of their top prospects and young MLB players were active for today's game. You find footage of this game and all the others I've been to on my Twitter. Let's get into my key takeaways from this game.
Rangers
The Corey Seager hype train is gaining members and I'm a new one. Seager is a popular candidate to take his game to another level in his second season with the Rangers and he showed why today. Seager is one of the more naturally-gifted hitters and just needs to stay healthy and consistent in order to have a huge season. He reached base in all three at-bats and drove in a run. He's hitting the ball on a line and the power numbers will continue to rise as we get closer to the season.
Martín Pérez got the start today for Texas as he is one of the only remaining players from an overhauled and much improved Texas rotation. He wasn't great today but he got the job done overall and logged important innings as the Rangers will need him to be a consistent presence in a rotation that features many injury-prone arms.
Luisangel Acuña hit an absolute nuke of a home run for the Rangers. The young brother of Ronald Acuña Jr. is one of the more raw prospects in the talented Texas system but has flashed big talent. He had a rough first at-bat as he struck out on three-straight swinging strikes. He came back with a better approach his second time around and destroyed a game-tying home run over the bullpen in left field. He's far away from contributing in Texas, but has a ton of upside.
Most of the other promising young Rangers bats were active for this game, but not much noise was made by them. Josh Jung, Dustin Harris, Evan Carter, and Ezequiel Duran failed to reach base in their at-bats today. Jung had a nice sac-fly but not much else was happening for these young guys. Josh Smith drove a solid single into right field to score the first run of the game for Texas as he looks to earn a spot on the roster for this season.
Pitcher Yerry Rodriguez struggled during his relief work for Texas. He has some really good stuff but has consistently failed to locate it well enough. He hit a batter, got charged with a balk, and ended up allowing two runs that led to the White Sox win.
Another under-the-radar that stood out was outfielder Elier Hernandez. He made his debut last year he's remained mostly in the minor leagues. He struggled in limited time while playing the Rangers but put together a really nice minor league season. He smoked two line drive base hits which caught my attention. It's unlikely he makes the team as there are numerous more-established or highly-touted players fighting for bench spots, but it's worth noting that he looked very good in his at-bats.
White Sox
I was able to watch the MLB hitters take BP on the field early in the day. While he's struggled somewhat in games thus far, Tim Anderson was driving the ball this morning. He left the yard many times and was regularly smacking line drives the opposite way as he looks to remain healthy and productive this season.
The other half of the middle infield duo in Chicago had a great day. Elvis Andrus made a few very smooth plays at his new position of second base. He and Anderson turned a double play in the first inning and he finished off another one with Leury Garcia in the secod inning. He's looked very comfortable playing the position even as he adjusts to the new angle. He also crushed a solo home run in his first at-bat of the game. I'm still not sure why this reunion took so long to happen, but this appears to have been an excellent decision by the White Sox.
Oscar Colas has done nothing but show out all spring and especially the past few days I've got to watch him. There is no doubt in my mind that he should be the starting right fielder for this team. He still struggles a bit with pitches thrown hard and inside but he's able to adjust so intelligently and work through it. He had an at-bat today where he went down 0-2 on inside pitches but then fouled off a handful of pitches and eventually drove one into right field on a line for a single. He adjusts his approach very well for a powerful young hitter and while he'll take some time to adjust, he deserves to do so at the big league level this year.
The White Sox have not been a team that regularly steals bases over the past few seasons. However, a combination of new coaching and rule changes in baseball led to SIX stolen bases in this one, including two perfectly executed double steals. New manager Pedro Grifol seems to want to run more often and this could be a key step for the team's offense growth. There are plenty of fast players on this roster and they should continue to utilize the new rules to steal more bases this year.
The back-end spots in the bullpen continue to be in question as there are many guys in camp hoping to make the team as relief options. Nicholas Padilla struggled with command in his one inning of work, while newly acquired Franklin German flashed some of his impressive strikeout ability in his two innings.
Bryan Ramos finished the game off with a walk-off infield single on a dribbler down the line. This play was only possible because of a hustling Jake Burger that avoided the double play that would've ended the game. The White Sox are hustling down the line every single player this spring, which simply was not always the case last year.
I got the chance to talk with top prospect Colson Montgomery earlier in the morning. He provided insights into what he's working to learn from the big league guys and adjust his timing as he faces higher levels of pitching. I'll have a full piece on Colson coming later this week with information from my talk with him.