Analysis
Spencer Strider Is an Ace in Atlanta
Spencer Strider has picked up where he left off last season, shooting out of the gate as the most dominant starter in the National League.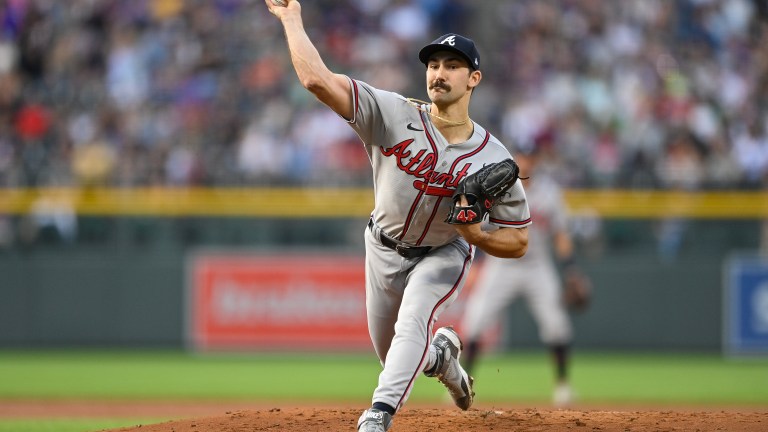 Spencer Strider took a perfect game into the 7th inning and a no-hitter into the 8th of his most recent start against the Miami Marlins. Marlins manager Skip Schumaker described facing the young righty as "like facing a closer for eight innings."
Schumaker was not far off in his assessment, as Strider features an explosive, upper-90s fastball and a wipeout slider, the same combination featured by so many elite bullpen arms. He has largely relied on these two pitches, throwing his fastball 61% of the time and his slider for another 35% of his pitches.
As if those two pitches were not enough, though, Strider has been tossing his changeup every now and then. As he continues to work the pitch into his repertoire, Strider is on the verge of having an unmatched three-pitch arsenal.
Through his first five outings, Strider is averaging six innings pitched per start and is posting an absurd 42.6% strikeout percentage. He has posted a 1.80 ERA (more than two runs below league average), a 1.72 FIP, and has already accumulated 1.3 fWAR.
Strider's 49 strikeouts are more than three times the number of hits he has allowed. Strider's opponents are batting just .136, and he has a 0.83 WHIP. He has only allowed three barrels this season.
Not only does Strider have elite stuff, but he has also mastered the art of tunneling his slider and fastball. The two pitches look the same out of his hand, and he often starts his sliders, which have a wicked 36.8 inches of vertical break and 5.4 inches of horizontal break, on the same plane as a previous fastball. This has led to swings on an amazing 44.7% of his sliders thrown outside the strike zone.
Additionally, Strider's fastball spin rate ranks in the 83rd percentile of MLB pitchers with an average of 2,400 RPMs, creating the illusion that the ball is actually rising. This, coupled with over 5 inches of arm-side run, forces hitters to guess whether a pitch will be darting down and toward first or "up" and toward third.
As one would expect, Strider's ability to miss bats has also made him one of the most valuable pitchers in fantasy baseball. He has already posted three quality starts and three wins, and he has yet to strike out fewer than nine in a game. This has catapulted him into the top two producing starters for points leagues.
The six-foot Strider has shattered the mold of the traditional pitcher build, and he generates his velocity from his lower half, earning him the nickname Quadzilla. Strider's production, in combination with Max Fried's continued dominance, has given the Braves one of the best one-two punches in baseball and will make them a tough opponent in any playoff series. Until then, though, we can all just sit back in amazement every five days and watch Strider baffle hitters across the league.